This farmers market spring vegetable salad is the best way to use some of your favorite spring produce! Asparagus, radishes, peas, scallions, and lemon vinaigrette.
You guys, I'm such a salad girl. As in, I genuinely freaking love salads. A friend/former coworker of mine once described it perfectly when she said, "Tera, when people go out to eat and they order a salad, they're usually giving up the thing they really want on the menu. For you, the salad is the thing you actually go to the restaurant for." 'Tis true... and also is the reason I get called a bunny from time to time. I'm not vegan or vegetarian or anything in particular, and I'm not really picky either -- I'm just your average, everyday lover of clean, whole, minimally processed food. And I eat a lot of vegetables. Sue me.
With my salad-loving ways in mind, I always have to chuckle a little at articles I read about things not to do on a first date, namely, not ordering a salad. Apparently it shows that you're not being authentic by ordering what you really want. Well... guilty as charged. Except I really actually wanted the salad.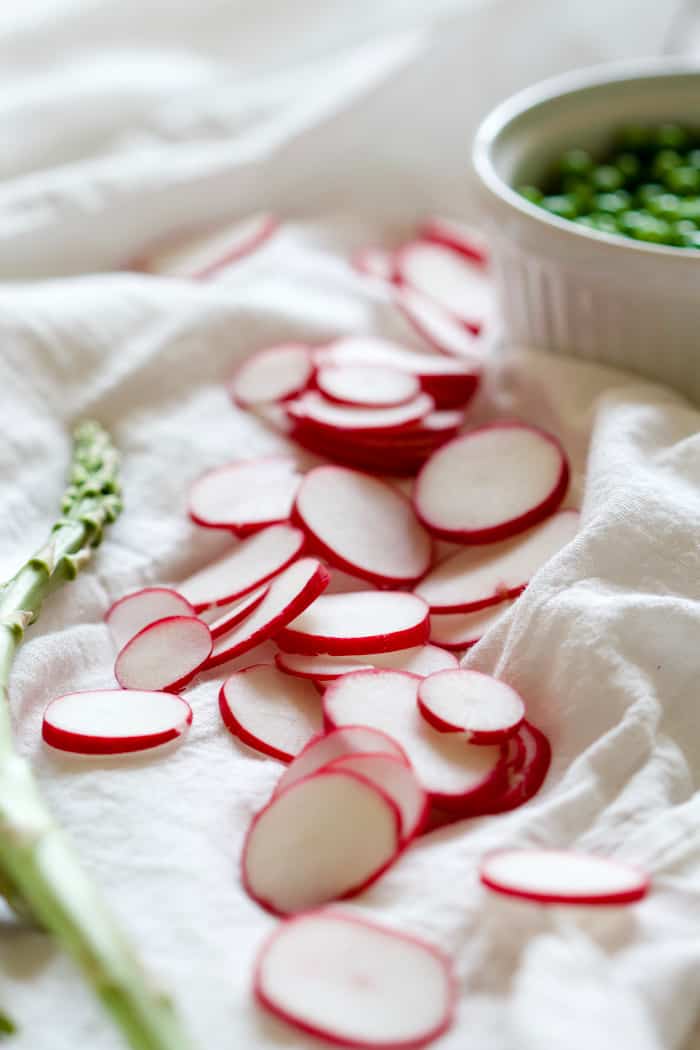 And, being the salad girl that I am, I have a beautiful new spring vegetable salad to share with you. A lot of the recipes I've been posting lately use fresh seasonal finds, and I'm still going strong on that trend with even more spring produce. Plus, I love anything and everything with lemons, so of course I have to bring back this Bright and Sunny Simple Lemon Vinaigrette recipe at any chance I get. With that, I present to you: Farmers Market Spring Vegetable Salad.
Look at it, all bright and fresh. You just can't NOT eat something so colorful. Am I right, or am I right?? Not to mention, if drinking jars of that lemon vinaigrette recipe were socially acceptable, I'd totally do it. Oh, wait...
Really all you have to do for this salad is chop up the veggies, toss 'em together with some lemon vinaigrette, and you have a beautiful spring vegetable salad. But, if you want to add some protein (always a good idea), I think hard-cooked eggs, chicken, salmon, chickpeas, or some combination of these would be fantastic. Also, sliced almonds or sunflower seeds would taste amazing and add tons of texture. (I always seem to think of these little additions when I'm writing the post instead of while creating the recipe :)).
So, for all of those upcoming cookouts and picnics...
Oh! Quick life update. A couple weeks ago I traveled to Denver to visit my cousin, and it was wonderful! It was my first time flying alone, so I was really proud of myself. Okay well, there was this one time I was supposed to fly from Rome to Sevilla, but that time I got left at a dead-end train station on my way to the airport hotel. It was in the absolute middle of nowhere, with no people and in a creepy industrial area, at 11:30 p.m. Aaaand I had no minutes left on my cell phone to call a taxi (not that I knew any taxi numbers in Rome). But we're sitting here chatting, right? So clearly I survived and all was well in the world again. I definitely had a meltdown, though, LOL. Sometimes you just gotta.
So, back to my first successful time traveling alone... I was a little nervous to fly by myself, but once I got to the airport terminal, I was really relaxed, and it was quite nice. I could read, listen to music, and just be totally zen. You know the feeling?
Everything flight-wise went smoothly, and when my cousin picked me up from the airport, the shenanigans instantly began. We spent the entire next day in Denver hitting up cafés, running on the Cherry Creek Trail, walking 16th Street, and going to the Art Walks on Sante Fe Street. Oh, we went to this store called The Room of Lost Things, and it was JUST as creepy as it sounds!! You guys. There was a FETAL HORSE in a jar. Of formaldehyde, probably? Isn't that what they preserve things in? I think it was $3,200. Let me get out my check book. Not only that, but a huge jar of human teeth, porcupine quills... lots of dead, creepy things in jars or made into jewelry (rodent skull bracelets, anyone?). I mean, for anyone who's as nerdy about Harry Potter as I am, this place belongs on Knockturn Alley, no doubt.
The next day we took a little road trip to Fort Collins for a hike, which was beautiful and challenging, and it gave my glutes and quads tons of extra of love. About eight miles of it, to be exact. BUT, despite the post-hike pain I felt in my muscles, I truly do love hiking, and everything after the hike is just a little bit better than it would otherwise be. The food. The shower. Sitting.
We explored downtown Fort Collins briefly afterwards, and then my cousin surprised me with a little visit to Greeley, where our great grandmother first settled in the U.S. from Prussia. Pretty cool, huh? 🙂
Well anyway, I hope you're having a beautiful week -- have some salad!
Print
Farmers Market Spring Vegetable Salad
A spring vegetable salad with asparagus, radishes, peas, scallions, and lemon vinaigrette. Perfect for picnics and cookouts!
Author:
Prep Time:

15 minutes

Cook Time:

0 minutes

Total Time:

15 minutes

Yield:

2

-4

1

x
Category:

Salad

Method:

Mix

Cuisine:

American
1 cup

sliced radishes

2 cups

asparagus, chopped into

1

-inch long pieces

1 cup

fresh peas (or

1 cup

thawed from frozen)

½ cup

thinly sliced scallions
Instructions
Wash and prepare vegetables as indicated above. Combine into a large bowl and stir.
Prepare Bright and Sunny Lemon Vinaigrette (double recipe if desired).
Toss salad to combine. Serve immediately or let chill.
Notes
Optional: Add in your favorite protein, sliced almonds or sunflower seeds for added flavor and texture.