These healthy mac and cheese bites are the perfect comfort food to enjoy this fall and winter! Whether it's cozy family dinner, work lunch, or school-at-home lunch for your kids, these creamy mac and cheese bites are here to fill you up in all their warm, pillowy, cheesy glory.
I received free samples of Cabot Cheese mentioned in this post. By posting this recipe I am entering a recipe contest sponsored by Cabot Cheese and am eligible to win prizes associated with the contest. I was not compensated for my time.
Eating these cozy, healthy mac and cheese bites is like getting hugged and eating cheese at the same time! Full of melty, sharp cheddar cheese, and topped with crispy golden breadcrumbs, these bites are made healthier using real, clean ingredients.
Why You Need Healthy Mac and Cheese Bites In Your Life
It's baked pasta and cheese with toasty, golden breadcrumbs on top, and it's good for you! But also...
They're budget-friendly. Pasta is the budget-friendly food, and guess what? These mac and cheese bites have pasta.
They make for easy meal prep. Bake these up for a Sunday family dinner with your family, and have them at the ready for school or work lunches during the week.
You can assemble them ahead of time and bake later. It's super easy to assemble these and keep them in the fridge to bake the next day. Just wait to add the breadcrumbs until right before baking so they don't get soggy.
They're family-friendly. You can engage everyone in your family by letting them choose their favorite spices or add-ins! See below for some flavor combo ideas.
These bites are the epitome of healthy comfort food. Mac and cheese is easy to make healthier by using whole foods and clean ingredients. In this recipe, we'll be using Cabot Cheese because the ingredients they use are super simple! No fake dyes or preservatives... just some real (and darn good) cheese. For the milk, bread (or breadcrumbs), and pasta, remember to check your ingredients label for natural, whole foods ingredients that you can pronounce.
What's more? Less. Bite-sized food is just plain fun.
Ingredients You'll Need
You can get creative with these mac and cheese bites (think diced veggies! spices! herbs!), but here are the basics you'll need:
Elbow Noodles - Or other small pasta (like shells)! To optimize on nutrient density, I recommend a whole wheat or legume-based pasta. Chickpea or lentil elbow noodles pack an even higher protein punch than wheat-based pasta, so if you're looking for a high-protein vegetarian meal, you should give legume elbow noodles a try. At the end of the day, both options work equally well!
Flour - I recommend unbleached all-purpose, whole wheat, white whole wheat, or spelt flour. You'll only need a couple tablespoons to help you form a roux (flour heated in a saucepan with fat to thicken sauce).
Butter - For the roux 🙂
Garlic powder, onion powder, salt - These are base spices I always include in a mac and cheese sauce. I add these to the roux and add other spices (such as pepper) later.
Milk - I love the richness of 2% milk here, but unsweetened almond milk works as well! I'm assuming we're not trying to go for dairy-free here, since we're about to melt two cups of some REAL cheddar cheese into this bad boy. That brings me to...
Cabot Cheese* - You guys, this cheese is straight-up delicious, and the ingredients are simple and clean! The Cabot Vermont sharp cheddar is an absolute dream for mac and cheese.
Egg - This will help bind the mac and cheese bites when baked.
Whole Wheat Bread / Sourdough - For breadcrumbs! You can use whole wheat breadcrumbs if you have them on hand, but breadcrumbs are easy to make on your own using your toaster and a food processor! Just use whatever bread you have on hand.
Some Optional Ingredients
Spices - feel free to get creative! Add some spices into your bread crumbs or directly into the cheese sauce.
Veggies, Herbs, Bacon, etc. - If you have some fresh herbs, leftover roasted veggies, or other proteins you want to add, I highly recommend it! If not, you can easily prep some while the oven is preheating and pasta boiling.
A simple cheese sauce is always delicious, but getting creative is fun too! My last batch was half cheese, and half jalapeño chipotle.
*A Quick Side Note on Cooperatives
When grocery shopping, I try to support cooperatives through my purchases because they have principles I feel passionate about. They truly care about serving their members. Coincidentally, Cabot Creamery is one such company!
How to Make Healthy Mac and Cheese Bites
Now for ALL the melted cheese.
Healthy mac and cheese bites are super easy to make! You're essentially making a cheesy casserole and dividing it into mini muffin tins.
To prep...
You'll start by preheating your oven to 400 degrees and greasing a mini muffin tin with your favorite nonstick spray (I like olive, coconut, or avocado oil sprays). Alternatively, you can use butter, olive oil, or mini parchment paper muffin tin liners.
When it comes to the cheese sauce, you'll need to move through steps pretty quickly, so I recommend preparing and measuring your ingredients while the oven is preheating.
Cook the pasta. I usually start here since you can prep the rest of the ingredients while water is boiling. Prep pasta according to package instructions, then drain with cool water.
Prep your add-ins (totally optional, but delicious). Chop up any veggies, herbs, or other add-ins (I usually do this while the pasta is boiling!). If you're using veggies like onion, jalapeño, or bell peppers, I recommend dicing them finely so they fully cook through in the oven. For meat or sturdier ingredients, such as sweet potatoes, you'll need to cook those prior to adding them to the mac and cheese bites (which is why I often use leftovers :)).
Measure out cheese sauce ingredients. Once you're ready to start the cheese sauce, things will move pretty quickly, so it's best if you're ready to rock. Grate your Cabot Vermont Sharp Cheddar, whisk your egg, and measure out butter, flour, milk, salt, and garlic powder.
Make breadcrumbs. If you already have whole wheat breadcrumbs on hand, feel free to use those! I love making my own breadcrumbs because it helps me reduce waste (use up bread). Simply toast two pieces of bread and blitz them in a food processor until crumbs form. Sometimes I even toss in some Everything Bagel Seasoning...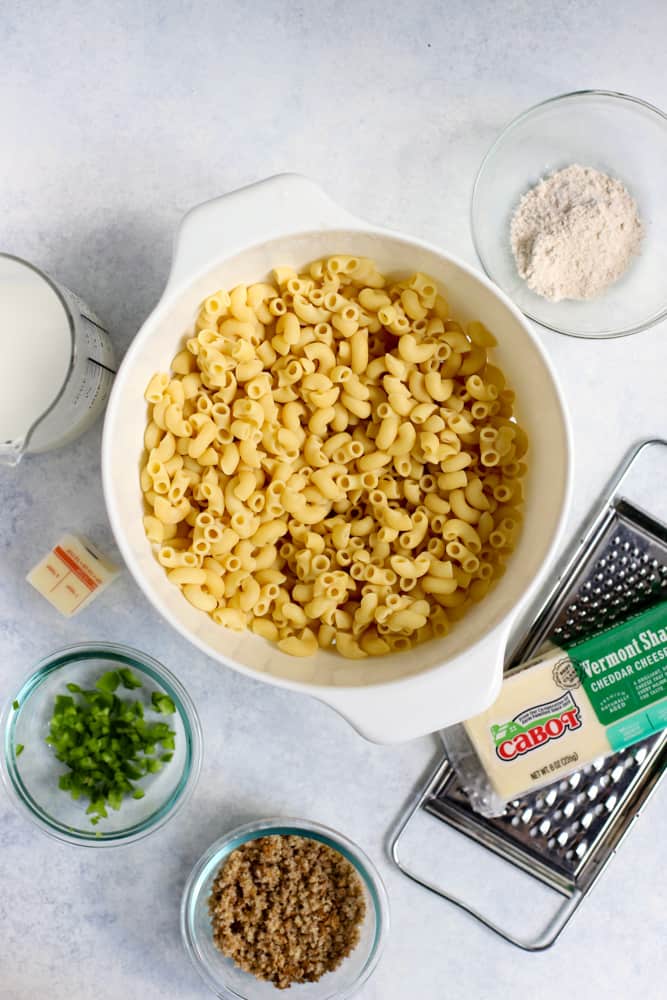 You, my friend, are ready for mac and cheese bites.
Now that you have prepped all your ingredients, you are officially ready to get in on some healthy mac and cheese bite action.
Make the roux. The roux is the base that thickens this creamy cheese sauce, which you'll start off in the sauté pan by heating the butter together with the flour and spices. Allow the butter to melt over medium heat, and then add the flour, salt, onion powder, and garlic powder. Stir gently in the pan until the mixture is heated and combined.
Add the milk. Slowly pour the milk into the pan, whisking the mixture all the while. Continue to whisk over medium heat until the mixture is well combined.
Add the cheese. When the milk just starts to bubble, turn off the stove heat and immediately add the grated cheese. Stir the mixture until the cheese has all melted in.
Fold in the pasta. Once the cheese has melted, immediately fold in the pasta and stir until well-coated. If you're adding herbs, sautéed veggies, or other add-ins to the entire batch, you can stir them in as well. If you're only adding them to part of the batch, wait until you've filled some of the muffin cups before folding add-ins into the remaining mac and cheese.
Mix in the egg. Allow the mac and cheese to cool for five minutes before stirring in your whisked egg, evenly distributing throughout the mac and cheese mixture. Make sure you don't skip the part where you allow the sauce to cool slightly, as this will prevent the egg from scrambling.
Assemble and Bake Mac and Cheese Bites!
In your prepared mini muffin tin, scoop the mac and cheese mixture into each cup, dividing it evenly across. Sprinkle the tops with breadcrumbs.
Bake the bites at 400 for 25 minutes, or until breadcrumbs are golden and tops slightly crispy.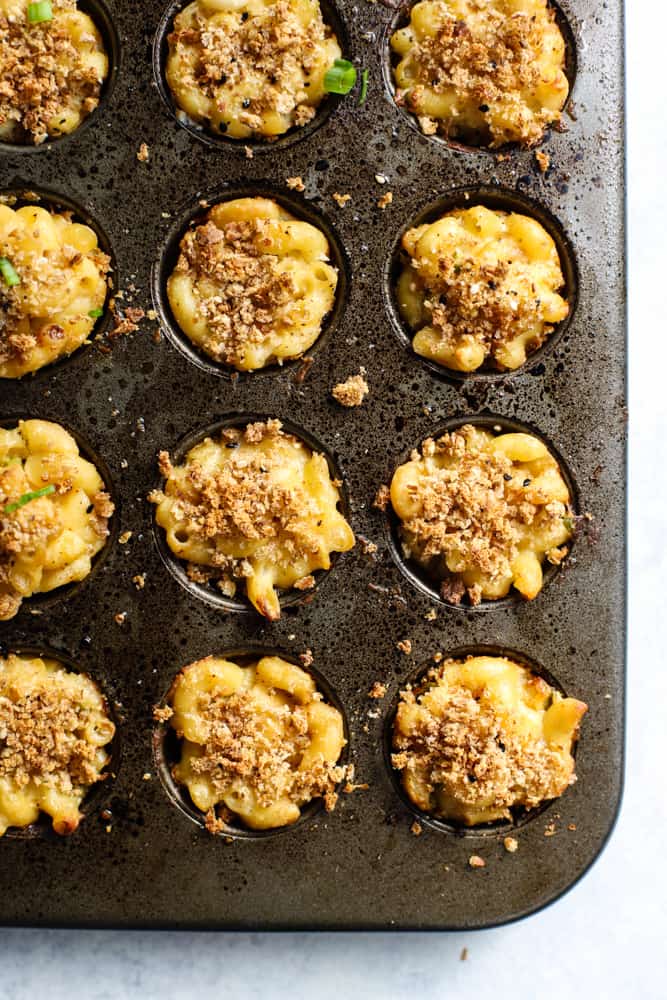 For best results, allow the mac and cheese bites to cool for ten minutes before removing -- they tend to fall apart easier when they're piping hot...
Then, DEVOUR!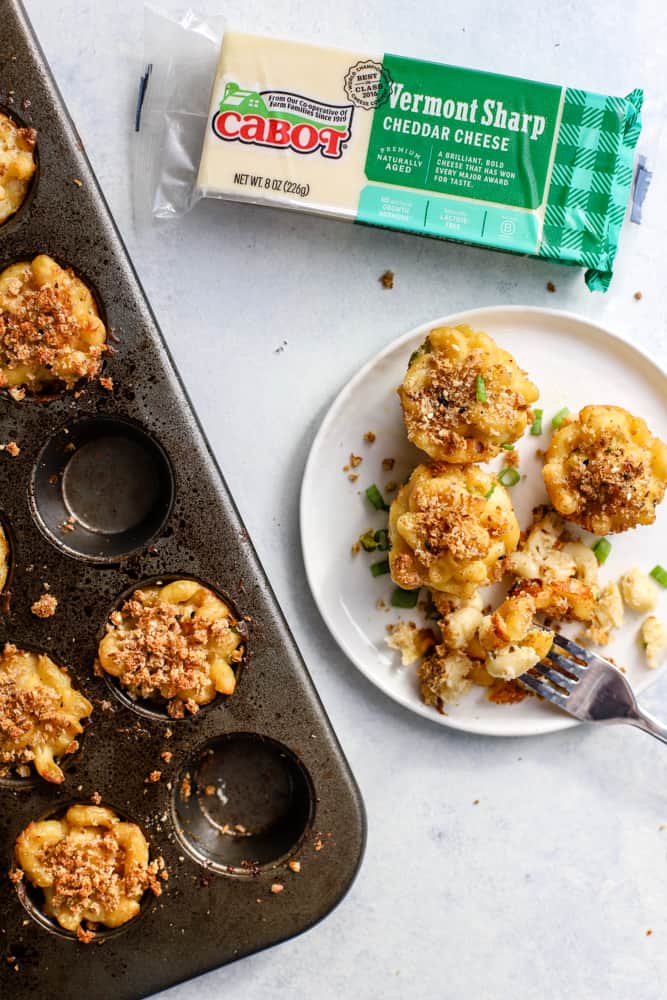 Some Flavor Combination Ideas
Jalapeño Chipotle: Add diced fresh or pickled jalapeños and chipotle seasoning.
Garlic Rosemary: Add in couple cloves of minced garlic and fresh rosemary.
Pineapple Bacon (or Ham): Add diced pineapple and crumbled bacon, chopped Canadian bacon, or ham.
Black Bean, Sweet Potato, and Green Onion: Add black beans, chopped roasted sweet potato, and green onions.
Smoky Chicken: Add cooked (chopped or shredded) chicken and smoked paprika.
Bacon. Just straight-up bacon.
Freezing & Storing Mac and Cheese Bites
To Store: You can store mac and cheese bites in an airtight container in the fridge for up to five days.
To Freeze: Freeze healthy mac and cheese bites in an airtight container or zip-top bag for up to three months.
These bad boys are best reheated in an oven to bring those crispy-topped breadcrumbs back to life, but the microwave will work in a pinch.
Print
Healthy Mac and Cheese Bites
These healthy mac and cheese bites are made with clean ingredients that you can feel good about, while eating the ultimate comfort food! Make ahead on Sunday for a family dinner, and reheat for work and school lunches throughout the week.
Author:
Prep Time:

15

Cook Time:

25

Total Time:

45

Yield:

4

servings, 6 bites each

1

x
Category:

Dinner, Entree

Method:

Stovetop, Bake

Cuisine:

American
8

oz

. uncooked elbow noodles (whole wheat or legume)

2 tbsp

unsalted butter

2 tbsp

white whole wheat flour (or all-purpose, spelt, whole wheat)

½ tsp

salt

¼ tsp

each: garlic powder, onion powder

1

cup

2% milk

2

cups

Cabot Cheese (I used Cabot Vermont Sharp Cheddar), grated

1

egg, whisked

2

slices whole wheat bread (or

¼ cup

whole wheat breadcrumbs), toasted and blitzed in a food processor until crumbs form
Salt and pepper, to taste
Optional: spices/herbs, diced veggies, crumbled bacon
Instructions
Preheat the oven. Preheat your oven to 400 degrees and spray a mini muffin tin with non-stick spray.
Cook the pasta. While the oven is preheating, cook elbow noodles according to package instructions, then drain and rinse with cool water.
Make the cheese sauce. Heat a skillet over medium heat. Add butter and allow to melt, then immediately add flour, salt, garlic powder, and onion powder to the melted butter. Stir to combine (this is your roux). Slowly add the milk to the skillet, whisking constantly until the roux and milk are fully combined. Allow the milk to heat until just bubbling, then turn off heat and add the cheese. Stir until completely melted.
Combine the mac and cheese, and add the egg. Fold the pasta into the cheese sauce and stir gently to coat. Allow the mac and cheese to cool for five minutes before adding in the egg and stirring until fully combined into the mac. Stir in optional spices/herbs, diced veggies, or crumbled bacon at this time.
Assemble and bake. Fill each mini muffin tin cup until full, packing in the mac and cheese, and top with breadcrumbs. Bake at 400 for 25 minutes. Allow to cool for ~10 minutes before removing bites from the muffin tin.
Notes
These instructions are for a simple mac and cheese, but feel free to add spices, herbs, veggies, or other add-ins. If using add-ins, add them at the end of Step 4.
You can also use regular-sized muffin tins as well! Because they're a bit heavier, it's more difficult to keep their shape. I recommend either whisking in an extra egg and/or using parchment paper muffin tin liners.
Keywords: healthy mac and cheese bites, healthy mac and cheese recipe