This post contains affiliate links for products I genuinely recommend, which means I earn a small commission at no cost to you.
This healthy egg salad with Greek yogurt is made with fresh dill and an optional dollop of mayo! Egg salad is delicious as a high-protein sandwich or wrap filling, or scooped onto salads. Make a batch ahead for the week for quick and easy lunches!
Ever since I learned how to make hard-boiled eggs in my pressure cooker, my lunch staple been giant scoops of this healthy egg salad with Greek yogurt, on sourdough bread (our favorite kind from a local bakery... if you're ever in Madison, you must try Madison Sourdough!). It's the perfect quick lunch to squeeze in between meetings on these work-from-home days, and it's super packable if you work in an office!
I use Greek yogurt with just a touch of mayo as a high-protein, lighter version of traditional egg salad. The result is a creamy, delicious vegetarian meal that can top sandwiches just as well as it can be scooped into a salad. And since spring is here, we tossed in some seasonally fresh dill and green onions... but you can enjoy this healthy egg salad any time of year!
Jump to:
Ingredients
We kept this healthy egg salad as simple as can be!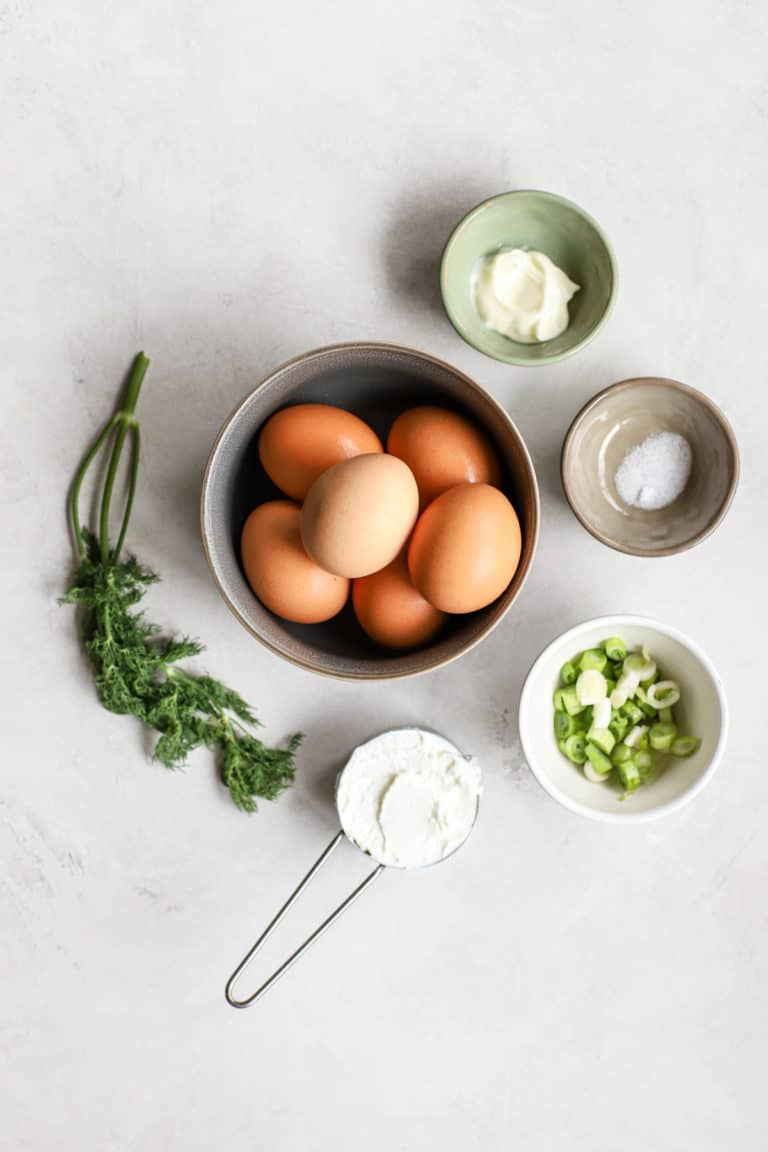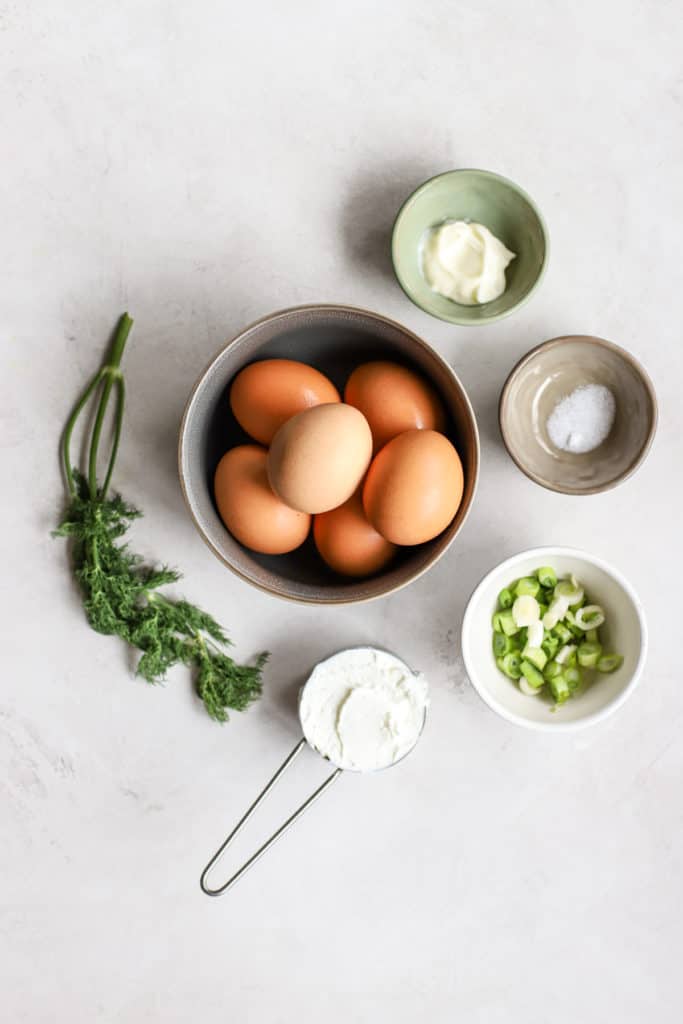 Hard-boiled eggs - I make hard-boiled eggs in a Ninja Foodi because they're SO easy to peel! You can use any pressure cooker or the stovetop -- whatever works for you. Egg salad is also a great way to use up your dyed Easter eggs!
Greek yogurt - 2% or whole milk plain Greek yogurt recommended here. We're obsessed with Siggi's and Fage.
Mayo - Just a tiny bit of real, high-quality mayo for a lovely tang and classic flavor. You can leave this out, and your healthy egg salad will still be delicious!
Fresh dill - One of our favorite spring herbs!
Green onions - Sliced and finely diced for a lovely flavor.
Salt - To enhance flavor.
You will have some extra fresh dill on you hands after making this, so if you want to use that up, you can try it in this easy lemon dill hummus or this one skillet chicken with leeks and farro.
Instructions
If you don't have hard-boiled eggs ready, you'll need to make some! We use a pressure cooker (a Ninja Foodi, specifically), though you can make hard-boiled eggs on the stovetop or in your Instant Pot as well.
First, you'll need to peel your eggs, chop them, and place them into a medium-large bowl.
Then, add in some finely chopped fresh dill and green onions, Greek yogurt, mayo (if using), and salt. Gently mix all of that together until uniformly combined.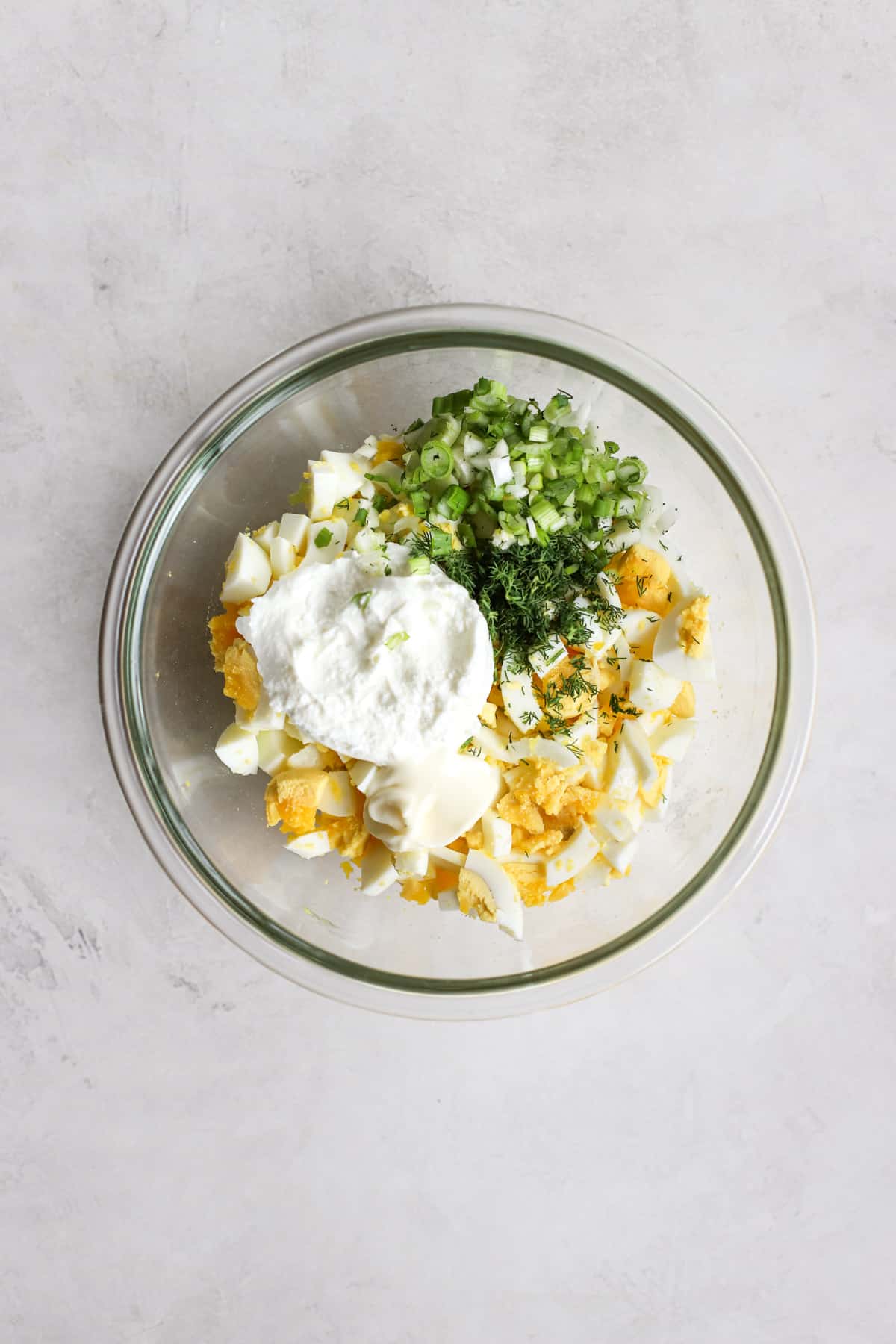 And that's it! Now you have healthy egg salad, ready to top toast, wraps, salads, crackers, or whatever your heart desires.
Hint: No need to stir too aggressively! The yolks will start to break apart no matter how gently you stir, but stirring gently will help maintain a lovely texture instead of breaking down all the delicate egg pieces.
Substitutions & Variations
Try the following substitutions and variations to help this recipe meet your needs!
Mayo - I love a little dollop of mayo in our Greek yogurt egg salad, but it's still SO good without it! Just add an extra tablespoon of Greek yogurt in its place.
Spices - I use salt as a flavor enhancer, making the perfect canvas for other flavor additions. Pepper is a natural flavor addition to eggs, but you can try other spices such as a tiny pinch of garlic powder, mustard powder, or paprika.
Spicy - You can spice up this egg salad by adding a pinch of cayenne or red pepper flakes, or a teaspoon of Sriracha sauce (or another chili paste).
Miso - Miso + eggs (or anything, for that matter) = delicious. Add a teaspoon of white miso paste to the salad and thoroughly mix it in for some extra umami flavor.
Avocado - Avocado egg salad is totally a thing, and it is mighty tasty. Finely dice up an avocado, add it to your egg salad ingredients, and gently stir it all together. It will be very green... and very delicious.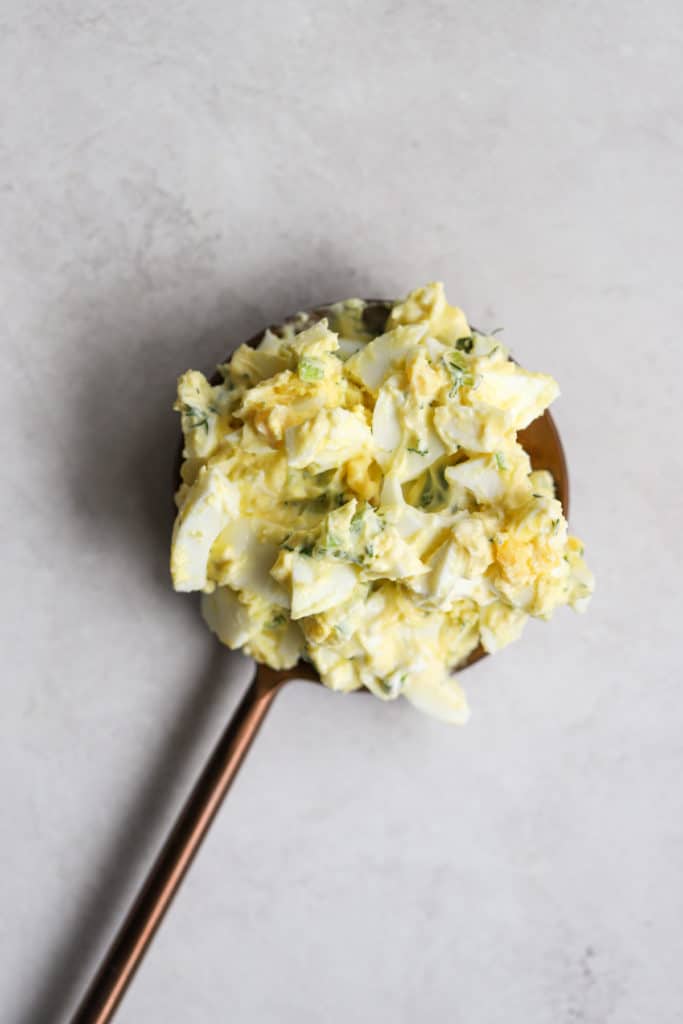 Equipment
There is no special equipment required for egg salad, but I do have a recommendation (also mentioned above numerous times... I'm just very excited about it)! If you have a pressure cooker, it is life-changing for hard-boiled eggs. Gone are the days of shells sticking to your egg whites, because hard-boiling eggs in a pressure cooker yields easy-to-peel results every time.
I use a Ninja Foodi pressure cooker, but you can also use an Instant Pot. If you're not on the pressure cooker bandwagon yet, using your stovetop for hard-boiled eggs will work just fine!
Storage
Egg salad can be stored in an airtight container in the fridge for up to five days.
Egg Salad FAQs
Can egg salad be frozen?
I don't recommend freezing egg salad, since the texture will be lost (and less appetizing).
Can egg salad be made without mayo?
Yes! I often make it with just Greek yogurt and love it, which is why mayo is only optional in this healthy egg salad recipe. That said, after making this egg salad many times over... I do love a little dollop of mayo.
How to Serve Healthy Egg Salad
I'm SO glad you asked! This is the fun part 🙂 I love Greek yogurt egg salad on:
Toasted sourdough - Whole grain if you can find it... also you well never regret a fresh loaf from a local bakery. SO GOOD.
Wraps - Our favorites are the kind from Angelic Bakehouse because they don't contain preservatives, are packed with sprouted grains, and taste incredible.
Salads - Okay so you know how cottage cheese on a salad is delicious? I feel like egg salad has the same effect -- a big scoop of something tasty and creamy balances out the crunchy veggies, similar to a creamy dressing. Is that an unpopular opinion? I don't even know, but it sure tastes good.
Crackers - My first taste of egg salad was on a Triscuit! My parents ate egg salad this way all the time, and the salty, crunchy contrast with the soft and creamy egg salad is to die for.
Enjoy this Greek yogurt egg salad, friends! Please let me know if you make it in the comments below.
Print
Healthy Egg Salad with Greek Yogurt
This healthy egg salad is made with creamy Greek yogurt, fresh dill, and an optional dollop of mayo! We love it on sandwiches with toasted whole grain sourdough bread, or wraps.
Author: Tera
Prep Time:

5 minutes

Cook Time:

0 minutes

Total Time:

10 minutes

Yield:

~1.5 cups

Category:

Lunch, salads

Method:

Combine

Cuisine:

American
6

hard-boiled eggs, peeled

2 tablespoons

fresh dill, finely chopped

1

green onion, finely chopped

⅓

cup

2% or whole milk Greek yogurt

1 tablespoon

mayonnaise, optional

¼ teaspoon

fine salt
Instructions
Chop eggs. Chop up the hard-boiled eggs and place them into a medium-large bowl. When I chop my eggs, I like to slice them in half lengthwise twice (so there are four long quarters of egg), and then I chop across those quarters in 4-5 slices to get smaller pieces.
Add other ingredients. Add the fresh dill, green onion, Greek yogurt, mayo (if using), and salt to the bowl. Stir gently until the mixture is uniformly combined. Now you have egg salad! Enjoy immediately or chill until ready to use.
Notes
Storage: Store egg salad in an airtight container in the fridge for up to five days.
Keywords: healthy egg salad, egg salad with Greek yogurt