This post contains affiliate links for products I genuinely recommend, which means I earn a small commission at no cost to you.
This skillet chicken with leeks and farro recipe is an easy weeknight meal, made in only one skillet! It's brightly flavored with fresh lemon and dill, tender chicken thighs, leeks, onion, and quick-cooking farro. *This post was updated and re-published with improved photos and cooking method on July 6, 2021.
Calling all fans of deliciousness and not dirtying up a lot of dishes! I have a fresh, healthy, one skillet recipe for you that requires but a cast iron skillet to cook: chicken with leeks and farro (and don't forget about the lemon and dill). If you don't have a cast iron skillet, not to worry! Any oven-safe skillet or dutch oven will work, or it can even be made completely on the stove if you have a cover for your skillet.
Ingredients You Need
Chicken thighs - Chicken breast is fine, too! I like how chicken thighs are already pretty flat layers of meat, plus the extra fat content keeps them juicy and flavorful.
Farro - I highly recommend a quick-cooking farro for this one! The recipe can work without a quick-cooking farro, but because it takes so long for farro to cook, you'll need to adjust the method slightly. I'll cover that alternative method below. Farro also creates a comforting, creamy texture for this meal.
Leeks - Leeks can be a beast to clean if they are from your CSA or farmers market, but from the grocery store they aren't too bad. Definitely make sure to check the layers for any dirt, though! For this recipe, we'll be slicing one leek in half to create a half moon shape, then thinly slice it from there.
Red or yellow onion - Adds delicious flavor when sautéed in a bit of extra virgin olive oil.
Garlic - See above 🙂
Lemon - The brightness and acidity of lemon truly brings this dish together. We'll add some during the cook time and when serving.
Fresh dill - Complements all existing flavors and brings fresh, bright flavor to the whole dish.
Salt - So important! If you can, salt your chicken prior to cooking to flavor it from within. Otherwise, we'll add plenty during cooking time to bring out all the flavors.
Pepper - More flavor!
Chicken broth or water - We'll douse everything in a bit of chicken broth or water, which will steam up in the oven to finish cooking the farro, chicken, and veggies.
How to Make It
To make this recipe, we're going to start everything out on the stovetop in a cast iron skillet, and then move it to the oven so that steam from the water/broth collects and finishes cooking everything. I'll also walk you through a couple alternative methods so you can adapt this recipe to your kitchen. To start, you'll preheat your oven to 350 degrees.
Then, you'll heat some extra virgin olive oil in your cast iron skillet. Once the oil and pan are hot, you'll sauté some thinly sliced garlic and diced red onion (or yellow) until soft, adding a bit of salt as they cook.
Next, you'll add a bit more olive oil to the skillet and push the onions and garlic aside to make room for browning the chicken. Brown the chicken thighs on all sides to lock in the juices. Then, add in the sliced leeks, farro, lemon juice, fresh dill, salt, pepper, and chicken broth or water. Gently stir everything together to ensure that all the farro is submerged in water or broth, as the farro needs to be fully submerged in liquid to cook properly.
Bring everything to a simmer on the stove, top the chicken with a few lemon slices, and carefully transfer the skillet to the oven for 30 minutes or until the farro is completely cooked and liquid dissolved.
Remove the skillet from the oven and allow it to cool before serving. Once ready, serve with additional lemon slices, fresh dill, and dollops of hummus or Greek yogurt. May I suggest this easy lemon dill hummus??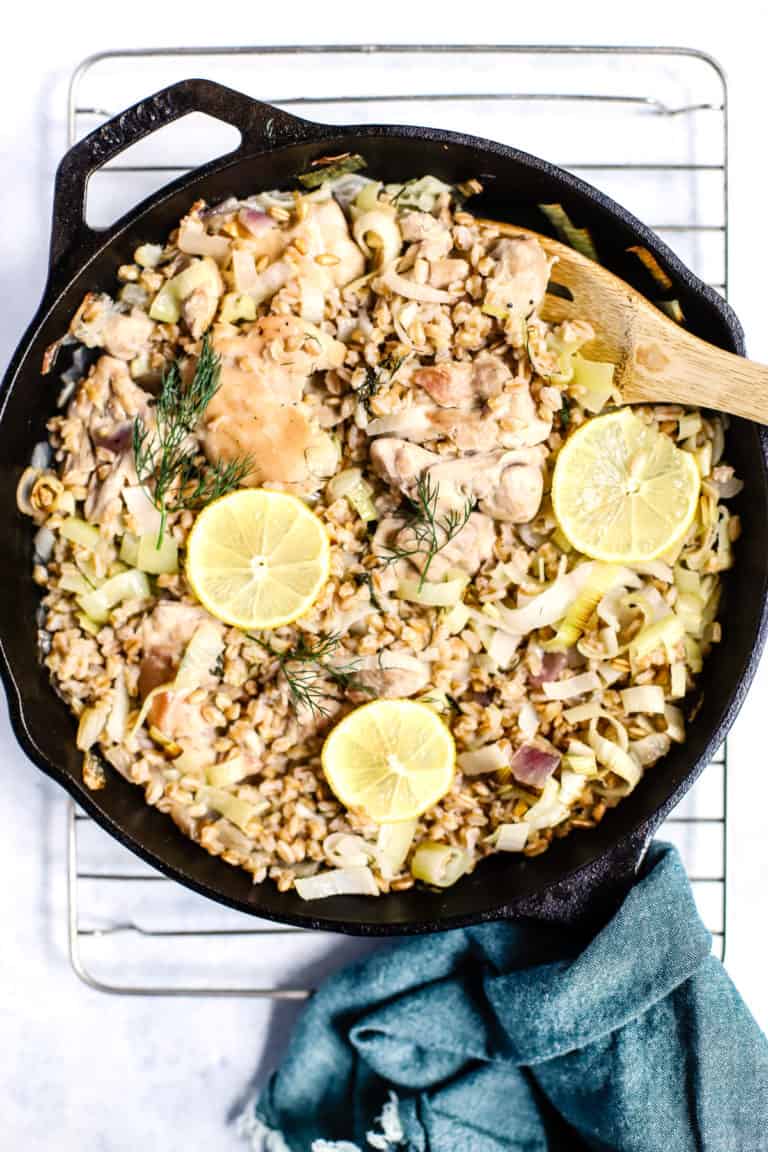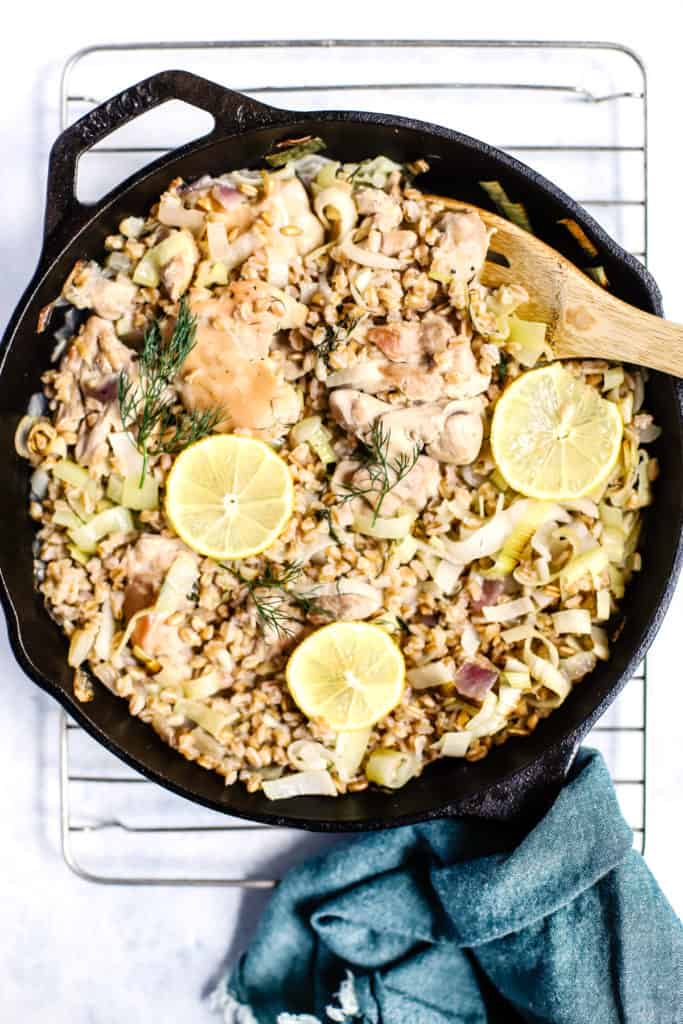 Alternative Cooking Methods
Without a cast iron skillet: If you don't have a cast-iron skillet, not to worry! The next best option is an oven-safe skillet or dutch oven because you can follow all of the same steps described above. If you don't have either of those, you can simply cook the entire recipe on the stovetop. Instead of transferring the skillet to the oven after all ingredients are added, simply cover the skillet and allow the trapped steam to finish cooking the farro, veggies, and chicken.
Without quick-cooking farro: If you don't have access to quick-cooking farro, you can still make this recipe work. Farro normally takes about 40 minutes to cook, so the chicken will get way overdone if cooked at the same length. Instead, you can cook the farro in advance and add the fully cooked farro to your skillet. Since liquid is no longer needed to cook the farro, you can reduce the chicken broth amount to ⅓ cup (enough to keep the chicken juicy). It won't be a perfect "one skillet" meal, but it will still be delicious!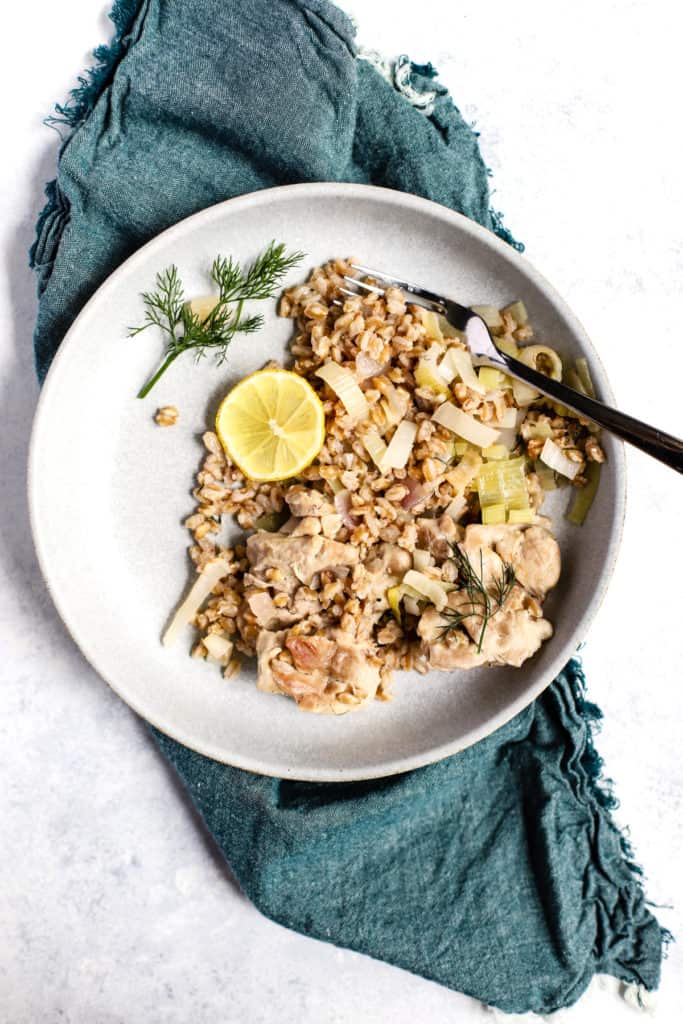 Success Tips & Common Questions
How do I clean leeks? Leeks are one of the dirtiest veggies I've ever seen! Being so layered, dirt gets trapped up in each layer, so you you'll want to make sure they are extra clean. This tutorial on cleaning leeks is super helpful!
How do I clean and maintain cast iron? If you use a cast iron skillet, you already know it requires a little bit of maintenance! Totally worth it, though. I like to follow the steps listed in this article to clean and maintain my cast iron skillet.
Salt: To flavor your chicken from the inside out, salt it up to a day in advance, if possible. To do this, simply sprinkle table salt on each side of the chicken and allow it to sit in the fridge. The salt will absorb into the chicken and flavor the meat from within.
Lemon: Skillet chicken with leeks and farro is best cooked and served with a bit of fresh lemon (not bottled juice)! Honestly, baking with fresh lemon slices and serving with a squeeze of fresh lemon ties the flavors together so wonderfully and makes them POP. If possible, don't deny yourself this pleasure.
Print
One Skillet Chicken with Leeks and Farro
A hearty, one skillet meal with chicken, leeks and farro, flavored with plenty of lemon and fresh dill. Perfect for an easy, low-mess weeknight meal that uses seasonal produce!
Author:
Prep Time:

10

Cook Time:

40

Total Time:

50 minutes

Yield:

4

1

x
Category:

Dinner

Method:

Cast Iron Skillet

Cuisine:

American
2 tbsp

extra virgin olive oil, separated

½

red or yellow onion, diced

2

-

3

fresh garlic cloves, thinly sliced

1

lb. chicken thighs (chicken breast will work)

1

lemon + plus additional for serving

2 tbsp

fresh dill, finely chopped

1 ½ cups

leeks, thinly sliced into half moons

2 cups

farro
 1 ½ cups chicken broth or water

¼ tsp

each salt and pepper, adjusted to taste
Instructions
Preheat oven: Preheat your oven to 350 degrees.
Sauté aromatics: Heat 1 tablespoon of the olive oil over medium-high heat. Reduce heat to medium, add onion and garlic and sauté until translucent, about 2-3 minutes. Add a pinch of salt while sautéing to bring out flavor.
Brown chicken: Meanwhile, salt all sides of the chicken. Move onions and garlic aside and add remaining olive oil to pan. When olive oil is hot, brown chicken on all sides.
Add remaining ingredients: Add leeks, farro, dill, salt, pepper, lemon juice from ½ lemon, and chicken broth or water. Gently stir or push ingredients down to make sure all farro is covered in water, to ensure that it cooks. Slice the other lemon half and layer slices over the top of the chicken.
Bake: Bake the skillet chicken for 25-30 minutes or until the farro is fully cooked. Remove from oven and allow to cool before serving.
Notes
Serving Suggestions: You can either cut the chicken up into four equal servings, or shred it and mix everything together into a big, delicious bowl. Top with a dollop of plain Greek yogurt or sour cream, hummus, fresh dill, and/or extra squeezes of lemon juice.
Cooking liquid: There will likely not be any cooking liquid leftover once the farro is fully cooked, but if there is a little bit, it should absorb during cooling.
Keywords: skillet chicken with leeks and farro, skillet chicken