This post contains affiliate links for products I genuinely recommend, which means I earn a small commission at no cost to you.
This zesty shrimp, mango, and avocado salad is delicious, healthy, and seriously addicting! The flavors of shrimp, mango, avocado, lime, red onion jalapeño, and cilantro are made for each other. Eat this salad on its own, or atop for your favorite tortilla chips!
Confession time... my boyfriend and I polished off two batches of this salad within 48 hours! Of course we had some friends nibble on one of the batches... but most of it was shamelessly us, and I would do it again in a heartbeat. All this is to say, friends, is that we are in love. With this zesty shrimp, mango, and avocado salad, to be clear ;).
Ingredients
Okay, so first things first, let's talk about all the ingredients you'll need to make this salad. You will need:
Large shrimp - One pound, peeled and deveined. I've been buying the frozen Private Selection wild-caught Argentinian shrimp from Pick 'n Save, and I love it! If you buy frozen, simply thaw it out in the fridge overnight to sauté it for this shrimp, mango, and avocado salad.
Avocado - I highly recommend chilling your avocado for at least an hour beforehand. The first time I made this salad, I made the mistake of using a room temperature avocado that was on the riper side -- not overripe, but still a little past that firm, peak ripeness. Using a chilled avocado makes it sturdier when combined with the other salad ingredients, so it stays in cubes and doesn't turn to mush. Success Tip: Your avocado is ripe when the fruit has a slight give when you apply pressure with your thumb. I don't recommend using very ripe avocados for this recipe -- best to save those for guac!
Mango - You can tell a mango is ripe similarly to how you can tell an avocado is ripe. Apply pressure to the outside of the fruit, and if there is a slight give, it's ripe! With mangos, they will also smell fragrant - yum!
Red onion - A little red onion packs a flavor punch in most salads - love it!
Fresh jalapeño - I am officially obsessed with jalapeño. It really freshens up the flavor of a dish and of course, adds some spice. You can omit the jalapeño to make this salad kid-friendly.
Cilantro - Where there are limes and jalapeños, there must be cilantro nearby 😉
Lime - We'll be using both juice and zest of limes. Citrus zest is one of my favorite ways to add flavor to any dish or dessert!
You'll also need some tongs, a large skillet, knife, cutting board, a microplane, and a big bowl for mixing everything together.
Instructions
Sometimes the most delicious recipes are the easiest, and this is one of those times indeed. Here's the scoop (of zesty shrimp mango and avocado salad ;))...
Tips for Cooking Shrimp Perfectly
To start, we'll sauté the shrimp, which can be tricky, as these little buggers cook really fast! The key is to only cook them for a couple minutes on each side, or until they just turn opaque, and then immediately remove them from heat to avoid overcooking. As I mentioned, you can use fresh shrimp, or thaw the shrimp from frozen by letting them sit in the fridge overnight. Drain and rinse the shrimp in a colander under cold water. Then, we'll start cooking!
In a large skillet, you'll heat some extra virgin olive oil over medium-high heat. The olive oil is hot enough when it becomes more liquid-y in the pan, and it flows quickly if you tilt the pan and swirl the oil around, but it is not yet smoking. As quickly as possible, lay all of the shrimp (or as many as you can fit) on their sides in the hot skillet and sprinkle some salt and pepper over the top. Cook them until the side touching the skillet has become opaque (this usually takes two minutes). Immediately flip all of the shrimp over and repeat the process on the other side. Then, turn the heat off and remove all of the shrimp from the skillet to cool.
Finally, chop the shrimp into thirds for the salad, and add them to a large enough bowl where your other ingredients can fit. Go ahead, pop a couple in your mouth...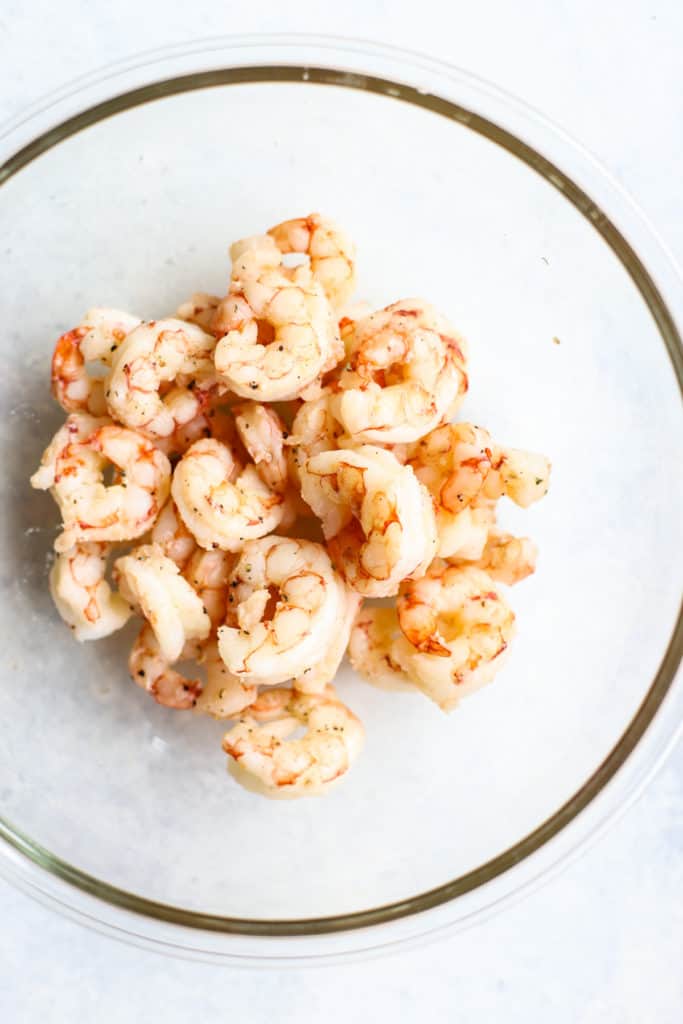 Chopping, Dicing, and Assembling
The next part involves chopping the rest of the ingredients and tossing them all together to form this colorful, zesty salad we are about to devour. After you chop or dice something, add it to the big bowl with the shrimp!
Starting with the mangoes, remember that there is a long, narrow core going through the center, so if you haven't cut a mango before or are certain you've been doing it wrong for years, you'll want to read this blog post on how to cut a mango. Our goal for this recipe is to cut the mango into cubes. Similarly, you'll be cutting your avocado into cubes. This guide on how to cut an avocado should help you if you've never cubed an avocado before.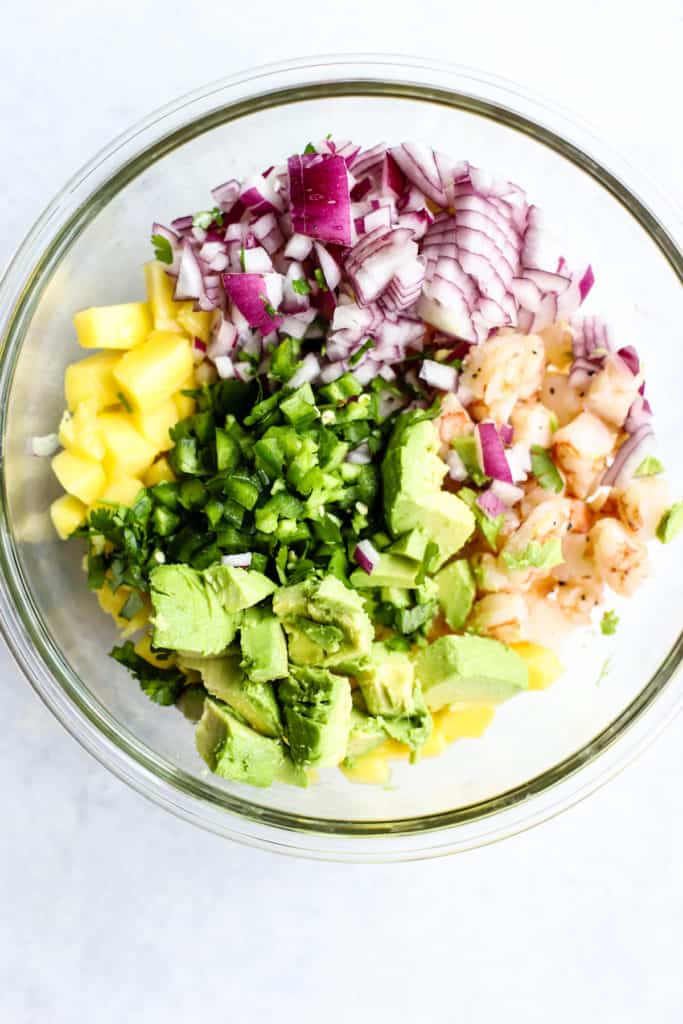 Next, you'll dice some red onion and fresh jalapeño pretty small (not cubes). We want the smaller pieces of jalapeño and red onion to complement the bigger pieces of mango, avocado, and shrimp, so using a smaller dice helps us get a little bit in each bite. Then, finely chop up some fresh cilantro to add to our bowl of goodness.
Finally, lime juice, zest, and salt. I like using two limes' worth of juice for this recipe, and about one lime's worth of zest. Then, a final pinch of salt brings out all the beautiful flavor you've created!
At last, the part we've all been waiting for?? SERVE IT UP! Shovel it in your mouth, with a lime-y tortilla chip as the shovel. YES.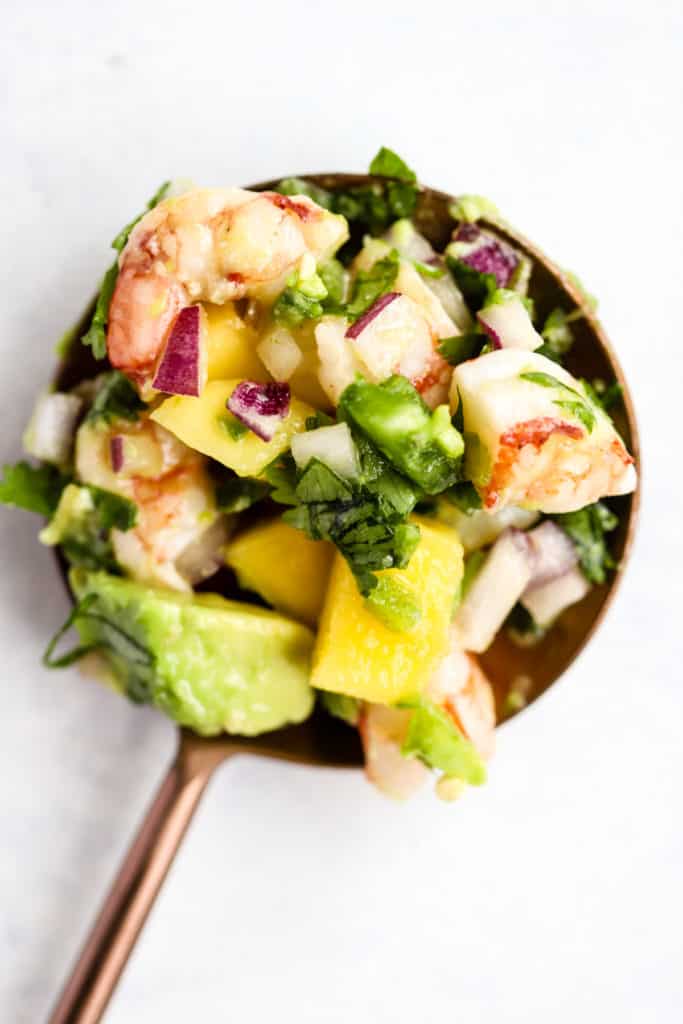 Other Things You Need to Know
Storing: Store this salad in an airtight, preferably glass container in the fridge for up to a week.
Freezing: I do not recommend freezing this salad.
Serving Ideas: As I mentioned, tortilla chips are such an incredible vehicle for this shrimp salad, especially lime-flavored ones! (Seriously they just elevate the salad. Figuratively and literally. Like, to your mouth). I also enjoyed this in a wrap with one of my favorite wraps from Angelic Bakehouse. Otherwise, just dig right in with a spoon or fork, and you will be one happy lunch camper.
Avocado: As I mentioned, I highly recommend chilling the avocado before cubing it and adding it to the salad, because it is much less likely to get squished and turn into guacamole. No one around here has ever said no to inadvertent guacamole, but we really are going fo cubes this time.
Okay, friends, it's time for you to go because you need to make this zesty shrimp salad! Oh, and if you like this recipe, you will also probably like crazy good smashed guacamole and/or this strawberry basil avocado salsa.
P.S. A small but important request for you! If you try this salad and like it, please give this recipe a rating and comment below! It makes my day when I hear from you, seriously 🙂
Print
Zesty Shrimp Mango and Avocado Salad
A zesty shrimp, mango, and avocado salad with plenty of lime and some jalapeño for a delicious bit of spice! This salad is incredible on its own or atop tortilla chips.
Author: Tera
Prep Time:

10

Cook Time:

5

Total Time:

15 minutes

Yield:

5

servings

1

x
Category:

Salad, appetizer

Method:

Sauté, combine

Cuisine:

Mexican
1

lb. large peeled and deveined raw shrimp, thawed if previously frozen

1 tablespoon

extra virgin olive oil

¼ teaspoon

salt

¼ teaspoon

pepper

2

fresh mangoes, cubed

1

fresh avocado*, cubed

⅓ cup

red onion, diced

1

medium fresh jalapeño, diced

1 cup

cilantro, finely chopped
Juice from

2

juicy limes

1 teaspoon

lime zest

¼ teaspoon

salt
Instructions
 Sauté shrimp: Rinse and drain the thawed shrimp. Heat extra virgin olive oil in a large skillet over medium-high heat. Add all of the shrimp in a flat layer on the bottom of the skillet and sprinkle with salt and pepper. Cook for two minutes, or until the bottom sides of the shrimp are opaque. Quickly flip all of the shrimp to cook the other side for another two minutes. The shrimp are done when their color is opaque. Immediately transfer the shrimp to a plate to avoid overcooking.
Chop shrimp: Once cooled, cut each piece of shrimp into thirds.
Salad: Combine mango cubes, avocado cubes, red onion, jalapeño, cilantro, lime juice, lime zest, and salt in a large bowl. Add shrimp, and gently stir to combine.
Eat: Serve by itself as a salad, or dip tortilla chips. Yum!
Notes
*Avocado: I highly recommend chilling the avocado before you dice it. At room temp, the avocado is more susceptible to being smushed by other ingredients. That's still delicious, but the goal is to have it hold its shape and not turn into guacamole.
Cubing and dicing sizes: In this salad, we want the shrimp, mango, and avocado chunks to be the same size, and not too small. So, we'll chop each piece of shrimp into thirds, and then try to dice the avocado and mango to about the same size as those pieces. Basically, dice them slightly larger than dice! The red onion, jalapeño, and cilantro pieces are intended to be smaller because they are supplemental to the other featured flavors (though just as important!).
Keywords: shrimp avocado salad, shrimp mango and avocado salad