Smashed guacamole -- seriously crazy good! Loaded with fresh avocado, Roma tomato, garlic, red onion, cilantro, lime, feta/cotija, and pepitas. Get your tortilla chips ready. And your margaritas.
This crazy good smashed guacamole is officially my desert island food. Okay let me back up.
Full disclosure: I have always thought myself to be a plain and simple guacamole kinda girl. You know, avocado with a little lime, a little salt, a hint of garlic, and that's it. That's all you really need, right?
Well, yes, BUT. Sometimes you stumble upon guacamole that is not so simple, and yet SO delicious. And it causes you to call into question your entire guacamole identity... a guacamole existential crisis of sorts. All you knew was lime, garlic, and salt, and now you're all like bring on the pepitas and cotija and tomatoes and onions and cilantro, baby!
And that, in a nutshell (or an avocado shell?? Wait... is it a peeling or shell?) is exactly how I came to this crazy good smashed guacamole being my desert island food. There I was, out to dinner with my family visiting my brother in Austin, when we decided to order the smashed guacamole appetizer on the menu. We were all a little skeptical, because surprise!, plain-and-simple guacamole kids were raised by plain-and-simple guacamole parents. But we don't mess around when it comes to guac, so we went for it (not to mention our waitress totally sold us on it. She was good, that one), and shamelessly devoured it within minutes.
So what's a guacamole-loving girl to do except go back to Wisconsin and make this crazy good smashed guacamole? Because everyone, EVERYONE needs to know about it.
Crazy Good Smashed Guacamole: What You'll Need
Ripe avocados
Fresh garlic
Red onion
Roma tomato
Feta or cotija cheese
Pepitas
Lime
Cilantro
Sea salt & pepper

General Tips & Commentary
It helps to chop all the ingredients up in advance so that you're ready to add them to your big bowl of avocados, ready to be smashed. To prep, you can mince your fresh garlic, finely dice your red onion (the one I used really made me cry this time, gosh darn it), dice and deseed your tomatoes, chop cilantro, slice the lime into squeezable wedges, and measure out some small dishes of feta/cotija and pepitas.
Then, start to scoop out your avocado flesh into a bowl and go from there. I kinda like to mash the avocado with the fresh minced garlic, lime, and salt first. It gets the garlic and lime juice evenly distributed, and then no one gets a scoop of garlic overload on their chip. I mean, that might be good...? But raw garlic? Oy. That'll clear your liver. And your sinuses.
Avocados...I usually go through avocados rapidly, but if you have a bunch that you know are going to become overripe before you can get to them, this smashed guac may just be the best solution. Well, either that or this everything spice avocado toast... there's room for all of it in a day's worth of food!
Don't forget the freshly cracked pepper and salt... they add a lot!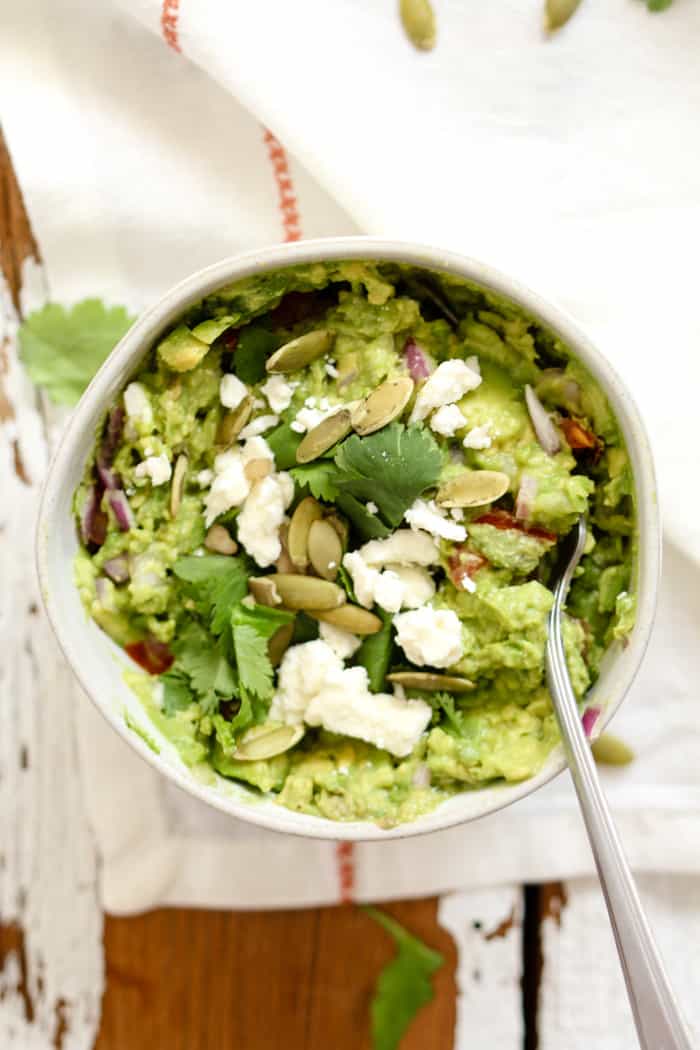 I would have to say that my absolute favorite thing about this smashed guacamole is the variety of flavors and textures. Feta (or cotija) offers a tanginess that I think you will love, and pepitas add more texture and unique flavor. Not to mention cilantro and lime -- a classic combo that never fails.
Sooo yeah. That is how we arrive at this crazy good smashed guacamole becoming my official desert island food. I envision myself catching fish like nobody's business, and frying up seaweed over a fire that I *totally* know how to build... and dipping it in this smashed guac. Side note: my former desert island food was eggs because you can make them in so many ways. But smashed guacamole is SO much better. Is it kind of cheating that it has like a lot of foods smooshed into one..? Shh. Don't tell.
For serving, I recommend dipping tortilla chips or fresh veggies... and also putting it on everything you can think of. Oh! With some watermelon ginger agua fresca on the side... in addition to the margaritas, of course. It'll be great for Cinco de Mayo coming up, or for any occasion! Such as a weekday breakfast. Yup, that happened last week.
P.S. Next time you're near Austin, TX, check out Jack Allen's Kitchen for delicious eats, and to try the smashed guacamole recipe that inspired this one.
Print
Crazy Good Smashed Guacamole
This smashed guacamole recipe is seriously crazy good, loaded with fresh avocado, Roma tomato, garlic, red onion, cilantro, lime, feta/cotija, and pepitas. Get your tortilla chips ready. And your margaritas.
Author: Tera
Prep Time:

10

Total Time:

10 minutes

Yield:

4

1

x
Category:

Snacks

Method:

Smash

Cuisine:

Mexican
2

large avocados

3

cloves fresh garlic, minced
juice from

half of a

fresh lime

¼ cup

red onion, very finely diced

¼ cup

Roma tomato, deseeded and diced

¼

  cup fresh cilantro, finely chopped

¼ cup

feta or cotija cheese

¼ cup

pepitas
Sea salt & freshly cracked pepper
Instructions
In a medium bowl, combine avocado flesh, minced garlic, and lime juice. Mash it all together, leaving some parts of the avocado chunky.
Add in remaining ingredients and a pinch of salt. Mash together. Serve with an extra squeeze of lime and some freshly cracked pepper.
Serve with your favorite tortilla chips, raw veggies, eggs, on sandwiches or wraps, scooped onto salads -- on anything (by which I mean

everything

).