This post contains affiliate links for products I genuinely recommend, which means I earn a small commission at no cost to you.
It's strawberry season and these strawberry shortcake overnight oats are the perfect way to enjoy fresh strawberries!
Summertime means strawberries AND crave-able warm weather breakfasts that are ready for you right when you wake up, so you can get on with your beautiful summer day. What better way to combine them than with flavors of strawberry shortcake?!
These strawberry shortcake overnight oats use my tried and true ratio for overnight oats, and the addition of almond extract gives them a shortcake flavor. Naturally you'll want to top with fresh strawbs.
Jump to:
Ingredients
The ingredients for strawberry shortcake overnight oats will start with an overnight oats base and add almond extract, strawberries, and almonds.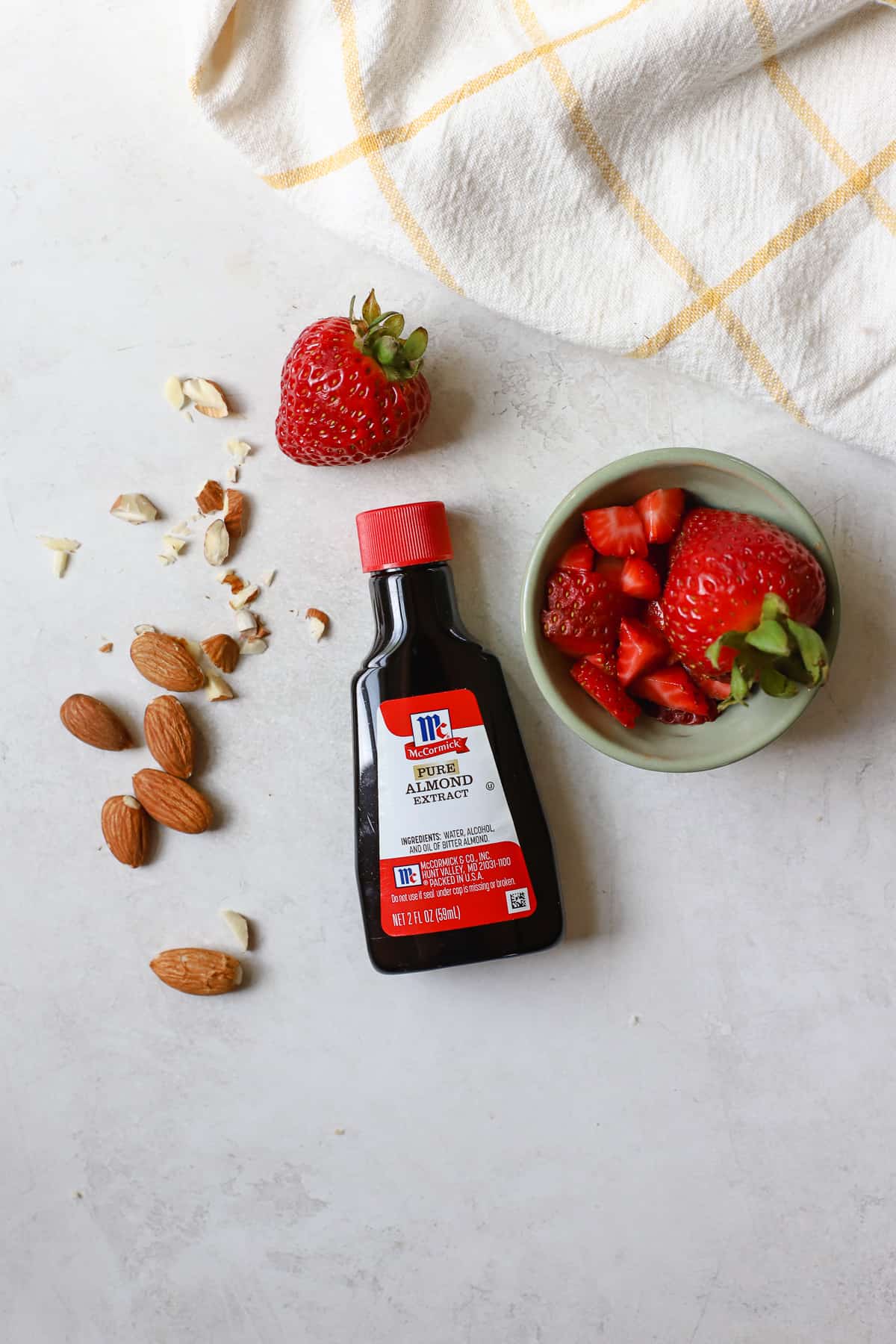 Whole rolled oats - If gluten free, make sure the oats say certified gluten free on the packaging.
Chia seeds - Add nutrition, texture, and help absorb the liquid.
Fine salt - To enhance flavor and balance sweetness.
Greek yogurt - I prefer 2% or whole milk, or lately I've been obsessed with Siggi's vanilla skyr.
Milk - Whichever you prefer! Milks with more protein will of course help this recipe become a high-protein breakfast or snack.
Agave - To sweeten.
Vanilla extract - For added flavor.
Almond extract - Added to get that shortcake flavor.
Strawberries - Fresh strawberries during strawberry season if you can, but frozen will work in the off season. See below for suggestions on how to use frozen fruit in your overnight oats.
Almonds - Roughly chopped raw almonds, or slivered or sliced almonds.
Whipped cream or coconut whipped cream - Totally optional, but a little dollop is delicious!
Instructions
To make these overnight oats, simply take the following steps:
Combine dry ingredients. Combine oats, chia seeds, and salt in a bowl.
Stir in wet ingredients. Add milk, agave, vanilla extract, and almond extract to the bowl of dry ingredients, and stir everything together to combine.
Chill. Chill the oat mixture in the fridge overnight or for at least three hours. You can chill it all in one container or divide the mixture into single serving jars.
Top and serve. When you're ready to eat, scoop out your desired amount and top with chopped strawberries and roughly chopped almonds.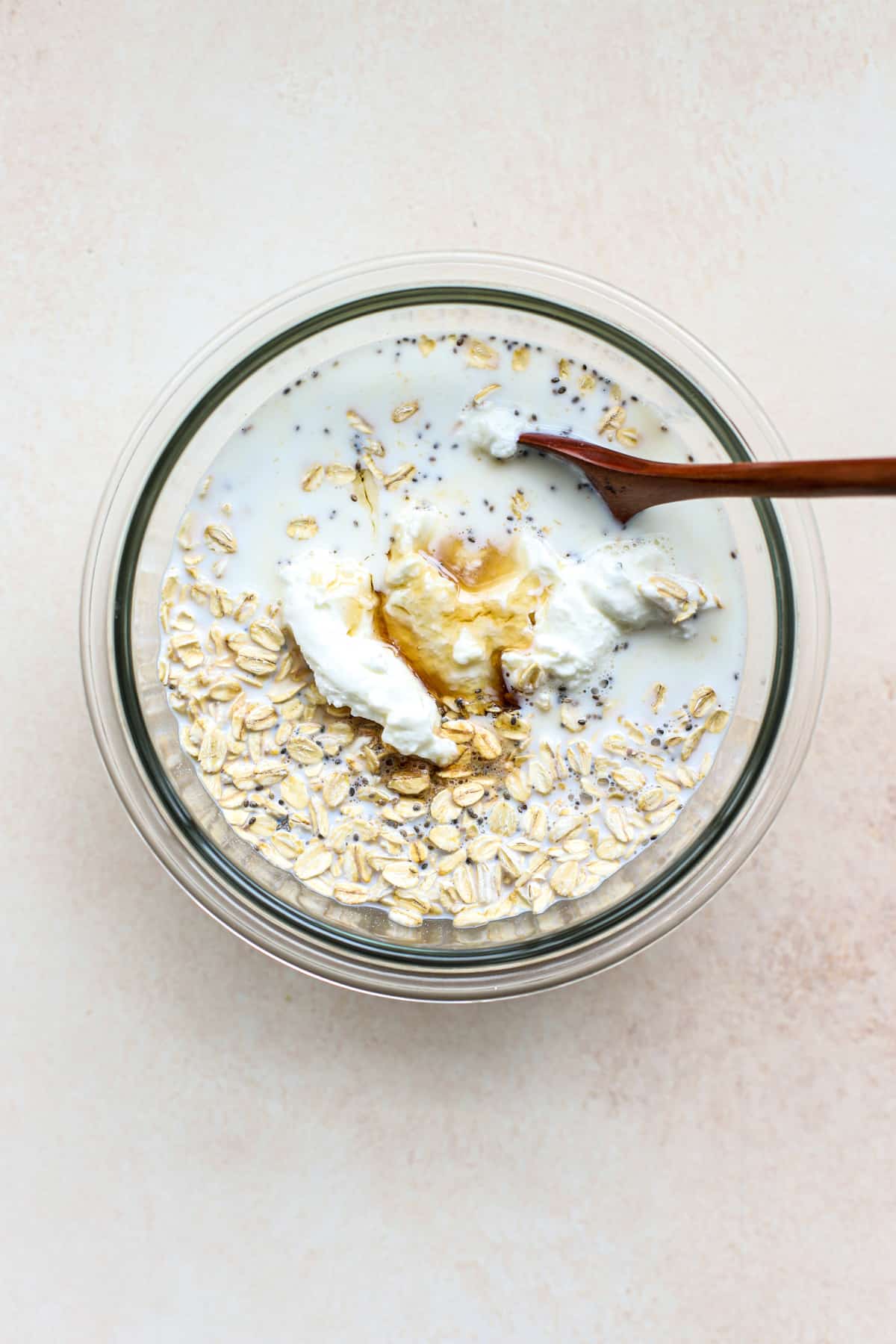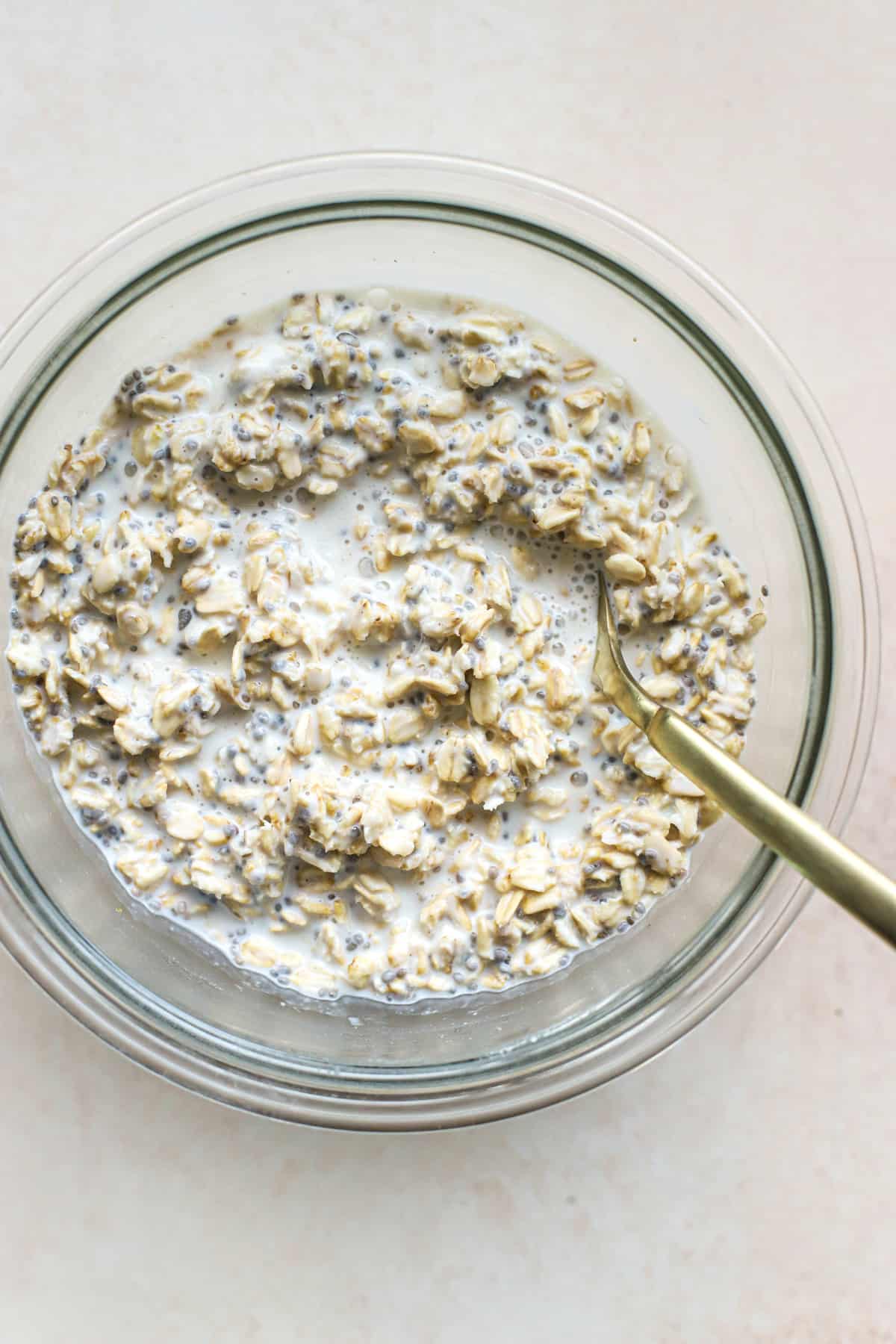 Hint: I've eaten overnight oats after one, two, and three hour chilling times to test the minimum amount of chilling time needed. My favorite texture is after they've chilled overnight, but if you want to eat them the same day, three hours is the minimum I recommend.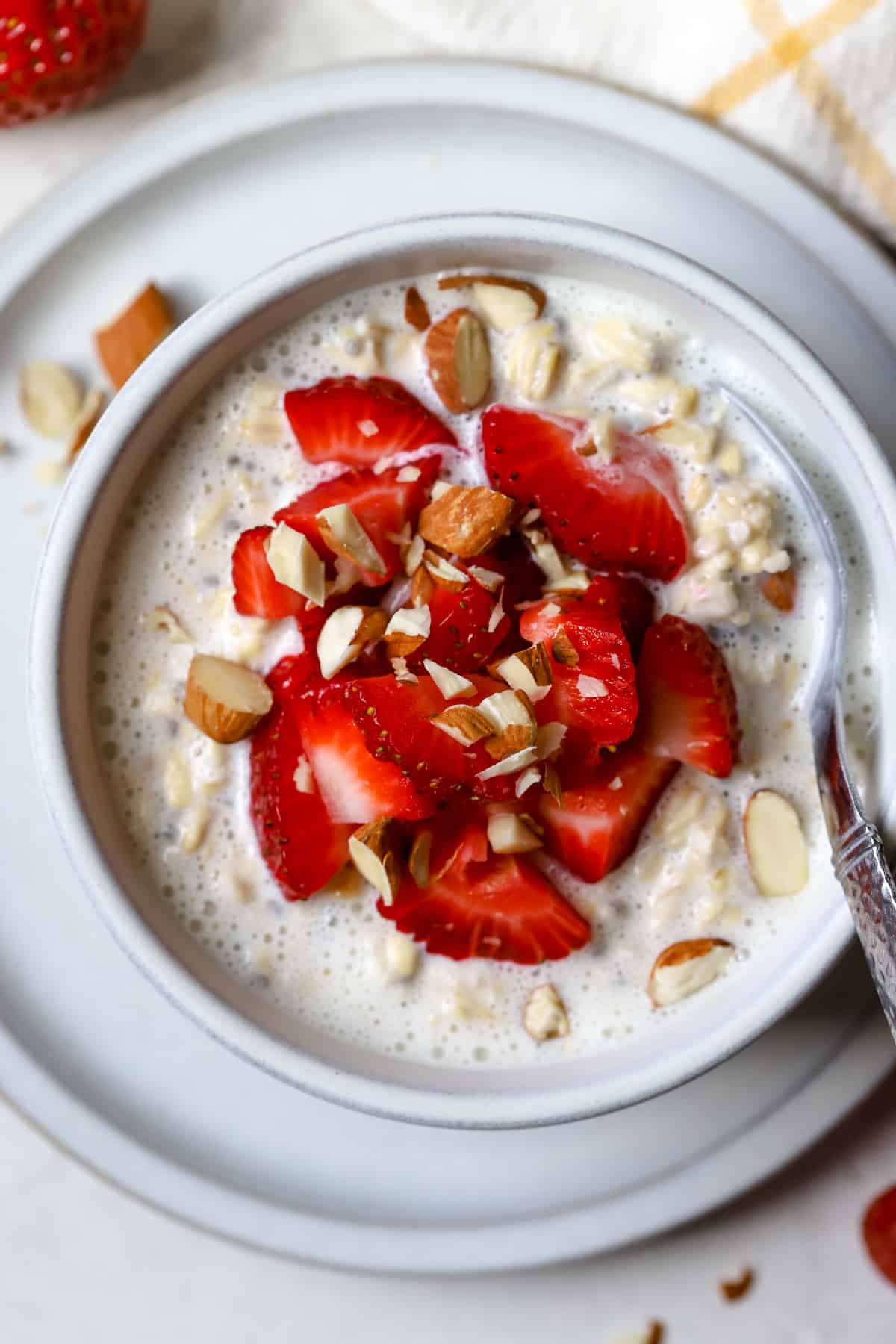 Substitutions & Variations
If you know how to make the recipe fit a certain diet, let the reader know here. Don't fake it - only provide guidance on topics you have actual experience with.
Gluten free - For gluten free oats, check your
Fruit - Don't have fresh strawberries? You can use another berry or cherry, or even frozen strawberries or berries. For frozen strawberries, I recommend thawing them first in the fridge in a separate container (you can do it overnight alongside your oats). In the morning, you can chop them into smaller pieces to add to your oats! You can do the same for other frozen berries, but chopping into smaller pieces isn't necessary.
Strawberries - Fresh, juicy strawberries will work just fine, but if you're in the mood for something a bit sweeter, try some macerated strawberries! Macerating berries simply means marinating them in sugar for about 30 minutes, which helps them break down slightly and become syrupy and sweet. You could also add a scoop strawberry jam with fresh strawberries or use chilled roasted strawberries.
Crunchy toppings - Naturally, I recommend almonds here (shortcake, almond extract... almonds tie it all together!). But other delicious crunchy toppings could include granola, chia seeds, or other nuts & seeds.
Milk & yogurt - Use your preferred types of milk or yogurt (plant-based or dairy will all work!). I talk about my favorite brands of each in my protein overnight oats recipe post. As always, I'm interested in hearing your favorites too!
Equipment
To make overnight oats, you'll need measuring cups and spoons, a container to store the oats in (such as jars or glass storage containers), and a spoon to stir everything together. Also, you'll need a knife and cutting board for the strawberries and almonds.
Recommended Kitchen Equipment
Storage
Store your overnight oats in the fridge for up to five days in jars with lids or airtight containers. I recommend storing the strawberries separately and adding them to the overnight oats right before serving. When I tested leaving the strawberries in the overnight oats while they chilled, I didn't love the texture of the strawberries the next day.
I do not recommend freezing overnight oats!
Top tip
Chia seeds, yogurt, and milk are key to getting thick and creamy results! Plant-based milks and yogurts will work as well as dairy, but don't skip this winning trio for the perfect overnight oats texture.
FAQ
Can I use frozen strawberries?
Sure thing! I recommend thawing in the fridge first and topping your oats when you're ready to eat. Thawed frozen strawberries release a delicious, sweet juice that tastes amazing when topping overnight oats.
More Overnight Oats
Looking for other overnight oats recipes? Below are some favorites!
Pairing
Top your overnight oats with granola or round out your breakfast with additional protein or fruit!
Print
Strawberry Shortcake Overnight Oats
These strawberry shortcake overnight oats are a healthy, easy breakfast that's ready for you when you wake up! Get the most out of a strawberry season by using fresh, sweet strawberries, along with almond extract to get that shortcake flavor.
1

cup

whole rolled oats

½ tablespoon

chia seeds

⅛ teaspoon

fine salt

1

cup

milk (use your fave!)

½

cup

Greek yogurt

1 tablespoon

agave (maple syrup or honey are also great)

½ teaspoon

vanilla extract

½ teaspoon

almond extract

1

cup

fresh strawberries, diced

2 tablespoons

almonds, roughly chopped
Whipped cream or whipped coconut cream, optional
Instructions
Combine dry ingredients. In a medium bowl, combine the oats, chia seeds, and salt, and mix together.
Add wet ingredients. Add milk, yogurt, agave, and vanilla. Stir until everything is well-combined.
Chill. Cover the oats and let them chill in the fridge overnight (or for at least three hours to ensure thick, soft oats that have mostly absorbed the liquid).
Top and eat. Remove your overnight oats from the fridge and divide into two servings. Top with diced fresh strawberries and chopped almonds. Add a dollop of whipped cream or whipped coconut cream for a true strawberry shortcake experience!