These basic formulas for protein overnight oats will allow you to make high protein overnight oats recipes with or without protein powder, so that you can enjoy a protein-packed, healthy breakfast with any available or preferred ingredients that meet your dietary needs.
Mornings before school or work are inevitably rushed, and having a nourishing breakfast waiting in the fridge is a great way to save time while getting the energy you need to start your day. One such breakfast we love? Protein overnight oats!
Overnight oats recipes aren't inherently high in protein, but if you pick the right ingredients, they can be protein-packed. In this post, we'll walk through everything you need to make your own delicious protein overnight oats -- both plant-based/vegan-friendly and non-plant-based versions!
Jump to:
Ingredients
For both plant-based protein overnight oats and non-plant-based protein overnight oats, we'll use essentially the same basic formula with slight variations on the ingredients. The goal here is that with a basic but delicious canvas, we can create many different flavor variations (suggestions below!).
Plant-based
Whole rolled oats
Chia seeds
Salt
High-protein plant-based milk
Plant-based protein powder OR high-protein plant-based yogurt
Maple syrup or agave
Vanilla extract
Non-plant-based
Whole rolled oats
Chia seeds
Salt
Milk
Greek yogurt
Maple syrup, agave, or honey
Vanilla extract
Then, if course, you'll have your add-ins! This can be other types of extract or fruit flavors, fresh or frozen fruit, nuts, seeds, dried fruits, chocolate chips, granola, etc.
Brand Recommendations
Below are some of my tried-and-true, favorite brands of high protein milks, yogurts, and protein powders for making delicious and healthy protein overnight oats!
Milks
Fairlife 2% or whole milk - I love this brand because they use a special filtering technology to filter their milk, sifting out half the sugar and increasing the high quality protein to 13 grams per serving. Also, it's lactose free, which helps sensitive bellies.
Not Milk - This milk tastes incredible! It's a blend of pea and coconut milk with 5 grams of plant-based protein per serving; one of my favorite plant-based milks on the market.
Ripple pea milk - This milk has a luscious and creamy texture with 8 grams of plant-based protein per serving and NO sugar (in the unsweetened kind)! It tastes delicious and is one of my favorite milks for smoothies, overnight oats, etc.
Yogurt
Siggi's yogurt ("skyr", or Icelandic yogurt) is probably my favorite of all time! And now they have a delicious plant-based yogurt with 11 grams of protein per serving and only 4 grams of sugar. For dairy yogurt, I love Siggi's whole milk yogurt for its thick, creamy texture and flavor. Plus, it has 18 grams of protein per serving and only 5 grams of sugar.
Fage is my other go-to brand, for either their 2% or whole milk plain Greek yogurt. Both are high in protein, low in sugar, and have a thick, creamy texture and rich flavor. The reason I love Fage over other Greek yogurts is because it tastes less sour due to the richness.
Protein Powder
For protein powder, I like to keep it plant-based and simply flavored, so that I can flavor and sweeten a recipe myself with real food. The best for this is plant-based vanilla or any plain plant-based protein powder you can find.
Instructions
To make protein overnight oats, first combine rolled oats, chia seeds, and salt in a bowl, and mix together.
If making the plant-based version, add in your plant-based protein milk, protein powder, maple syrup or agave, and vanilla extract. If you're not making a plant-based version, add in your milk of choice (dairy or plant-based), Greek yogurt, liquid sweetener of choice (honey, maple syrup, or agave), and vanilla extract. Stir everything together until evenly combined and no protein powder clumps remain.
Next, leave the overnight oats in the bowl, cover it, and place it in the fridge overnight. Alternatively, you can divide the oats into jars for storing in the fridge, so that they are already divvied up into individual servings for grab-and-go the next morning. The next day, the overnight oats will have absorbed all the flavorful liquid and become fluffy and pillowy soft. Yum!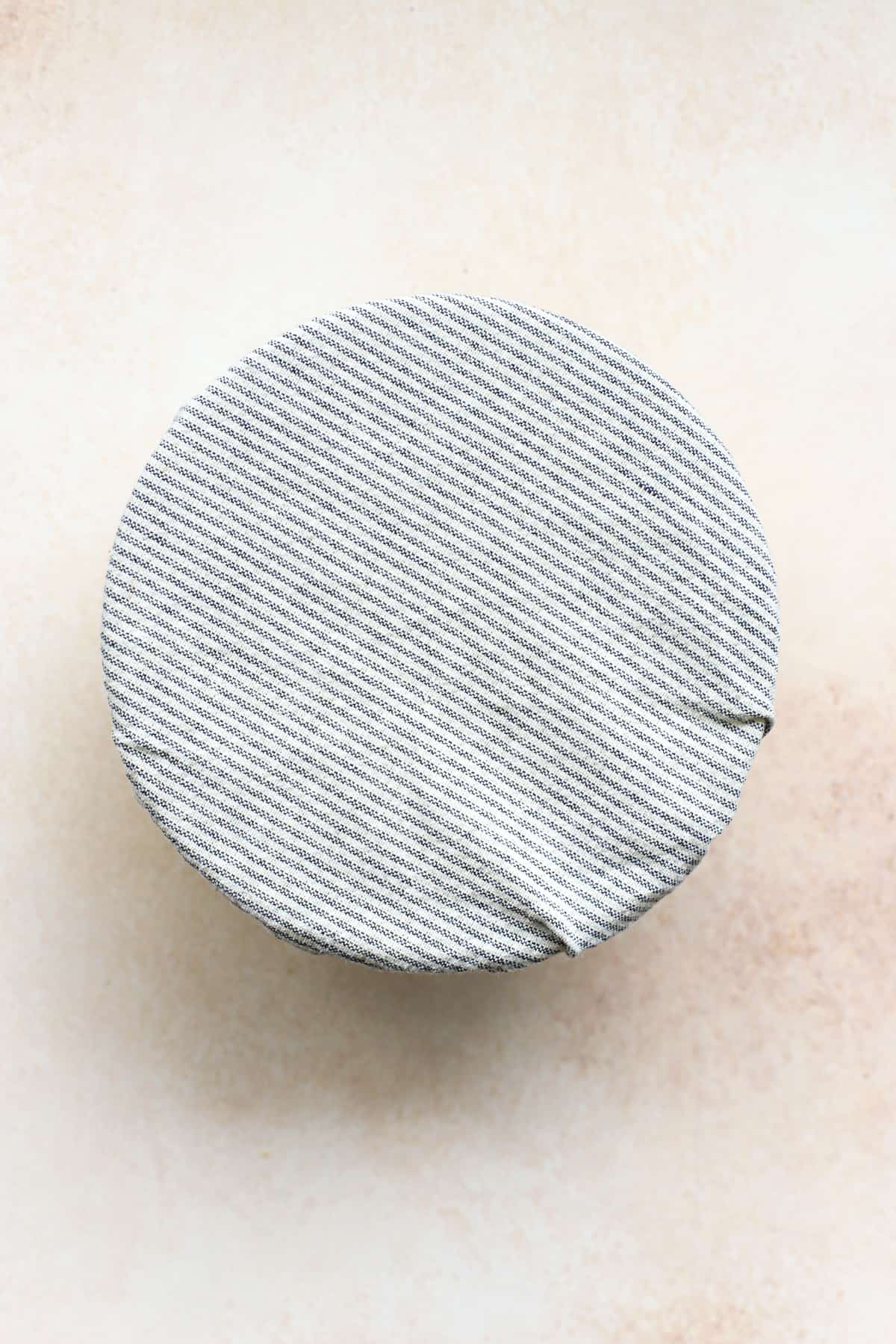 To serve, top with add-ins such has fruit, nuts, seeds, or chocolate chips! Check out all the flavor variations below for inspiration.
Toppings & Add-ins Success Tip: If you're adding fruit as an add-in, some fruits are best when added right before serving. For cherries and berries, I'll typically add in some with the oats, and then top with more the next day. On the other hand, fruits like apples and bananas are best when added upon serving, because they will brown in the fridge overnight. Cooked and chilled fruit mixtures (such as jam, compote, or pie filling) are best when layered in jars with the oats overnight, or swirled in the next day.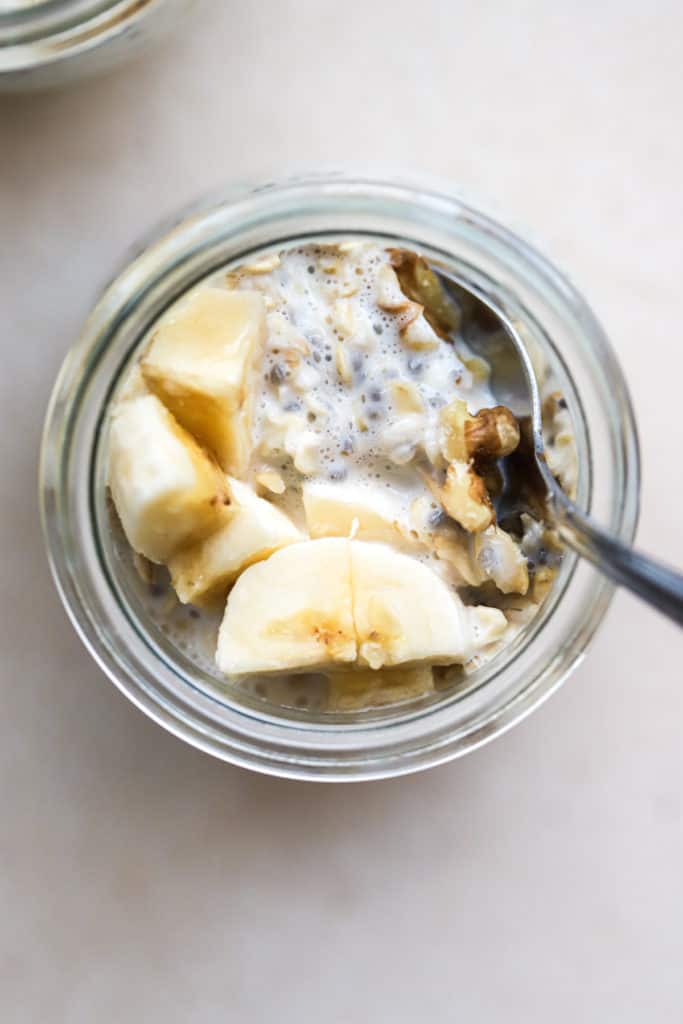 Substitutions
The following ingredient substitutions can be used to make protein overnight oats fit your lifestyle and preferences:
Milk - Use plant-based milk to keep these oats vegan! See my recommendations above for my favorite high protein options, or use your favorite.
Yogurt - Feel free to swap in your favorite yogurt in place of my recommendations. I like to avoid yogurts with added sugar whenever possible, or try to keep it to a couple grams. Then you can add your own unrefined sweetener to adjust it to your preferences.
Sweetener - I prefer to use natural, unrefined sweeteners whenever possible, my favorites being agave, honey, and maple syrup. Dates or date syrup, apple butter, or coconut sugar would be other good options to sweeten overnight oats! Honey is not vegan, so if you are going for plant-based opt for an alternative.
Variations
Protein overnight oats are a canvas for so many flavor variations, so this is where the fun begins! We have several flavors on the Roots and Radishes site already, but below are more ideas from myself and readers.
Blueberry cinnamon - Stir ¼ teaspoon of cinnamon in to the overnight oats, and add ½ cup blueberries upon serving.
Apple walnut - Add ½ cup chopped apple and 2 tablespoons of walnuts upon serving for a delicious crunchy contrast to the soft, pillowy oats.
Raspberry lemon - Flavor the overnight oats with ½ tablespoon of freshly squeezed lemon juice + ½ teaspoon lemon zest. When serving, add ½ cup raspberries. This is very similar to my blueberry lemon zest overnight oats!
Mango lime - Flavor the oats with ½ tablespoon freshly squeezed lime juice + ½ teaspoon lime zest. When serving, add ½ cup fresh mango.
Pumpkin pie - Add ¼ cup canned pure pumpkin to the overnight oats + ½ teaspoon pumpkin pie spice. Top with whipped coconut cream!
Berries & cream - To the basic protein overnight oats base, add mixed berries (raspberries, strawberries, blueberries, and/or blackberries), a dollop of whipped coconut cream, and crushed pistachios or nuts for crunch.
Peanut butter & jelly - Upon serving, top with ½-1 tablespoon peanut butter, a sprinkle of peanuts, ½ tablespoon of your favorite jam, and ¼ cup strawberries or raspberries.
Chocolate almond coconut - Use chocolate plant-based protein powder in the overnight oats base, and top with crushed almonds and unsweetened coconut flakes.
Banana cinnamon walnut - Add ¼ teaspoon of cinnamon to the overnight oats, then add half-slices of banana and 2 tablespoons walnut pieces upon serving.
Cherry lime is a summer favorite of mine and kiwi coconut is one I enjoy when I'm looking for some extra vitamin C.
Did you create your own variation?! Please tell me in the comments below!
Storage
Store protein overnight oats in the fridge for up to five days in jars with lids, or in airtight containers. I recommend storing most fruit separately and then adding it to the overnight oats right before serving.
I do not recommend freezing overnight oats!
Overnight Oats FAQs
Can you add protein powder to overnight oats?
Yes!! In this recipe, we recommend adding plant-based protein powder to vegan overnight oats by simply stirring one scoop in with the other ingredients, ensuring no clumps remain. You could also add it to a non-plant-based version for even more protein!
Do you need chia seeds in overnight oats?
You do not need chia seeds, but they do help absorb some of the liquid and add additional protein, fiber, and omega-3 fatty acids. If you omit the chia seeds, add an extra ¼ cup of rolled oats or reduce liquid by ¼ cup.
Print
Protein Overnight Oats
A basic formula for plant-based protein overnight oats AND non-plant-based overnight oats to pack an extra protein punch for nourishing, time-saving breakfasts.
Author: Tera
Prep Time:

5 minutes

Total Time:

5 minutes hands on, 3+ hours chill time

Yield:

2

servings

1

x
Category:

Breakfast

Method:

Chill

Cuisine:

American
1

cup

rolled oats

1 tablespoon

chia seeds

⅛ teaspoon

(or small pinch) salt

1

cup

milk (plant-based for vegan)

⅓

cup

Greek yogurt (non-vegan) OR 1 scoop plant-based protein powder (vegan)

1 tablespoon

maple syrup

½ teaspoon

vanilla extract
Instructions
Combine dry ingredients. In a medium bowl, combine the oats, chia seeds, and salt, and mix together.
Add wet ingredients. Add milk, yogurt or protein powder, vanilla, and maple syrup. Stir until everything is combined.
Chill. Cover the oats and let them chill in the fridge overnight (or for at least three hours to ensure thick and soft oats).
Remove from fridge, top, and eat. The next morning, take the overnight oats out of the fridge and divide into two servings (save one for later if it's just you eating them!). Top with desired toppings!
Notes
Recipe Time: The recipe time reflects hands-on time, but overnight oats are best when chilled for at least three hours, and most convenient when left to chill overnight (8+ hours).
Keywords: protein overnight oats, healthy overnight oats with Greek yogurt