This post contains affiliate links for products I genuinely recommend, which means I earn a small commission at no cost to you.
Bread cubes soaked in eggs and baked up with delicious spring produce and cheese?! YES. This healthy spring veggie breakfast strata is perfect for brunch, lazy Sundays, and meal prepping breakfasts (or lunches!). It is vegetarian and an eggcellent (yep, I went there) way to use up day-old bread, or any spring produce in your fridge!
Of course quiches and egg bakes and Spanish tortilla will always have a place in our hearts and tummies, but it's time to add a new baked egg situation into our regular breakfast and brunch rotations: the breakfast strata! This healthy spring veggie breakfast strata is easy and cheesy in all the right places, not to mention a healthy way to serve breakfast or brunch.
The Ingredients
Breakfast strata is essentially a breakfast bake with eggs, veggies, milk, cheese, optional meat, and bread cubes, soaked overnight (or for a couple hours) and baked in the morning. To make this veggie breakfast strata, you'll need the following ingredients:
Whole wheat or regular baguette (12 oz. total) - I used the take-and-bake baguettes from Angelic Bakehouse and they are incredible! I baked mine the morning before I made the breakfast strata, and these baguettes get perfectly baked on the outside with a soft and warm interior that has incredible flavor. If there wasn't a strata in that bread's future, it would have been me and some butter right then and there. Angelic Bakehouse products are made with clean ingredients and sprouted grains, and the flavor is unbeatable. I love them so much that I rarely go one day without eating something from Angelic!
Eggs - The other main ingredient that's going to get all soaked up in those bread cubes.
Milk - Either dairy or any unsweetened, plain plant-based milk will work.
Asparagus, onion, and spinach - I chose these three veggies as they're some of my favorite spring produce items, but if you need to use up other veggies, go for it! Breakfast strata is flexible like that.
Mozzarella and feta - Mozzarella gives you that more mild cheese flavor that melts super easily, and feta has that special salty thing about it.
Salt and pepper - Just a simple seasoning is all you'll need for these eggs.
Olive oil or butter - For sautéing the asparagus and onion, and for lightly greasing the pan.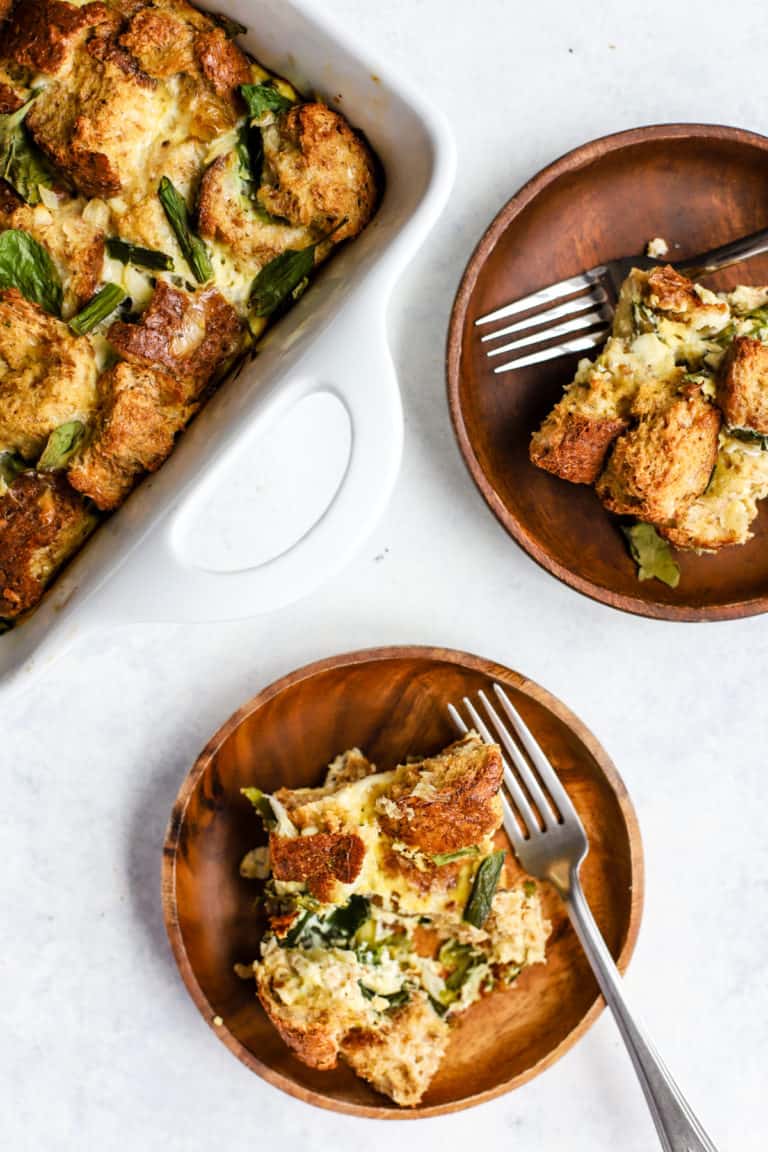 You'll also need...
A 9x13-inch baking dish
A medium skillet
Knife
How to Make Breakfast Strata
The wonderful thing about breakfast strata is that it can be prepared the night before and left to soak in the fridge overnight (or for a couple hours), so the bread cubes soak up all of that eggy flavor. This makes strata a super easy dish to prepare the night before, so that all you need to do in the morning is preheat the oven!
Prep Work
Since some of the breakfast strata ingredients require a little prep, I like to get everything ready right away. These first few prep steps will help you get your ingredients ready to assemble in your baking dish:
Lightly grease a 9x13-inch baking dish to keep the breakfast strata from sticking.
Chop up your asparagus and onion and sauté them in olive oil and salt for just a few minutes to release flavor and soften.
Roughly chop spinach.
Grate your mozzarella.
Cut bread of choice into 1-inch cubes.
Whisk & Assemble
Once you have all of that ready, whisk together the eggs, milk, salt, and pepper. Sometimes I even use a blender for this part!
Place the bread cubes, veggies, feta, and half the mozzarella into the baking dish and gently stir to evenly distribute the ingredients. Pour the egg mixture over the top, making sure to coat all of those bread cubes. Finally, sprinkle the remaining mozzarella over the top of the bake.
Catch some Zzz's... then bake!
Cover the baking dish with aluminum foil and place it in the fridge overnight or for 2-3 hours. I've had my best results with at least three hours because the bread cubes have enough time to become saturated with all of that eggy goodness.
In the morning or when you're ready to bake, take the breakfast strata out of the fridge and let it come to room temperature on the counter for 10 minutes, preheating the oven to 350 degrees in the meantime. Bake the breakfast strata uncovered for 45-50 minutes. You'll know it's done when the eggs are completely solid (no longer jiggly in the center), and the corners of those bread cubes peaking over the top are slightly toast.
Cut into squares and serve!
Common Breakfast Strata Questions
What can I serve with breakfast strata? If you're serving breakfast strata for breakfast or brunch, fruit salad or a side of fruit goes really well. May I suggest some honey lime mint watermelon berry fruit salad?? But, if you're serving breakfast strata at lunchtime, then a veggie side salad would be YUM.
Can you freeze breakfast strata? Yep! To freeze breakfast strata, prepare it through step six (below), but instead of covering with aluminum foil, cover it tightly with plastic wrap and freeze for up to three months. When you're ready to make it, allow it to thaw in the fridge overnight before baking the next morning.
How do you reheat breakfast strata? I recommend reheating breakfast strata in the oven to crisp up those bread cube tops again, but the microwave will work in a pinch.
Can I substitute other ingredients? For sure! I used asparagus and spinach to take advantage of spring produce, but pretty much any veggies in approximately the same amount in the recipe will work. As for cheese, feel free to substitute any kind! In addition to the kinds I used in this recipe, I adore sharp cheddar, gruyere, or goat cheese with eggs.
More breakfast?! If you like egg bakes for breakfast or brunch, you'll also love this simple quiche recipe (made with chickpea flour pie crust)!
If you make this recipe, please be sure to let me know in the comments below! I love hearing about your experiences.
Print
Healthy Spring Veggie Breakfast Strata
This healthy spring veggie breakfast strata is a delicious make-ahead breakfast or brunch! It's made with whole grain bread cubes for a healthier take on the classic strata. Prepare it the night before and simply preheat your oven the next morning to bake up your easy, cheesy breakfast!
Author: Tera
Prep Time:

15

Cook Time:

50

Total Time:

1 hour 5 minutes

Yield:

8

squares

1

x
Category:

Breakfast, brunch

Method:

Bake

Cuisine:

American
12 ounces

bread, cut into

1

-inch. cubes
extra virgin olive oil, for sautéing veggies

½

pound asparagus, cut into

1

-inch pieces

½

yellow onion, diced

1 cup

spinach, roughly chopped

1 cup

mozzarella cheese, shredded (set aside

½ cup

for top of strata)

½ cup

feta

9

eggs

1 cup

milk (any kind)

½ tsp

each salt and pepper
Instructions
Grease a 9x13-inch baking dish and set aside.
Heat some olive oil in a skillet and sauté asparagus and onions for four minutes (until they start to soften). Sprinkle with salt and remove from heat.
Add the bread cubes, asparagus, onion, spinach, half of the mozzarella, and feta to the baking dish. Lightly stir to evenly distribute the ingredients.
Whisk together eggs, milk, salt, and pepper (or blend in a blender).
Pour the egg mixture all over the bread cubes, veggies, and cheese. Sprinkle reserved mozzarella over the top of the strata.
Cover the strata with aluminum foil and set in the fridge overnight (or at least three hours).
The next morning or when you are ready to bake, remove the strata from the fridge and allow it to come to room temperature for 10 minutes while you preheat the oven to 350 degrees. Bake for 45-50 minutes. You'll know the breakfast strata is done when the eggs are no longer jiggly in the center.
Cut into squares and serve!
Notes
1. Storing & Reheating: If you have leftovers, you can store the veggie breakfast strata in a glass container in the fridge.
2. Freezing: To freeze, prepare the breakfast strata through step 6, then cover tightly with plastic wrap and freeze for up to 3 months. Allow it to fully thaw in the refrigerator before baking.