This post contains affiliate links for products I genuinely recommend, which means I earn a small commission at no cost to you.
Air fryer parsnips are a must-try! These delicious root veggies are transformed by the air fryer into a slightly sweet roasted veggie with soft insides and lightly crisped outsides. Done in just 20 minutes (prep time included), they're a quick and easy side dish for any meal.
An easy 20-minute side dish brought to you by... parsnips! Aka the humble root veggies in the produce section that resemble white carrots. When air fried, parsnips taste mild and slightly sweet, with a texture sort of like a cross between a carrot and a potato. They are so delicious and simple, and I think you'll love them!
Note, they don't taste like carrots when raw, so in case you decide to take a bite of raw parsnip expecting something sweet... you're going to find yourself in a potato-like situation. In other words, they taste better cooked (though I'd rather eat a raw parsnip than a raw potato).
P.S. If you don't have an air fryer, worry not! See below for oven-roasting instructions, which is just as delicious.
Jump to:
Ingredients
Roasting or air frying parsnips is so easy, and you'll only need a handful of ingredients.
Parsnips - Fresh parsnips can be found at most grocery stores in the produce section (often located by the carrots).
Extra virgin olive oil - I always love to coat my veggies in extra virgin olive oil before roasting or air frying.
Salt - For enhancing the flavor of the parsnips.
Pepper - For adding some simple flavor to the parsnips.
Optionally, find some condiments for drizzling or dipping the fully cooked parsnips. Lately we've been obsessed with chili crunch!
Instructions
Parsnips are SO easy to make in an air fryer! Here's how:
You can start by preheating your air fryer to 390 degrees, and then follow the steps below.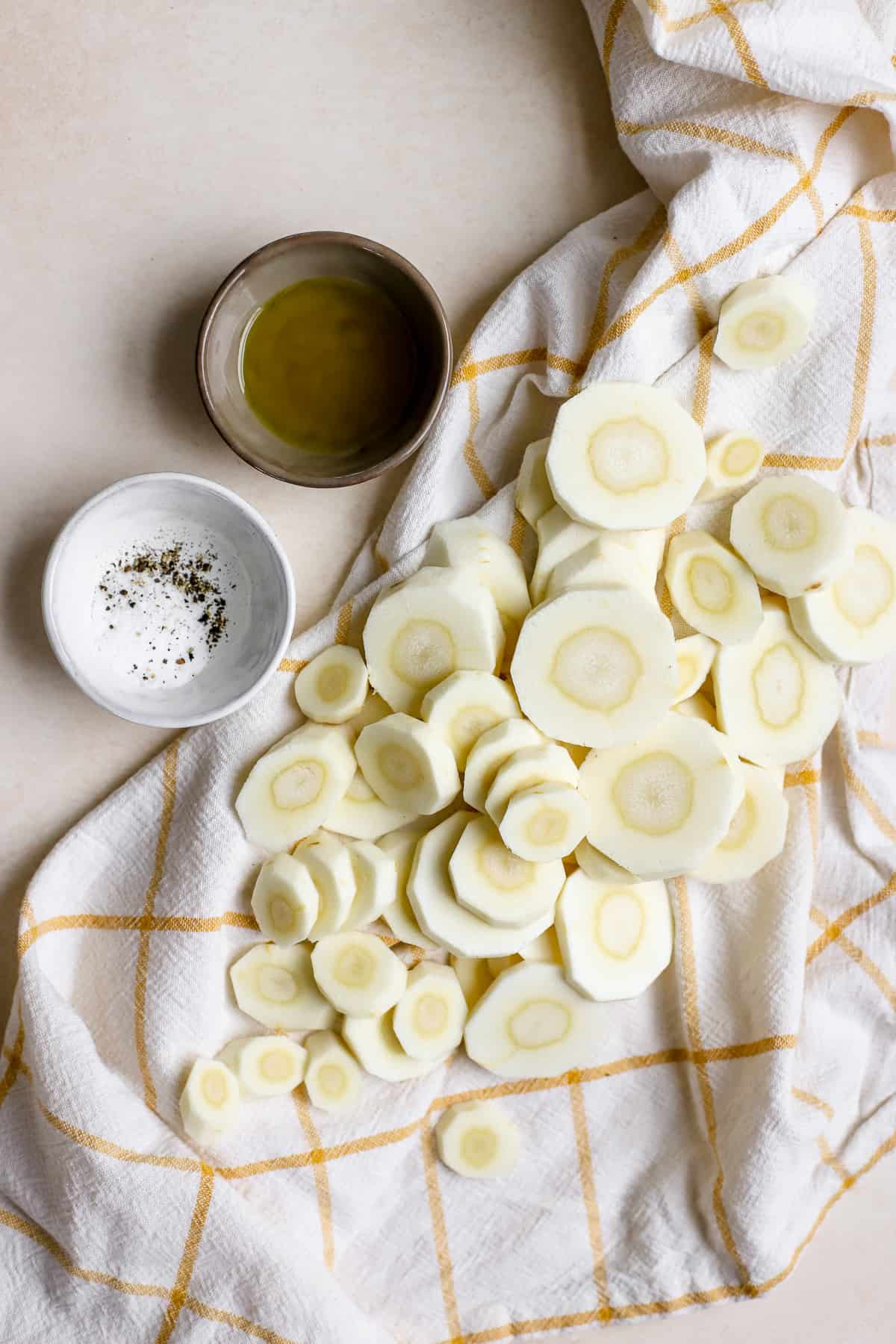 Wash, peel, and slice your parsnips into coins about as thick as your pinky finger (or slightly less thick, but not paper thin).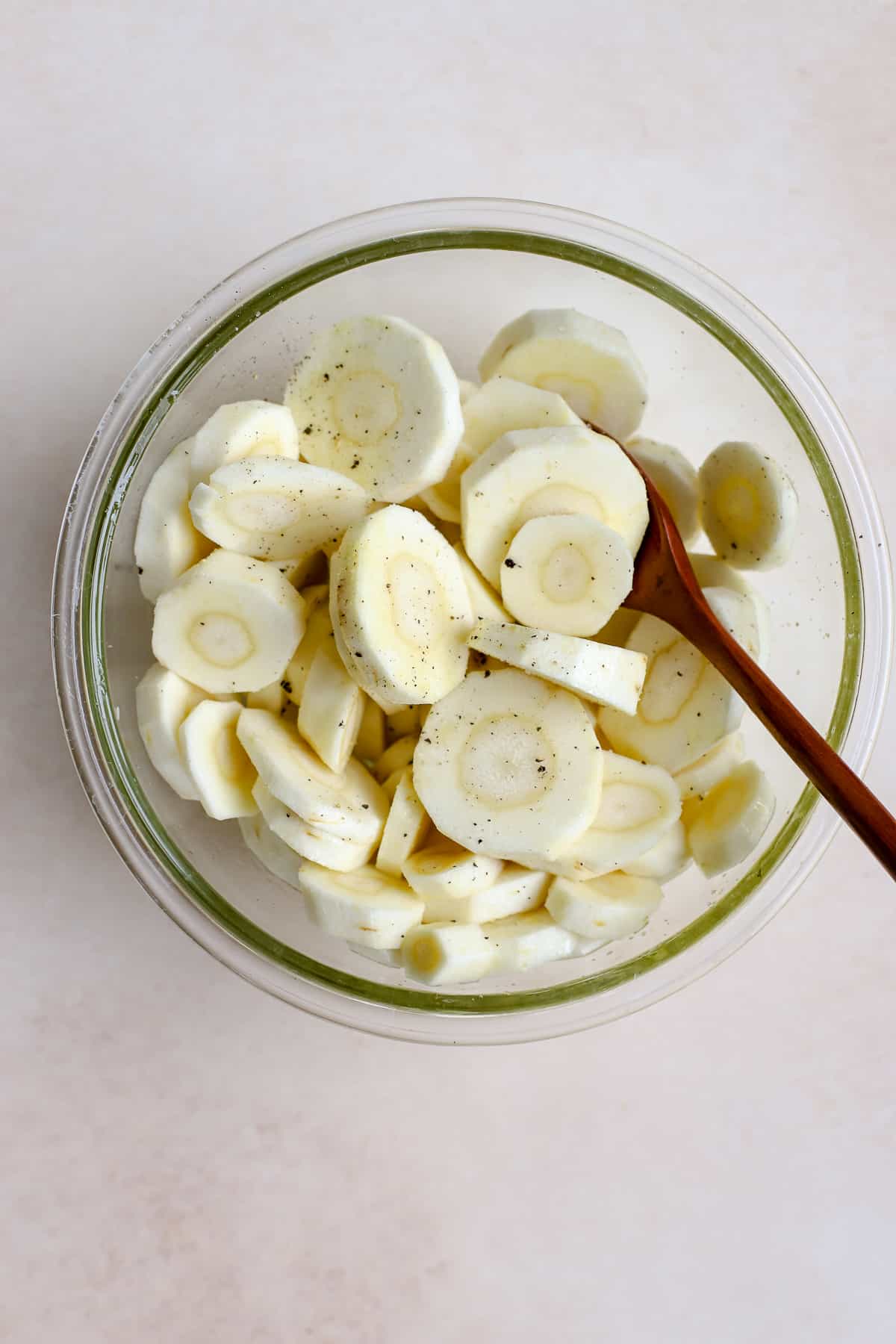 Add sliced parsnips to a bowl and toss with extra virgin olive oil, salt, and pepper.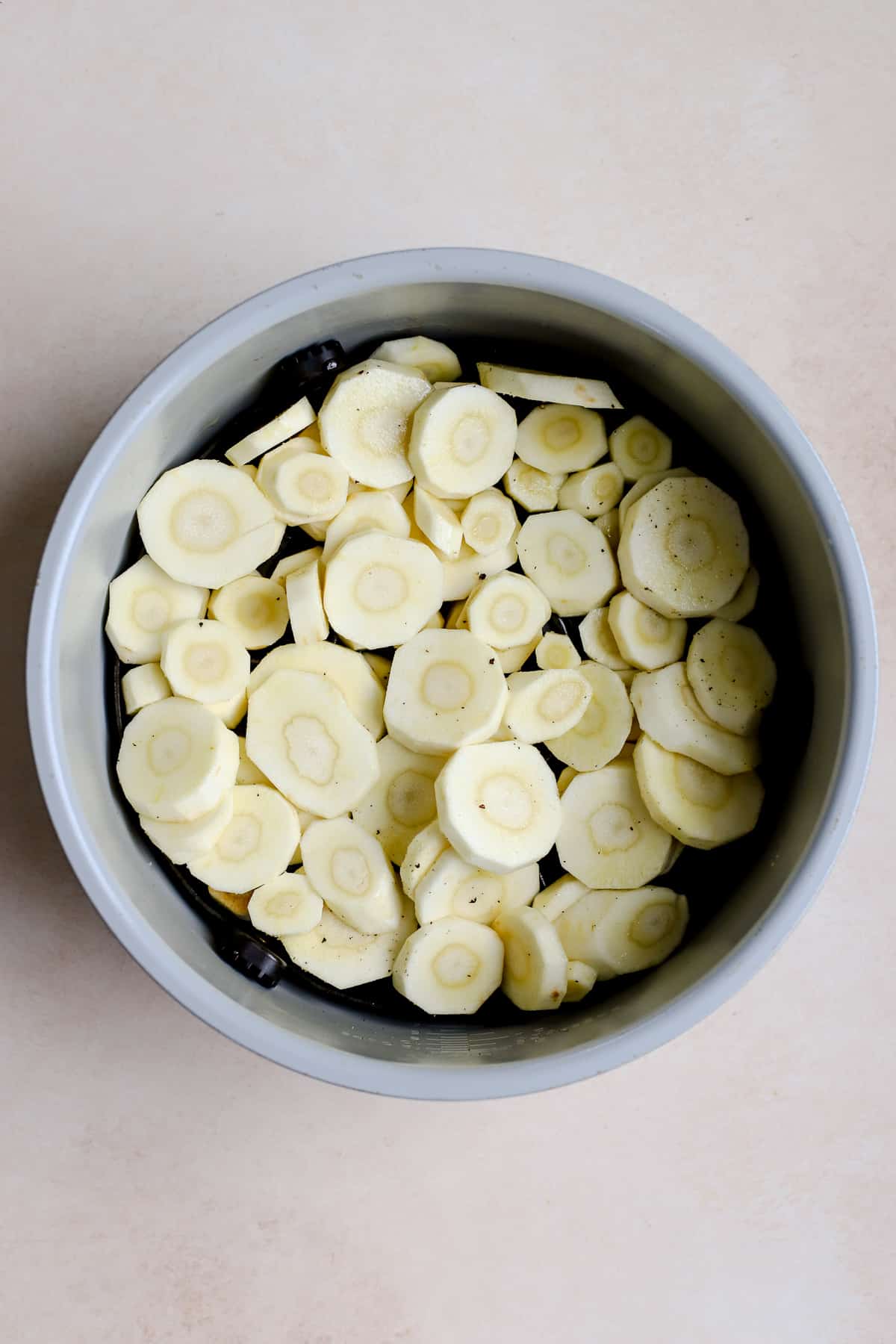 Place parsnips in an even layer in your air fryer (it's okay if they're overlapping a bit) and air fry them at 390 degrees for 15 minutes, stirring once halfway through.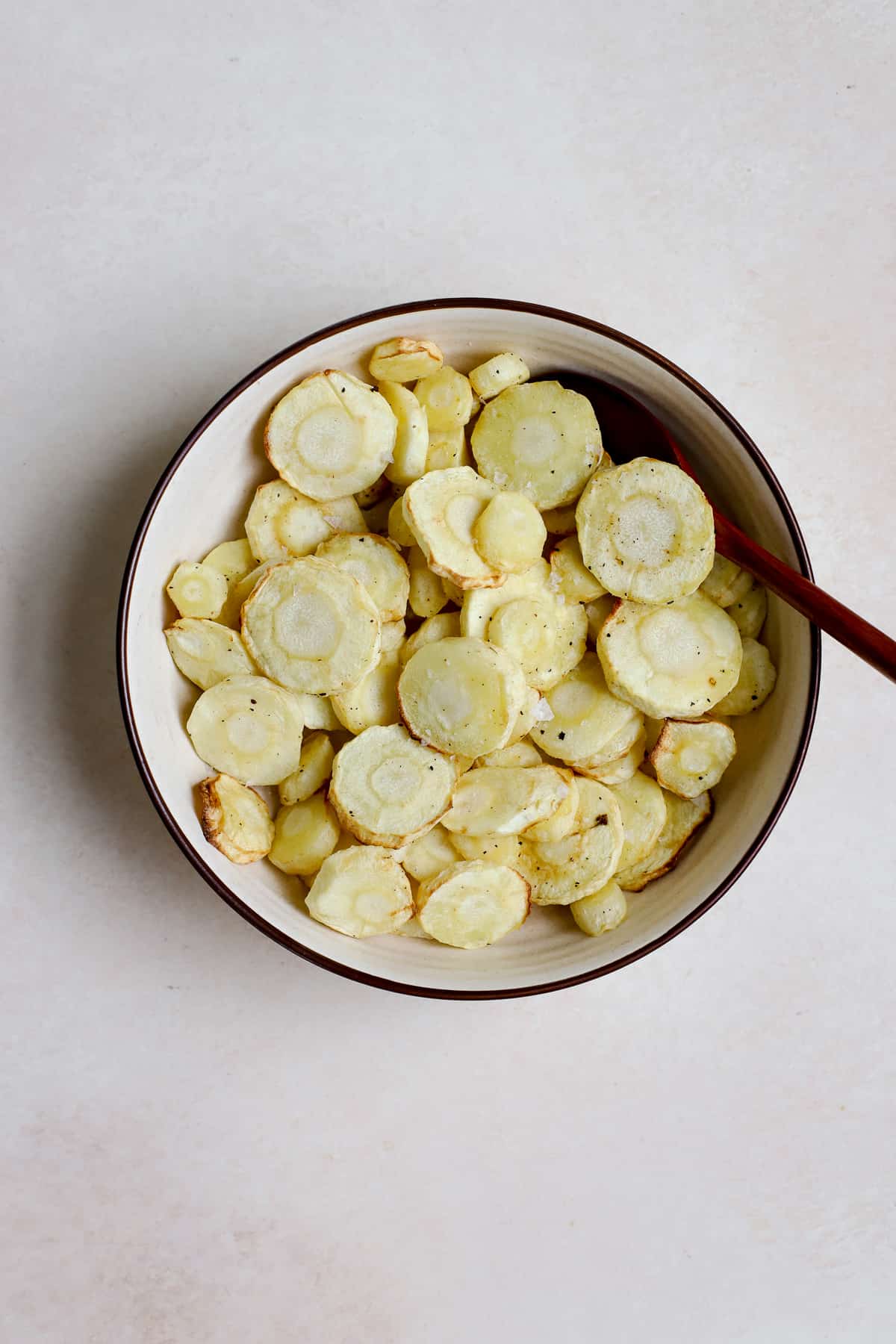 After 15 minutes is up, taste test a parsnip (let it cool first!). It should be fully cooked through with a soft center and slightly crisped outside. Then remove from air fryer and serve!
We enjoyed our most recent batches of parsnips with a healthy dose of chili crunch (as pictured). If you haven't tried this stuff yet, OMG. There's a Trader Joe's brand version called "onion crunch", which we buy when we can. Otherwise pick up a jar of the Momofuku chili crunch and CHANGE your life.
No air fryer? No problem.
If you don't have an air fryer, oven-roasted parsnips are just as delicious. Simply preheat your oven to 400 degrees and prepare a sheet pan (line with tinfoil or parchment paper if desired). Toss the parsnips with olive oil, salt, and pepper, and then spread them in an even layer on the sheet pan. Roast at 400 degrees for 15-18 minutes (test a piece at 15 minutes; if it's a little hard in the middle, let them go for another 2-3 minutes).
Hint: If you have a convection setting on your oven, this will mimic an air fryer nicely.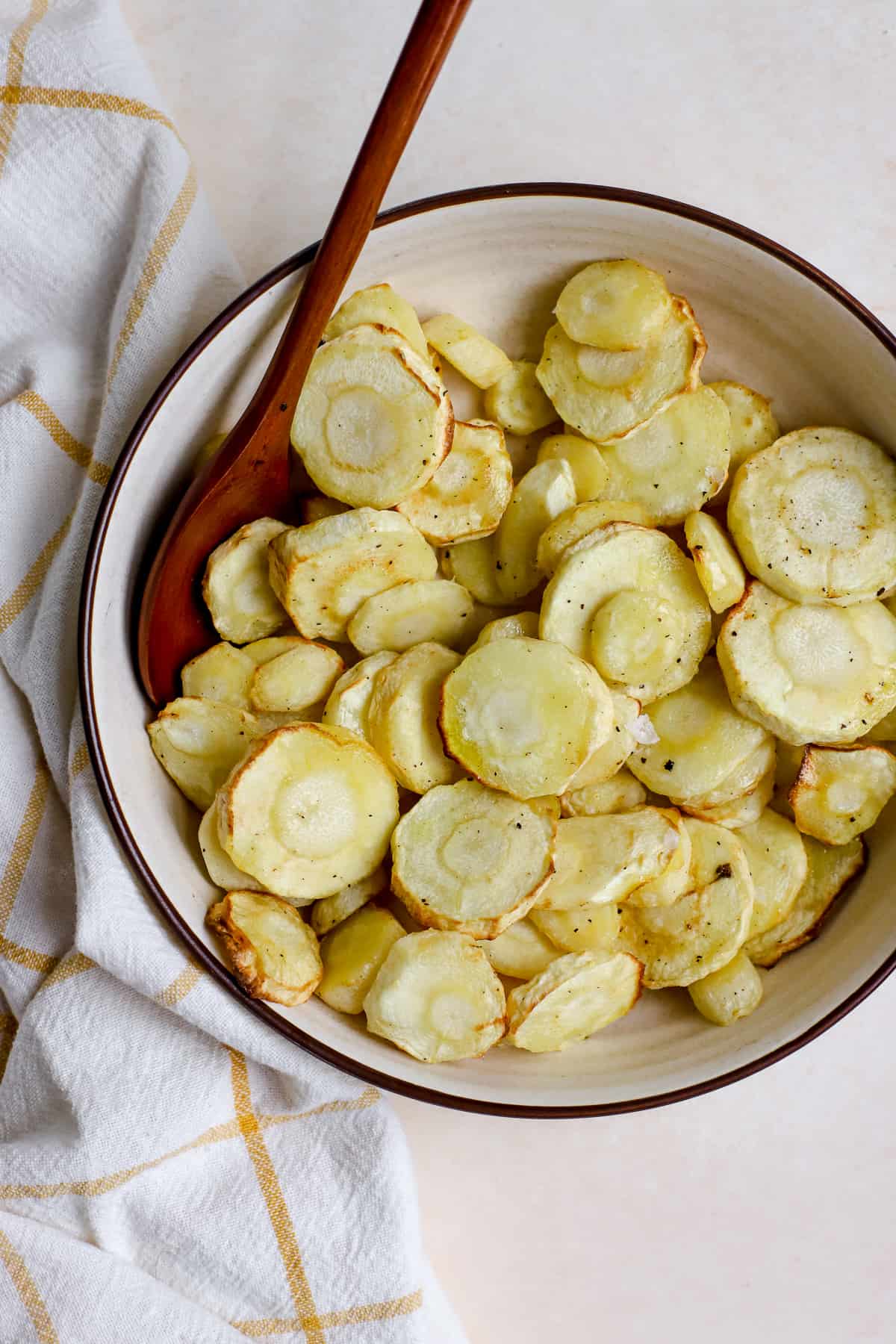 Substitutions and Variations
The following substitutions and variations are ways you can make these air fryer parsnips work for you. Try them out for flavor/texture variations, or to better accommodate your dinner guests.
Spices - Simple salt and pepper is great, but if you're feeling like a little more flavor, try adding a touch of garlic or onion powder (not too much - about ¼ teaspoon) and smoked paprika (or your fave spices!).
Honey - For honey roasted parsnips, add a drizzle of honey to lightly coat the parsnips before cooking. The honey will add a lovely light sweetness and flavor.
Parsnip shapes - Cut the parsnips into sticks to have more of a French fry experience while eating them. Don't expect actual fries, but they are incredibly delicious and honestly I do like air fryer parsnips in ketchup.
Oven method - See the previous section on how to roast parsnips in your oven instead of an air fryer. Just as delicious!
Get saucy - Starchy roasted veggies are perfect for sauce. I recommend chili crunch, pesto, tahini sauce, aioli, chili crunch mayo (literally just combine chili crunch & mayo)... the options are endless.
Equipment
For this recipe I recommend using an air fryer, large bowl, cutting board, sharp knife, and vegetable peeler.
If you don't have an air fryer, you can use your oven and a sheet pan instead to roast the parsnips. In this case you might also want some tinfoil or parchment paper to line the pan for easy clean-up.
I use my Ninja Foodi 10-in-1 pressure cooker and air fryer, and have been for years. Can't recommend it enough!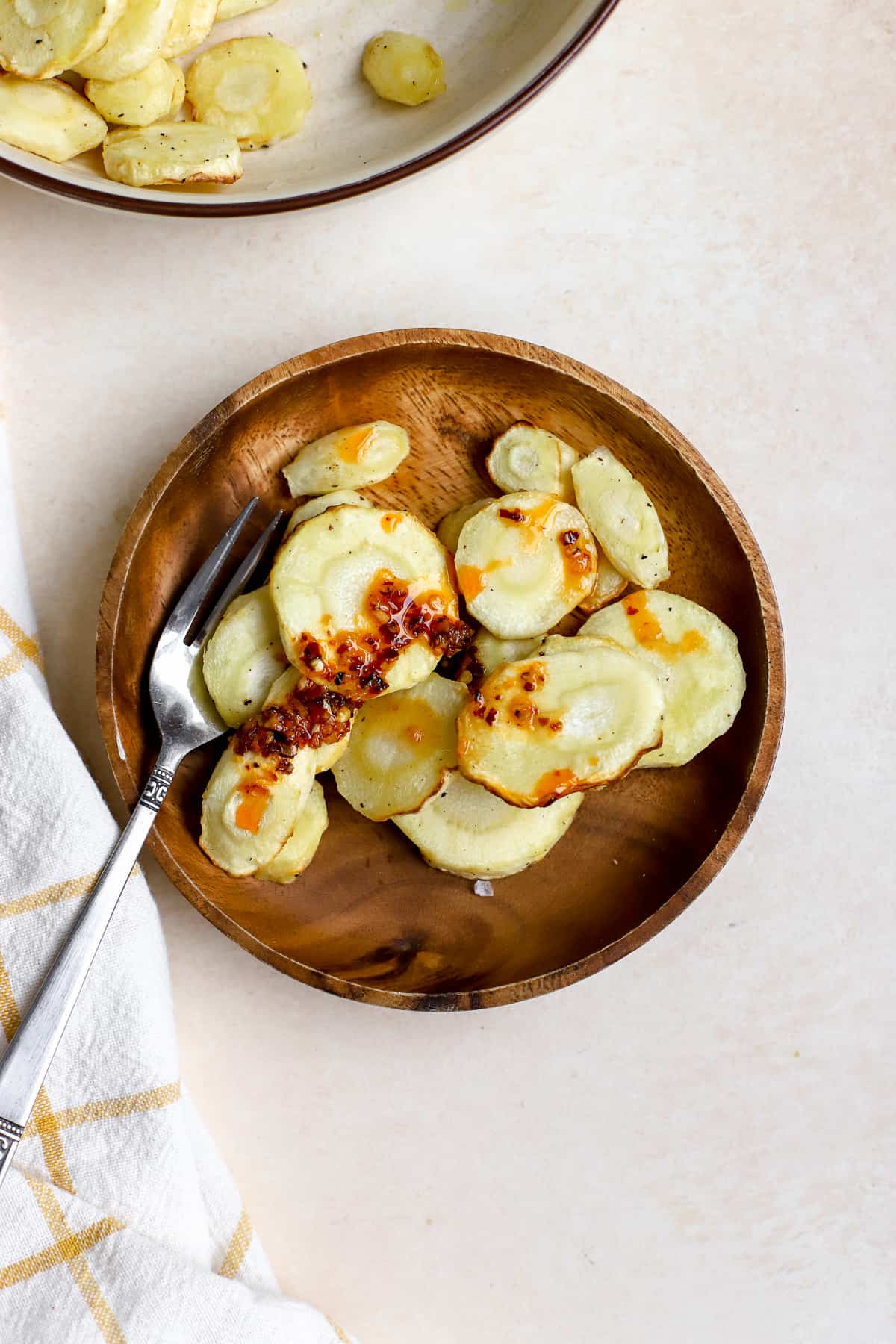 Storage
Store air fryer parsnips in a an airtight container in the fridge for up to a week.
To freeze, place air fryer parsnips in an airtight container or zip-top bag for up to three months. Reheat in your air fryer or in the oven.
Top tip
Air fryer sizes vary! I use Ninja Foodi 10-in-1 multi-cooker with an air fryer setting. With a 6.5-quart capacity, I think it works best with one pound of veggies to air fry. If your air fryer is smaller, see what the parsnips look like in one even layer (totally okay if some are overlapping). If it looks like a heaping pile, try air frying them in two batches.
FAQ
How long do parsnips take to cook in an air fryer?
For one pound of parsnips in a 6.5-quart (or similar-sized) air fryer, it takes 15-18 minutes. If you put fewer parsnips in your air fryer, it'll take less time (15 minutes at the most), and if you put in more, it'll take longer. I always recommend a taste test to confirm the parsnips are at your desired level of doneness. I like them soft on the inside and lightly crisped on the outside!
Are these parsnip fries?
If you're expecting a French fry, then I would say these are not fries. Rather, they are air fried parsnips, which are similar to roasting parsnips at a high heat in a convection oven. If you cut the parsnips into French fry shapes instead of coins, they will be more similar to fries.
Related
Looking for more simple side dish recipes? Try these:
Pairing
Looking for some dipping sauces? Look no further than these homemade favorites:
Print
Air Fryer Parsnips
Air fryer parsnips are the quick and easy side dish you've been looking for! These delicious root veggies are transformed by the air fryer into a slightly sweet roasted veggie with soft insides and lightly crisped outsides. Done in just 20 minutes (prep time included).
Author:
Prep Time:

5 minutes

Cook Time:

15 minutes

Total Time:

20 minutes

Yield:

~2 cups

Category:

Side Dish

Method:

Air Fryer

Cuisine:

American
1

pound

fresh parsnips, peeled and sliced into coins

½ tablespoon

of extra virgin olive oil (plus more as needed to coat parsnips)

¼ teaspoon

salt

¼ teaspoon

pepper
Instructions
Preheat. Preheat your air fryer to 390 degrees.
Prep parsnips. Scrub the parsnips if necessary, then peel and slice them into coins (about 1 centimeter thick or slightly less).
Season parsnips. Toss the parsnip slices into a large bowl and drizzle with extra virgin olive oil. Add salt and pepper, and toss to coat.
Air fry. Add seasoned parsnips to the air fryer in an even layer. It's okay if some are slightly overlapping/stacked, but if it's a very thick layer, you may need to do two batches (see notes). Air fry the parsnips for 15-18 minutes, stirring once halfway through. 
Equipment
Notes
Air fryer size. If you have a smaller air fryer, you may need to air fry the parsnips in multiple batches. I use a Ninja Foodi air fryer, and 1 pound of sliced parsnips is about the max I can do for one batch. Otherwise, they get piled too high and some of the parsnips don't get as much heat/air exposure.
Taste test. Whenever I air fry veggies, I always take one out at the end of cooking and taste test it for doneness. If the parsnips aren't fully soft in the middle at 15 minutes, let them cook for another 1-3 minutes and test again.
Keywords: air fryer parsnips