This post contains affiliate links for products I genuinely recommend, which means I earn a small commission at no cost to you.
If you like easy breakfasts and your eggs with a little bit of spice, you need to try making your eggs with fresh chilli (aka chili) peppers! These chilli scrambled eggs are simple, soft, delicious, and can be made with any chillies you can find.
Scrambled eggs are simple, but the truth is I can't let you go walking around your kitchen without this basic breakfast staple in your back pocket! Because a truly creamy, soft scramble can be next-level, and with a little heat from fresh chilli peppers? OMG. This simple scramble becomes the perfect toast topper or breakfast taco/wrap filler.
Jump to:
Ingredients
As I mentioned, these chilli scrambled eggs are simple. Pretty much everything you need is in the name of the recipe, plus a couple other ingredients to bring out that flavor.
Eggs - The star of the recipe!
Fresh chillies - Or maybe the fresh chillies are the star of this recipe? You'll need to make it and tell me with you think. The fresh chillies add delicious spice. You can use any kind of chilli - we have fresno chillies at our local grocery store, so I usually go for those.
Fine salt - Necessary flavor enhancement.
Pepper - I love adding a little pepper to eggs, even if it's not the star flavor.
Extra virgin olive oil or butter - For flavor and to keep your scrambled from burning or sticking to the pan.
Half and half (or milk) - Whichever you have on hand will do. Just a splash makes for an extra creamy scramble.
Instructions
Take the easy steps below, and delicious chilli scrambled eggs are yours!
First, heat a small or medium sized sauté pan over low heat. Add a butter or olive oil and allow it to heat up slightly over the low heat.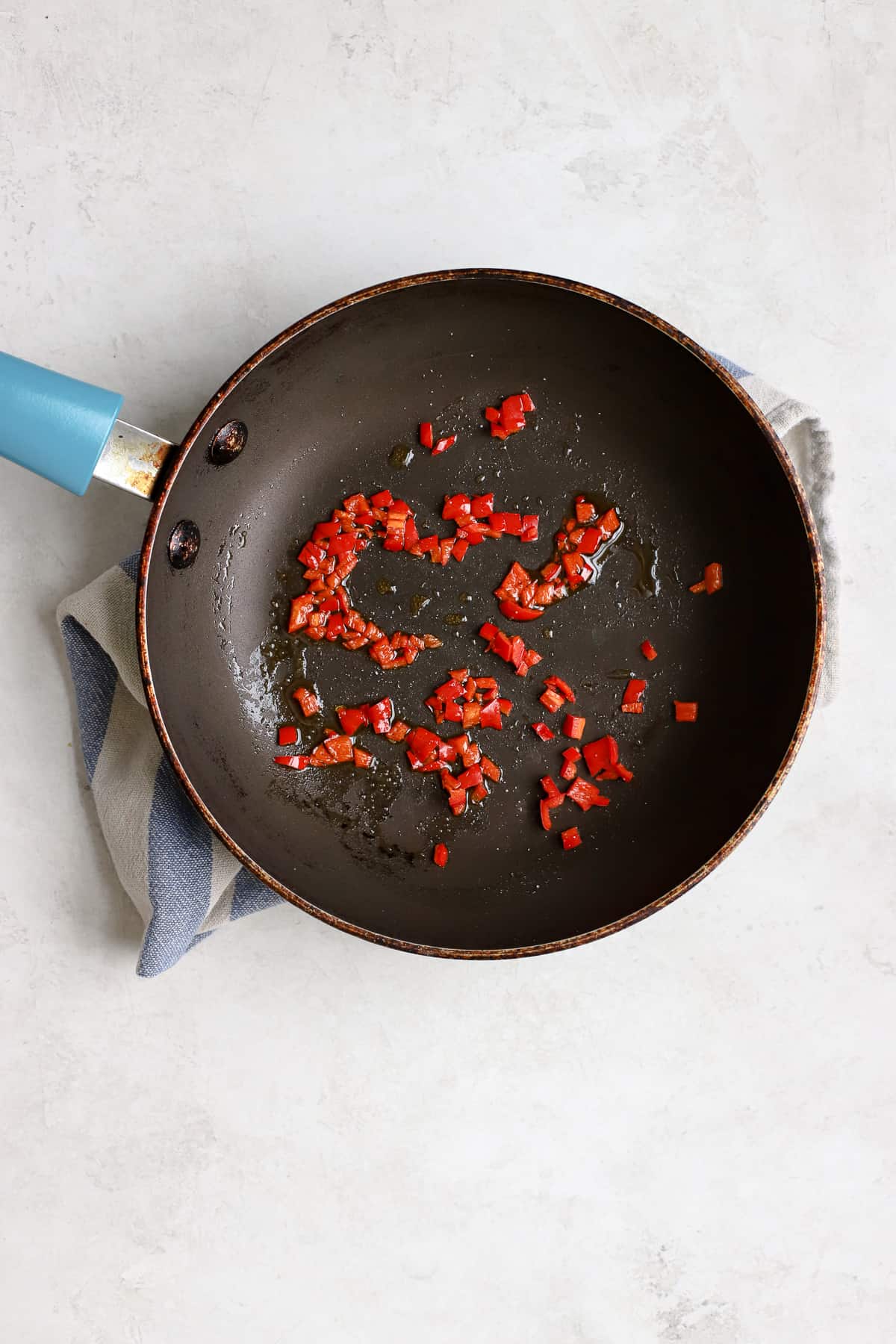 Add finely diced chilli pepper pieces to the sauté pan and allow them to cook slightly over low heat.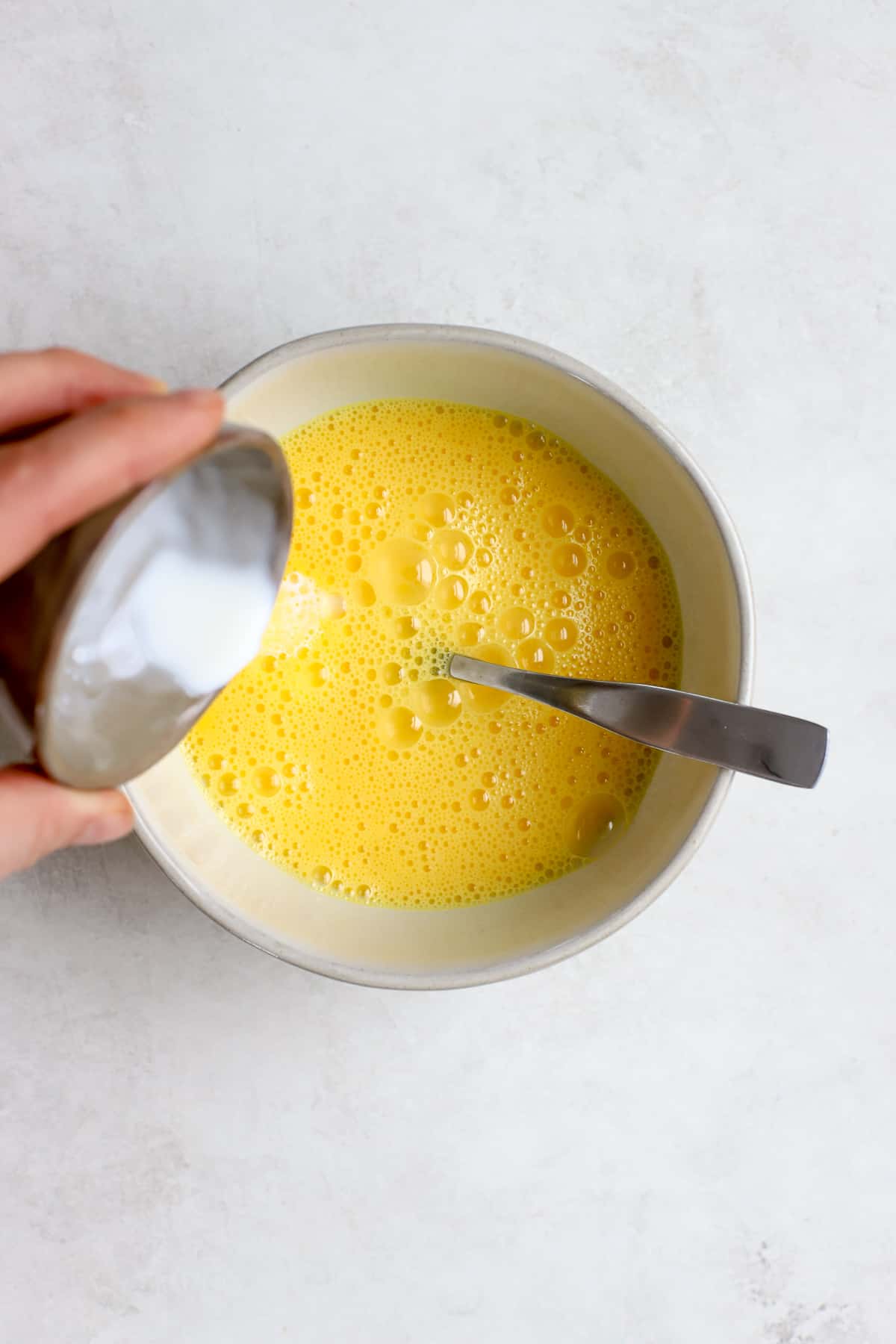 Meanwhile, whisk eggs vigorously in a bowl until whipped and frothy. Add splash of half & half (or milk), salt, and pepper. Whisk again.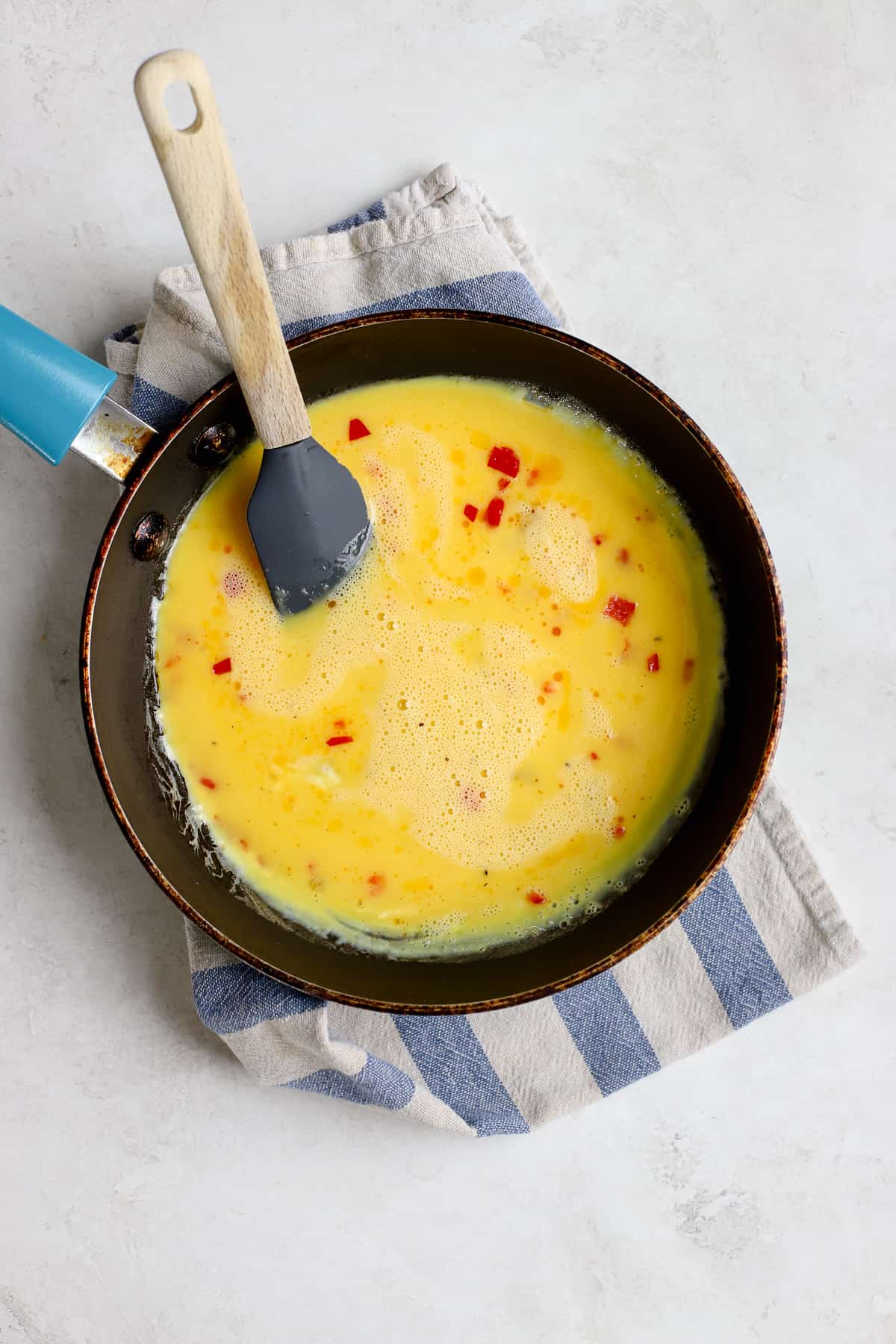 Pour eggs into pan (the heat should be low, so eggs won't immediately starting sizzling/solidifying). Allow the eggs to sit for 15-20 seconds, then run a spatula round the edge of the pan, scraping any slightly solidified eggs.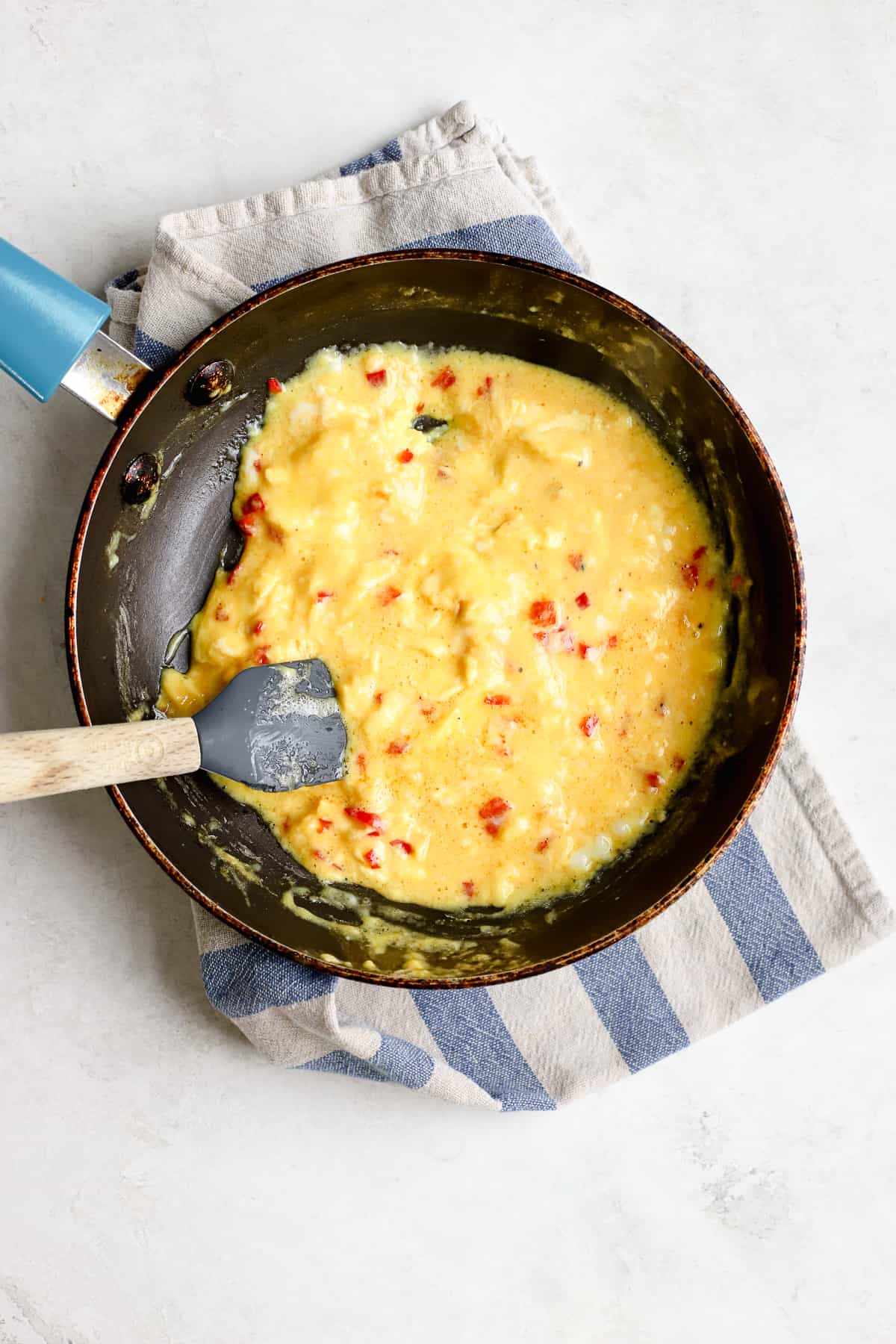 Continue to do this while eggs slowly solidify (it'll almost seem custard-y).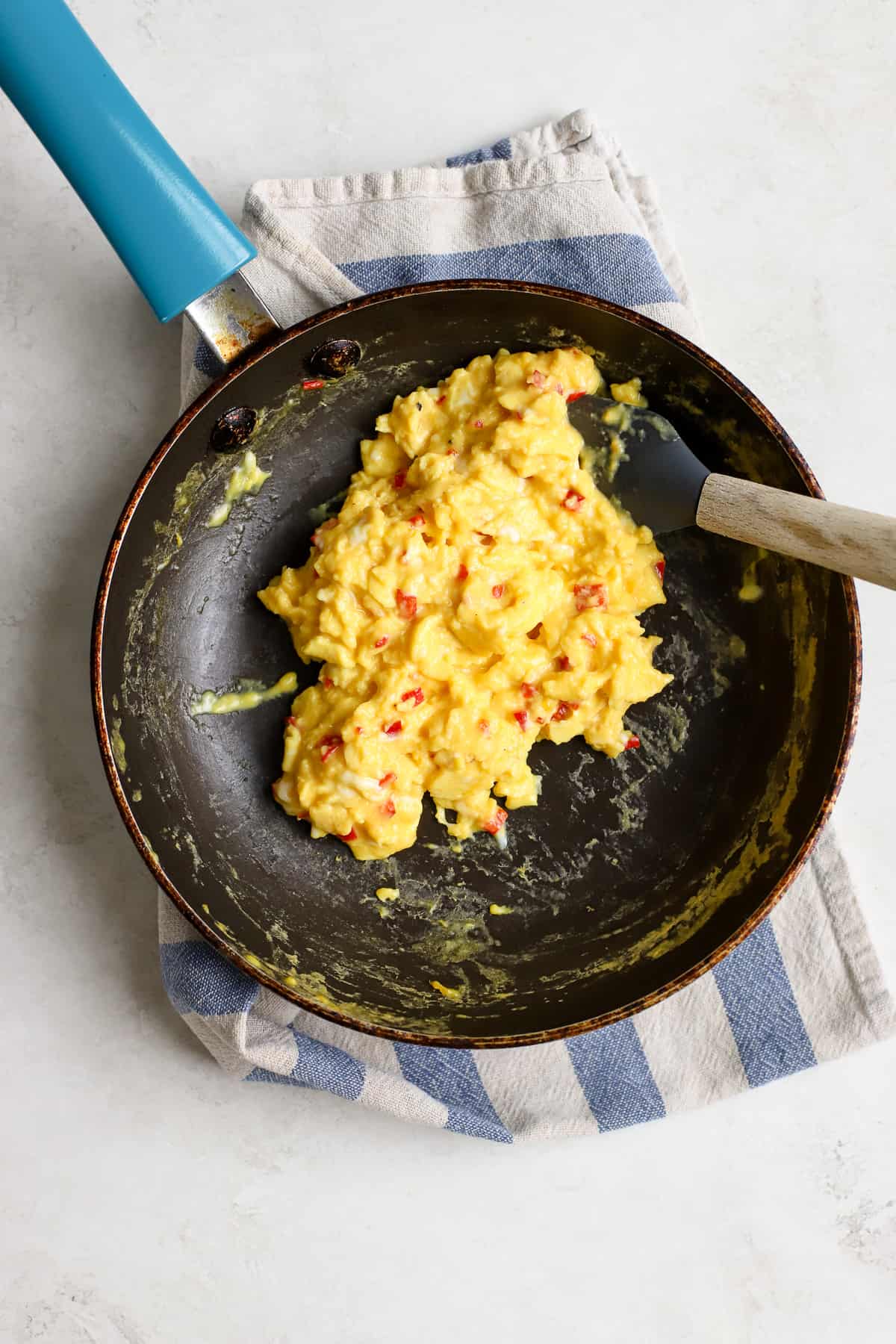 While eggs still look slightly undercooked/custard-y, turn the stove off and remove them from heat. Scramble a bit while they finish cooking in residual pan heat, then transfer to another plate, toast, or tortilla so they don't get overcooked.
These eggs are delicious on their own, but you know we're never turning down a carbohydrate companion. Favorites are sourdough toast, corn tortilla, or whole grain wrap (obsessed with the wraps from Angelic Bakehouse). If you eat them on their own, a side of this honey lime mint watermelon and berry fruit salad would be delish!
Success Tip: Make sure to really whip those eggs until frothy to get a nice, fluffy scramble.
Substitutions & Variations
These scrambled eggs are pretty simple, so there's not a lot to substitute, but some suggestions listed below. As for variations with eggs, there are many options! Cheeses, veggies, sauces... see below for some inspiration and let your savory creative heart guide you.
Dairy free - Sub out the half and half/milk for your dairy free milk of choice. Unflavored and unsweetened will work best.
Chili Crunch (or chili crisp) - You know those condiments that change your life? That's this! You NEED this! I've seen it sold as chili crunch or chili crisp, and it's essentially dried minced garlic and red pepper flakes in olive oil. It adds a delightful spicy crunch to any food, and we are truly obsessed at our house right now. If you want to double down on your chilli scrambled eggs... plop some of this right on top.
Cheese - Obviously adding cheese to this is going to be DELISH. I recommend feta, especially if you're planning on some chili crisp. Cheddar would be my next choice.
Breakfast tacos or wraps - Tuck this soft scramble right into your favorite tortilla (corn for tacos or flour/whole wheat for wraps).
Top toast - Fresh sourdough if you can buy it near you, otherwise your favorite nourishing bread. Something so classic about a soft scramble on toast!
Breakfast bowl - Start with your chilli scramble and add grains, greens or veggies, avocado, bacon, feta... whatever your heart desires.
Add veggies - of course, scrambling in a few extra veggies tastes delicious and adds nutritional value. I love using onions, bells peppers, mushrooms, spinach, or kale.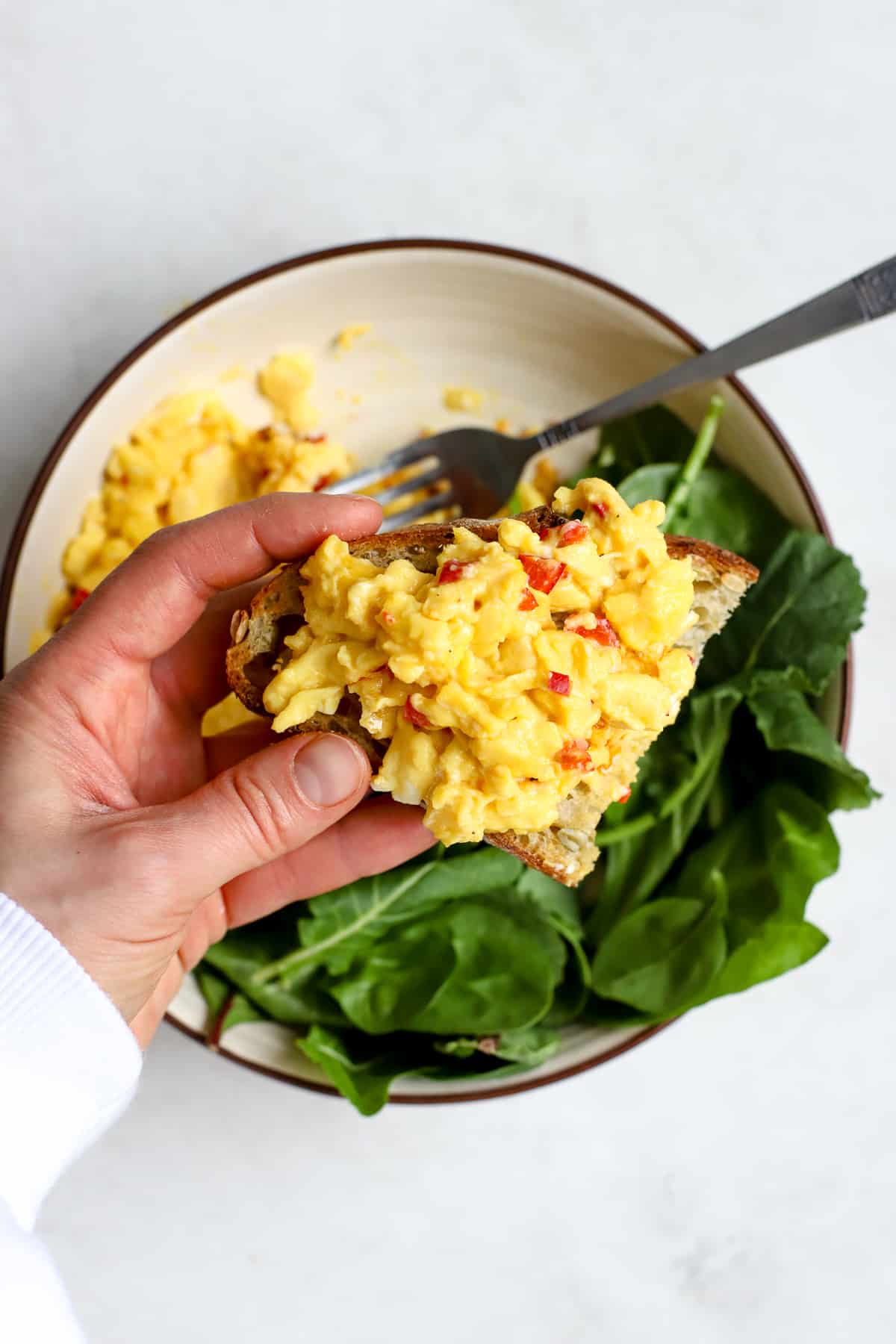 Equipment
This chilli scramble doesn't require anything fancy - just a bowl for whisking eggs, a sauté pan, fork or whisk, spatula, cutting board, and sharp knife for finely dicing those chillies.
Not required, but I highly recommend a rubber spatula for scrambling eggs! They're my favorite because they help get all that eggy goodness from the bottom of the pan without damaging it. Rubber spatulas are also very useful for other things like scraping pesto out of a food processor or every last bit of your smoothie out of the blender.
Storage
Because scrambled eggs can become overcooked easily when reheated, I recommend eating these fresh whenever possible. BUT, if you do have leftovers you want to store for later, place them in an airtight container in the fridge for up to four days.
When you reheat them, try just 10-15 seconds in the microwave and more as needed to avoid overheating.
Top Tips for the Creamiest Scrambled Eggs
For the softest, creamiest scramble, low heat is THE way to do it! Cooking the eggs this way ensures they don't cook too fast, which dries the eggs out. It requires a little more patience, but only a few extra minutes and I promise it is worth it!
FAQ
Okay... is it 'chilli' or 'chili'?
It's both! 'Chilli' is the spelling commonly used in British English, whereas 'chili' is the common spelling in American English. I have readers in countries that use both of these forms, so I've used both versions on my site. Additionally, 'chili' is also name for a type of thick stew in the U.S., and I wanted to differentiate the type of chili being used in these eggs (i.e. it is not stew!).
Where can I find fresh chillies?
Fresh chilli peppers can be found in pretty much any grocery store. If you're looking for different kinds you may not be able to find in your local store, you can usually find some unique ones at a local Latin American grocery store.
What types of chillies should I use?
Whatever you can find and your tolerance for spice are both factors to consider. Check out this guide to chillies by heat level for some inspiration.
More Egg Recipes
Looking for other recipes with eggs? Try some of these favorites:
Print
Chilli Scrambled Eggs
Chilli scrambled eggs (or 'chili') are a delicious and easy breakfast with a little bit of spice! Perfect for topping toast, tortillas, or breakfast bowls.
Author:
Prep Time:

2 minutes

Cook Time:

5 minutes

Total Time:

7 minutes

Yield:

2

servings

1

x
Category:

Breakfast

Method:

Stovetop

Cuisine:

South American
1

-

2

teaspoons extra virgin olive oil (or butter)

3

eggs
Small splash half & half or milk

1

chilli pepper, finely diced

⅛ teaspoon

each salt and pepper
Instructions
Heat pan. Heat a small or medium sauté pan over low heat, and add olive oil or butter.
Whisk eggs. Meanwhile, crack eggs into a bowl and whisk vigorously for a couple minutes, until frothy. Add salt, pepper, and a splash of milk or half & half, and whisk again to incorporate. Set eggs aside.
Sauté chillies. Add the diced chilli peppers to the pan and lightly sauté for about a minute over low heat, just to start breaking them down.
Scramble eggs. If needed, add a little extra oil or butter to the pan and make sure your heat is on low. Pour in the eggs and allow them to set for 10-15 seconds. Because of the low heat, they won't immediately start cooking or sizzling -- that's good. Start to scrape a rubber (or other soft) spatula along the side of the pan every few seconds as the eggs slowly start to harden. This will break up the eggs and "scramble" them. Once eggs are almost done but still slightly liquid on top, remove the pan from heat. Let them sit, gently folding with the spatula if needed, until eggs are just fully cooked. Immediately transfer eggs to a plate, toast, or tortilla to avoid overcooking. Taste and add more salt or pepper if needed!
Equipment
Notes
Chillies: Make sure to de-seed your chillies if you're sensitive to spice.
 
Keywords: chilli scrambled eggs