This post contains affiliate links for products I genuinely recommend, which means I earn a small commission at no cost to you.
This healthy kale, potato, and onion frittata recipe uses winter produce to create a delicious and easy breakfast, brunch, or lunch! Frittatas are just as good at serving crowds as they are at serving you and your family for a few days worth of breakfasts. They can also be made with any seasonal produce, so change up the flavors with the season!
Bless the frittata for being its delicious, easy, make-ahead self. I'm a daily eggs and toast kind of person, and I love how a frittata means I'm making eggs once in exchange for numerous breakfasts! Normally I still crave a few freshly fried eggs per week... but frittatas are a delicious way to shake things up and get veggies in right away with breakfast.
And, since kale is in season in winter, we're going to add some to this frittata. Kale is one of the most nutritious foods you can possibly eat, and baked into a cheesy frittata is one of my favorite ways to enjoy it.
Jump to:
What is a Frittata?
Ever had frittata before? If not, you are in a for a real treat. The word 'frittata' derives from 'fritto' ('fried') in the Italian language. In its simplest form, a frittata consists of beaten, fried eggs.
Frittatas are traditionally started on the stovetop in a cast iron skillet, and then transferred to the oven to finish cooking into a creamy baked egg dish.
If you don't have cast iron, not to worry! You can easily use a skillet to cook the veggies before adding them to whisked eggs and cheese in a baking dish of your choice.
Ingredients
This frittata contains but a handful of simple, easy-to-find ingredients and spices. Kale, potatoes, and onions play so well together on a canvas of creamy, cheesy eggs!
Extra virgin olive oil - For sautéing veggies and making sure eggs won't stick to the pan.
Eggs - Whole eggs are perfect for this recipe. I don't recommend egg whites only, but see substitution notes below if you'd like to switch out some whole eggs for egg whites.
2% Greek yogurt - I prefer Greek yogurt to milk in my frittatas these days! The results are rich and creamy.
Parmesan or sharp cheddar - Any cheese will be delicious in a frittata, but I love using one or both of these when I make frittata with potatoes and kale.
Curly kale -
Yukon gold potatoes - I love the texture of Yukon gold potatoes with eggs. It's the most common potato used in Spanish tortilla (Spain's version of the frittata) because it fries up beautifully.
Sweet onion - Onions and eggs are a prime breakfast combo.
Chili powder - Chili powder with eggs adds a deeper, delicious flavor.
Salt & Pepper - For flavor.
Instructions
To make this kale, potato, and onion frittata, start by preheating your oven to 400 degrees.
Then, whisk the eggs, yogurt, salt, pepper, and chili powder together in a medium-sized bowl. Whisk until almost no yogurt clumps remain (a few are okay, as these will melt into the eggs when baked). Set aside while you sauté the veggies.
Next, you'll sauté the veggies in a cast iron or oven-safe skillet in some olive oil over medium heat. Start with the onions and potatoes, sautéing them over medium heat and stirring occasionally until the onions are soft and potatoes are easy to pierce with a fork -- about 15 minutes. Then, add the kale and sauté for another two minutes until soft.
While the cast iron skillet is still on the burner over medium heat, pour in the egg mixture and gently stir to get the veggies evenly distributed. Allow the frittata to cook on the stovetop until the edge lightens in color.
Sprinkle the shredded cheese evenly over the top, transfer the frittata to your oven, and bake at 400 for 10-14 minutes. Usually 10 minutes is where I land with my oven, so that is a good approximate time to check your frittata to see if it's done.
Frittatas are are ready to come out of the oven when they've puffed up, and the eggs are no longer wet and can jiggle slightly in the pan.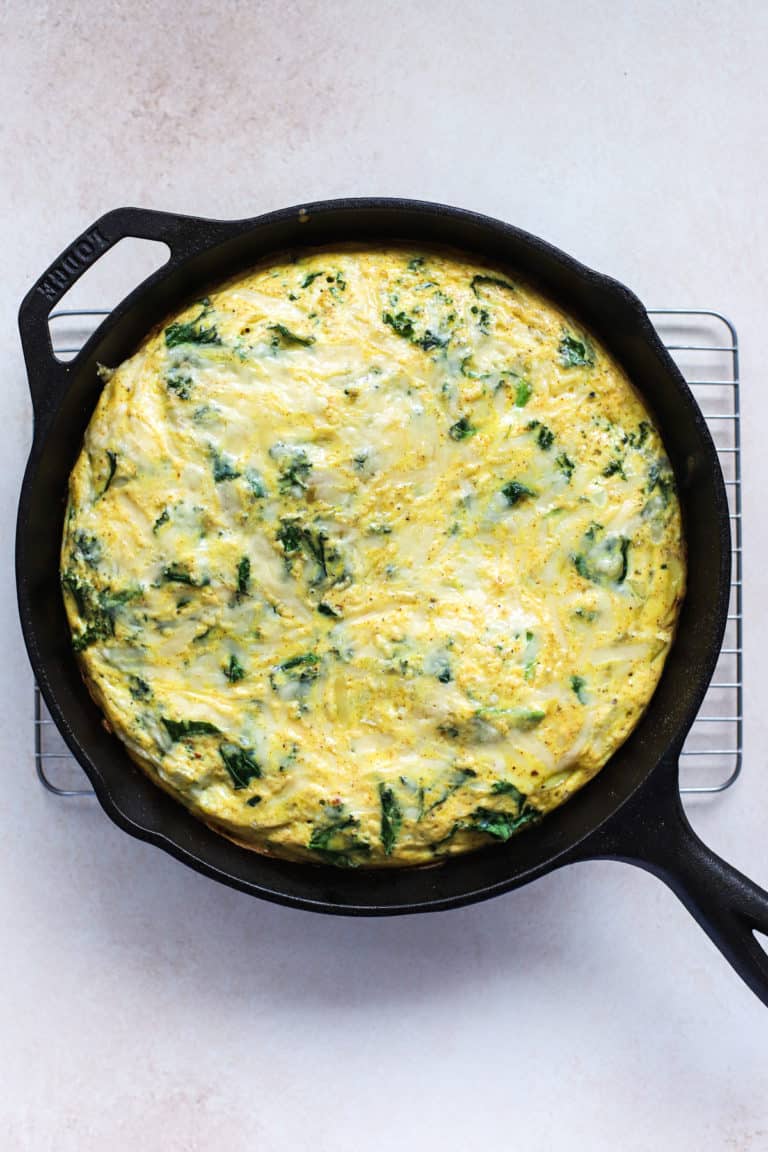 Allow the frittata to cool for 5-10 minutes before slicing and serving! Frittata also makes excellent toasted sandwiches...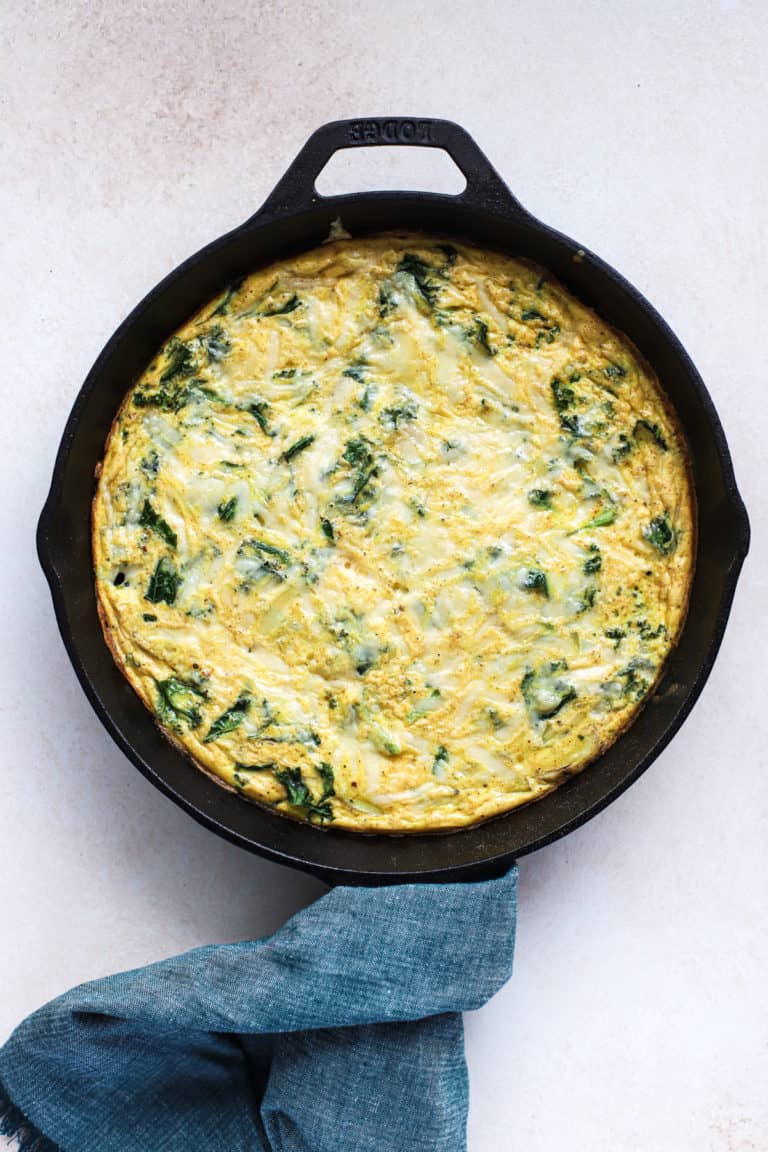 Hint: Overcooking a frittata can give it a rubbery texture, so be sure to check it at 10 minutes in your oven -- perhaps even at 8 or 9 minutes for some ovens. If the eggs look cooked through (no wetness on the top center of the frittata), and they are able to jiggle slightly when you jiggle the pan, then you're good to take the frittata out. It will continue to cook as it cools and the result will be creamy and delicious!
Substitutions
The below substitutions will work in the event that you don't have some of the ingredients this recipe calls for.
Yogurt - Feel free to use ½ cup milk instead of ½ cup yogurt! I recommend whole milk or half and half to keep it the creamiest, though an unsweetened plant-based milk will also work if that's just what you have in your fridge.
Egg whites - While I don't recommend using egg whites instead of eggs for this recipe (I am all about eggs yolks!), if you wanted to substitute some egg whites in, I recommend subbing in ¼ cup egg whites for two eggs.
Variations
Consider frittatas your perfect canvas for flavor variation! Since you can use any produce, you can match them to what's in season or what you have in your fridge that day. Below are some suggested variations, but get creative here.
Dairy-free - Use a dairy-free cheese and plant-based milk! I also love Cabot Creamery cheese and Fair Life milk because they are naturally lactose-free. These are some of our go-to dairy products on our shopping list every week!
Ham, mushroom & cheddar - Add cooked Canadian ham + sautéed mushrooms + sautéed onions + sharp cheddar cheese.
Butternut squash & kale - Add onions + roasted butternuts squash cubes + kale.
Southwest - Onions + peppers + jalapeño + black beans + Mexican blend cheese
Asparagus & goat cheese - Sautéed asparagus + onions + goat cheese
You know I'm going to want to know what you tried... so comment below if you switch it up!
Storage
To store your frittata, place it in an airtight container in the fridge for up to five days. Reheat in the microwave or pop it back into the oven.
You can also freeze frittatas by allowing them to cool completely after baking, then store them in an airtight container (or individual pieces in their own containers) in the freezer for up to three months. Making sure the frittata is completely cool before freezing is essential, as any moisture that forms in the container from cooling will cause freezer burn. Thaw the frittata in your refrigerator for a few hours before reheating in the oven until warmed all the way through.
Frittata FAQs
Can frittata be eaten cold?
It sure can! I personally prefer to heat it up, but you can enjoy frittata cold or room temperature as well. When I lived in Spain, I commonly ate a sandwich made of leftover Spanish tortilla (a sort of egg & potato omelette, similar to a frittata) on bread. It made a delicious lunch and would work well for a frittata.
What should I serve with frittata?
Frittatas are delicious on toast or with a simple green salad served on the side (think mixed greens or kale with a simple vinaigrette). Since these kale, potato, and onion frittatas are meatless, you could also fry up some bacon, breakfast sausage, or Canadian bacon to serve on the side.
Print
Kale Potato and Onion Frittata
This kale, potato, and onion frittata is a creamy, cheesy, and healthy brunch option that can use the produce of the season! Frittatas are great for brunch or making ahead for protein-packed breakfasts or lunches. 
Author:
Prep Time:

5

Cook Time:

30

Total Time:

35 minutes

Yield:

6

large slices

1

x
Category:

Breakfast, Brunch

Method:

Fry, Bake

Cuisine:

Italian
1 tablespoon

extra virgin olive oil

½

cup

sweet onion, diced

1

cup

Yukon gold potatoes, thinly sliced

2

cups

curly kale, chopped

9

eggs

½

cup

Greek yogurt (2% or whole milk)

½ teaspoon

chile powder

½ teaspoon

fine salt

¼ teaspoon

pepper

1

cup

parmesan or sharp cheddar cheese, shredded
Instructions
Preheat & prep. Preheat your oven to 400 degrees and start heating the extra virgin olive oil in a cast iron skillet over medium heat.
Whisk eggs. Whisk the eggs, Greek yogurt, salt, pepper, and chili powder together in a medium bowl until thoroughly combined and few yogurt clumps remain. Set aside while you sauté the veggies.
Sauté veggies. Add onions and potatoes to the cast iron skillet with a generous pinch of salt. Sauté for 15 minutes, stirring occasionally throughout, until onions are soft and potatoes are very easy to pierce with a fork. Add the kale and sauté, stirring, for 2 more minutes.
Add eggs to skillet. Pour the egg mixture over the veggies in the cast iron skillet and gently stir to evenly distribute the veggies. Allow to cook over medium heat until the edges of the frittata lighten in color.
Top with cheese. Sprinkle the shredded cheese evenly over the top of the frittata.
Bake & cool. Bake the frittata at 400 degrees for 10-14 minutes. The frittata is ready to come out of the oven when it is puffed up, no longer wet, and has a slight jiggle. Allow the frittata to cool for 5-10 minutes before serving.
Equipment
Notes
1. Skillet: If you don't have cast iron, not to worry! You can use another oven-safe skillet, or use another skillet and a separate baking dish to bake. If you use the latter method, skip Step 4 and add the veggies and then egg mixture to the baking dish. Proceed with normal steps, but bake at 400 for 18-20 minutes.
Keywords: kale potato and onion frittata, healthy frittata recipe