This healthy Asian slaw with ramen has quickly become a house favorite! With kale, green onions, slivered almonds, gluten free ramen, sesame seeds, and a simple sesame vinaigrette, this Asian slaw recipe is easy, satisfyingly crunchy, and ready to accompany your favorite protein.
Get ready to make your crunchy salad and slaw dreams come true! This recipe is inspired by a dish my family made growing up -- a vinegar-based coleslaw with Napa cabbage, ramen, almonds, and green onions. Truth be told, it was not the healthiest recipe, but it was a Midwest potluck classic that everyone gladly gobbled up.
Recently, when I noticed new brands of rice-based ramen, I was immediately inspired to reinvent that old Asian coleslaw recipe (delicious as it is). My version of the salad is what I now call healthy Asian slaw with ramen, made with healthier packaged ramen noodles and far less sugar in the dressing than the original recipe. I also swapped cabbage for kale (though both, or a mix, would be delicious), and leaned a bit more into Asian flavors by adding sesame oil, tamari, and rice vinegar to the vinaigrette.
All that is to say, if you're looking for a crunchy, healthy that's slaw well-dressed in a sesame-soy vinaigrette... you are in the right place, my friend.
Jump to:
Ingredients
This healthy Asian slaw with ramen is very simple and comes together in two parts: the slaw and the vinaigrette. For the slaw, we have five ingredients (excluding whatever oil you have on hand, for toasting), plus five more for the dressing. Moreover, these ingredients are naturally vegan, and they'll also be gluten free depending on the ramen you use (suggestions on that below!).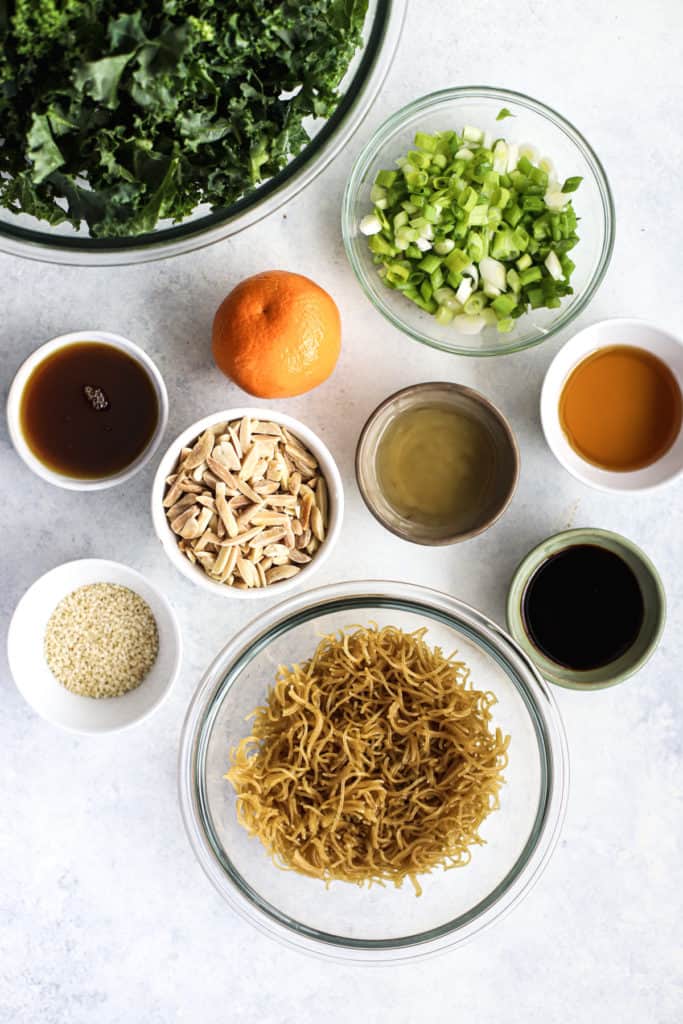 For the slaw, you'll need:
Curly kale - Other kinds of kale would work too! I prefer the texture of the curly kale in this recipe.
Green onions - For a mild onion flavor.
Ramen noodles - From a package (but without the soup mix)! We love the kinds from Lotus Foods, which can be found at Target, Whole Foods, and Kroger grocery stores, just to name a few! The reason we love the Lotus Foods brand so much is because their ramen is made with whole grains, which are more nutrient-dense than refined grains. That said, any rice-based noodle would be good! Just work with what you have access to 🙂
Slivered almonds - You can buy these raw or dry toasted. Since we'll be toasting them on a skillet, you may want to choose raw. That said, you can always grab some dry toasted and skip the toasting.
Sesame seeds - All about that texture!
For the vinaigrette, you'll need:
Toasted sesame oil - If you can only find un-toasted, that's okay! Toasted sesame oil provides an incredible flavor, though, if you can find it.
Tamari - For that salty, soy, umami flavor.
Rice vinegar - Brings an acidic balance to the vinaigrette.
Maple syrup - To sweeten and balance.
Fresh orange juice - I love the flavor that fresh orange brings to this dish!
Instructions
To make this Asian slaw recipe, you'll prep the kale and green onions, toast the ramen with almonds, then make and add the sesame-soy dressing.
Prep the Kale & Onions
Thoroughly wash and dry your kale, then chop it into bite-size pieces or use a kitchen shears to shred it. Then, slice your green onions (green and white parts), combine both into a bowl, and set aside.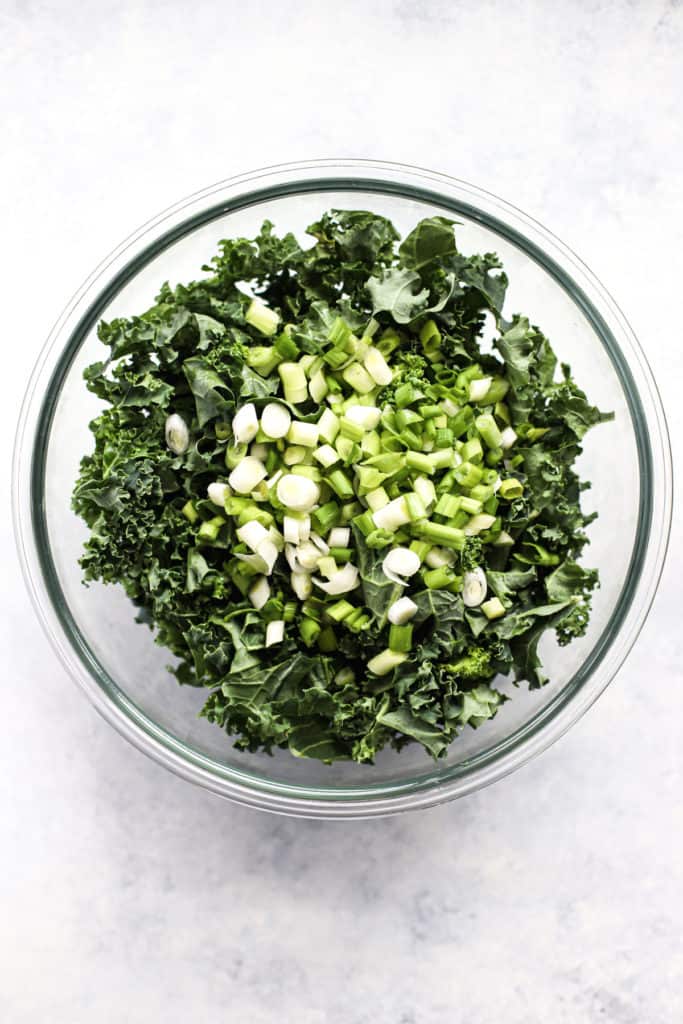 Toast the Ramen, Almonds, & Sesame Seeds
To prep the noodles, use a butter knife handle to smash up the ramen noodles while they're still in their package, breaking up any large chunks and avoiding pieces that are too small (about the size of a whole almond is good). Inevitably there will be smaller pieces, and that's okay. Just avoid pulverizing the entire package into crumbs, or leaving behind large chunks that won't toast thoroughly.
Next, heat a couple tablespoons of neutral or toasted sesame oil in a skillet over medium heat. Swirl the oil to coat the skillet, then add the crushed ramen and toast, stirring frequently. For rice-based noodles, you'll notice they almost puff up as they get toasted, transforming from darker-colored and dense to lighter-colored and puffy. It is essential that most, if not all, noodles look like this so that you don't risk breaking teeth on hard, uncooked noodles.
When the noodles are close to being done, add in the almonds and sesame seeds, and toast until lightly browned and fragrant (~3 minutes). We add these later because the almonds brown more quickly than the noodles.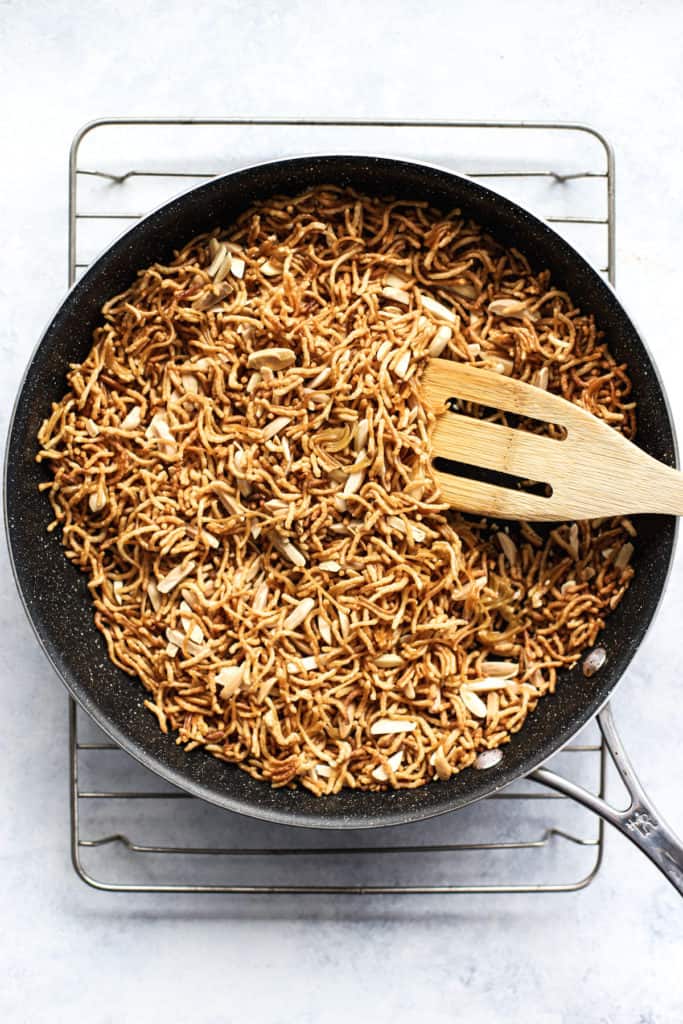 Once the ramen noodles, almonds, and sesame seeds are toasted, remove the skillet from heat and set aside while you make the sesame-soy vinaigrette.
Make the Sesame-soy Vinaigrette
For the vinaigrette, combine toasted sesame oil, tamari, rice vinegar, maple syrup, and juice from a fresh orange into a mason jar. Shake vigorously for several seconds to fully emulsify the dressing.
Finally, add the slightly cooled, toasted ramen mixture to the kale and green onions, and toss to combine. Pour in the dressing and toss well to coat everything.
Enjoy with your favorite protein or as a side dish to any meal!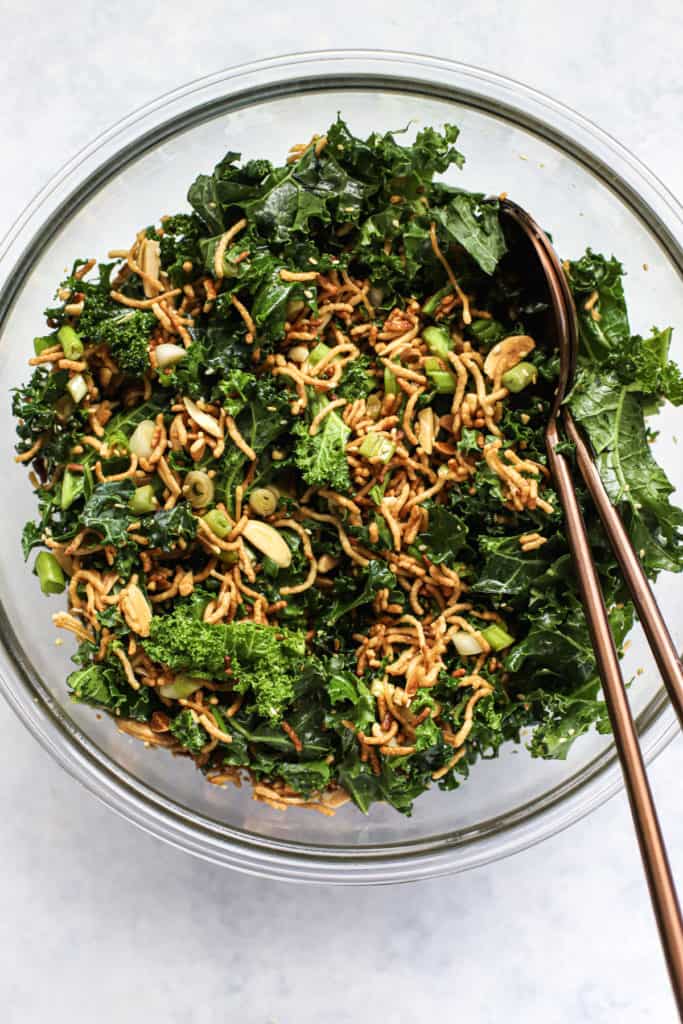 Hint: For flavorful, tender kale, you can use your fingertips to massage some of the dressing into the kale leaves until the just start to break down.
Substitutions & Variations
Below are some substitutions or variations to help make this recipe fit your dietary needs or available ingredients.
Kale - You can totally swap kale for Napa cabbage or another cabbage mix! Or, you can add some cabbage in with the kale for even more crunch.
Nut-free - To make a nut-free version of this Asian slaw, substitute sunflower seeds for the slivered almonds.
Protein-packed - Add edamame or marinated tempeh for a vegan protein option! If you don't follow a plant-based diet, you can add other proteins like hard-cooked eggs, chicken, salmon, or pork.
Potluck - If you're bringing this as a dish to pass for a large group, double it!
Sweet - Add some mandarin orange or clementine slices for a juicy and sweet flavor spin.
Vinaigrette - You can swap apple cider vinegar for rice vinegar, or another sweetener for the maple syrup. Note that this recipe will no longer be vegan if you swap honey for maple syrup.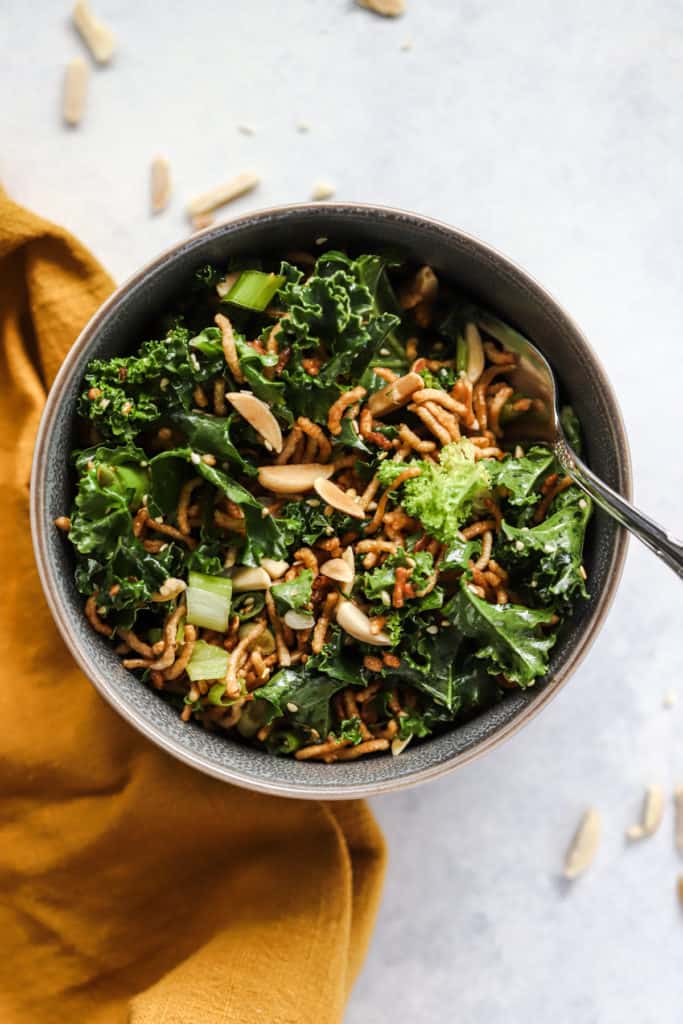 Storage
Store this salad for up to five days in an airtight (preferably glass) container in the fridge. The noodles get softer as they marinate in the dressing, and it's SO good!
This salad is best when fresh, so I don't recommend freezing this salad or the ingredients in it.
Top tip
As someone who as broken a few teeth (eek!), I can't stress this tip enough! Make SURE the dried ramen is fully toasted. If you are using a rice-based noodle such as the kind from Lotus Foods, the dried noodles will start to puff up slightly and become lighter in color. They will be much easier to chew and reduce the risk of hurting your teeth.
Asian Slaw with Ramen FAQs
Can I swap apple cider vinegar for rice vinegar?
For sure! Use the same amount of apple cider vinegar as rice vinegar (two tablespoons).
What should I eat with Asian slaw?
Asian slaw with ramen can go with any meal as a side salad, or pair it with your protein of choice! To keep it vegan or vegetarian, try tempeh (such as teriyaki tempeh) or edamame. Otherwise, pork, chicken, and salmon would be delicious!
If you enjoyed this slaw recipe...
Don't miss out on our other favorite grain-based salads! We adore this wild rice and pomegranate salad and this roasted beet and avocado salad.
Also, make sure to let me know in this comments if you gave this recipe a try!
Print
Healthy Asian Slaw With Ramen
A healthy Asian slaw recipe that includes crunchy toasted ramen noodles, slivered almonds, sesame seeds, kale, and green onions. Tossed in a simple sesame soy vinaigrette with a hint of orange. It's also naturally vegan and gluten-free if you use gluten-free noodles (we LOVE this kind!).
Author: Tera
Prep Time:

8 minutes

Cook Time:

7 minutes

Total Time:

15 minutes

Yield:

~12 cups

Category:

Salad, Lunch

Method:

Stovetop, combine

Cuisine:

Asian
12

cups

curly kale, chopped or shredded

1

bunch green onions, sliced

2 tablespoons

toasted sesame oil (or a neutral oil)

2

blocks ramen, without seasoning packets (we use the rice ramen from Lotus Foods!)

¾

cup

slivered almonds

2 tablespoons

sesame seeds

¼

cup

toasted sesame oil

¼

cup

tamari

¼

cup

rice vinegar

2 tablespoons

pure maple syrup

1

fresh orange, juiced
Instructions
Prep the kale & green onions. Combine kale and green onions in a large bowl and set aside.
Toast the ramen, almonds, and sesame seeds. In a large skillet, heat a couple tablespoons of toasted sesame (or other neutral) oil over medium heat. Use a butter knife handle to smash the ramen while still in its package, taking care not to fully pulverize the noodles (aim for whole almond-sized or slightly larger pieces). Add the noodles to the skillet and toast, stirring frequently. The noodles are toasted when they puff up slightly and get larger in color. Once the noodles are 90% toasted, add the slivered almonds and sesame seeds. Stir to continue toasting, then remove from heat.
Make sesame soy vinaigrette. Combine toasted sesame oil, tamari, rice vinegar, pure maple syrup, and orange juice in a mason jar. Shake vigorously until fully emulsified.
Toss salad and serve. Add the slightly cooled ramen, almonds, and sesame seeds to the kale and green onions, and toss to combine. Pour the vinaigrette all over the slaw and toss again to thoroughly coat. Serve as a side dish or add your favorite protein for a hearty lunch or dinner salad!
Notes
Ramen: Make sure the ramen is fully toasted! Dried ramen is hard on your teeth, and toasting it puffs it up and helps it soften more so it can be safely chewed.
Keywords: healthy Asian slaw, Asian slaw with ramen