Get ready for a mix of creamy, crunchy, and all-around lemony, garlicky goodness that is also known as a creamy kale Caesar salad with avocado.
Whether it's for meal prep, a healthy side salad for dinner, work lunches, what have you -- if you have a hankering for a classic creamy Caesar salad, this one's for you! 'Classic' being a relative term here, of course.
Before we get started, let's quickly address the anchovy in the room...
Which is, simply put, that there are NO anchovies required for this take on Caesar salad. I know they're all "traditional" in terms of Caesar salad dressing ingredients, but I typically don't have them on hand, and I wanted to keep things practical (read: as few obstacles as possible between me and food, aka no special trips to the store for salty little fish). I promise -- with all the garlic and lemon and Dijon up in there, you won't even know they're not there. That is, aside from the fact that I told you.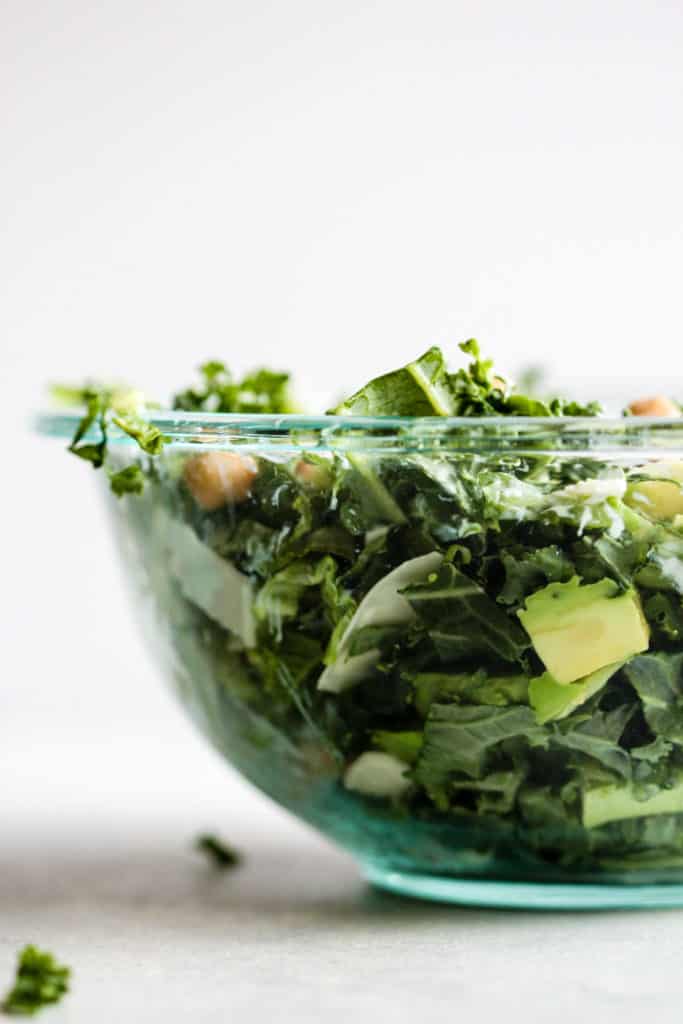 Ingredients You'll Need
For the salad base, you'll need:
kale
Brussels sprouts
avocado
parmesan or asiago (I like the texture of shaved, but shredded totally works)
Then we're going to get crazy with some crispy garlic roasted chickpeas, so get out your:
chickpeas (a 14-oz. can will do, but more if you want!)
olive oil
garlic powder
sea salt (or any kind of salt)
And finally, for the creamy (and clean!) Caesar salad dressing:
2% or whole milk Greek yogurt
fresh cloves of garlic
water
olive oil
lemon juice
Dijon mustard
salt and pepper
How to Make Creamy Kale Caesar Salad with Avocado
Once you've got all that, making the salad super easy! But first, a quick disclaimer: if, at the end of the day, you decide you just want to use croutons like a normal person that doesn't want to wait for roasted chickpeas, I will not be offended because croutons are delicious. BUT... roasting chickpeas is something you should try, if not now, then soon. Preferably with this soup, which has curry roasted chickpeas on top. Soooo yeah. Just let that thought simmer.
Okay, for real this time. You'll start by preheating your oven to 400 degrees for the garlic roasted chickpeas. Drain, rinse, and dry them with a towel. In a bowl, toss the chickpeas with a drizzle of olive oil, about a teaspoon of garlic powder, and healthy pinch of sea salt. Spread them across a foil-lined baking sheet, and bake for about 20 minutes, or until crispy. They crisp up a bit as they cool, so you should be okay if they're not perfectly crispy when you take them out.
And now, because you're a mastermind of efficiency, during those 20 minutes of chickpea roasting, you'll be whipping up the rest! For the veggie part of the salad, simply:
Chop the kale (I love using a kitchen shears for this)
Thinly slice the Brussels
Dice up half an avocado (or a whole, let's be real here)
Grate or shave off parmesan if you didn't already buy it that way (I totally did because I <3 shortcuts and not cleaning my cheese grater)
Combine all that into a big bowl, and then make your creamy Caesar salad dressing either by combining all the ingredients in blender, or mincing up the garlic and shaking everything together in a mason jar. Boom. Creamy, Greek-yogurt based Caesar dressing.
Some Notes on Assembly
So, if you're about to eat this whole thing right now, either by yourself (oh, I've done it) or serving a crowd, then toss everything together right away and chow. You don't have to use all of the dressing -- feel free to adjust based on your preferences. Besides, extra Caesar dressing is never a bad thing to have on hand for the week! Just don't let it sit in your fridge as long as I did, because it will get gnarly.
Likewise, if you're only planning to eat a little bit right now and meal prep the rest for later in the week, set some of the dressing aside so you can toss it into the salad the day you plan to eat it. Otherwise it just gets too soggy, you know?? Maybe you like it soggy. Maybe you also like anchovies and wish they were in here. You do you.
In full transparency, crispy roasted chickpeas don't maintain their *crisp*ness when they've been in the fridge, so you can set some of those aside if you want, too. I honestly don't mind it if they don't stay crispy until the next day, so I just toss it all together (without the dressing, until I'm ready) and sometimes add croutons or pepitas later for a savory, salty crunch.
With that, and before I embarrass myself with any Hail, Caesar puns (oh yes, it crossed my mind, and I'm not proud), I think we both know where to go from here.
Print
Creamy Kale Caesar Salad with Avocado
Author:
Prep Time:

5

Cook Time:

20

Total Time:

25 minutes

Yield:

4

-6

1

x
Category:

Salad

Method:

Combine

Cuisine:

American
For the Salad:
6 cups

kale, shredded

2 cups

Brussels sprouts, shredded

½

-

1

avocado, diced

½ cup

shaved parmesan (and/or asiago)
For the Garlic Roasted Chickpeas:
1

14 oz. can chickpeas, drained and rinsed
drizzle of olive oil

1 tsp

garlic powder

½ tsp

sea salt
For the Caesar Dressing:
¾ cup

2% or whole milk Greek yogurt

3

cloves garlic

⅓ cup

water

1

-

2

tablespoon olive oil

2 tbsp

lemon juice

1 tsp

Dijon mustard

½ tsp

salt
pinch of pepper
Instructions
Make the Garlic Roasted Chickpeas: Preheat the oven to 400 degrees and line a baking sheet with foil. Making sure chickpeas are completely dry, toss in a bowl with olive oil, garlic powder, and salt. Place on baking sheet in an even layer and bake for 20 minutes (or until crispy) while you prep the salad and dressing.
Make the salad: Combine kale, Brussels, avocado, and parmesan in a large bowl.
Make the dressing: Combine Greek yogurt, garlic, water, olive oil, lemon juice, Dijon, and pepper in a blender, and blend until smooth.
Assemble: Combine all the ingredients in large bowl and toss together before serving.
Notes
Definitely make adjustments at any point! Add more or less of any ingredient to make it how you like it -- this is one flexible salad.
I did have a little bit of salad dressing left over -- you can use as much as you want, so you may or may not have any left.
If you don't plan on serving immediately, you can avoid a soggy salad by keeping the dressing in the fridge until you're ready to use it.
Keywords: creamy kale Caesar salad, kale Caesar salad with avocado, kale Caesar salad, healthy Caesar salad, Greek yogurt Caesar salad dressing