This post contains affiliate links for products I genuinely recommend, which means I earn a small commission at no cost to you.
These easy homemade whole wheat croutons are a great way to use up bread before it goes bad! Made with whole wheat bread, olive oil, salt, pepper, and fresh rosemary, these flavorful croutons are crispy little salad delights that you can feel good about eating.
Ahh croutons... in our youths, the part of the salad that we wished was the salad (good thing there's panzanella for that ;)). Truly though, I adore salads, and homemade croutons are not only the perfect tasty, crunchy add-ins for salad texture, but they're also a useful ingredient in many other dishes! So, if you haven't guessed, in this post, we're going to talk homemade, healthy croutons.
Homemade croutons are...
Ridiculously easy to make
Fresher than store-bought
Waste-reducing heroes - use up bread before it goes bad!
Healthier, with fewer preservatives than many store-bought kinds
Made with unrefined grains, if you buy whole wheat bread
A canvas for creativity (herbs, spices, regular or infused olive oils, etc.)
Done in 15-20 minutes!
Ingredients You'll Need
Homemade whole wheat croutons only require a few ingredients:
Bread - I prefer whole wheat baguettes or sourdough, but any bread you can cut into cubes would work! Ideally, you'll use 100% whole wheat to get the benefit of more nutrients... but you can totally use what you've got on hand.
Extra Virgin Olive Oil - A good quality EVOO is perfect for this recipe, but you can also get creative with different types of oils or flavorings. A garlic-infused olive oil would delicious!
Salt - Crunchy and salty? Always. I used a pink Himalayan salt, but you can get creative with salts as well. Garlic salt, sea salt, or even some black truffle sea salt?? You can get pretty fancy when it comes to salt... but good old sea salt will work just perfectly here.
Pepper - Fresh ground or whatever you have on hand will work!
Garlic Powder - Just a sprinkle! Too much can be overpowering, but a little bit of garlic on croutons is delish.
Fresh Rosemary - Or any fresh herbs (think oregano, thyme, or sage).
How to Make Croutons
They are SO easy (and quick)! Here's how your crouton-making adventure will go down:
Cut bread of choice into ½-inch cubes.
Toss bread cubes in olive oil, salt, pepper, and finely chopped fresh herbs.
Bake on a sheet pan at 375 for 10-12 minutes or until slightly browned.
Boom, you've got croutons baby!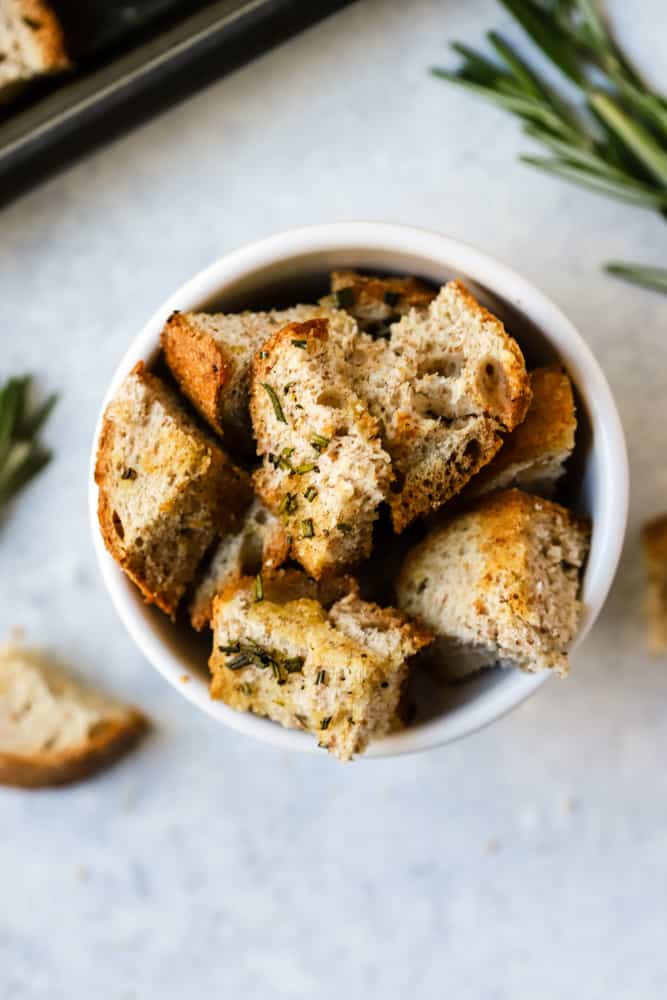 Uses for Homemade Croutons
Salads, of course! I love a good Caesar salad or even a simple house salad.
Stuffing. Yep -- homemade whole wheat croutons can be the start to a delicious healthier Thanksgiving stuffing. Simply find your favorite stuffing recipe and sub in the same amount of your homemade whole wheat croutons. You can even cut them a little smaller for stuffing, too.
Snacking. My boyfriend was dipping these croutons in hummus... genius.
Soup topping. Do you crush Saltines or oyster crackers on your soup, too?? Mmm... well, my crunch-loving friends, croutons also make a deliciously crunchy soup topping.
Bread crumbs. Croutons make excellent breadcrumbs! In fact, they're ideal because they're already super dry and crunchy, so when you crush them, they form crumbs easily. Simply pulse the croutons in a food processor or crush them with a rolling pin while they're in a zip-top bag. Then, use them in meatballs, atop baked mac and cheese or other pasta, as a light crust on some fish... what have you!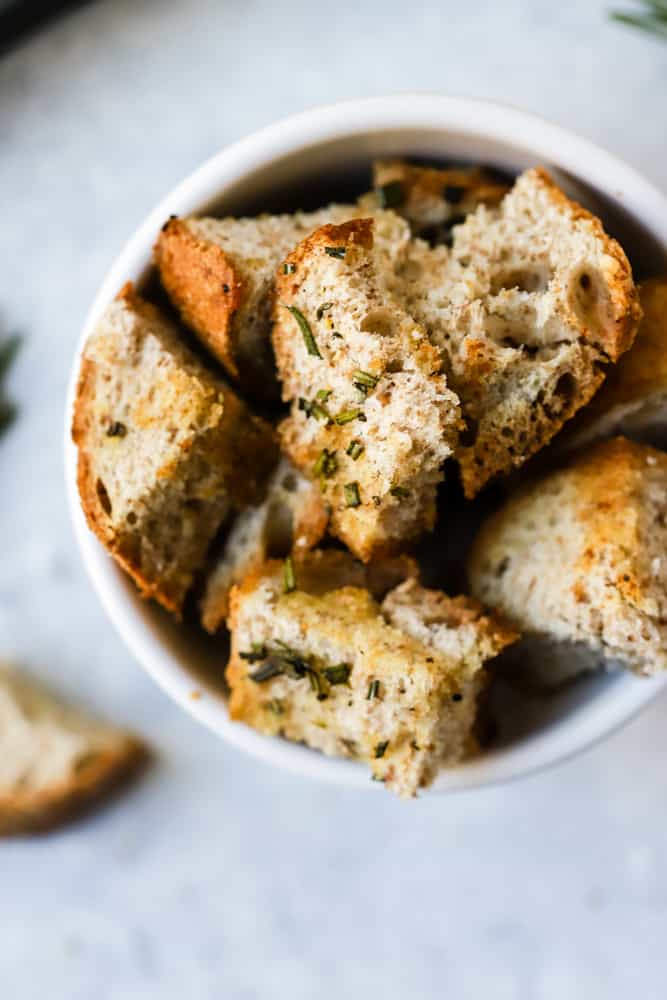 Common Crouton Questions
What kinds of bread can I use? This is a beautiful question, because this is where you can get creative. You can use baguettes (like moi), bagels (everything bagel, anyone?), ciabatta, sourdough, sandwich bread... any old bread, really!
How do I store homemade croutons? You can store croutons at room temperature in a zip-top bag or glass container for up to ten days before they start to become stale. You'll want to make sure they are completely cooled and dry before sealing the bag or container, to avoid collecting moisture and causing them to mold. If they become stale, they're still safe to eat -- they just won't be as crispy as they once were. If you can't use them up, I recommend freezing them. I don't recommend storing homemade croutons in the fridge, as they will soften.
How do I make homemade croutons crispy again? Ah, crouton revival. Simply heat the croutons in your oven at 330 degrees for 5-6 minutes, or until they are crispy again.
How do I freeze homemade croutons? Making sure the croutons are completely cooled after baking, store them in a zip-top, freezer-safe bag in a flat, single layer. Push as much air out of the bag as you can before sealing tightly, and laying it flat in your freezer.
How should I season croutons? See above and below for more details on how I seasoned the croutons for this recipe, but you can get creative here! Everything bagel spice is an amazing way to season anything, but you can also use additional fresh or dried herbs, other salts, or whatever you have on hand.
Please let me know in the comments below if you try these, or if you have crouton questions/comments!
Print
Easy Homemade Whole Wheat Croutons
Author: Tera
Prep Time:

5

Cook Time:

12

Total Time:

17 minutes

Yield:

~4 cups

Category:

Topping

Method:

Bake

Cuisine:

French
2

-

3

tablespoon extra virgin olive oil

½ tsp

each sea salt and pepper (I love freshly ground!)

½ tsp

garlic powder

2 tbsp

fresh rosemary, finely chopped (or

1 tbsp

dried)
~4 cups day-old whole wheat baguette, cubed
Instructions
Preheat your oven. Preheat oven to 375 degrees.
Combine olive oil and spices. Whisk olive oil, spices, and herbs together until combined.
Toss bread in oil and spice mixture. Place bread cubes in a large bowl. Drizzle olive oil and spice mixture over the bread cubes and toss to coat the bread. Spread seasoned bread cubes in an even layer onto sheet pan.
Bake and cool. Bake at 375 for about 12 minutes, or until bread cubes start to brown. Once you remove them from the oven, allow them to cool and crisp up for a few minutes on the sheet pan.
Notes
Bread cubes: You don't need precisely 4 cups of bread cubes! Use up what you have, or choose the amount of croutons you'd like to make, and adjust the olive oil and spices accordingly.
Bread substitutions: Remember you don't need to use a baguette! I've just been super into them lately, so have them on hand every week. Feel free to use whatever bread needs using up in your household, or simply your favorite type of bread. Sourdough, anyone??
Keywords: homemade whole wheat croutons, easy homemade croutons