This post contains affiliate links for products I genuinely recommend, which means I earn a small commission at no cost to you.
This ginger lime chicken noodle soup is a twist on a classic that's brightly-flavored enough to be springy, and warming enough to be wintry -- perfect for winter or transitional seasons. Flavored with ginger, garlic, limes, and cilantro, this soup is healing (anti-inflammatory and supports detox).
Oh, hey there! I'll just be over here waiting to give you this warm hug in a bowl that is ginger lime chicken noodle soup. Whenever you're ready. So like... now??
Friends, this simple twist on a classic homemade soup is HERE for you this winter, whether you need healing soup powers for sick days, or just a simple and healthy weeknight meal that will warm you up.
The Ingredients
You'll need:
A whole chicken - About 3.5 - 4 pounds will do. It's a little higher maintenance, but I love using a whole chicken for soup because it includes super flavorful dark meat.
Chicken broth - We'll use the water that gets flavored from cooking the chicken, but I always like to have store bought broth around for extra flavor.
Olive oil, for sautéing - Our first step will be sautéing the aromatics (onion, celery, carrots, garlic, etc.), and olive adds tons of flavor here.
Onion, garlic, celery, carrots - The usual soup starting suspects.
Fresh ginger or ginger paste - I actually prefer a store bought ginger paste or partially dried ginger here for convenience, but grating fresh ginger will work perfectly, or even powdered ginger in a pinch. Not to mention, ginger health benefits are amazing!
Lime - We're going to squeeze quite a bit of lime in here so make sure you have 3 - 4 on hand.
Cilantro - For sprinkling a BUNCH after simmering the soup.
Brown rice noodles - Or others, if you'd like (more on that below).
Salt & pepper - We'll sprinkle salt on to the aromatics while they're sautéing to bring out their flavor, and then add more with pepper later, to taste.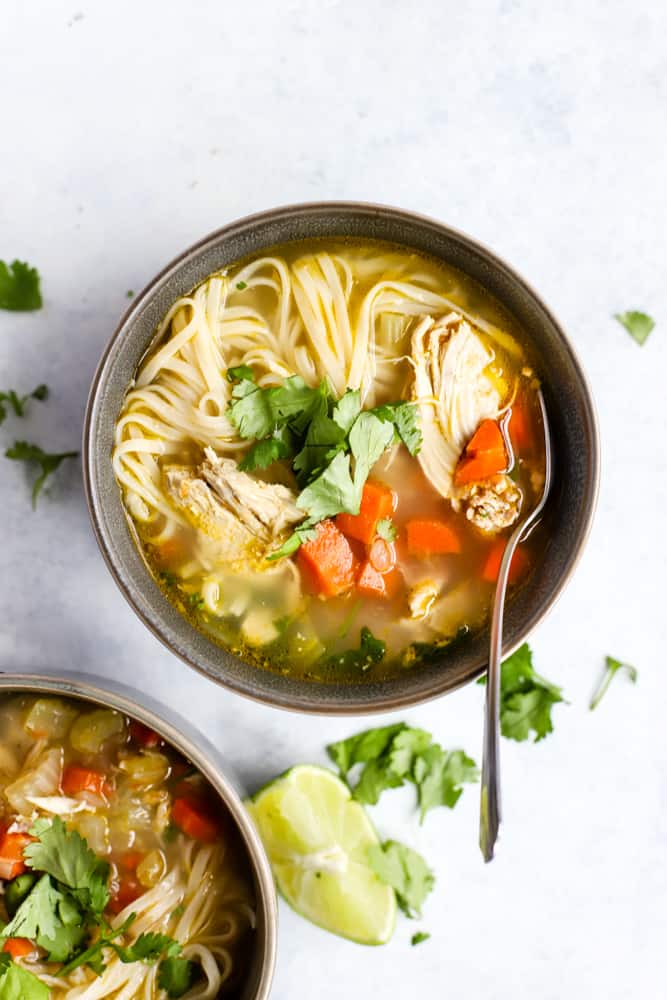 Ingredient Substitutions
There are always shortcut and substitution options to make these recipes work for you. For ginger lime chicken noodle soup, here are some I suggest:
Leftover chicken & store bought chicken broth: Let's not be heroes here... if cooking a whole chicken is something you just don't have time or patience for, you can use leftover chicken! My favorite shortcut is to use boneless chicken thighs, so I don't have to deal with chicken bones and still get that dark meat flavor. Add in some store bought chicken broth, and you have homemade soup.
Powdered ginger: In a pinch, hit your spice cabinet for ginger if you don't have anything fresh.
Other noodles - I used brown rice noodles for a whole grain, gluten free option, but classic egg noodles or other kinds of noodles are always delicious.
Grains - You can also skip the noodles and add in barley, rice, farro, or any other grain -- they all taste delicious in soup!
How to Make It
First, the chicken and broth.
First you'll start by cooking your chicken. For this recipe you can either boil it in water and salt on the stovetop, and use the water after for broth. Or, if you're using leftover chicken, you can skip this step altogether and simply chop or shred the chicken you have.
After the chicken has cooled, you can shred it off the bone and discard the bones. For broth, you can either:
Use the water used for boiling the chicken as is.
Discard the water used for boiling and use store bought chicken broth (organic/free range, if possible!).
Skim some of the fat off using a fat separator (affiliate link). My mom used to take this step for all her homemade soups, but I don't always.
Remove the broth and chicken from your stock pot or other soup pot, and set aside until you're ready to use.
Next, the aromatics.
In the same soup pot, sauté all of your aromatics in some extra virgin olive oil. This includes your onion, garlic, ginger, carrots, and celery. I like to add a sprinkle of salt to the veggies as they soften while cooking, for added flavor.
Convenience Tip: Ginger paste is a life saver when it comes to soups and other recipes calling for grated ginger! It's so much easier and a lot less to clean up.
If you want to add any other veggies to the soup, you can add them with the carrots and celery to sauté and bring out their flavor.
Broth, chicken, and simmer.
Once the veggies have softened, you'll the broth and shredded chicken to the pot. Bring the entire soup to a boil, then reduce to a simmer and allow to simmer for at least 20 minutes.
After 20 minutes, add in the brown rice noodles and cover the soup again, making sure the noodles are completely submerged in the broth. Leave the pot covered for five minutes to cook the rice noodles.
Finish with lime, cilantro, and pepper.
Finally, squeeze in a couple juicy limes worth of lime juice and a bunch of chopped cilantro. Give the soup a stir, and taste, adding more salt if necessary. Finish with freshly cracked black pepper, and serve with a couple lime wedges for each bowl (don't skip this part -- it adds so much flavor to the soup!), plus some crusty bread and butter.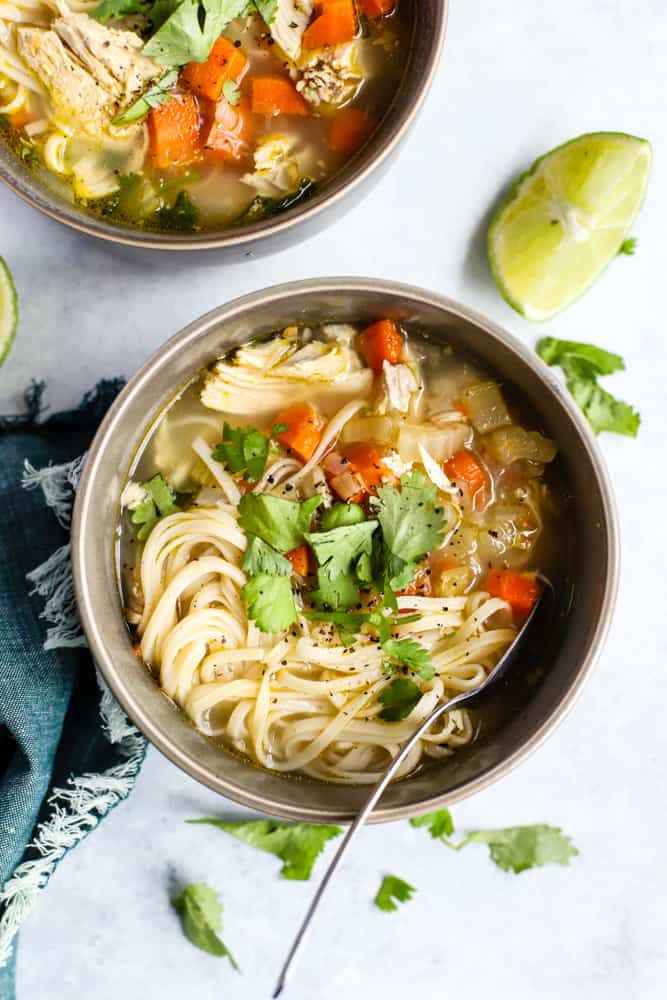 Other Cooking Methods:
Slow Cooker: To make this recipe in a slow cooker, simply add all of the ingredients in the following order: chicken, onions, celery, carrots, garlic, ginger, lime, and broth. Cook on high for four hours or low for eight hours.
Common Chicken Noodle Soup Questions
How do I freeze chicken noodle soup for later? After allowing the soup to cool completely, you can freeze ginger lime chicken noodle soup in an airtight container for up to three months. Since liquid expands when frozen, make sure to leave a little room in the top of the container.
Do I need to cook the chicken from scratch? Nope! You can use leftover chicken and simply skip over the first three steps of the recipe (below). You'll need at least 8 cups of liquid to add to the soup in Step 5. That can be a combination of store bought chicken broth and water, or all broth.
Can I use different vegetables in my soup? For sure! Add other veggies at the same step as the carrots and celery and cook for a few minutes to bring out their flavor.
Other Cozy Soup Recipes
Print
Ginger Lime Chicken Noodle Soup
A simple twist on the classic, this chicken noodle soup features ginger, garlic, lime, and cilantro for added flavor and health benefits. With brown rice noodles, this soup is also gluten-free!
Author: Tera
Prep Time:

10

Cook Time:

1 hour 20 min

Total Time:

1 hour 30 minutes

Yield:

8

-

10

servings

1

x
Category:

Soup

Method:

Stovetop

Cuisine:

American
1

3.5-4 lb. chicken, giblets removed

8

-

10

cups water

1 tsp

. salt

1 tbsp

extra virgin olive oil

1

yellow onion, peeled and diced

2

-

3

cloves garlic, peeled and minced

1

inch fresh ginger*, peeled and grated

1 cup

celery, diced

1 cup

carrots, chopped

1 cup

chopped fresh cilantro, plus more for serving

2

juicy limes, plus more limes for serving
Salt and pepper, to taste
Instructions
Cook the chicken: In a large stock pot or dutch oven, place the chicken, water, and salt. Bring the water to a boil, then reduce to a simmer. Cover and cook the chicken for about 1 hour.
Shred chicken: When the chicken is cooked through, remove it from the stock pot and shred it. Discard the bones, and set aside.
Reserve chicken broth: Reserve 6 cups of the water you cooked the chicken in. This will be the broth for the soup. Set aside with the shredded chicken. Empty stock pot of all contents and return it to the stove.
Sauté aromatics: In the same stock pot, heat olive oil over medium heat. Add onion, garlic, and ginger, and sauté, stirring occasionally, until ingredients begin to soften (about 5 minutes). Then, add celery and carrots. Stir and sauté until softened (another 5 minutes).
Add broth and chicken: Add the shredded chicken and broth. Bring entire soup to a boil, then reduce to a simmer. Cover and let simmer for 20 minutes (longer, if desired).
Add brown rice noodles: After 20 minutes of simmering, add brown rice noodles to the soup and cover for 5 minutes to let the noodles cook.
Lime, cilantro, and serve: Remove the soup from heat and squeeze in lime juice, add cilantro, and sprinkle with pepper. Taste and add salt, if necessary. Serve soup with plenty of lime wedges for squeezing into each bowl, chopped fresh cilantro, and a good, crusty bread.
Notes
Broth: You can always use store bought broth and discard the water used for cooking the chicken. You can also use a combination of water and broth if you want more control over the saltiness of the soup.
Ginger: Grating fresh ginger will taste delicious, but I have found that ginger paste is a HUGE time saver... and way easier than grating ginger. Plus, it cooks evenly into the soup and provides that same wonderful, gingery flavor.
Updated: This recipe was updated in December 2020 with improved photography, more detailed method, and noodles!
Keywords: ginger lime chicken noodle soup, homemade chicken noodle soup, healthy chicken soup