These white chicken enchiladas are made healthier with an ultra-creamy, cheesy white sauce with Greek yogurt! They're easy to make (with gluten free option) and protein-packed.
Winter is the time for comfort food, and this healthy white chicken enchiladas recipe will keep you cozy and nourished! Growing up, my mom made an authentic white enchiladas recipe that my brother requested for his birthday every year. They quickly became our most popular birthday dinner request! Some would say we love white chicken enchiladas.
Now I'm excited to share with you my version, inspired by my mom's perfected recipe. It has a few healthy twists but maintains the same creamy, cheesy deliciousness.
Jump to:
Ingredients
Below are the ingredients you'll need for these healthy enchiladas.
Extra virgin olive oil or butter - For sautéing veggies.
Sweet onion - To sauté for the enchilada filling.
Green bell pepper - Another veggie to sauté for the filling.
Canned diced green chiles - For the filling, again!
Chopped chicken - We love chopping up rotisserie chicken as a shortcut!
Butter - For the white sauce base.
Flour - To thicken the sauce.
Coriander - The spice that makes the dish... seriously!
Salt - For flavor, as always.
Chicken broth - Or veggie broth.
Greek yogurt - Full fat work best here to get creamy, rich results and the best flavor.
Monterey Jack cheese
Corn or flour tortillas - These will hold the filling together and form the enchiladas.
Cilantro - The best topping!
Tortilla Tips
Soft, flexible tortillas are important for this recipe so that your tortillas don't break while you roll them up. Fresh, new tortillas that haven't been stored in the fridge yet will probably work best. Here are couple tips to making tortillas more pliable.
Microwave: You can wrap the tortillas in a clean, dampened dish towel and heat them in the microwave for about 20 seconds, flipping halfway through.
Dip in sauce: Just before you fill the tortillas, dip them in the warm enchilada sauce, which will warm and soften the tortilla.
As for tortilla brands, we love the La Tortilla Factory corn tortillas! They are not gluten free, but they are flexible, strong, and so delicious. We also like gluten free corn tortillas, and we buy locally made corn tortillas as often as possible. Two of our favorite sources for locally made corn tortillas are Latin American grocery stores and farmers markets, but we often find them in local grocery stores and other shops too.
Finally, if you're feeling ambitious, you can always make your own corn tortillas! They're so simple and the freshest taste you can get.
Instructions
Get ready for some cheesy goodness. To prep for these enchiladas, preheat your oven to 350 degrees, and chop up your onion, green bell pepper, and chicken.
Chicken, Onions, and Peppers
For the chicken filling, heat some olive oil in a medium-sized skillet over medium heat, and then add the onions and green bell peppers with a pinch of salt. Sauté until soft and translucent, then remove from heat and add to a bowl along with the chicken and canned diced green chiles. Set aside while you make the white cheese sauce (some will be added to the filling).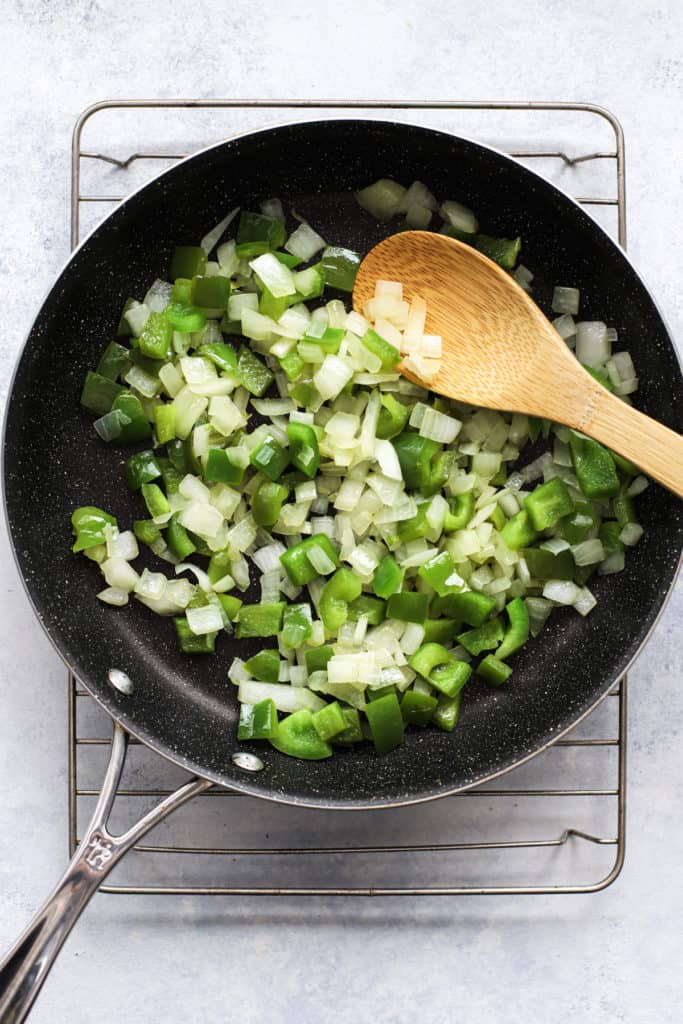 White Enchilada Sauce
Next, it's time for the creamy white enchilada sauce. Start by whisking together some white whole wheat flour (or gluten free flour), coriander, and salt together in a small bowl. Then, using the same skillet as before, heat butter over medium heat until melted. Add the flour mixture right into the butter as you constantly whisk the two together. Immediately add broth, whisking constantly until any flour/butter chunks are gone.
Continue to cook and stir until the sauce is thickened and bubbly, about 5-6 more minutes. Then, add in the Greek yogurt and some of the cheese, and stir with a whisk until everything is melted together into a smooth and creamy cheese sauce.
Filling the Enchiladas
Now, stir a half cup of the white enchilada sauce into the chicken mixture to make your enchilada filling (yum!). Then, add another ½-3/4 cup of sauce into the bottom of a rectangular baking dish -- enough to cover the bottom in a thin, even layer, which enough for another small baking dish.
Baking Dish Sizes & Notes: This recipe makes 12 enchiladas, which for me usually takes one 3-quart baking dish (about 9x13 inches) and one 2-quart baking dish (about 8x8 inches).
To fill the tortillas (making sure they're warmed if they were stored in the fridge for a while), scoop a heaping ¼ cup of the chicken enchilada mixture into the center of each tortilla. Roll up the tortilla and place it in the baking dish parallel to the short side of the rectangle. Repeat this step for each tortilla, placing them snuggly next to each other into one baking dish, and then filling your other baking dish if necessary.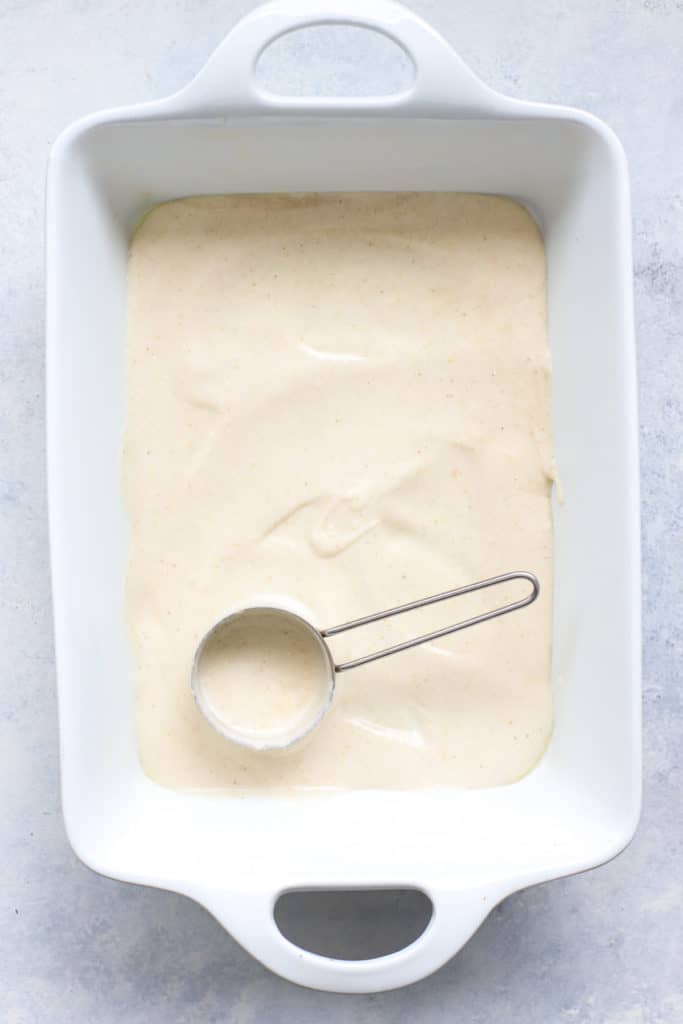 Top the rolled enchiladas (in both dishes) with the remaining sauce, and divide the rest of the cheese among each dish, proportionate to the number of enchiladas in each dish.
Bake at 350 for 25 minutes or until the cheese is melted and bubbly. Top with fresh cilantro, fresh jalapeños if you're feeling spicy, and devour!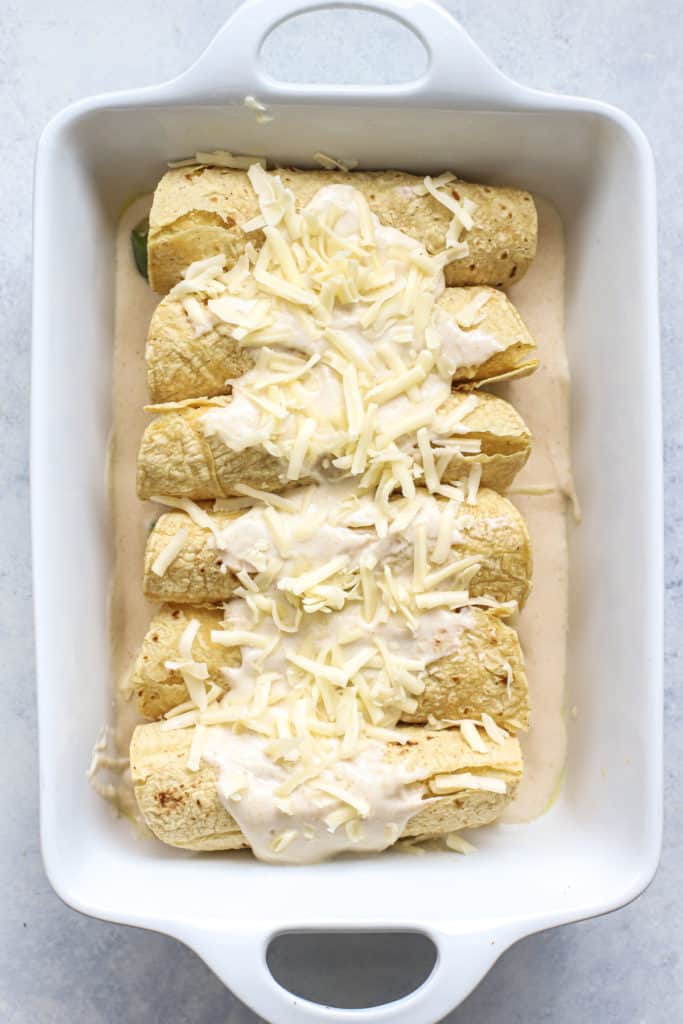 Hint:
Substitutions & Variations
If you know how to make the recipe fit a certain diet, let the reader know here. Don't fake it - only provide guidance on topics you have actual experience with.
Tortillas - I grew up eating these with flour tortillas, and honestly they are also delicious! In fact, I usually only make these with corn tortillas every other time, just to switch it up. Our favorite flour tortillas are the kind from Angelic Bakehouse.
Gluten free - Make sure to use gluten free corn tortillas or other gluten free tortillas, and use your favorite gluten free flour when making the sauce.
Vegetarian - Swap the chicken out for the same about of black beans!
Spicy - Use fresh serrano chiles instead of canned, and leave in some of the seeds. Alternatively (or in addition, you spice fiend!) serve with fresh jalapeños or another spicy salsa to add spice at the end.
Equipment
Because this recipe makes 12 enchiladas, I usually use a couple baking dishes. I use this 3-quart ceramic baking dish from Sur La Table, as well as another 2-quart square ceramic baking dish.
Storage
Store leftover enchiladas in airtight, preferably glass containers in the fridge for up to five days. To reheat, bake at 350-degrees until heated through, or reheat in a skillet on the stove. In a pinch, the microwave will work, but oven and stovetop methods revive the texture a bit bitter.
To freeze, store cooked and fully cooled enchiladas in an airtight glass container in the freezer for up to three months. When you're ready to eat them again, thaw the enchiladas in the fridge for a few hours, then reheat on the stovetop or in a 350-degree oven.
If you want to make these enchiladas and only need to serve one or two, freezing them is a great idea! Eat half now, freeze half for later when you're in need of another healthy comfort food dinner.
White Chicken Enchilada FAQs
What should I serve with white chicken enchiladas?
Mexican brown rice is an easy and delicious side for these enchiladas! Chips, salsa, guacamole, and pico de gallo are some of our other favorite sides for this recipe. Even a simple side salad would be a good complement!
Can these enchiladas be made gluten free?
Yes! Using gluten free corn tortillas (most are) and gluten free flour in the white sauce make these enchiladas gluten free.
Can I make these enchiladas ahead?
Yes! To make ahead, do not preheat your oven, and prepare the white chicken enchiladas through Step 4 (below). Cover tightly and store in the fridge until you're ready to bake the enchiladas. When ready, take the enchiladas out of the fridge and let them sit on the counter at room temperature while you preheat your oven to 350 degrees. Bake at 350 for 25 minutes or until cheese bubbles.
Print
Favorite Healthy White Chicken Enchiladas
Healthy white chicken enchiladas are packed with protein and made with a creamy, cheesy white sauce that uses Greek yogurt instead of sour cream! The white sauce is spiced simply with coriander, and we think this makes the dish. Healthy comfort food for the win!
Author:
Prep Time:

10 minutes

Cook Time:

45 minutes

Total Time:

55 minutes

Yield:

12

enchiladas

1

x
Category:

Dinner

Method:

Bake

Cuisine:

Mexican
1 tablespoon

extra virgin olive oil

1

sweet onion, diced small

1

green bell pepper, diced small
1

4

-

ounce

can diced green chiles

2

cups

chicken, chopped

3 tablespoons

butter

¼

cup

flour (unbleached all-purpose OR white whole wheat)

1 teaspoon

coriander

¾ teaspoon

salt

2

cups

chicken broth

1

cup

whole milk Greek yogurt

1 ½

cups

(6 ounces) Monterey Jack cheese, shredded

12

6-inch corn tortillas
Instructions
Preheat. Preheat your oven to 350 degrees.
Sauté onions and peppers. Heat olive oil in a skillet over medium heat. Add diced onions and peppers to the skillet and sauté until soft, about seven minutes. Combine onions and peppers in a bowl with the chicken and green chiles, and set aside.
Make the sauce. Whisk the white whole wheat flour, coriander, and salt together in a small bowl. In the same skillet used for the peppers and onions, heat the butter over medium heat until melted. Add the flour mixture and whisk it together with the butter to form a uniform mass. Immediately add all the chicken broth. Heat the mixture over medium while you whisk, until it becomes thicker and bubbly, then cook and stir for 1-2 more minutes. Add the Greek yogurt and cheese, and whisk until smooth and melted.
Fill and roll enchiladas.* Line the bottom of your baking dish(es) with a thin, even layer of sauce. Place ¼ cup of the chicken filling in the center of a tortilla. Roll up the tortilla and set it in the baking dish, parallel to the short side (if pan is rectangular). Repeat for as many remaining tortillas as you can fit in the baking dish, then continue into other baking dish if using. Top the enchiladas with all remaining sauce and remaining cheese.
Bake. Bake the enchiladas at 350 degrees for 25 minutes or until cheese is bubbling. Remove from the oven and allow to cool slightly, then serve with fresh cilantro and jalapeños if you like spicy food.
Notes
Rolling tortillas: If using corn tortillas that have been in the fridge for a while, they might not roll as nicely depending on the brand of corn tortilla (some tend to dry out). If this is the case, heat the tortillas in a clean, slightly damp kitchen towel in the microwave for about 15 seconds before Step 4. Alternatively, you can dip each corn tortilla in the warm sauce to soften it before you fill. This will require more sauce, so you can use less in the bottom of the baking dish or on top of the enchiladas.
Keywords: white chicken enchiladas, healthy white chicken enchiladas with Greek yogurt