These simple chorizo tacos are bursting with flavor and spice: Mexican chorizo, poblanos, garlic, lightly pan-fried corn tortillas, topped with onions, cilantro, avocado, and a quick chipotle mayo. They're perfect for a quick weeknight meal because they come together in only 20 minutes!
Friends, I think we can safely say that Mexican chorizo is a favorite food in our household, and it is most certainly one of our favorite taco ingredients of all time. Since Mexican chorizo (not to be confused with Spanish chorizo... also delicious) already comes with so much flavor and spice, all you have to do is cook it! In other words, chorizo makes healthy and delicious weeknight meals possible, even when you're busy.
In this simple chorizo tacos recipe, we'll show you how to lightly pan fry the corn tortillas for an ever-so-light crunch against the soft chorizo. Then we'll add simple toppings (onions, cilantro, and avocado), and of course, a quick chipotle lime mayo. Nothing too fancy, yet so addictive!
Jump to:
Ingredients
For these chorizo tacos, you'll only need a handful of simple ingredients.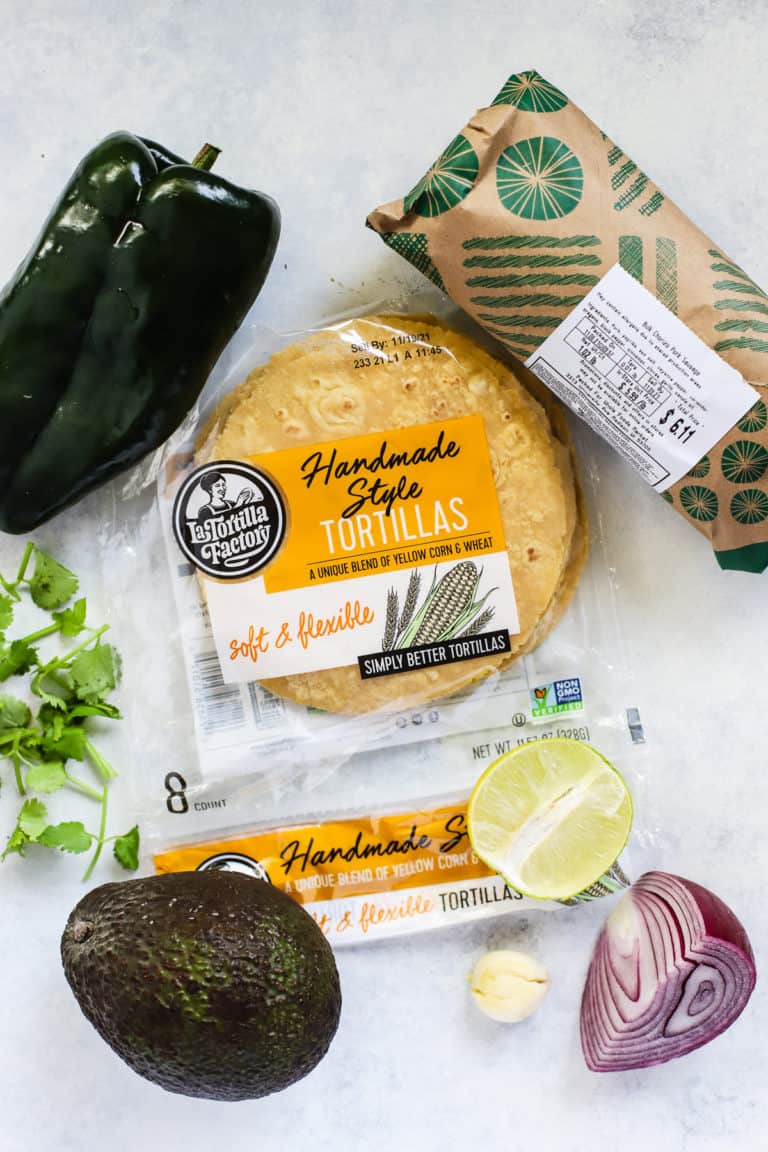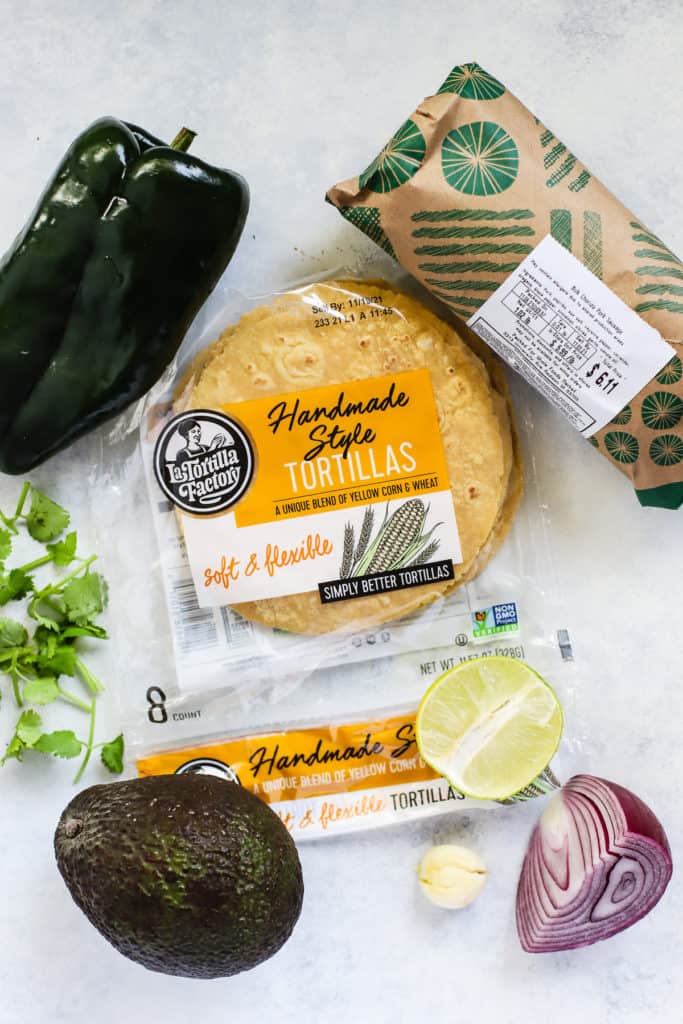 Mexican chorizo - See section below for recommendations on where to buy or how to make your own!
Corn tortillas - We love the kind from La Tortilla Factory, or any time we can get locally made corn tortillas, we'll go for those.
Poblano pepper
Fresh garlic
Onions - Red or sweet onions are our faves!
Cilantro
Avocado - You may not need it in this recipe, but I always like a little bit diced up on my tacos.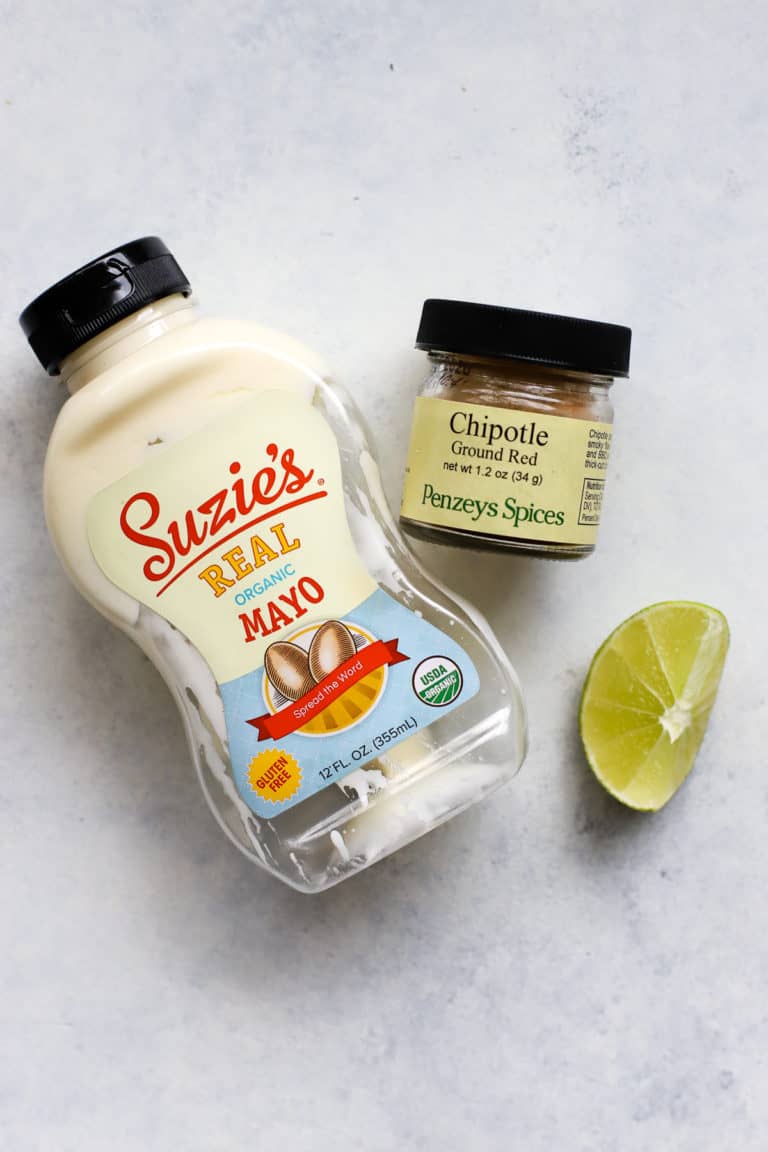 And for a quick and spicy mayo to drizzle on top:
Mayo
Chipotle seasoning OR your fave chili powder
Limes - Plus more wedges on the side for serving.
Where to Buy Mexican Chorizo
Finding a high quality chorizo with a clean ingredients list takes a bit of research, as many store-bought brands have a ton of preservatives or just don't taste that great. We've researched and tried chorizos near and far so we could give you our top recommendations:
Whole Foods. Not everyone has access to a Whole Foods, but if you do, their fresh chorizo is probably our favorite in the whole wide world for home cooking. It's super affordable, high quality (doesn't dry out quickly), and has incredible flavor.
Local Latin American grocery stores. In Wisconsin, we are fortunate to have a lot of Latin American grocery stores that sell the ingredients to make authentic Latin American foods. At these places, you can often buy their in-house, freshly made chorizo... plus you get to support small local businesses!
Local butcher. If you do have a local butcher that sells fresh meats, check and see if they have Mexican chorizo.
Your local grocery stores! Of some of the more universally located grocery stores, Kroger (Pick 'n Save, Metro Market), Aldi, Target grocery, Trader Joe's, and Woodman's, I was not able to find a Mexican chorizo without preservatives, if at all. However, at some of our local stores here in Wisconsin (Hy-vee, Metcalfe's), freshly made Mexican chorizo is available.
Or... you can easily make your own!
Finally, there is always the option to make your own chorizo. If you do, the recipe will take slightly longer, but I promise it'll be worth it. All you need to do is purchase some ground pork (widely available), and flavor it with authentic Mexican chorizo flavors. I love the recipe linked above from one of my favorite blogs of all time, Isabel Eats. YUM!
How to Make Chorizo Tacos
Now that you have your ingredients, just a few more steps and you will have beautiful and delicious TACOS!!
First, prepare all of your toppings and chipotle mayo in advance so that you're ready to rock with freshly fried corn tortillas and hot chorizo. This entails finely dicing some red onion and cilantro, dicing avocado if using, and making the chipotle mayo.
For the mayo, simply whisk together ¼ cup mayo, one teaspoon of your favorite chipotle seasoning, and a squeeze of lime (about a teaspoon). Whisk all of that together until smooth, then set aside while you make the tacos.
You can start by heating some extra virgin olive oil over medium-high heat in a medium skillet. Then, reduce heat to medium and add poblano peppers and garlic to the pan. Sauté for 4-5 minutes, adding sprinkle of salt as the veggies soften.
Next, add the ground Mexican chorizo to the pan and break it up into chunks until completely browned (about 5-7 more minutes). Once browned, immediately remove the chorizo pan from heat and set aside while you pan fry corn tortillas.
Heat some more extra virgin olive oil over medium-high heat in a separate sauté pan. Once hot, add one corn tortilla and fry until slightly browned on one side, then repeat on the other side. We usually end up doing 60-90 seconds on each side (the first one takes the longest, then the rest seem to go more quickly... like pancakes!). You want it to be slightly crisped, but still bendy. Then, repeat with the remaining tortillas.
Now for assembly! On each corn tortilla, add chorizo, onions, cilantro, avocado, an extra squeeze of lime if you want, and a drizzle of chipotle mayo. Then DEVOUR!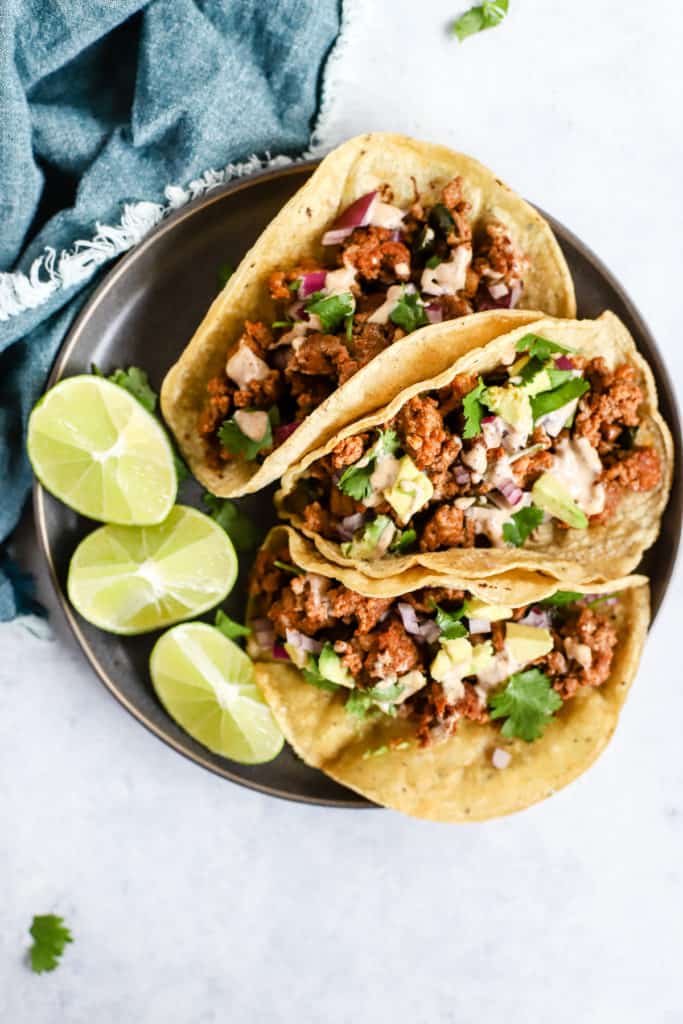 Hint: To drain some fat off of the chorizo, you can rest the sauté pan at a careful angle (such as leaning it slightly off of an electric burner - not so much that the fat pours out), and allowing gravity to drain the fat into one side of the pan. From there, you can easily transfer the chorizo, poblanos, and garlic to another dish. Once the drained fat cools, discard it in the garbage.
Substitutions & Variations
Toppings - This recipe is delicious in its most simple form, but sometimes a simple base can be a canvas for a crazy delicious topping situation. Feel free to add pico de gallo (mango, tomato, or pineapple pico would all be good), guacamole, jalapeños, cotija cheese, pepitas, or red cabbage.
Street corn - Street corn tacos are SO good, and street corn chorizo would be delicious! To make this version, omit the chipotle mayo in this recipe and top with our favorite 20-minute healthy street corn instead for a creamy, zesty taco topping.
Even Spicier - Mexican chorizo alone has some good spice to it, but if you really want to double down, add some fresh jalapeños (with the seeds) to your tacos.
Breakfast - To make breakfast tacos, scramble some eggs in a separate pan and add the chorizo while scrambling. Top with onions, cilantro, avocado, chipotle mayo, or even salsa or hot sauce.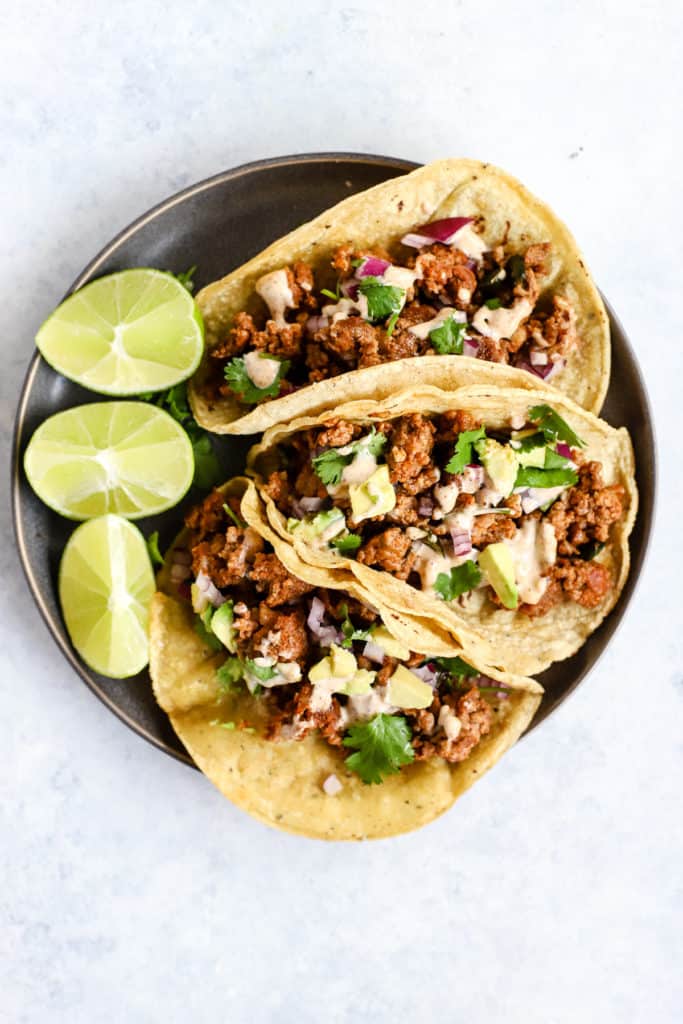 Storage
Store: Store the Mexican chorizo mixture in an airtight container (preferably glass) in the fridge, separate from toppings or corn tortillas. Store the corn tortillas and toppings each in their own respective airtight containers (or if corn tortillas came in resealable packaging, you can use that).
Reheat: When you're ready for leftovers, reheat the chorizo on the stove or in the microwave. Pan-fry however many corn tortillas you need, assemble the tacos, and top with leftover toppings.
Freeze: To freeze the chorizo, store it in an airtight container in the freezer, leaving as little airspace in the container as possible, for up to three months. When you're ready to use, thaw the chorizo in fridge for eight hours (or overnight), and reheat according to the above instructions. I don't recommend freezing the fresh taco toppings for later use on tacos.
Chorizo Tacos FAQs
Are chorizo tacos healthy?
Yes! We made these tacos healthy by selecting a clean chorizo (no preservatives, no artificial colors/ingredients, etc.). See recommendations above for where to find clean, high-quality chorizo.
Are chorizo tacos gluten free?
If your corn tortillas are completely gluten free, then yes!
Print
Simple Chorizo Tacos
These simple chorizo tacos bring BIG flavor and only require 20 minutes! Lightly crunchy corn tortilla shells, flavorful Mexican chorizo, and fresh toppings of onion, cilantro, avocado, and a homemade quick chipotle mayo.
Author: Tera
Prep Time:

5

Cook Time:

15

Total Time:

20 minutes

Yield:

6

-

8

tacos

1

x
Category:

Dinner

Method:

Sauté

Cuisine:

Mexican
For the chipotle mayo:
¼

cup

mayo

1 tsp

your favorite chipotle seasoning

1 tsp

lime juice (squeezed from fresh lime)
For the chorizo tacos:
1 tbsp

extra virgin olive oil + more for tortillas

2

garlic cloves, minced

1

poblano pepper, diced small

1

lb

. Mexican chorizo

6

-

8

corn tortillas

½

small red onion, finely diced

½

avocado, diced

½

cup

cilantro, chopped
Instructions
Make the chipotle mayo. In a small bowl, whisk together mayo, chipotle seasoning, and lime. Set aside while you cook the chorizo taco filling.
Sauté poblanos and garlic. Heat olive oil over medium-high heat in a large skillet. Reduce heat to medium and add poblanos and garlic, and sauté, stirring frequently, until slightly soft (4-5 minutes). Add a pinch of salt.
Cook the chorizo. Add the chorizo to the skillet with poblanos and garlic, and brown completely, breaking up the chorizo as it cooks. Once browned, immediately remove the skillet from heat and set aside.
Fry corn tortillas. In a separate skillet, heat olive oil over medium-high heat. Add a corn tortilla and allow it to cook until it's slightly browned, about 60-90 seconds. Flip and repeat on the other side, then repeat for every tortilla you plan on immediately using.*
Assemble! Fill each corn tortilla with the chorizo-poblano mixture, and top with onions, cilantro, avocado, and chipotle mayo. Then, chow down!
Notes
Corn tortillas: When frying the corn tortillas, we're going for slightly toasted to get some crunchy contrast with the soft chorizo, but not full-on crispy. We still want the tortillas to be a little bendy.
Storage & freezing: Store the chorizo, tortillas (ideally not the fried ones), and toppings in their own respective airtight containers in the fridge for up to a week. Freeze the chorizo and/or corn tortillas in separate, airtight containers for up to three months (leaving little airspace in the containers). Thaw in the fridge overnight or for eight hours. I don't recommend freezing the fresh toppings for later use on tacos.
Reheat: Reheat the chorizo in the microwave, oven, or on the stove. Reheat corn tortillas on the stove. If you have a Ninja Foodi or an air fryer, you can pop the entire taco (without toppings) in there to reheat and crisp it up at the same time. Then, top & eat!
Keywords: chorizo tacos recipe, chorizo tacos