This simple detox quinoa salad is the perfect healthy spring recipe to leave you feeling light and energized. Meal prep it for lunches or side dishes throughout the week, and add any protein to round it out!
So here's the thing: we all know we have livers that are constantly doing the glamorous job of detoxing our bodies, which is why we need a plethora of clean ingredients to keep that process running smoothly. And, ideally, that plethora of ingredients would taste amazing and make us want to devour it every day, right? It's the only way, friends.
Pizza and other things with melted cheese exist to give our livers work to do, and simple detox quinoa salads exist to help our livers do that work... and all of the above should be straight. up. delicious. No compromises 😉
Okay, for starters, the beauty of this simple detox quinoa salad lies in its versatility (well, and it's olive oil/lemon/garlic-soaked goodness). That is, it can pretty much morph into anything you want it to be! You can...
Round it out with some protein such as salmon, chickpeas (so good!!), chicken, etc.
Add other veggies, herbs, and fruits, like peppers, grape tomatoes, avocado, shredded carrots, berries, apple, cilantro, dill, etc.
Toss in some nuts or seeds, such as sunflower seeds, walnuts, pepitas, or slivered almonds
In and of itself, this salad his TONS of flavor, what with the whole olive oil, garlic, and lemon situation, so you definitely don't need to make modifications; however, I kept it super basic so that you could have a canvas to work with.
Lately I've been obsessed with tossing in chickpeas, pepitas, and avocado, and the resulting yumminess makes me super excited to eat it, so I have to try super hard not to eat my lunch at, like, 10:30 a.m. Anyone else have this problem?
Okay, now let's talk about what you need to make this beaut.
Ingredients You'll Need
For the salad itself, the only four ingredients you'll need are:
Quinoa
Green onions
Cucumbers
Parsley
Then for the dressing, you'll need:
Olive oil
Lemon
Garlic
Honey
Salt & pep
How to Make This Salad
I like to get the quinoa started first while I prep veggies and blend up the dressing, so it's all ready to combine by the time the quinoa is done.
Once you've got the quinoa going on the stovetop, then you can dice your cucumbers, slice green onions, and chop parsley (I love using a kitchen shears for this!).
For the dressing, I like to use a blender because then I don't have to mince garlic 🙂 BUT. A blender is by no means required! You can also whisk everything together in a bowl or shake it together in a mason jar.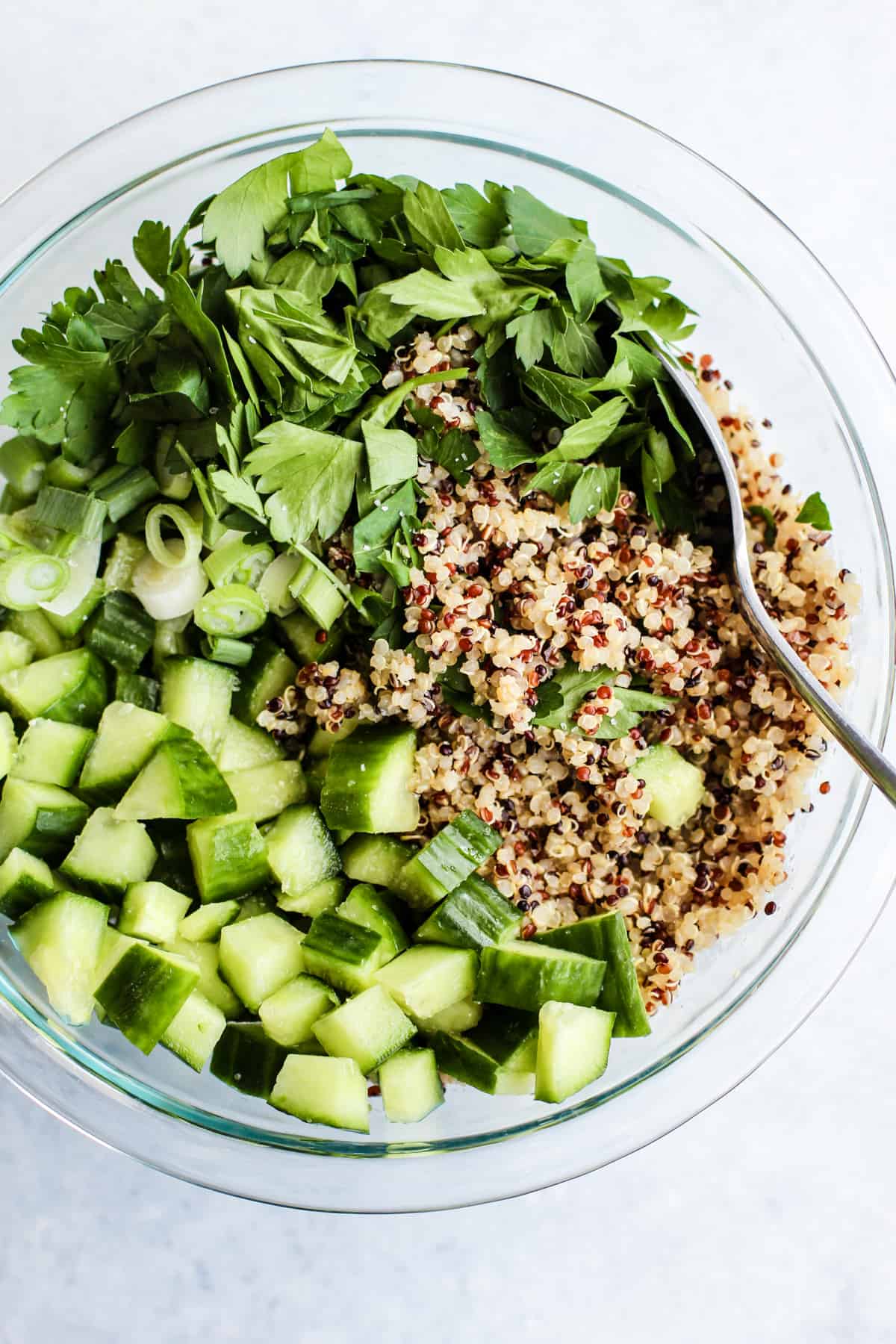 Finally, once the quinoa is done cooking, combine all the ingredients in a bowl and pour in the dressing. Stir to coat everything, and serve immediately or chill in the fridge.
If your patience and appetite is at all like mine... then you always opt for serving immediately.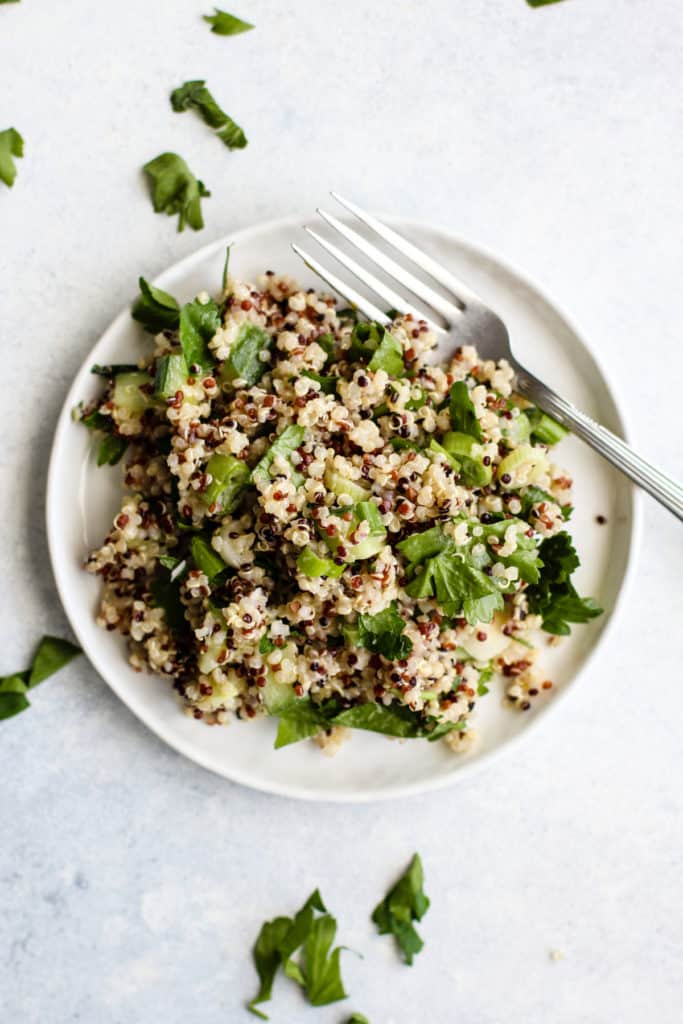 Print
Simple Detox Quinoa Salad
This quinoa salad contains simple ingredients that assist your body with detox: garlic, lemon, and parsley! Delicious with your favorite protein.
Author: Tera
Prep Time:

5

Cook Time:

15

Total Time:

20 minutes

Yield:

~3.5 cups

Category:

Salad

Method:

Mix

Cuisine:

American
1

cup

quinoa, dry

½

cup

green onions, sliced

1

cup

cucumbers, diced

1

cup

parsley, chopped

¼

cup

olive oil
juice from

two

lemons

3

cloves garlic, minced

1

-

2

teaspoon honey

¼ tsp

salt
Dash of pepper
Instructions
Cook quinoa according to package instructions (should yield about two cups).
Combine quinoa, green onions, cucumbers, and parsley in a large bowl.
To make the dressing, combine olive oil, lemon juice, minced garlic, honey, salt, and pepper in a mason jar. Shake vigorously to emulsify ingredients.
Pour dressing into quinoa mixture and stir to combine. Serve immediately or chill in the fridge for meals throughout the week!
Keywords: simple detox quinoa salad, quinoa salad, detox recipes, quinoa recipes