This post contains affiliate links for products I genuinely recommend, which means I earn a small commission at no cost to you.
Spanish tortilla (or tortilla española, or tortilla de patatas) is a simple, hearty, comforting recipe made on the stovetop. You can serve it warm or chilled, alone or on a sandwich. It comes together with kitchen staples, so even when you have close to nothing in your fridge, if you have eggs, potatoes, and a bit of onion, you can whip up some Spanish tortilla.
You guys. Everyone will want to be your friend when you learn how to make Spanish tortilla, partly because it's delicious and partly because an undeniable fact of life is that fried potatoes + eggs = breakfast heaven.
Except this is kinda more of a lunch/dinner thing in Spain... ... just, you can eat it whenever you want (I totally eat it for breakfast). All I know is this potatoes-up-in-your-eggs situation is calling your name.
Known as Spanish tortilla, or tortilla española, or tortilla de patatas, this traditional Spanish dish is essentially an open-faced potato omelette. I first had it when I lived in Sevilla about five years ago (holy buckets...five?!), and I instantly fell in love with the fact that something so simple could be so delicious and, in a way, incredibly comforting. Any combination of potatoes and eggs is, I suppose, a comfort food staple.
So what it really all comes down to is that Spanish tortilla is a simple, hearty, comfort food meal made from kitchen basics. Moreover, Spanish tortilla can be eaten at every meal, hot or cold, and made into sandwiches. SANDWICHES. No joke -- I learned it from the Spaniards. Hence the whole lunch thing.
Sooo yeah. Basically I'm also about to get you out of a sandwich rut. Are you in love yet? (Not with me! With the recipe.)
Quick confession before we talk about this Spanish tortilla business. I may or may not have breached the traditional recipe formula a little bit by reducing the amount of olive oil. Many traditional recipes use 1-2 cups (cups!), which is like... an entire bottle. So, I reduced the amount to around ¼ cup because two cups seemed like just SO much. You do, however, need enough olive oil to fry the potatoes and flip the tortilla in the pan. We'll get to that 😉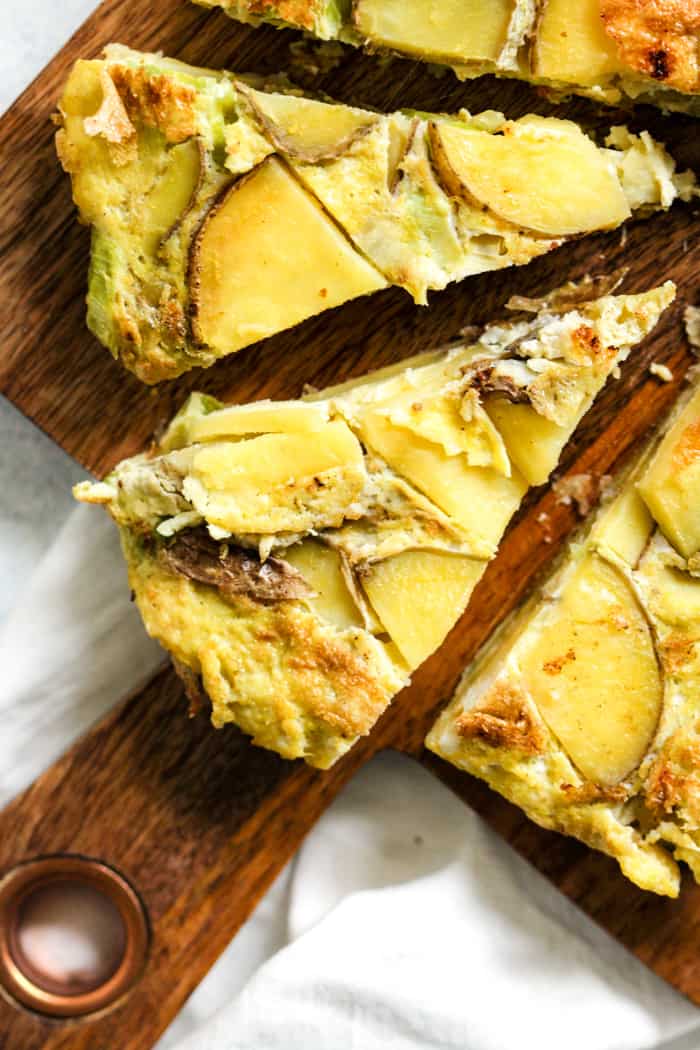 Spanish Tortilla Basics
Okay, so this recipe is incredibly simple, but making Spanish tortilla actually requires a bit of finesse; namely, flipping the tortilla can be somewhat of a challenge (read: I may or may not have destroyed many of these). Some mistakes (let's call them tests, because I'm totally a recipe tester) I've made:
Too many potatoes and onions and not enough eggs. Okay, so sometimes I get a little crazy in the kitchen and pretend like I whip out perfect ratios. Sometimes I can, but most of the time I goof up. If the eggs can't support the weight of what's in them, they would stay bound together and your tortilla will break.
Too many egg whites. The recipe I'm sharing with you today is just a standard Spanish tortilla and doesn't use any eggs whites, but there was a time when I thought it would be a brilliant idea to use both eggs and egg whites. Well, it was not a brilliant idea, and I recommend saving it for more forgiving recipes like quiches and egg bakes. Spanish tortilla needs a sturdy binding, and egg whites are a bit too flimsy to make it work. If you want to replace one or two of the eggs with egg whites, go for it! This didn't work that well for me, but if it works for you, let me know your secrets.
Overcooking the eggs. This can be tough depending on the cooking utensils you have, or even your stove-type. You don't want the eggs to be raw, but you also do not want them overcooked. It can be tempting to let them cook for a really long time since you have to flip the tortilla, and you don't want egg liquid at the top when you're ready for that step. However, you do want to end up with a consistency closer to custard-y rather than overcooked.
Not using enough oil. A nonstick pan will certainly help with this, but you do need enough oil in the pan when it comes time to flip the tortilla. You also need enough to fry the potatoes and onions with them getting browned or crispy. I'm guilty of both: burnt onions and breaking the tortilla because part of it stuck to the pan.
Stirring the potatoes too much. It's okay to stir them a bit to ensure even cooking, but try not to break them up. You want them to be in thin, flat layers when they cook into the eggs.
Don't worry, it's very simple if you follow the instructions!
Next, let's quick talk about the flip.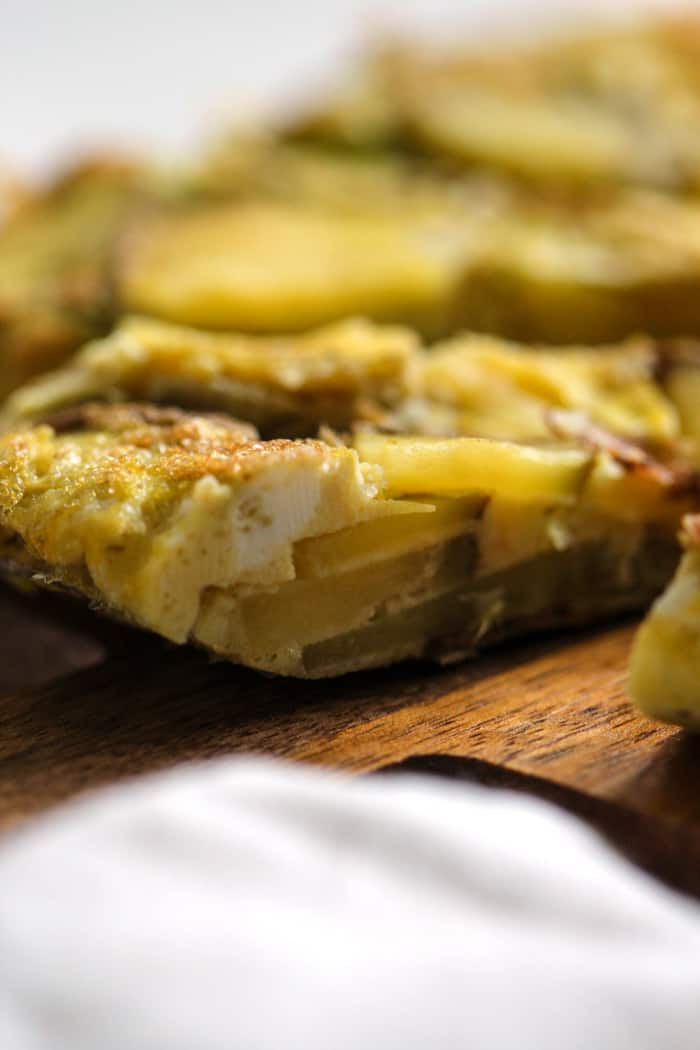 The Flip
Part of Spanish tortilla's uniqueness is in it's preparation: entirely on the stovetop. Because of this, you need to flip the tortilla in order to finish cooking the eggs. Now, you might toy with the idea of just making it in a cast iron skillet, popping it in the oven, and calling it a day. Have I done this? Oh, absolutely. BUT. A Spaniard will tell you that you are making a frittata (Italian). So. We're going to try and be all authentic here, okay? You can cheat with a cast iron skillet another time if you want. I won't tell anyone.
So, the flip. Basically, you'll reach a point in the recipe where you've poured your whisked eggs over the onions and potatoes in the pan on your stovetop. You'll allow that to cook until the eggs are almost cooked through on the top, but there's still a little circle of liquid-y egg in the center. The trick is to slide the tortilla out onto a large plate (liquid-y part still face-up), then hold the pan upside down over the plate (allowing it to touch the tortilla, pressing the tortilla up against it), and flip it back over with the tortilla in it. That's it! Then you let it finish cooking for a minute or two. DONE. Spanish tortilla.
You can cut it into slices and serve immediately, or you can chill it and serve plain or on sandwiches throughout the week. I love both ways <3.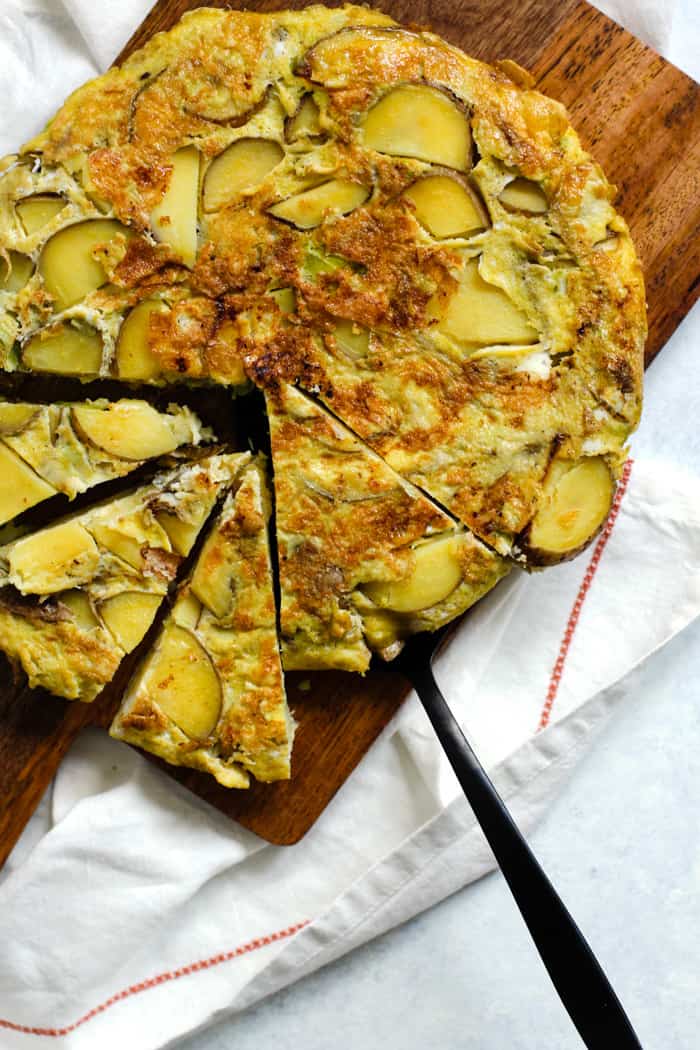 Print
Spanish Tortilla (Tortilla Española)
Spanish tortilla (or tortilla española, or tortilla de patatas) is a simple, hearty, comforting recipe that comes together on the stovetop. You can serve it warm or chilled, alone or on a sandwich.
Author: Tera
Prep Time:

10

Cook Time:

45

Total Time:

55 minutes

Yield:

6

1

x
Category:

Lunch

Method:

Stovetop

Cuisine:

Spanish
¼ cup

olive oil divided, plus more if necessary

1

small yellow onion, quartered and thinly sliced

4

-

5

medium-sized Yukon gold potatoes, halved and thinly sliced

8

eggs

¼ tsp

each salt and pepper, plus more to taste
Instructions
Heat 2 tablespoon of the olive in a skillet over medium-high heat. Meanwhile, combine onions and potatoes into a bowl to mix, then place them into the sauté pan. Cover, reduce heat and cook until potatoes can be easily pierced with a fork (about 25 minutes), but are not browned. If you choose to stir once or twice throughout, do so carefully to keep the potatoes in tact. Once cooked, transfer onions and potatoes to a large bowl.
In a separate large bowl, whisk eggs together with salt and pepper. Pour eggs over onions and potatoes and stir a couple times to combine.
Heat remaining 2 tablespoon olive oil in the same skillet over medium-high heat. Transfer the egg and potato mixture to the skillet and very gently stir with a spatula for 1-2 minutes (almost like you're just pushing things around) until the eggs just start to set. Spread the mixture out so it sits in the skillet evenly.
Reduce heat to medium-low and cook until the eggs are almost set, shaking the pan occasionally to keep the tortilla loose (about 15-20 minutes). When the eggs are just set (mostly cooked through except for maybe a little liquid at the top), run a rubber spatula around the outside of the tortilla to help loosen it. Gently slide the tortilla out onto a dinner plate, pan-side down (the part that wasn't touching the pan before should be facing up). Carefully flip the tortilla back into the skillet and cook for two more minutes.*
Remove from heat, and transfer tortilla to serving plate. Allow it to cool for 20 minutes or more before serving.
Notes
*The technique I like to use when I flip is holding the bottom of the plate in one hand and placing the skillet face down over the tortilla, pressing the tortilla up against the plate. Then, as I flip, I maintain that pressure of the tortilla against the plate as I flip it over, and nothing spills out everywhere (goals).
Keywords: Spanish tortilla, tortilla española