This post contains affiliate links for products I genuinely recommend, which means I earn a small commission at no cost to you.
This flaky all butter chickpea flour pie crust is perfect for any savory recipes requiring pie crust or pastry (think galettes with veggies and cheese, quiche, chicken pot pie, savory tarts!). It has tons of awesome flavor plus extra protein and fiber from the chickpeas, and it's gluten-free. Note: This recipe was tested and improved in July 2021, so I've updated the post accordingly.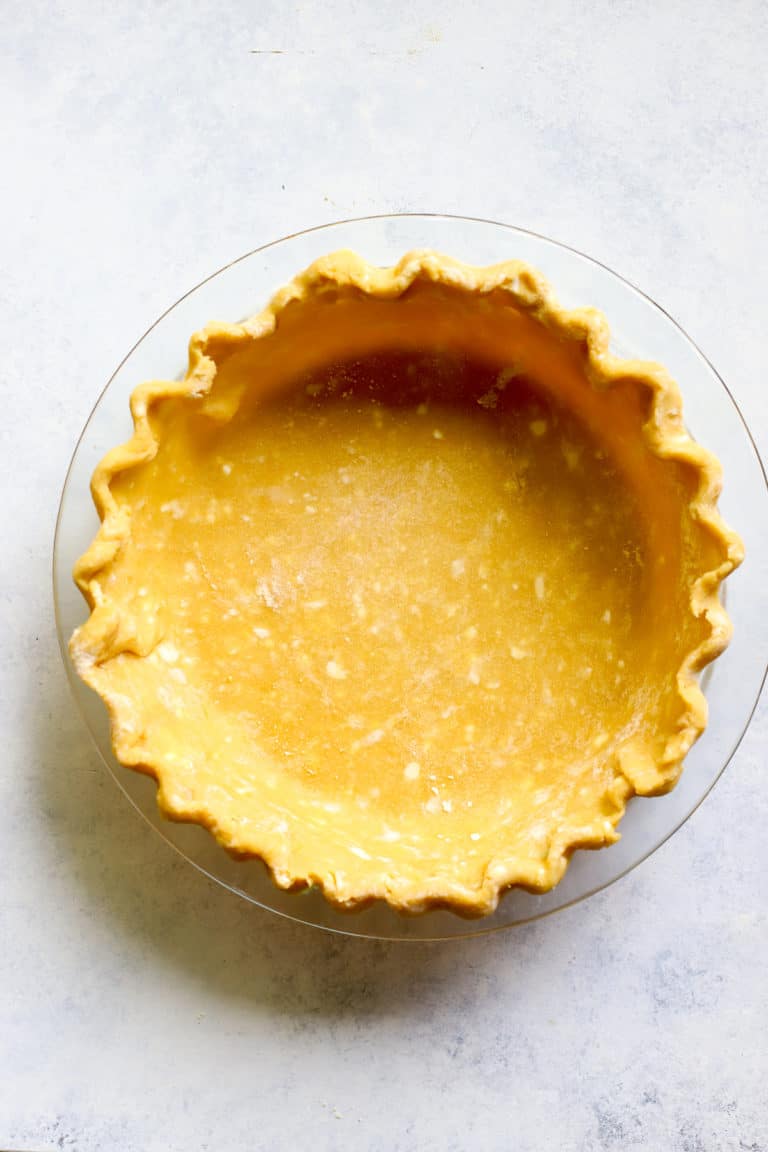 What if I told you... gluten-free pie crusts don't have to be sad? And what if I told you that a super flaky, buttery, *gluten-free* chickpea flour pie crust is delicious, easy to make, and basically health food? Friends, let's dive right into this buttery business.
While I still love a whole wheat flour pie crust, chickpea flour is an awesome way to get more protein and fiber per serving. I mean for goodness' sake, the only ingredient is dried chickpeas ground to a flour consistency. So yes, you are essentially eating beans, which are incredibly good for you! Chickpea flour is freaking brilliant.
Jump to:
Ingredients
This chickpea flour pie crust dough (also known as chickpea flour pastry) is made entirely with chickpea flour! Just a few other standard butter pie crust ingredients (listed below), and you're set.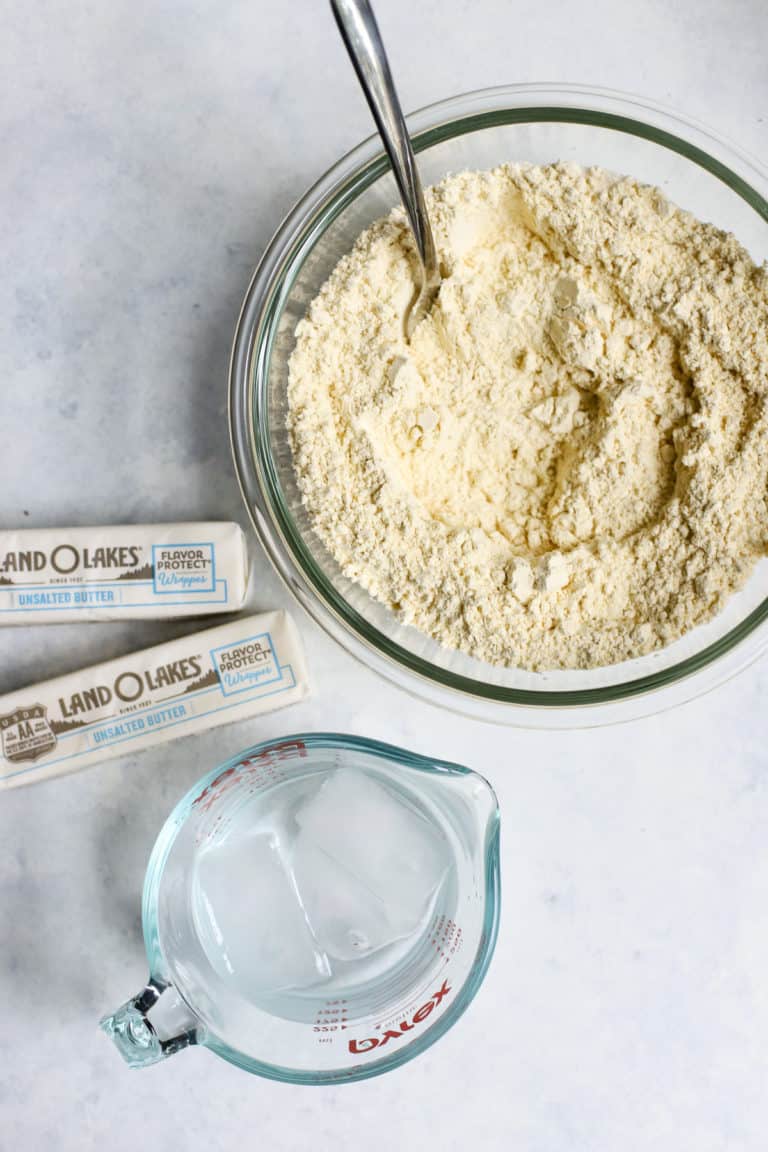 Chickpea flour - Chickpea flour is easy to find in the baking aisle of your grocery store, or you can order it online! My favorite chickpea flour (affiliate link) is the kind from Bob's Red Mill.
Salt - Essential for flavor.
Natural cane sugar - Just a little bit balances out the pie crust flavor.
Unsalted butter - Real butter is what makes this pie crust flaky and delicious.
Ice water - We'll only use the water part, but all ingredients must be especially cold for a successful pie crust.
Instructions
Like any other pie crust, you're going to want to start of with cubed, COLD butter. I recommend cutting the butter into cubes, then placing it in the freezer while you prepare the other ingredients.
Then, whisk together the chickpea flour, salt, and natural cane sugar.
Next, add the chickpea flour to your food processor (affiliate link) with the cubed butter, and pulse the mixture until a crumbly dough forms. The crumbles should be pea-sized or a bit bigger. These chunks of butter are what will melt in the oven to create a flaky dough.
No food processor? No problem! Use a pastry cutter or two forks to cut the cold butter into the flour mixture until a crumbly dough (like the below) forms. Then, as you add ice water in the next steps, simply stir it in since you won't be use a food processor to pulse the mixture.
Once you've got your crumbly dough, you can start adding ice water, one tablespoon at a time. I almost always start with three tablespoons right off the bat because I know I typically use 6-8 tablespoons total each time I make this crust. So, go ahead and start with three tablespoons, and pulse to incorporate the water. Then, continue to add one tablespoon of ice water at a time, pulsing for a few seconds between each addition until the dough comes together into a clumpy ball.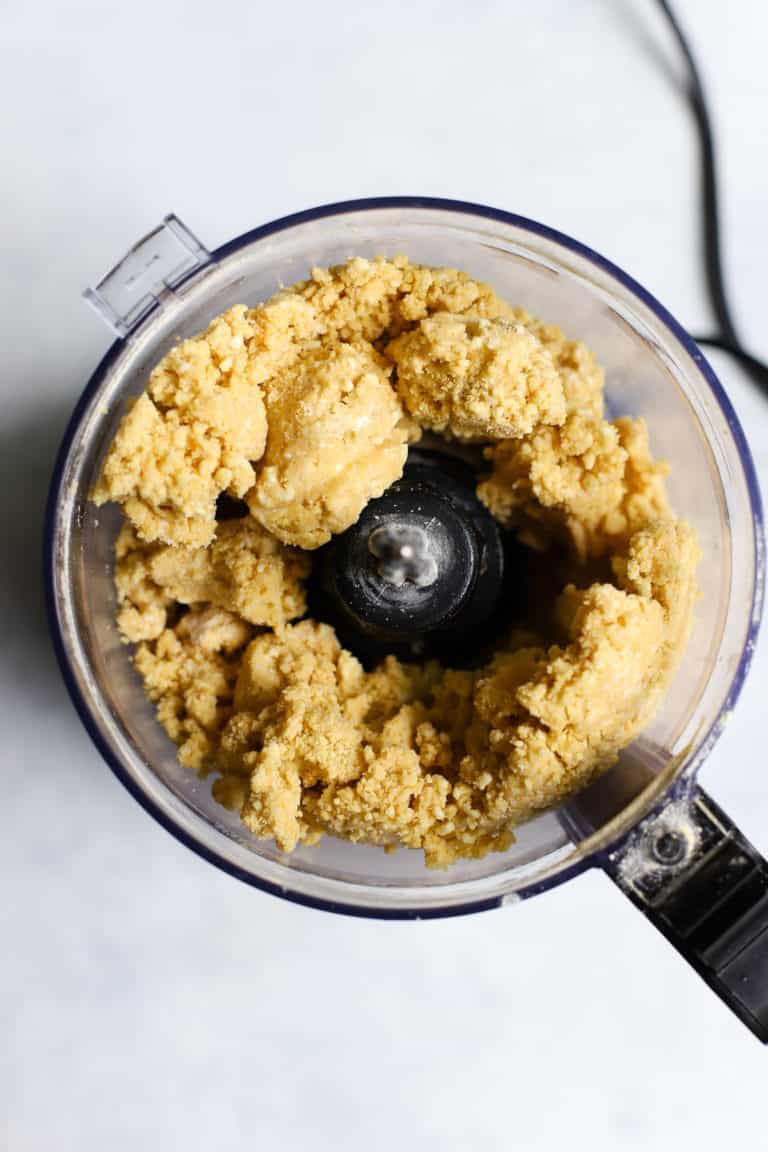 After that, turn out the dough onto a floured work surface (using chickpea pea flour or any preferred flour). As far as surfaces go, I love my pastry mat and can't live without it for making pie crusts! Without overworking the dough, form it into a disc shape and wrap it tightly with plastic wrap. Chill the dough in the fridge for at least two hours and up to a couple days.
Once you're ready to use the pie crust, take the dough disc out of the fridge and let it sit on the counter for 10 minutes to soften and become easier to work with. Flour your work surface, hands, and rolling pin. Unwrap the dough and place it on the floured work surface, then begin rolling it out until it's about 12 inches in diameter. No need to make it into a perfect circle.
Then, very gently, roll the pie dough loosely onto your rolling pin, and transfer it to 9-inch pie dish. I recommend using a glass pie dish as this is the easiest way to see how the crust is baking up once you have other ingredients in there.
With the extra pie dough hanging over the edges, roll it in so that you have a nice, cleanly rolled dough edge bordering the top of the pie dish. Flute the edges by using one index finger to push the dough between your other index finger and thumb. Repeat this pattern around the entire perimeter of the crust.
After than, proceed with your recipe according to its instructions!
Hint: If your kitchen is warm, or the pie dough just got warm as you were working, don't be afraid to chill the ingredients at any time throughout. That means you can chill the entire bowl of flour, butter, or even the food processor itself! Taking a moment to re-chill the dough to make sure it's super cold will be well worth it in the end.
Substitutions
This recipe is pretty simple and intended to be as it is, so there are just a couple options for substituting.
Vegan butter - You can use the same amount of vegan butter in place of regular butter for a similar flavor and texture.
Nutiva Shortening - Another vegan option, Nutiva shortening (affiliate link) is made from ethically sourced coconut and red palm oils and can work in this pie crust as well. Use the same amount of shortening as you would butter (113 grams / 8 tablespoons / ½ cup).
Butter & shortening - You can also do a combination of both butter and shortening, as long as the final weight is the same as the recipe calls for (113 grams).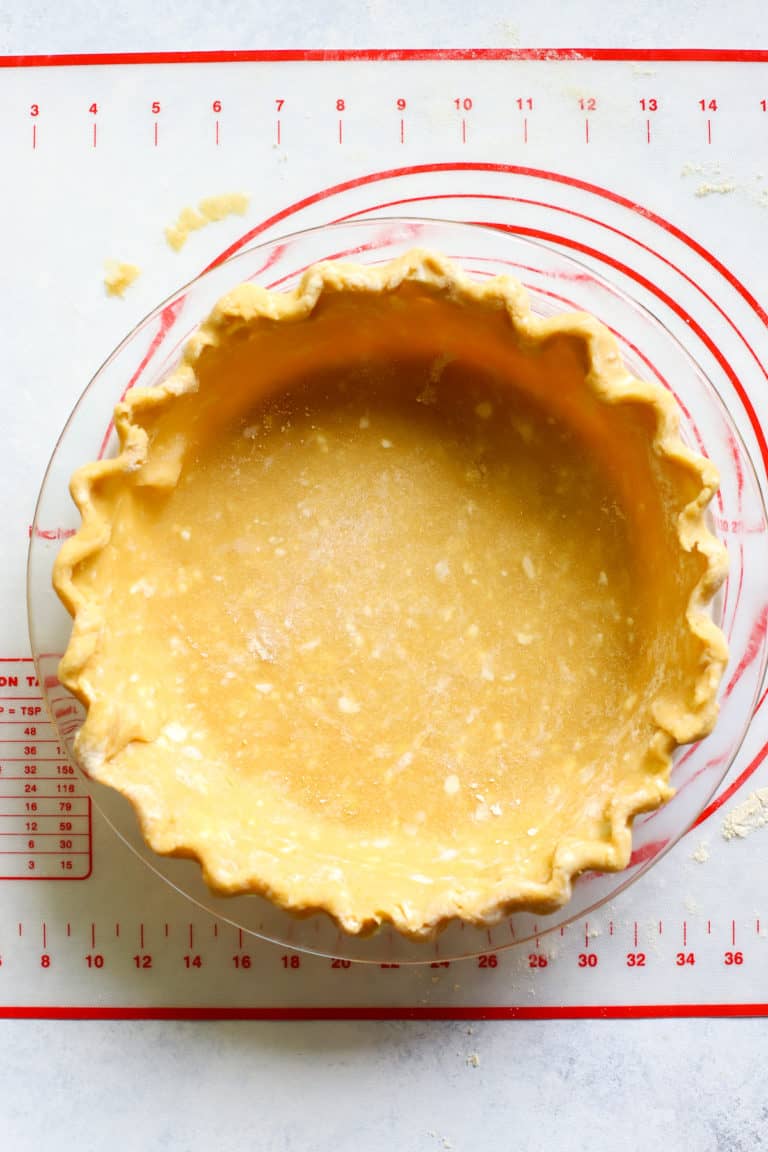 Storage
To store this chickpea flour pie crust, simply leave it in its disc shape, tightly wrapped in plastic wrap and stored in the fridge, until you're ready to use it.
You can also freeze this pie crust dough to use at a later date. Place the plastic-wrapped dough disc in reusable freezer-safe bag or airtight container for up to three months. Once you're ready to use it, leave it in the fridge overnight until thawed, then use according to the instructions set forth here.
Chickpea Flour Pie Crust FAQs
Can I use chickpea flour pie crust for sweet desserts?
In my opinion, the flavor is distinctly savory and best lends itself to quiches, savory tarts, pot pies, and other savory dishes. That said, feel free to try it!
Chickpea Flour Pie Crust Uses
You can use chickpea flour pie crust in any savory recipe requiring pie crust! I highly recommend using it in quiche. This simple quiche with chickpea flour pie crust is one of our go-to recipes!
Print
All Butter Chickpea Flour Pie Crust
An all butter chickpea flour pie crust that's gluten-free, super tasty, flaky, buttery, and made with whole foods! A pie crust you can feel good about? Sign me up! This chickpea flour pastry is perfect for any savory dish requiring pie dough or crust.
Author: Tera
Prep Time:

2 hours 15 minutes

Total Time:

2 hours 15 minutes

Yield:

1

pie crust

1

x
Category:

Baked Goods

Method:

Food processor

Cuisine:

American
1 ½

cups

chickpea flour (I like the kind by Bob's Red Mill)

½ teaspoon

salt

½ tablespoon

organic cane sugar (optional)

1

stick butter, cut into cubes and frozen

½

cup

water, with ice cubes (you won't need all of it, but better to be prepared!)
Instructions
Make the flour mixture. Place chickpea flour, salt, and natural cane sugar in a bowl and whisk to combine.
Cut butter into chickpea flour. Add cold butter cubes to the food processor and pulse until a crumbly dough forms (the crumbly bits should be about pea-sized or a little bigger).
Add iced water. Using a tablespoon measure, add the iced water (but not the ice) to the flour-butter mixture. Start with three tablespoons, pulse for a few seconds, and then add one tablespoon at a time, pulsing for several seconds in between each addition until the dough comes together in a ball. It usually takes me 6-8 tablespoons.
Form the dough disc. Turn the clump of pie dough out onto a floured surface and shape it into one round disc. Wrap it tightly in plastic wrap and chill in the fridge for at least two hours and up to a couple days.
Roll out the dough. Unwrap the pie dough and discard the plastic wrap. Set the dough disc on a floured work surface and sprinkle more flour into your rolling pins and hands. Begin rolling out the dough with a rolling pin, turning it over occasionally to keep from sticking. Add more flour to the work surface or dough as necessary. Roll it out until it's about ¼-inch thick (at least 12 inches in diameter).
Transfer dough to pie dish. Carefully roll the pie dough onto your rolling pin so that it's loosely wrapped around it. Unroll the dough into a 9-inch pie dish and let it sink into the dish, helping guide it to fit. Roll in the jagged edges and flute the edges using your index fingers and thumb (see photos in post).
Bake. Bake the pie crust according to your recipe's instructions.
Equipment
Notes
Prep time: The prep time includes 2 hours of dough chilling in fridge. The total cook time will vary depending on the recipe you use for your pie crust.
Baking the dough: This instructions provided are intended for quiches or savory pies and tarts. If you're not using this pastry for a pie or quiche, you can roll it out or shape it according to your recipe's instructions before baking.
Keywords: chickpea flour pie crust, gluten free pie crust, gram flour pastry
This post contains affiliate links for products I truly recommend. Thanks for your support!