This post contains affiliate links for products I genuinely recommend, which means I earn a small commission at no cost to you.
This healthy strawberry crisp recipe is made with fresh strawberries and wholesome, clean ingredients! An incredible jammy strawberry filling meets a naturally sweetened, buttery, irresistible crisp topping... all taken over the top by some lemon juice + zest and toasted almonds.
You know those desserts that you just have to take a bite out of every time you walk by them sitting on your kitchen counter or in your fridge? Well, this healthy strawberry crisp is guilty as charged. Just sitting there on that kitchen counter, all delicious-looking with its jammy strawberries and buttery crisp topping. Did we conveniently dedicate one fork to living in the dessert dish for a sweet-toothed passerby? Sure did.
Friends, I think this strawberry crisp is exactly what we need to celebrate the strawberries of spring and early summer!
Jump to:
The Ingredients
Fresh strawberries - Spring is strawberry season, so don't skip out on fresh strawberries for this one! At least two pounds is enough, because they reduce into a jammy goodness when baked.
Lemon juice + zest - Fresh lemon juice and zest honestly might be what makes the dish. It brightens up those strawberries so much and the acid from lemon makes the flavors POP.
Honey - Just a drizzle over those strawberries for a little extra sweetness.
Vanilla extract - In the strawberry filling and the topping. Ohh yeah.
Arrowroot or tapioca starch - Just a small amount of starch keeps the strawberry filling from becoming too runny, and helps the strawberry filling thicken up once it cools after baking.
Butter - For that delightful crisp topping! We'll use chilled butter for this healthy strawberry crisp.
Coconut sugar or unrefined brown sugar - We love using unrefined sugars in desserts because they are less processed. Our favorite brand for coconut sugar or unrefined brown sugar is Wholesome!
Whole wheat flour - Or white whole wheat flour, which is typically what I have on hand.
Oats - Whole rolled oats are best for a thick and crumbly texture in our crisp topping.
Slivered or whole almonds - No need to toast them! They'll get perfectly toasted in the oven while the crisp bakes. Sometimes I'll use slivered, whereas other times I'll give whole almonds a blitz in my food processor to break them into smaller, rustic pieces.
Cinnamon - At first I didn't think cinnamon and strawberries until I tested this recipe, and whoa. Game-changer.
Salt - The most important counterpart to all the sweetness, as it makes the flavors explode!
Instructions
First, you'll preheat your oven to 375 and grease an 8 or 9-inch baking dish with butter or a light layer of oil.
Then, you'll get right into that strawberry crisp filling. If you haven't already, wash and hull the strawberries before slicing them lengthwise into fourths. Place all of the slices strawberries into a large bowl and add honey, lemon juice and zest, vanilla extract, and arrowroot starch. Stirring gently, make sure the starch gets fully dissolved and the strawberries well-coated. Pour the strawberry filling mixture into your prepared baking dish, and set aside while you prepare the topping.
For the crisp topping, I love to use a food processor, but not to worry if you don't have one! Simply use a pastry cutter or two forks to form a crumbly mixture.
In your food processor, combine the cold butter, white whole wheat flour, salt, cinnamon, and almonds. Pulse to form a pebbly mixture, then add coconut sugar, oats, vanilla, and pulse a couple more times. I like to keep my pulsing time brief once I've added in the oats, as this incorporates them but maintains their shape for the best texture.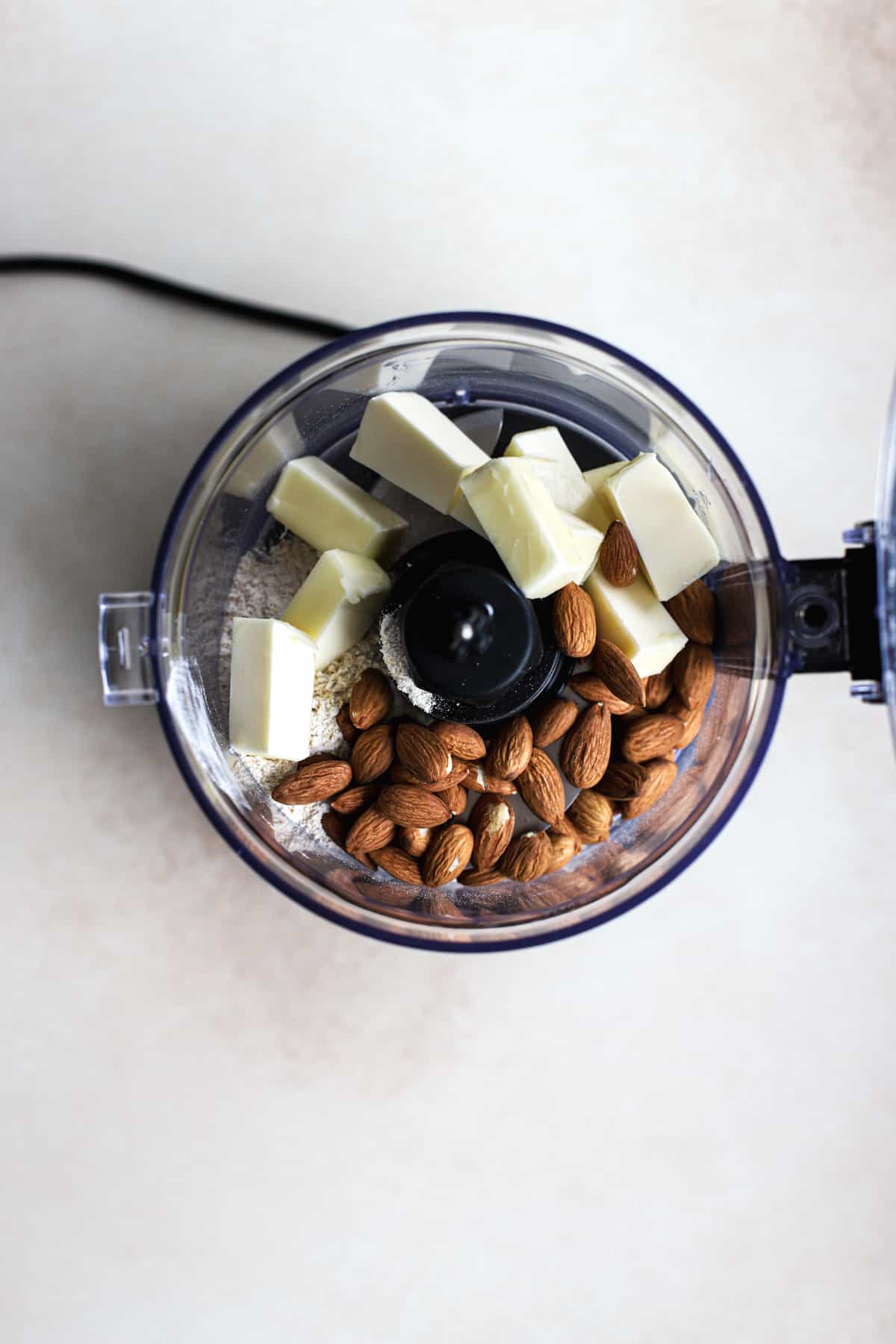 Pour the oat crisp topping in an even layer over the strawberries in the baking dish. Finally, sprinkle on the slivered almonds, and bake in the oven for 35 minutes. You'll know the crisp is done when it smells incredibly fragrant, the strawberries are bubbling up on the sides of the crisp topping from the heat, and the almonds are nicely toasted on top. Allow the crisp to cool for 10 minutes before serving it up!
Hint: Fresh strawberries become SUPER jammy when baked, so allowing the strawberry crisp to cool for at least 10 minutes allows the filling to firm up.
Substitutions & Variations
You can make the following substitutions and variations to make this healthy strawberry crisp recipe work for you!
Gluten free - Use a gluten free flour instead of the whole wheat flour, and make sure your oats are labeled as certified gluten free.
Vegan - Use vegan butter instead of dairy-based butter, and swap the honey for maple syrup or agave.
Strawberry rhubarb - Swap half the strawberries for diced up rhubarb to make a delicious, sweet-tart strawberry rhubarb crisp.
Nuts - Swap the almonds out for pecans or walnuts -- yum! If you have a nut allergy, feel free to omit the nuts or try sunflower seeds or pepitas instead. I haven't tried either of these in a crisp yet, so I can't vouch for results, but I imagine it would still be delicious.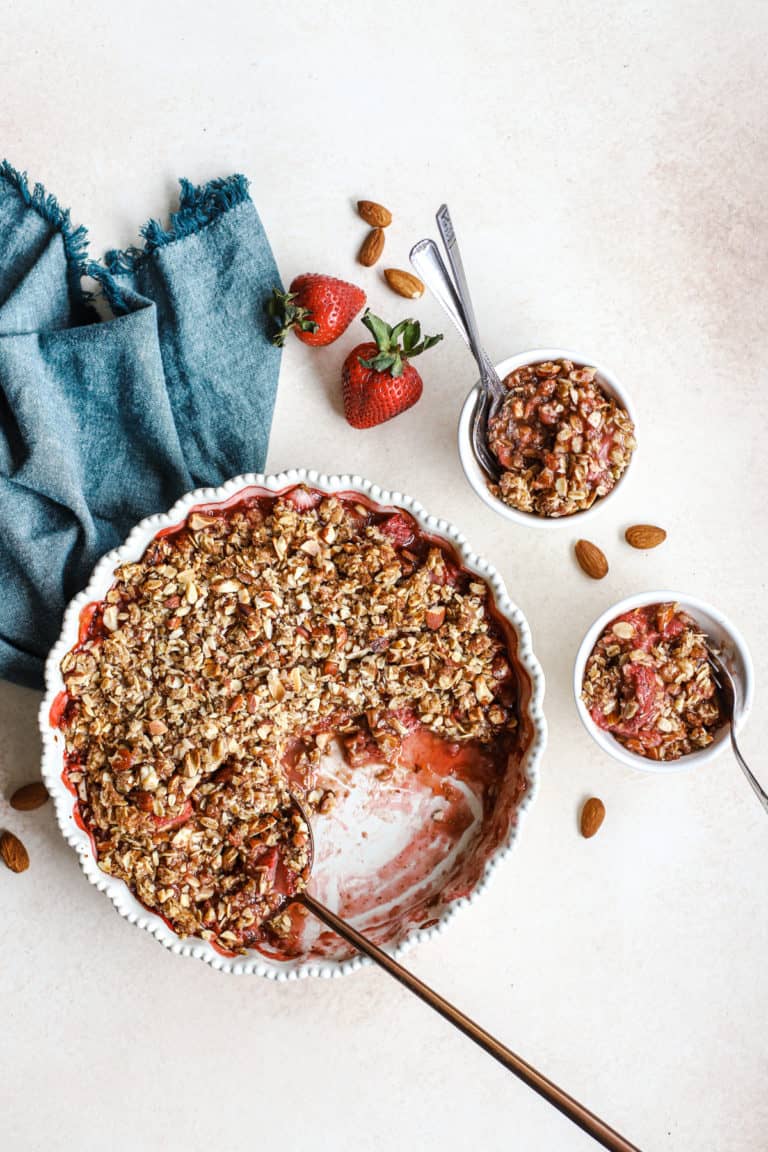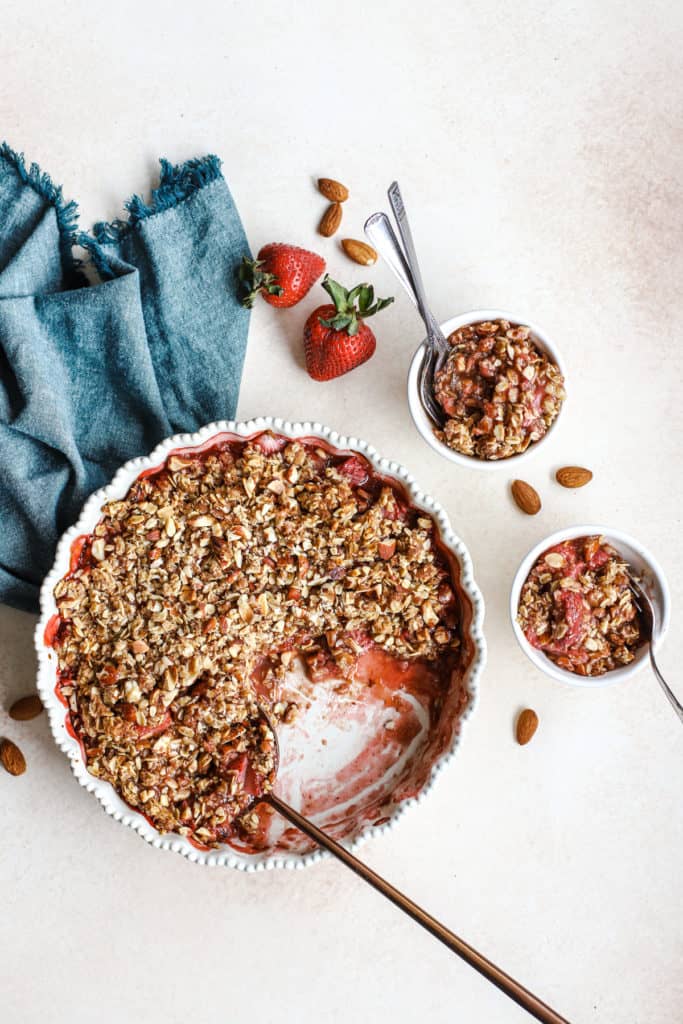 Equipment
Most of your standard baking equipment will suffice for this strawberry crisp, but one piece of equipment I do love to use for crisp toppings is my food processor. If you don't have a food processor, a pastry cutter (or two forks) is a great tool for cutting the ingredients into the butter. Slivered or sliced almonds will be your friend here, although you could use whole almonds but putting them in a bag (reusable, if possible!) and smashing them with a rolling pin.
Storage
You can store strawberry crisp on the counter for a day or two before moving it to the fridge for up to a week.
To freeze strawberry crisp, allow the fully baked crisp to cool completely. Then, transfer it to an air-tight container and store it in the freezer for up to three months.
Strawberry Crisp FAQs
Can I make strawberry crisp with frozen strawberries?
You can! In springtime, the fresh strawberries taste incredible, so I definitely recommend doing fresh if possible. However, I totally understand wanting to make a recipe right now with what you have on hand. Use frozen strawberries in this recipe as you would fresh, but do not thaw them first.
Can I freeze strawberry crisp?
Yep! A fully baked strawberry crisp freezes well for up to three months. When you're ready to enjoy it, thaw the crisp in the refrigerator overnight, then bake it at 350 for 20 minutes to heat the dessert through.
How do I store fresh strawberry crisp?
You can store this crisp in an airtight container on the kitchen counter for a day or two before moving it to the fridge for up to a week.
What's the best way to serve strawberry crisp?
Fruit crisps are always good with vanilla ice cream, real whipped cream, or a bit of homemade coconut whipped cream. Store-bought works too (like So Delicious Dairy Free). I like my crisps at room temperature or slightly warm -- the latter especially when I'm enjoying it with ice cream.
If you liked this strawberry crisp...
You might also like one of our other crisps!
If you make this recipe, make sure to let me know in the comments below!
Print
Healthy Strawberry Crisp
This healthy strawberry crisp is an easy and delicious spring dessert! Made with fresh strawberries that get deliciously jammy when baked in the oven, and topped with a naturally sweetened crisp topping with heart-healthy oats and toasty almonds.
Author: Tera
Prep Time:

10 minutes

Cook Time:

30 minutes

Total Time:

40 minutes

Yield:

8

pieces

1

x
Category:

Dessert

Method:

Bake

Cuisine:

American
Strawberry filling:
2

lbs. fresh strawberries, hulled and quartered

2 tbsp

honey

1 tbsp

fresh lemon juice

2 tsp

lemon zest

1 tsp

vanilla extract

2 tbsp

arrowroot starch (or tapioca starch)
Crisp topping:
1

stick butter, cold

⅓

cup

white whole wheat flour

½

cup

slivered or whole almonds

½ tsp

salt

1 tsp

cinnamon

1 tsp

vanilla extract

½

cup

coconut sugar (or unrefined brown sugar)

1

cup

whole rolled oats
Instructions
Prep: Preheat your oven to 375 degrees and butter a 8 or 9-inch baking dish.
Strawberries: Combine strawberries, honey, fresh lemon juice, lemon zest, vanilla extract, and arrowroot starch in a large bowl. Gently stir until the strawberries are evenly coated in the ingredients, and there are no dry starch patches. Transfer the strawberries to the prepared baking dish and set aside.
Crisp topping: In a food processor, add the cold butter, white whole wheat flour, almonds, salt, and cinnamon. Pulse to form a pebbly mixture. Then add coconut sugar, oats, and vanilla, and pulse to incorporate while also keeping most of the oats intact.
Assemble: Pour the crisp topping in an even layer over the top of the strawberries in the baking dish. If desired, pulse a few more whole almonds and sprinkle over the top (or sprinkle more slivered almonds).
Bake: Bake the crisp at 375 for 30-35 minutes, depending on your oven. The crisp is done when the strawberries are baked through and bubbling up the sides, and the crisp topping is nicely browned.
Equipment
Keywords: healthy strawberry crisp, fresh strawberry crisp