This watermelon ginger agua fresca is so refreshing and delicious. It's the perfect summer beverage to cool you off on a hot day! ~ Watermelon, ginger, mint, agave, lime ~
I'm having a moment. A moment with agua fresca.
Basically it goes like this: you know those hidden gems in life that you stumble upon and your immediate reaction is nothing short of: OMG EVERYONE HOLD UP. WHERE HAS THIS BEEN ALL MY LIFE?!
So you've had such an experience?? Good. Because that happened to me last week with agua fresca. And now I want an endless supply of it next to me at all times. It's dramatic, I know, but I think you will know what I mean after we blend some of this up.

Infused Water or Agua Fresca?
You might already be an agua fresca aficiondo, or perhaps you've gone the infused water route. Both are a fun way to hyrdate, but there's a minor difference in how they're prepared. For infused water, you add in your ingredients (typically fruit and herbs) and let it marinate for a bit. The water gets subtly flavored, and you also reap some of the nutritional benefits of the ingredients involved. Agua fresca, on the other hand, is prepared by blending the ingredients with water. Plus, you use a lot more fruit (for this watermelon ginger agua fresca recipe, you'll use two cups of watermelon). So it's still a refreshing, watery beverage, but agua fresca gets juuuust a little more fruity all up in thurr because of all that blending and extra fruit. SO GOOD.
Let's Blend Up Some Watermelon Ginger Agua Fresca
Okay, so get out your blenders, pitchers, fun glasses and straws. All of it. You're ready -- here's what you do: take the watermelon, ginger, mint, lime juice and agave and blend it with six cups of water. Chill and serve over ice. Boom. Done. 100% serious, that's all you do.
Wanna know what else? Agua fresca is the best popsicle alternative on a hot day. In fact, I think I even prefer it to popsicles (and that's saying something, because I grew up with a dad that eats entire boxes of popsicles in one sitting. And so did his dad. We are a popsicle loving family, to say the least).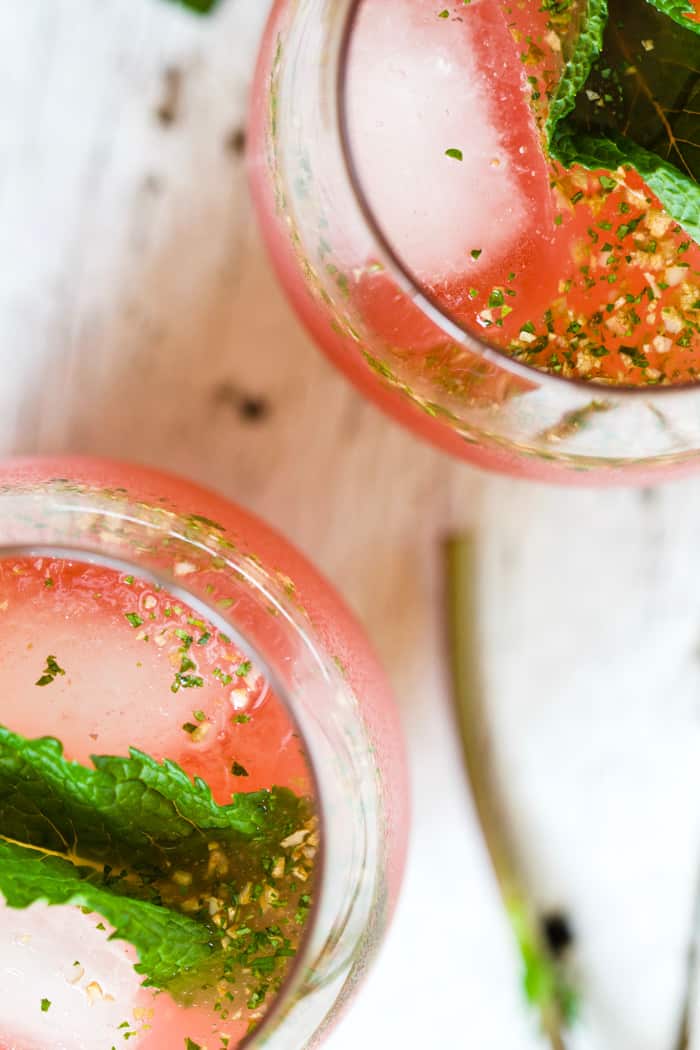 I dare you not to drink this watermelon ginger agua fresca all in one day. Because I didn't do that. At all.
Much like the time in high school where I didn't split an entire watermelon with my good friend and eat the entire half in one sitting, with a spoon. Well okay, I did do that, and I'm actually kind of proud of it despite how awful I felt afterwards. (Oh it was worth it).
Basically, you guys, I'm just so excited for you to have watermelon ginger agua fresca in your life. Or any agua fresca for that matter. Now go get your blender and your friends, and blend up one of these babies. And then go find a nice place outside to enjoy it 🙂
Print
Refreshing Watermelon Ginger Agua Fresca
Watermelon ginger agua fresca is a refreshing and delicious summer beverage with watermelon, ginger, agave, lime, and mint.
Author:
Prep Time:

5

Total Time:

5 minutes

Yield:

6

1

x
Category:

Beverage

Method:

Blend
2 cups

watermelon

1

-inch piece of fresh ginger roots

4

mint leaves
juice of

1

-

2

juicy limes

1

-

2

tablespoon agave (adjust to taste)

6 cups

filtered water
optional: pinch of salt
Instructions
Combine all ingredients in a blender, and blend until smooth. Adjust flavors to taste. Chill in refrigerator for at least 30 minutes, and serve over ice. Garnish with mint leaves.