This post contains affiliate links for products I genuinely recommend, which means I earn a small commission at no cost to you.
An easy skillet recipe done in thirty minutes or less, peach basil balsamic chicken and goat cheese combines the sweet flavors of peak summer produce with a goat cheese tang and balsamic bite.
Guys, I am into peach-basil everything right now, and this peach basil balsamic chicken skillet recipe is no exception.
It has SO many ingredients to be excited about -- as in, every single one. Starting with...
Those peaches, though. OMG. Am I right, or am I right? (---> one of my dad's favorite lines). One of the best things about this time of year is the seasonal stone fruits, and juicy peaches are nothing to sneeze at. The only potential downside is that they might attract some fruit flies. Those pesky things. I had a particularly unbearable fruit fly situation a few years ago, but this year it's just one or two, here and there. I've gotten really good and killing them midair with one clap of my hands. Is that gross? Sorry. I just like it better because it's more efficient than setting up some fruit fly trap. Though if you're dealing with swarms of them, sometimes you have no choice.
But you simply can't have a peach-less summer... so bring on the fruit flies (I say that now as a figure of speech to demonstrate my love for peaches, but seriously no fruit flies. PLEASE.)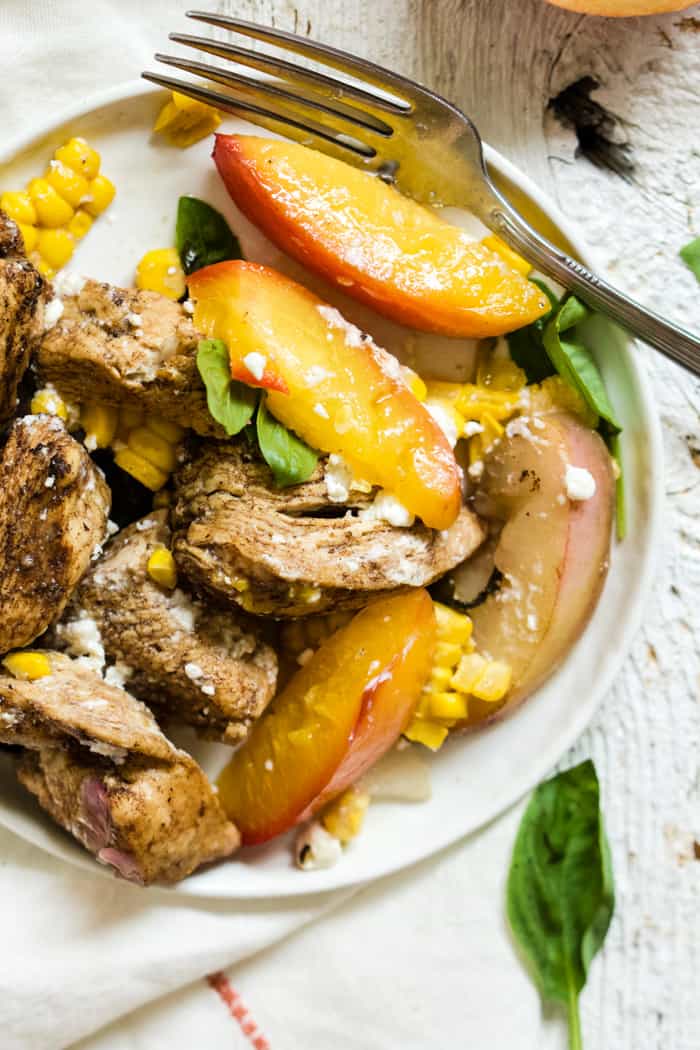 Wisconsin sweet corn. Have you every had Wisconsin sweet corn? Well, I'm not exaggerating when I say that, at its peak, it is a religious experience. With a little butter and salt? Simple perfection. I mean... my brother that just moved to Austin earlier this year actually had my mom mail him some Wisconsin sweet corn last week. That just about sums it up.
Fresh basil. There's nothing quite like fresh basil in a summer recipe. It adds so much! And, like I mentioned, with peaches (or any fruit, for that matter)? Swoon.
Quick side note, though. Does anyone else have trouble keeping the basil good for more than a few days? I've tried every method of storing it, including the ones that "work" (in a jar of water, in the fridge, with a bag loosely covering the leaves), but nothing has met my expectations. Maybe I show lower them.
Balsamic chicken. A high protein staple that happens to be the perfect canvas for all flavors involved? Tossed in some balsamic vinegar before sautéing? Sold.
Goat Cheese. A little goat cheese adds the perfect creamy texture and tangy complement to this entire sweet-savory skillet. If you don't like goat cheese... fine, leave it out if you must. But I'm gonna be frank with you, work on developing your taste for goat cheese 😉
So basically, we're just gonna take all that and make into a dream skillet combo in thirty minutes. Yyyyup.
How to Make Peach Basil Balsamic Chicken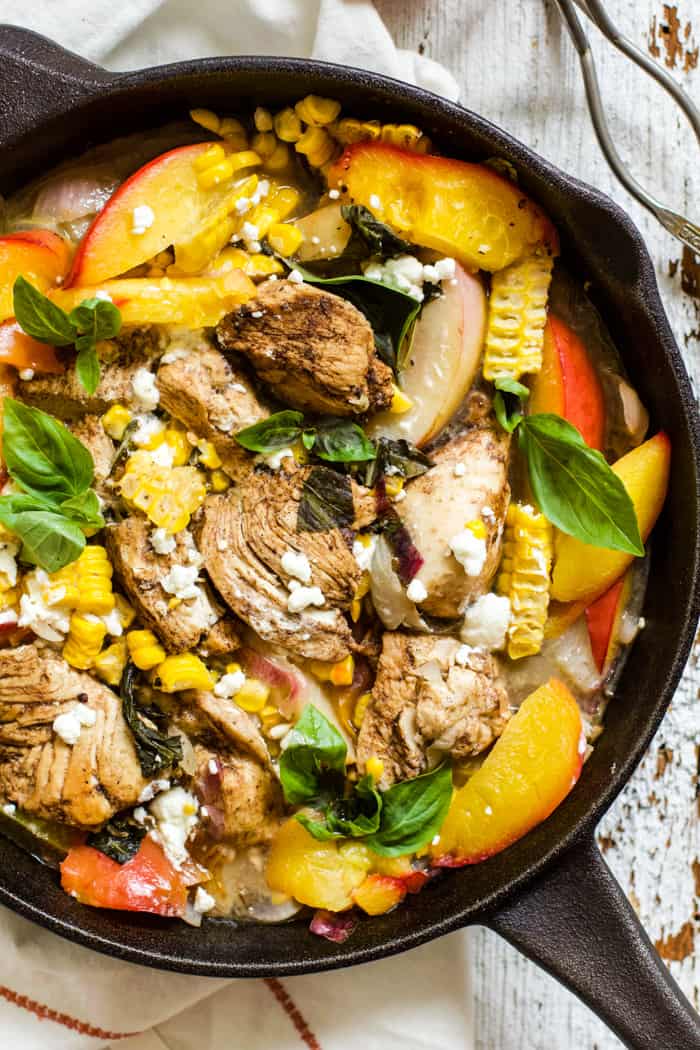 Start by spending a quick 5-10 minutes slicing and dicing some red onions, a few peaches, and a couple ears of fresh corn (either raw or already cooked). Clip off the leaves of some fresh basil, and set aside so it's ready to go.
Shake up one part olive oil, one part balsamic vinegar (I used about a quarter cup each), a bit of garlic powder, and a squeeze of fresh lemon juice in a mason jar. Pour it over 1-1.5 pounds of chicken in a glass container or zip lock bag. We're just gonna let that sit for a few minutes while we get the other ingredients cooking.
Next it's all about that cast iron skillet magic. Throw a nice swish of olive oil in there and heat it up for a couple minutes over medium high. Toss in the red onions and let those cook, then the corn and peaches. After five minutes or so, everything will be nicely softened and you can add the chicken. Drizzle a healthy bit of the marinade over the top of the skillet, too.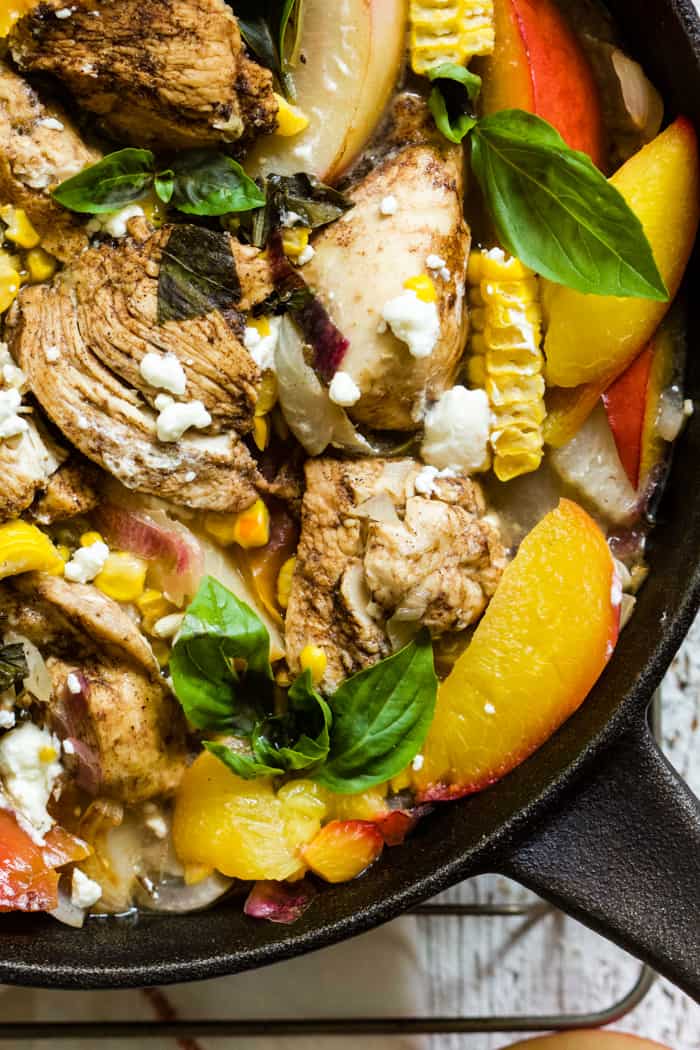 Cover that and let it simmer until the chicken is completely cooked through, sneaking in there a few times to stir things up.
When the chicken is done, you'll turn off the heat, toss on the goat cheese and a generous handful of fresh basil, and cover the skillet again for a few minutes to get that goat cheese a little melty aka THE BEST part.
And then you'll serve it up with some fresh basil and potentially not have leftovers because portion control doesn't exist in these types of situations, and we don't even feel bad about it.
P.S. If you're looking for a cast iron skillet, I love all Lodge cast iron products, including this skillet (affiliate link).
Print
Peach Basil Balsamic Chicken and Goat Cheese
Peach basil balsamic chicken is an easy skillet recipe done in thirty minutes or less. It combines the sweet flavors of peak summer produce, complete with a goat cheese tang and balsamic bite.
Author: Tera
Prep Time:

10

Cook Time:

20

Total Time:

30 minutes

Yield:

3

-4

1

x
Category:

Dinner

Method:

Stovetop

Cuisine:

American
¼ cup

balsamic vinegar

¼ cup

olive oil
juice of

1

lemon

1 tsp

garlic powder

1.5

lbs chicken breast

½ cup

red onion, diced
olive oil

3

-

4

peaches, sliced

2

-

3

ears of corn, with the corn cut off the cob
salt

½ cup

loosely packed fresh basil, sliced into ribbons

½ cup

goat cheese
Instructions
In a mason jar, combine balsamic, olive oil, lemon juice, and garlic powder. Cover and shake until combined. Cut chicken up into large chunks and place in a glass container or zip lock bag. Pour balsamic marinade over chicken and set aside.
Heat a tablespoon (or so) of olive oil in a cast iron skillet over medium high heat. Add red onions and sauté for five minutes. Add corn and sliced peaches with a few shakes of salt. Cook for another five minutes, stirring occasionally.
Add chicken to skillet mixture and stir. Pour some of the balsamic mixture left in the glass container or zip lock, into the skillet. Stir again.
Cover skillet and allow to simmer for about ten minutes, or until chicken is completely cooked through. Lift cover every few minutes to stir, which will help the pieces of chicken become a little browned on all sides.
Once chicken is done, remove skillet from heat. Lift cover and add in fresh basil and goat cheese. Close cover again for a few minutes to allow the goat cheese to get melty. Serve as is, or with some green and quinoa.
Keywords: peach basil balsamic chicken