This post contains affiliate links for products I genuinely recommend, which means I earn a small commission at no cost to you.
These healthy Ninja Foodi mashed potatoes can be made in your Instant Pot OR Ninja Foodi! They're ULTRA creamy because they're made with Yukon Gold potatoes and mashed with whole milk Greek yogurt. Save on stove space with this quick and easy Thanksgiving or anytime healthy mashed potato recipe.
It took me way too long to hop on the pressure cooker bandwagon, but once I finally did, I learned that pressure cookers are MAGICAL and indeed worth the hype! The proof is in these creamy and delicious mashed potatoes delivered to your table in 25 minutes.
In this healthy Ninja Foodi mashed potatoes recipe, we'll use whole milk Greek yogurt, butter, and Yukon Golds to get super rich and creamy results, while still relying on healthy, whole foods for our ingredients. These mashed potatoes are perfect for any weeknight meal where you need comfort food, but they're especially awesome for Thanksgiving when you need to save on stovetop space. Also, we've tested them in both an Instant Pot and a Ninja Foodi, and both have excellent results.
Ingredients
Broth or water - For pressure cooking the potatoes. Veggie or chicken broth will boost flavor, but otherwise using water with salt works perfectly.
Yukon Gold potatoes - In my personal experience, Yukon Golds have yielded the creamiest mashed potatoes, but russet potatoes would also work. I prefer peeling the potatoes so that they're as smooth as possible, but you can leave the peelings on if desired.
Butter - For mashing delicious buttery flavor into the mashed potatoes and more on top (of course).
Whole milk Greek yogurt - We'll use full-fat Greek yogurt instead of sour cream for a healthier twist that still yields rich and creamy results.
Salt, pepper, chives - My favorite three spices for mashed potatoes! Still delicious with salt and pepper alone, but sprinkling chives on top adds a little something extra.
Instructions
Mashed potatoes in a pressure cooker are SO quick and easy! You can use an Instant Pot or a Ninja Foodi pressure cooker - whichever one you happen to have. Or, if you have another similar pressure cooker, you can try that (though note, we have only tested these in an Instant Pot and Ninja Foodi).
First, prep the potatoes by rinsing, peeling, and cutting the potatoes into ¼ - ½" slices. You'll want all the slices to be as evenly-sized as possible to help them cook at the same rate.
Then, pressure cook the potatoes by adding the prepared potatoes to your Instant Pot or Ninja Foodi with vegetable broth or well-salted water. Using the pressure cook setting, set the temperature to high and the time to ten minutes. It'll take about 15 minutes for the pressure to build.
Once the ten minutes is up, release the pressure valve to quickly release all the air pressure. Carefully drain the mashed potatoes from the pot (it will be hot so you may want to pick it up with an oven mitt). Return the steaming hot potatoes back to the pressure cooker pot, and use a potato masher to mash them with butter.
Finally, add Greek yogurt, salt, and pepper to the mashed potatoes and stir until evenly incorporated.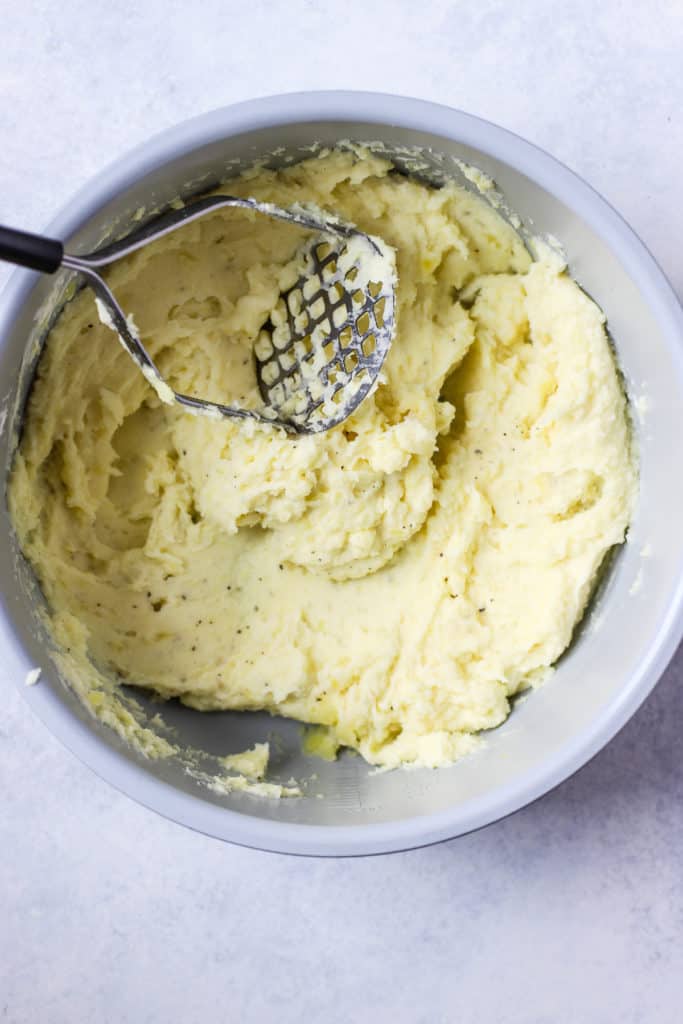 To serve, leave them in your pressure cooker pot on the keep warm setting, or transfer to another dish. Serve with more butter, pepper, and fresh chives sprinkled on top.
Substitutions & Variations
Below are some substitutions & variations to make these healthy mashed potatoes work for you!
Vegan - To make these mashed potatoes vegan, replace butter with vegan butter and Greek yogurt with plain-flavored plant-based yogurt.
Dairy-free - For a dairy-free version, use the same substitutions used to make the recipe vegan.
Sweet potatoes - You can also make healthy Instant Pot mashed sweet potatoes by swapping the same amount of sweet potatoes for Yukon golds. We have made these mashed potatoes both ways and love both recipes!
Roasted garlic - Roast some garlic, mash up 5-6 cloves, then mash those in with the potatoes at the same time you mash in the butter.
Herbs - Instead of chives (or in addition to!), sprinkle on fresh rosemary or thyme leaves (removed from the stem).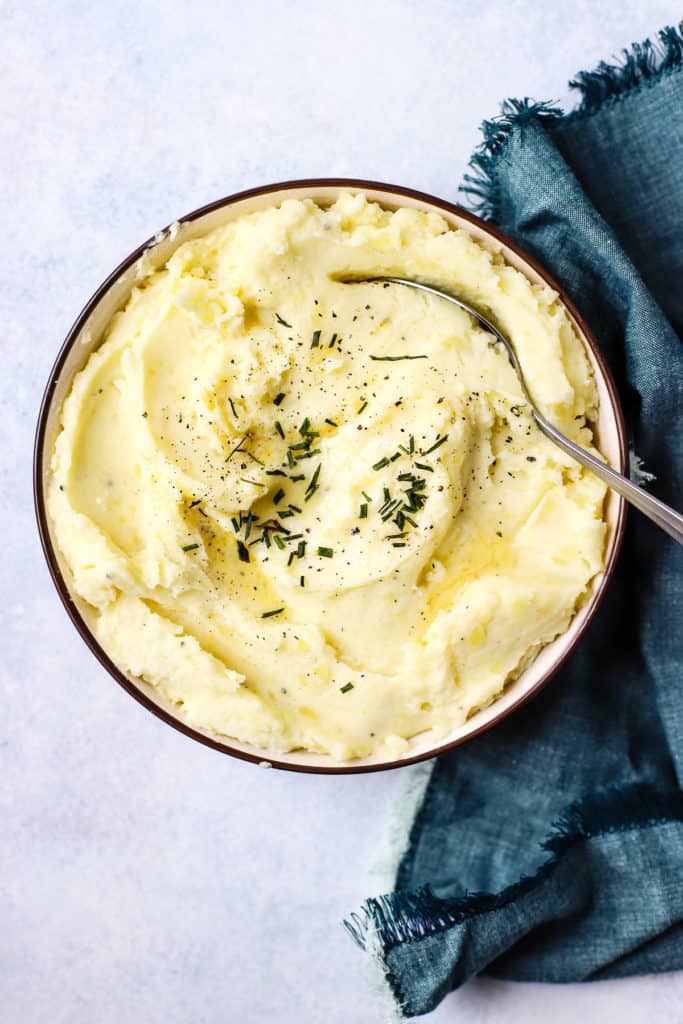 Storage
To store these mashed potatoes, place them in an airtight container in the fridge for up to a week. Since mashed potato texture changes slightly when reheated, you can reheat these mashed potatoes in the microwave and then mash again with just a bit more yogurt or milk (regular or unflavored plant-based milk).
To freeze the entire batch, transfer the completely cooled mashed potatoes to an airtight container with barely any airspace available. To freeze in portions, take out ½-1 cup scoops, and place them separately on a parchment lined baking sheet. Freeze that for a few hours or overnight, and then transfer the frozen scoops to a large freezer bag or container. Each freezing method is good for up to three months! Thaw in the fridge and reheat according to the above instructions.
Ways to Use up Leftover Mashed Potatoes
Sometimes you have enough leftovers to eat them once more, and then you've gotten your mashed potato fix for the month (week??). But other times, you have SO many leftovers, and you can only eat them so many times! Luckily, there are some pretty yummy ways to use up mashed potatoes 🙂
Mashed Potatoes FAQs
Should I melt the butter before mashing it into the potatoes?
Nope! Melting the butter separates the milk solids from the fat. If you add cold/room temperature butter to the mashed potatoes, the butter will melt and distribute evenly.
Can I make mashed potatoes ahead of time?
Yes! Mash the potatoes with all of the ingredients except the butter. When you're ready to eat them, reheat the potatoes and mash and stir the butter into the hot potatoes until it's melted.
How do I avoid gummy or gluey mashed potatoes?
Mashed potatoes become gummy if they're overworked, so the secret is not to over-mash. Use a potato masher or mixer, being careful to stop when the potatoes just become smooth.
Can I freeze mashed potatoes?
Yep! Mashed potatoes can be frozen in an airtight container for up to three months. See freezing and storage instructions above!
Print
Creamy Healthy Ninja Foodi Mashed Potatoes
These healthy Ninja Foodi mashed potatoes are so creamy, delicious, and easy to make! Mashed with whole milk Greek yogurt, you get that sour cream flavor and thick, creamy texture with an extra dose of protein in the mix. Use an Instant Pot for the same results!
Author:
Prep Time:

5

Cook Time:

25

Total Time:

30

Yield:

5 cups

1

x
Category:

Side

Method:

Pressure Cooker

Cuisine:

American
3

lbs. Yukon Gold potatoes, peeled and sliced into ¼" slices

2

cups

chicken broth (or water + 2 teaspoon salt)

3 tbsp

butter (+ more for topping)

½

cup

whole milk Greek yogurt
salt and pepper, to taste
chives for topping
Instructions
Pressure cook the potatoes. Place the potatoes and broth (or water and salt) in your pressure cooker. Cook on high pressure for 10 minutes (pressure will build first for ~15 minutes) with a quick release. Remove the cover, then carefully drain the potatoes, but do not rinse!
Add butter and mash. Carefully add drained, steaming hot potatoes back to the pressure cooker pot with the butter, and mash until smooth. Try to keep the butter as close to the hot potatoes as possible so that it melts fully.
Stir in other ingredients. Add Greek yogurt, salt, and pepper. Stir evenly into the potatoes to form a smooth, even mixture. Top with chives, pepper, and more butter!
Equipment
Notes
Potatoes: You can use Russet potatoes for this recipe as well. I prefer peeled potatoes, but you can leave peelings on if you don't mind a less smooth consistency.
Pressure Cooker: You can use an Instant Pot or Ninja Foodi for this recipe! I like both of these pressure cookers, especially the 'keep warm' setting, which is super helpful for keeping the potatoes warm and fresh in there until you're ready to serve them.
Keywords: Ninja Foodi mashed potatoes, mashed potatoes with Greek yogurt