This post contains affiliate links for products I genuinely recommend, which means I earn a small commission at no cost to you.
These smoky, tender Spanish baked chicken meatballs are a versatile, simple weeknight staple! Make a huge batch and eat them with pasta and marinara, on pizza, or dipped in Romesco. Pimentón (or smoked paprika!) gives these meatballs that delicious, traditional Spanish smoke flavor.
Friends, as I sit here writing about meatballs while eating meatballs, thinking about the meatball sub I'm going to attempt to make tomorrow and wondering if I can, in fact, eat the entire sheet pan of meatballs before me and still be okay, all I can say is that healthy comfort food deliciousness awaits you in the form of healthy, Spanish baked chicken meatballs.
The Ingredients
Spanish baked chicken meatballs are SUPER simple! All you need is a handful of basic ingredients:
Ground chicken - Who knew ground chicken made incredibly flavored, tender meatballs? Okay, you probably knew... 😉 A must-try!
Breadcrumbs - If you can find whole wheat bread crumbs without preservatives, you can use those, BUT... I highly recommend making your own! It helps reduce waste in your kitchen and only requires 1-2 slices of your favorite whole wheat bread. For years I've been obsessed with the sprouted whole wheat bread from Angelic Bakehouse, but I also love buying local sourdough when possible.
Parmesan - Adds incredible saltiness and depth of flavor... and also turns to mini melty pools of parmesan surrounding the meatballs in the oven. After the parmesan cools, it's like a little parmesan crisp is hugging each meatball. Slightly unsightly, yes... but undeniably delightful.
Egg - Just a good old-fashioned egg for binding the meatballs together, while also providing richness and flavor.
Tomato paste - For added flavor.
Fresh garlic - Just a couple of well-minced cloves to distribute throughout the meatball mix. You can also sub ¼ teaspoon garlic powder if you're out of fresh garlic. Better yet, add a teaspoon of garlic paste (I do love convenience).
Extra virgin olive oil - Helps make meatballs extra yummy and moist.
Smoked paprika (or pimentón) - This is the spice that will make these baked chicken meatballs 'Spanish'! Smoked paprika, or 'pimentón', is a Spanish spice that adds an incredible smoky flavor to any dish. I purchased this pimentón duo (affiliate link) last year and used the sweet pimentón in this meatball recipe, but if you have smoked paprika in your spice cabinet, you should be all set!
Onion powder
Salt & pepper
Meatballs, Meatballs! Here's How to Make Them...
Since we're baking these meatballs, you can start by preheating your oven to 400 degrees and lining a baking sheet with parchment paper or aluminum foil.
How to Make Breadcrumbs
Next, it's breadcrumbs. If you purchased whole wheat or another kind of breadcrumbs, you can skip this step, but making your own breadcrumbs is super easy! If you're looking for ways to use up bread efficiently, or if you don't have enough space to store additional dry goods (the struggle is real!), making your breadcrumbs is an excellent solution.
Simply toast one or two slices of your favorite whole wheat bread, let it cool, and blitz in a food processor until evenly-sized crumbs form (usually about a minute). Boom. Breadcrumbs.
The rest is even easier! It's just a measure, grate, and combine situation. In a medium bowl, combine the meat, egg, breadcrumbs grated parmesan cheese, tomato paste, minced garlic, extra virgin olive oil, smoked paprika, onion powder, salt, and pepper. Then, mash it all together to get the ingredients evenly dispersed throughout the mixture. You can use a wooden spoon, spatula, or even a large fork to do this... but I love to get right in there with my hands and scrunch it all together! Works like a charm.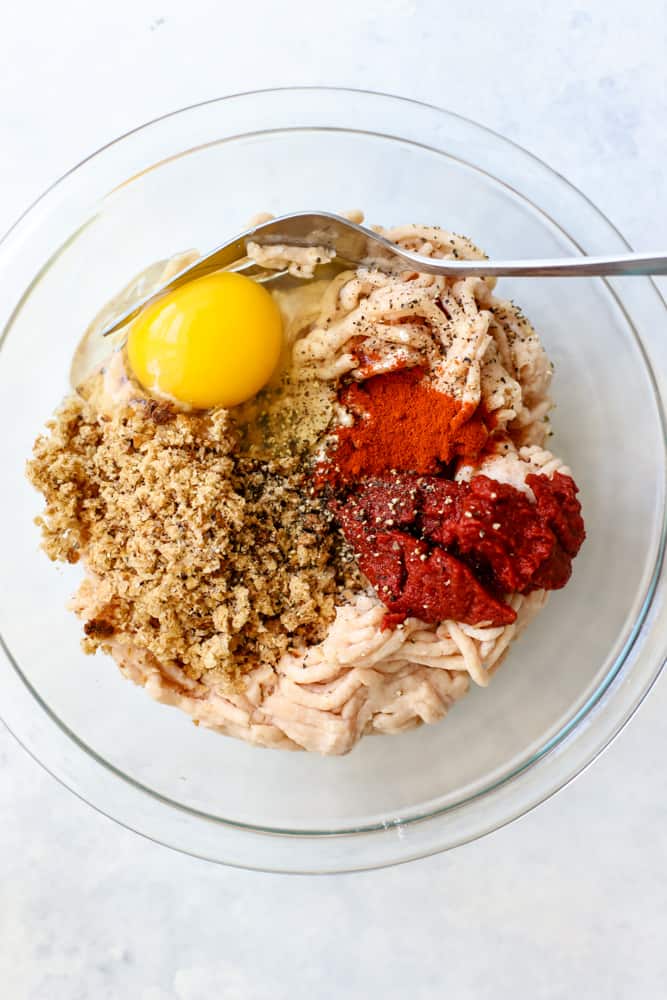 Finally, roll the meatball mixture into approximately 1-inch sized balls, and set them evenly spread apart on your prepared baking sheet. You'll likely end up with about 25 meatballs total. While you can break them up into two sheet pans (sometimes I do, which is why you only see 15 on the sheet pan pictured below), you don't need to. There's plenty of room for friendliness between meatballs on this sheet pan.
Once they're done baking, let them cool for a little bit and peel them off the parchment, right along with that little collar of parmesan if it wants to come too. Speaking of which, I need to own up to the fact that I scraped off and ate every residual baked bit of parmesan on this batch of meatballs because they looked better in the final photos.
Okay, okay... and there was melted parmesan in front of me for a batch of meatballs that was wholly my own (the next several batches were shared :)), so what's a girl to do? Save it for later? Yeah right.
Finally, serve the meatballs with your favorite sauce! I dipped mine directly into some warmed pizza sauce when I first made them. When I made them again with my boyfriend later in the week, we transferred the meatballs from the oven to a pot of warm marinara, and served over rotini. Yum...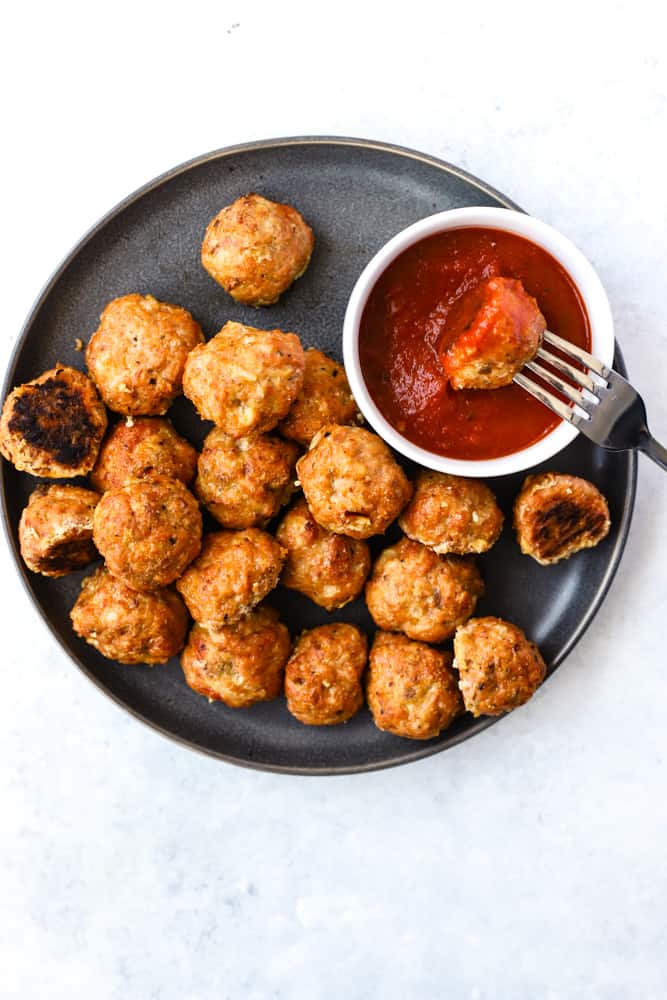 Favorite Sauces for Meatballs
These meatballs can satisfy a classic spaghetti and meatballs craving, or you can get adventurous with your dips! I think these sauces will go well with the flavor profile of Spanish baked chicken meatballs:
How to Serve Meatballs
Meatballs are so versatile! There's nothing quite like a tender, flavorful protein mixed with other veggies and grains in a big, warm bowl with sauce. Here are some ideas:
With pasta and some sort of red sauce (like marinara).
On a healthy French or sub bread (meatball sandwich, yo).
Chopped up on pizza.
In a bowl with warm roasted veggies and sauce.
In a warm, grain-based bowl with sautéed/roasted veggies.
As an appetizer with any (or all...) of the aforementioned sauces as dips!
Meatball FAQs & Tips
Finally, just a few tips for your baked meatballs.
How long do meatballs keep in the fridge? Store baked chicken meatballs in the fridge (ideally in glass) for up to a week.
Can I freeze chicken meatballs? Yep! To freeze meatballs, line them up in a single layer on a sheet pan so that none of them are touching each other. Place them in your freezer covered in a layer of parchment until they are frozen. Then, transfer them to a zip-top bag or glass storage container and freeze (lie them down flat) for up to three months. This is a great opportunity to batch cook meatballs and take out as many as you need for a recipe, while keeping the rest frozen.
Can I make these with another meat? Sure! If you're going to swap meats in this recipe, I recommend going for the same amount of lean ground turkey.
Can I make these meatballs without breadcrumbs? I recommend using ⅓ cup of oats, pulsed in a food processor. Also, while I have not tried this myself, I've heard that almond flour can sub for breadcrumbs for a similarly tender result. If you try this, please let me know how it goes!
Mamma Mia. Go make some meatballs.
Print
Weeknight Spanish Baked Chicken Meatballs
These Spanish baked chicken meatballs are tender, smoky, and delicious! They come together in about thirty minutes, so they're perfect for an easy, healthy weeknight dinner for the whole family, or even a weekend meal or appetizer. Enjoy with marinara atop pasta or veggies, dip in romesco or pesto, or even make your own toasted healthy meatball sub!
Author: Tera
Prep Time:

10

Cook Time:

25

Total Time:

35 minutes

Yield:

~25 meatballs

Category:

Dinner

Method:

Bake

Cuisine:

Italian, Spanish
1

lb. ground chicken

⅓ cup

whole wheat breadcrumbs (preferably homemade - see notes!)

1

egg

½ cup

parmesan, finely shredded

1 tbsp

tomato paste

2 tsp

smoked paprika (or sweet pimentón)

½ tsp

onion powder

2

cloves garlic, finely minced

½ tsp

sea salt

¼ tsp

pepper

1 tbsp

extra virgin olive oil
Instructions
Preheat oven: Preheat your oven to 400 degrees, and line a sheet pan with parchment paper or a silicone mat.
Make meatball mixture: In a large bowl, combine ground chicken, breadcrumbs, egg, parmesan, tomato paste, minced garlic, smoked paprika, onion powder, sea salt, pepper, and olive oil. Mix everything together thoroughly -- I often get right in there with clean hands for the easiest mixing!
Form meatballs: Roll chunks of the meatball mixture into balls about one inch in size and place them on the baking sheet (you'll end up with approximately 25), evenly spaced apart. It's okay if they're pretty close together.
Bake and serve: Bake the chicken meatballs at 400 degrees for 25-30 minutes. Allow them to cool before serving with your favorite sauce, pasta, or bread!
Keywords: healthy baked chicken meatballs,