This post contains affiliate links for products I genuinely recommend, which means I earn a small commission at no cost to you.
We love the sweet, buttery flavors of squash crisped up and caramelized in the air fryer! Whether it's butternut, delicata, or acorn...this is one of our favorite easy and healthy side dishes. Bonus points for not requiring any stove or oven space. You'll love this easy air fryer squash recipe for any day of the week!
Air fryer squash is one of the simplest and most irresistible ways to transform basic winter squash into a sweet, roasty, caramelized veggie side dish for any meal! We even use it as the base for bowl recipes packed with other veggies, protein, and whatever delicious sauce we can whip up.
Some of our favorite squashes to air fry are delicata, butternut, and acorn squash, and you'll see delicata & butternut featured here. If you don't have an air fryer, don't worry! Roasting squash in your oven at a high heat will yield equally delicious results, so I'll share instructions for that as well.
Jump to:
Ingredients
You only need a few basic ingredients to make delicious air fryer butternut squash! From there, you can get creative with oils and spices, but this recipe is an easy, back-pocket air fryer squash recipe that's perfect for a simple veggie side dish.
Pictured left: delicata squash; pictured right: butternut squash.
Butternut or delicata squash - Acorn squash will work, too! You can leave the skin on for any of these types of squash, though I peel my butternut squash.
Extra virgin olive oil - For added nutrition and essential to delicious flavor.
Salt & pepper - Salt enhances the flavor, and pepper adds a little bit of zestiness.
Instructions
As an optional first step, you can peel the squash. The skin on both types of squash is edible, so it's not required, though you'll want to wash it well. I rarely peel delicata squash, and about half the time I peel butternut squash (sometimes I just feel lazy, you know??).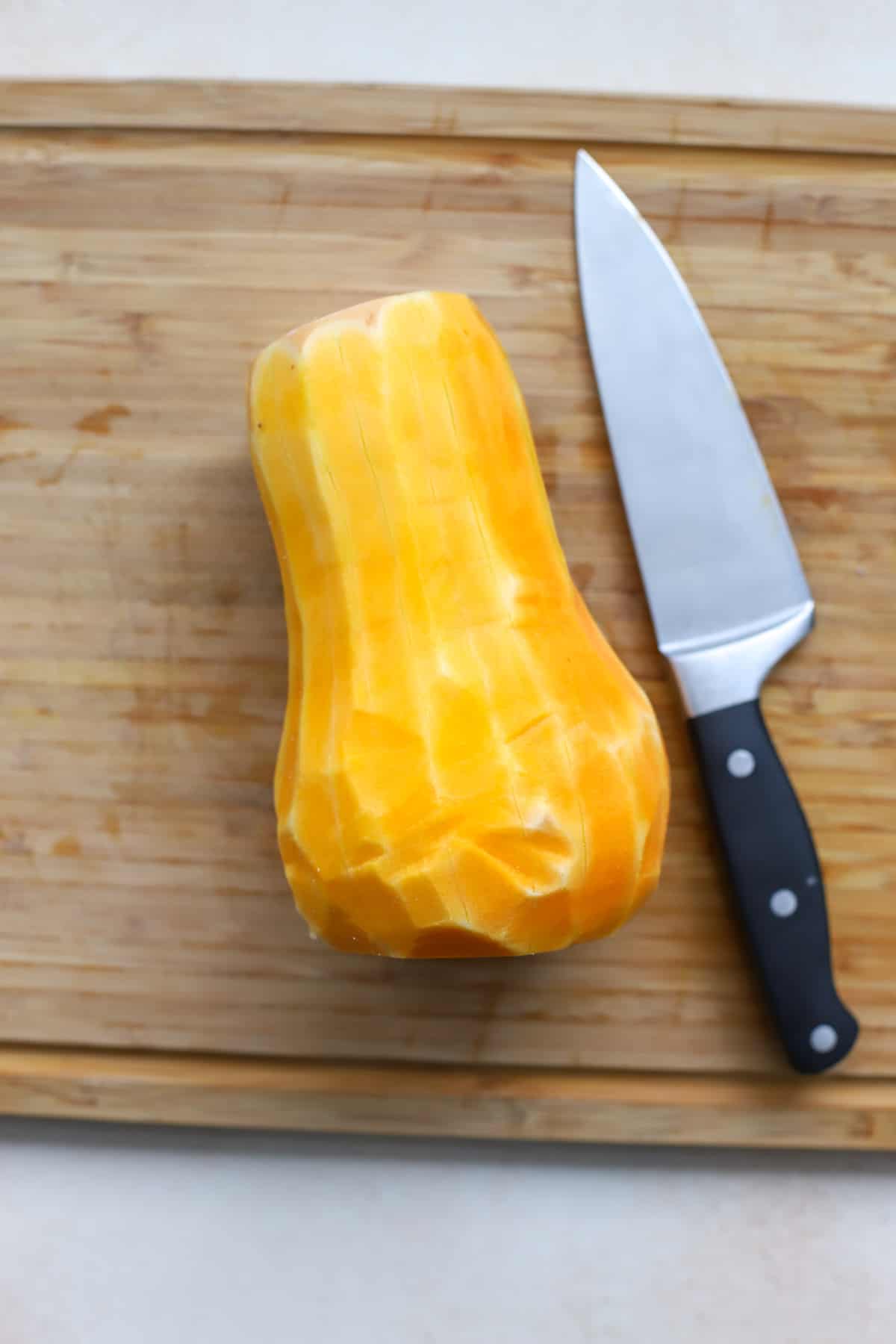 Peel your squash using a vegetable peeler (optional).
Slice off each end of the squash and discard.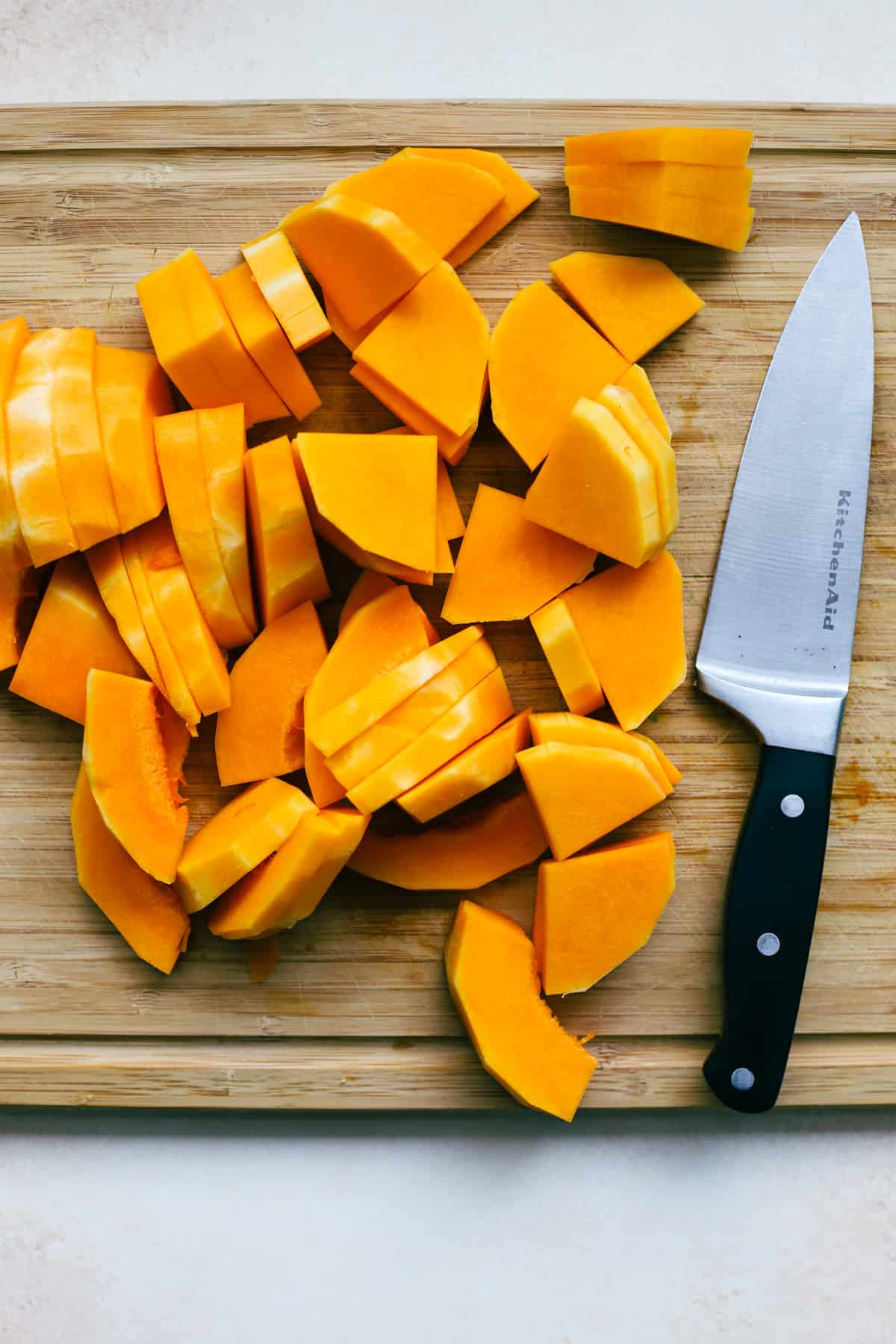 Next, cut the squash in half lengthwise, and scoop out the seeds.
Slice the squash horizontally into 1 centimeter thick slices. For smaller squashes, I usually just leave it in half moon shapes, but for larger squashes, I halve the moons once more.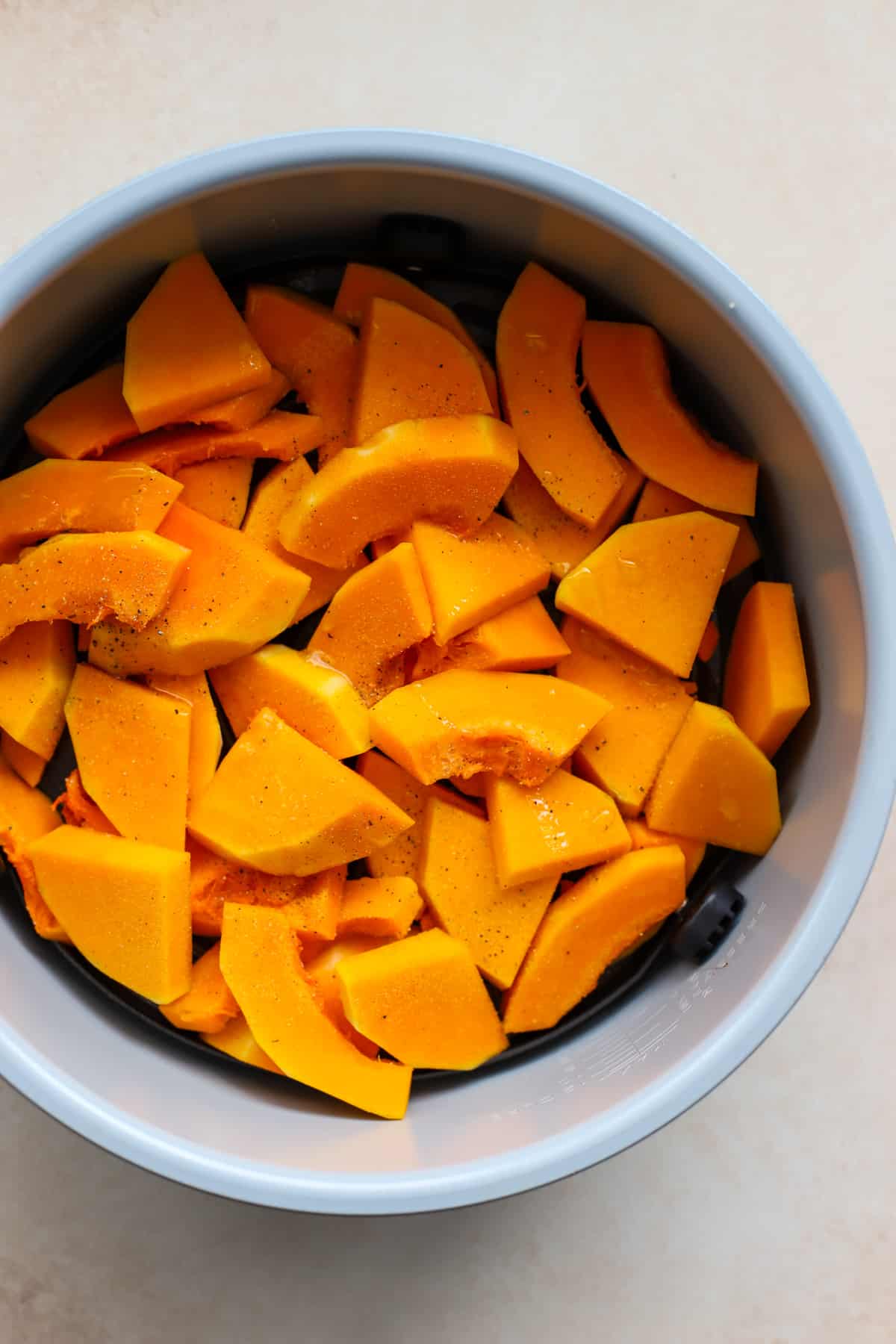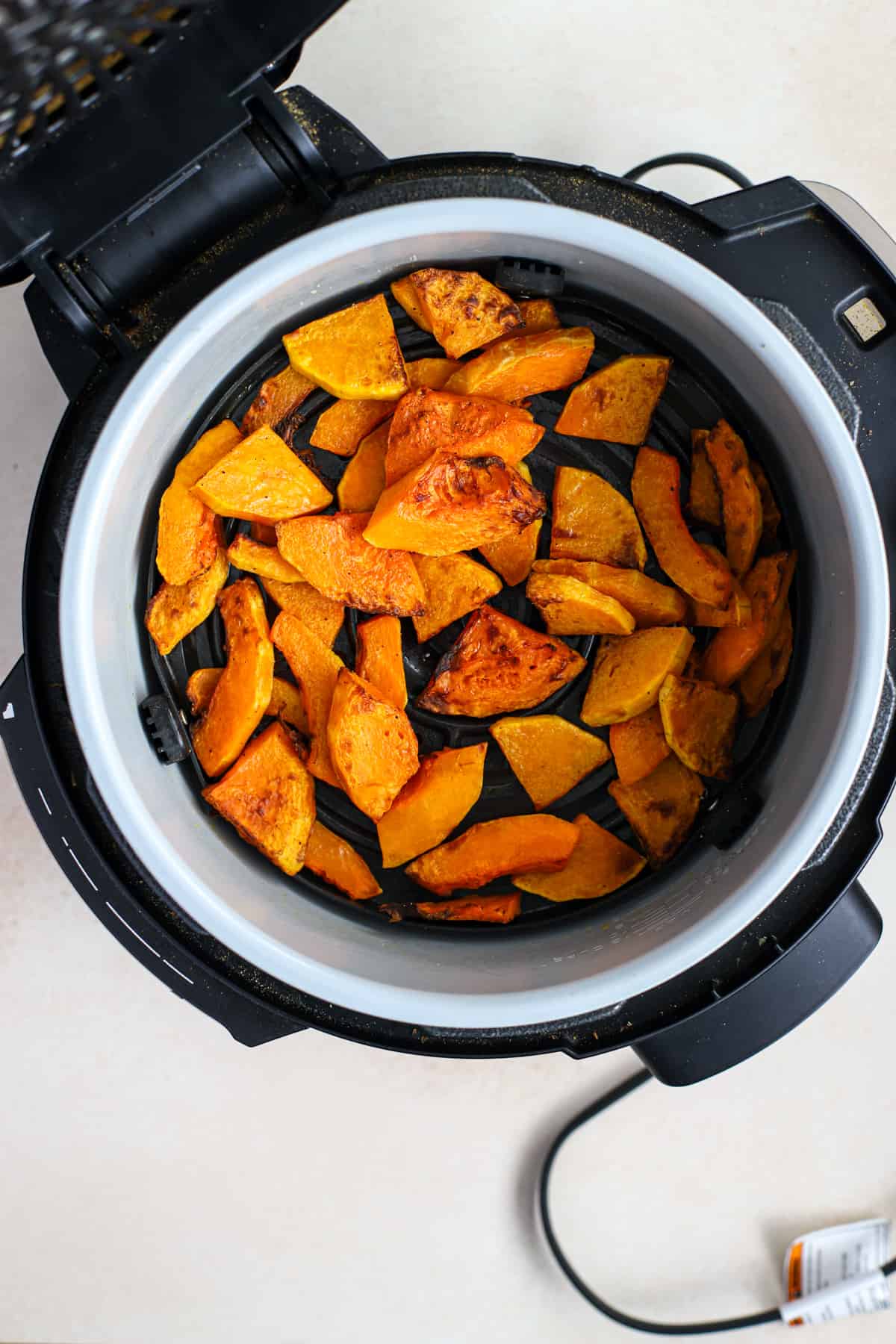 Preheat your air fryer at 390 degrees for 2-3 minutes. Toss squash in olive oil, salt, and pepper, then add it to the air fryer in an even layer.
Air fry the squash at 390 degrees for 20 minutes, stirring or flipping the squash halfway through.
Success Tip: If you have a smaller air fryer, you may need to air fry the squash in batches. We make air fryer butternut squash in a Ninja Foodi, and a 2-pound squash is the perfect size for one batch of squash.
Substitutions & Variations
If you know how to make the recipe fit a certain diet, let the reader know here. Don't fake it - only provide guidance on topics you have actual experience with.
Squash - As mentioned, you can use butternut, acorn, or delicata squash in this recipe! Use the same amount as recommended by the recipe or your air fryer size for any type of squash.
Spices - I stuck to salt and pepper here, but you can have fun with spice and flavor variations. Use infused olive oils, garlic powder + oregano (Italian), Asian five spice, curry powder, cumin + chili powder, cumin + coriander, cayenne... all will be delicious!
Butter + brown sugar - Okay, sweet air fryer squash tastes like dessert but it totally still counts toward your veggie servings for the day. Once the squash is done air frying, take it out while still hot and place into a bowl. Then place a ½-1 tablespoon of pat of butter into the bowl of squash and stir to coat. Once the butter has melted and coated the squash, sprinkle a little bit of brown sugar onto the squash (maybe 1 tablespoon or less), and serve!
Equipment
Because this recipe teaches you how to make squash in an air fryer, I will make a recommendation, but note! An air fryer is not required for delicious winter squash. You can totally roast your squash at a high heat in your oven for delicious, caramelized results!
That said, a couple years ago we invested in a Ninja Foodi 10-in-1 cooking device that has an air fryer and pressure cooker setting, among other settings. Even as someone that values a minimal approach to kitchen utensils, I can't recommend this cooking tool enough! We use our Ninja Foodi at least once per day... and it has earned its permanent spot on our kitchen counter.
Whatever air fryer you have will work just fine for this recipe 🙂
Storage
Store leftover squash in an airtight container in the fridge for up to five days. You can serve leftovers cold in salads, or reheat in your air fryer if you prefer the leftovers to be warm and re-crisped.
If you want to freeze batches of air fryer squash for later, first allow the squash to cool completely. Then, place it in an airtight container in the freezer for up to three months, and thaw in the fridge when you're ready to eat. You can reheat it in the air fryer, oven, or even blend it up into soups (like Thai-spiced butternut squash bisque!).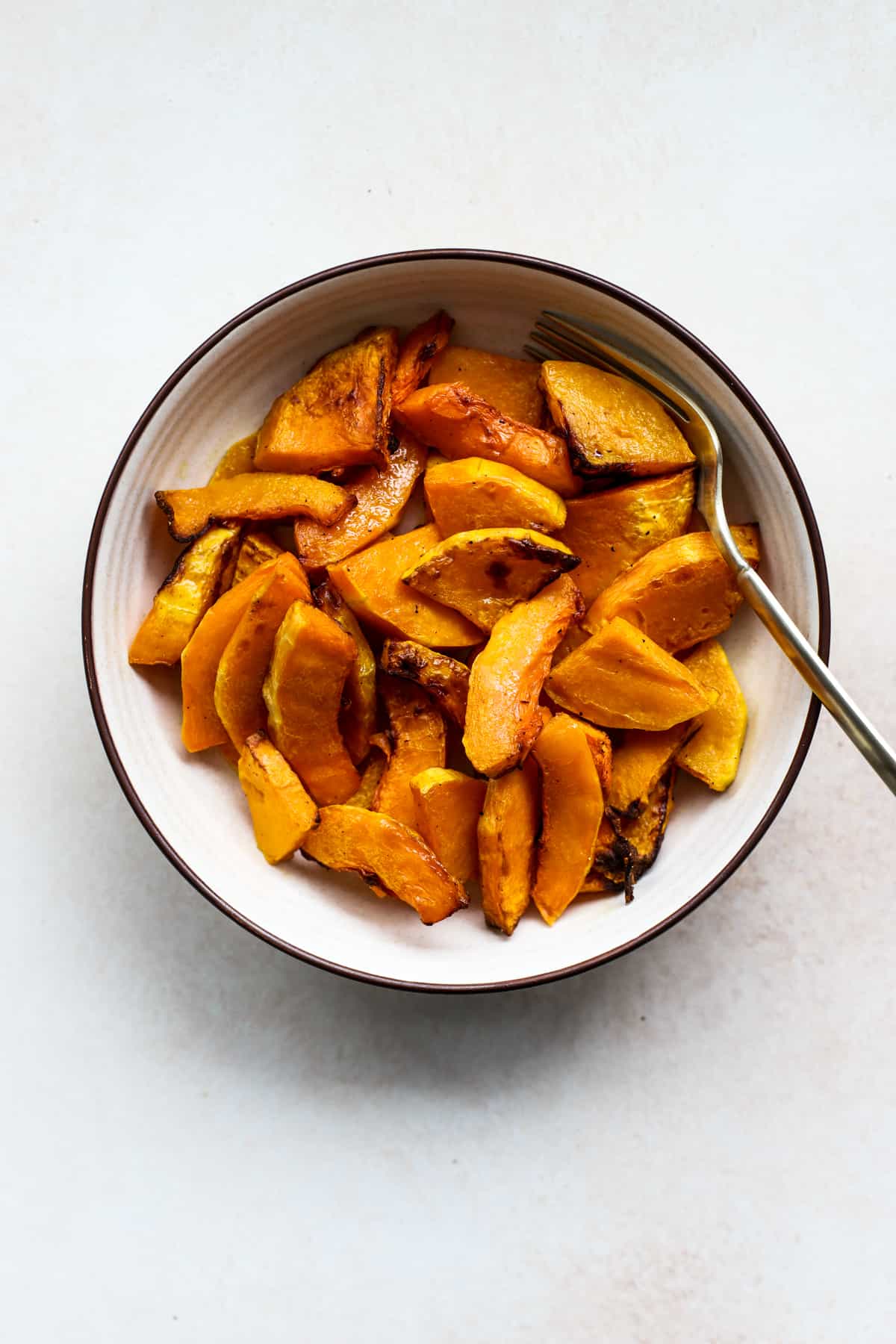 Top tip
For evenly cooked and crisped squash, keep the total amount of squash small enough so that enough air can circulate in your air fryer, and all of the squash pieces can get cooked. For my air fryer, that's about a 2-pound squash. Also, stir or shake the air fryer basket halfway through to even out the surface area exposure of all the pieces.
Print
Easy Air Fryer Squash
Sweet, buttery squash crisped up and caramelized in the air fryer! Whether it's butternut, delicata, or acorn, this is a delicious, easy, and healthy side dish that goes with any meal. No stove or oven space required!
Author: Tera
Prep Time:

2 minutes

Cook Time:

20 minutes

Total Time:

22 minutes

Yield:

4 cups

1

x
Category:

Side dish

Method:

Air fry

Cuisine:

American
2

pounds

of squash (butternut, delicata, or acorn), halved and sliced ~1 centimeter thick

2 tablespoons

extra virgin olive oil

½ teaspoon

salt, more to taste

¼ teaspoon

pepper
Instructions
Preheat air fryer. Preheat your air fryer at 390 degrees for 2-3 minutes while you prepare the squash.
Prep squash. Place squash slices in a large bowl and toss with olive oil, salt, and pepper until evenly coated.
Air fry squash. Place the squash in your air fryer in an even layer. Air fry the squash for 20 minutes at 390 degrees, stirring or flipping halfway through to evenly cook all the pieces. The number of batches you need to do will depend on your air fryer (see notes). The squash is done when the edges are browned, and the thickest pieces can be easily pierced by a fork. Once done, remove from the air fryer and serve!
Equipment
Notes
Air fryer. We use a Ninja Foodi, which is perfect for air frying 2 cups of squash at once. If you have a smaller air fryer, you may need to air fry in a couple batches, or reduce the amount of squash you're making.
Oven fry. You don't need an air fryer for this recipe! To oven fry the squash, preheat your oven to 425 degrees and roast squash for 25-30 minutes (depends on your oven; check for doneness by seeing if squash can be easily pierced with a fork and starting to brown on edges). Just like with the air fryer, stir the squash halfway through to get an even heat exposure.
Keywords: air fryer butternut squash, air fryer squash