This post contains affiliate links for products I genuinely recommend, which means I earn a small commission at no cost to you.
Thai-Spiced Butternut Bisque with Curry Roasted Chickpeas - a cozy and comforting fall soup that's super healthy and easy to make! ~Butternut squash, red curry paste, coconut, cilantro, curry roasted chickpeas~
THIS SOUP. Or rather, *bisque* (it's some pretty thick stuff... in fact I've used it as a sauce). Is the perfect fall soup. It's warm and cozy, flavorful, healthy, and has a little zip to it from that red curry paste. Where'd it come from? Well, a couple years ago I became really good friends with a coworker (let's call her Kelly... 'cause that's actually her name) who introduced me to her signature butternut squash soup recipe. She made up a batch once and shared some with me, and I was instantly hooked on the warm, velvetty, butternutty (word? Welp, now it is.) goodness.
In fact, it's so delicious that, the second time she made me some bisque, I pretty much had to grieve the loss when I left it in the fridge at work over the weekend and it got thrown away, container and all. Also I felt terrible because... well, wouldn't you feel terrible if your friend made you soup --aka an act of love-- and you LOST it? Oy. Good thing she forgave me and still continues to share it with me when I babysit or stop by.
Bottom line, friends that give you homemade soup are keepers.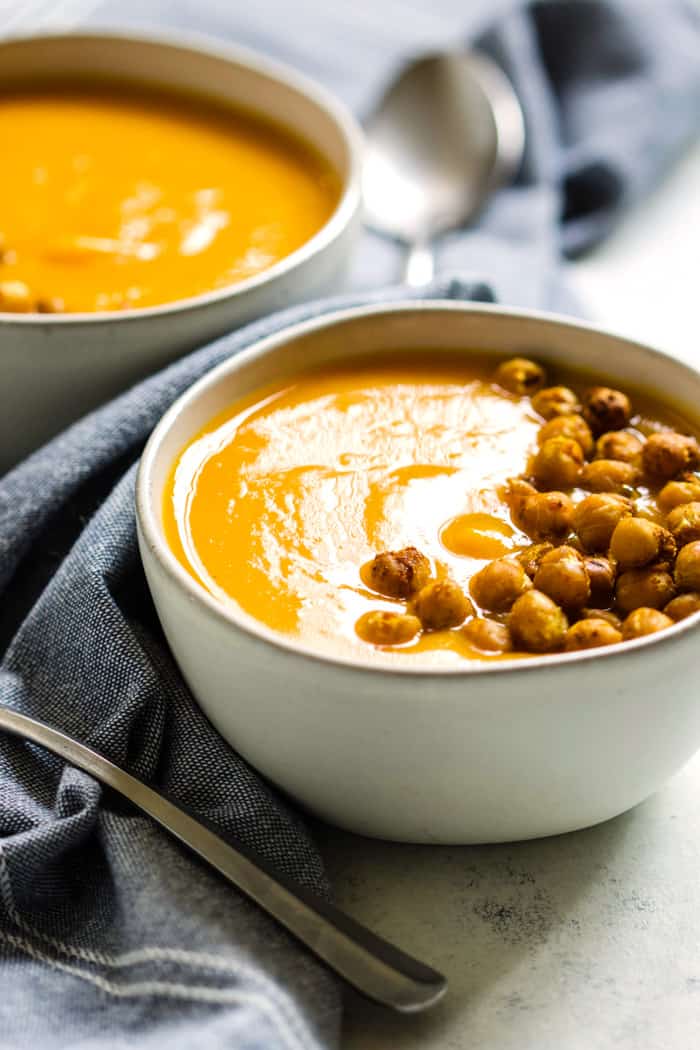 BUT. Now we have to talk about this amazing Thai-spiced butternut bisque that I hope will become your go-to when you're in the mood for something cozy. Kelly adapted it from the classic butternut squash soup recipe from Whole Foods, and I added the curry roasted chickpeas because I thought it'd be delicious. Not gonna say I was right or anything, but...;)
Let's just begin with a few words to describe this butternut bisque that will surely convince you to make it asap, in case I already haven't:
Thai-Style Butternut Bisque is...
Warm and cozy
A lil bit zesty
Healthy
SO easy to make
Vegetarian-friendly
Vegan-friendly
Nourishing
Velvetty
Etc.
Yes, ETC. because I feel like there's so much to say about this soup, and you can probably come up with even more words to describe its awesomeness after you try it. I do believe it's true.
So let's just go over how easy it is to make Thai-spiced butternut bisque. First, you're going to want to get your oven going for those curry roasted chickpeas. Preheat it to 350 degrees, and in the meantime toss a can of chickpeas together with some olive oil, curry spice, a little sea salt, and a dash of cayenne. Spread them out on a baking sheet so they're in one even layer, and pop them in the oven once it's preheated. In about 30-35 minutes, take them out of the oven and let them cool.
While those babies are roasting, you'll have plenty of time to get the soup ready. Dice up your carrot, celery, and onion, and grate your ginger. Toss a couple globs of coconut oil in a big pot and let it melt over medium heat, and then toss in your diced/grated ingredients with a tablespoon of red curry paste. Cook for 5-6 minutes over medium heat, taking care not to brown the ingredients. When the onions are translucent and veggies soft, add in the butternut squash, broth, coconut milk, salt, and pepper. Bring it all to a boil, and reduce to simmer until the squash completely soft -- 30 minutes should do the trick. You'll know it's done when you can easily pierce the squash with a fork.
Remove the soup from the heat and let it cool for a bit because you're gonna blend it all up (might I recommend a high speed blender? (affiliate link) ---> I use this one and really love it). Maybe while the soup is cooling you could check on the chickpeas. If they're pretty crispy, you can take them out of the oven. They'll continue to crisp up as they cool.
Finally, pour the soup into your blender, and blend it on a high speed until it's ultra-smoooooth. Then pour it back into the pot on the stove and reheat if necessary. Divide into bowls and top with curry roasted chickpeas, and maybe some coconut flakes and cilantro if you're feelin' it.
This recipe can easily be doubled if you want to share with friends. They will LOVE you. I know from experience!
Print
Thai-Spiced Butternut Bisque
Thai-Spiced Butternut Bisque - a thick butternut squash soup recipe with red curry paste, fresh ginger, and coconut milk. Topped with cilantro, coconut flakes, and crispy curry roasted chickpeas. So comforting for fall!
Author: Tera
Prep Time:

10

Cook Time:

40

Total Time:

50 minutes

Yield:

4

-5

1

x
Category:

Soup

Method:

Stovetop
A splash of olive oil

1

can chickpeas, drained and rinsed

1 Tbsp

curry powder
A sprinkle each of cayenne, salt, and pepper

2 tbsp

extra virgin coconut oil

1 tbsp

red curry paste

1 tbsp

fresh ginger, chopped

1

carrot, diced

1

stalk celery, diced

1

onion, diced

5 cups

cubed butternut squash

2 cups

low sodium chicken or veggie broth

½ cup

coconut milk*

¼ tsp

each of salt and pepper, more to taste
Instructions
For the Curry Roasted Chickpeas:
Preheat oven to 350 degrees.
Toss the chickpeas in olive oil and spices, adjusting spices to taste.
Roast at 350 for 35 minutes, or until chickpeas are on the crispy side.
For the Thai-Spiced Butternut Bisque:
Heat the coconut oil in a medium-large pot over medium heat. Add in onion, ginger, celery, carrot, and red curry paste. Sauté for 5-6 minutes or until veggies are soft and onion is translucent.
Add butternut squash, broth, coconut milk, salt, and pepper. Bring to a boil, the reduce to a simmer. Cover and allow to cook for 30 minutes. You'll know it's ready when the squash can be easily pierced with a fork.
Remove from heat and allow to cool slightly. Pour soup into a high-speed blender, and blend until super smooth.
Transfer blended soup back to pot to reheat if necessary, or divide among bowls. Top with cilantro, coconut flakes, curry roasted chickpeas, and/or coconut cream.
Notes
*Coconut milk from a can or carton will work. The full-fat canned kind will offer more richness, though both ways are delicious.
Keywords: Thai-spiced butternut bisque