Pad pak, or Thai stir-fried vegetables, is the perfect weeknight dinner because it's quick, easy, and SO delicious! This pad pak recipe is flexible, so you can use it with the veggies I use below, or use any seasonal veggies you have on hand.
So here's what's up: We're in a sort of Thai stir fry obsessed situation over at our household, what with all the CSA veggies we're picking up every other week. And you guys, pad pak is the weeknight dinner of your dreams.
"Pad pak" simply means "stir-fried vegetables". Whether you're new to Thai cooking at home or you're a pro, this Thai vegetable stir fry is one to put on repeat. With the simplest of stir fry sauce ingredients and combination of essential Thai flavors, this pad pak recipe comes together in 20 minutes TOPS.
Jump to:
Ingredients
This pad pak is packed with veggies, edamame for plant-based protein, and just a few ingredients for a simple Thai stir fry sauce.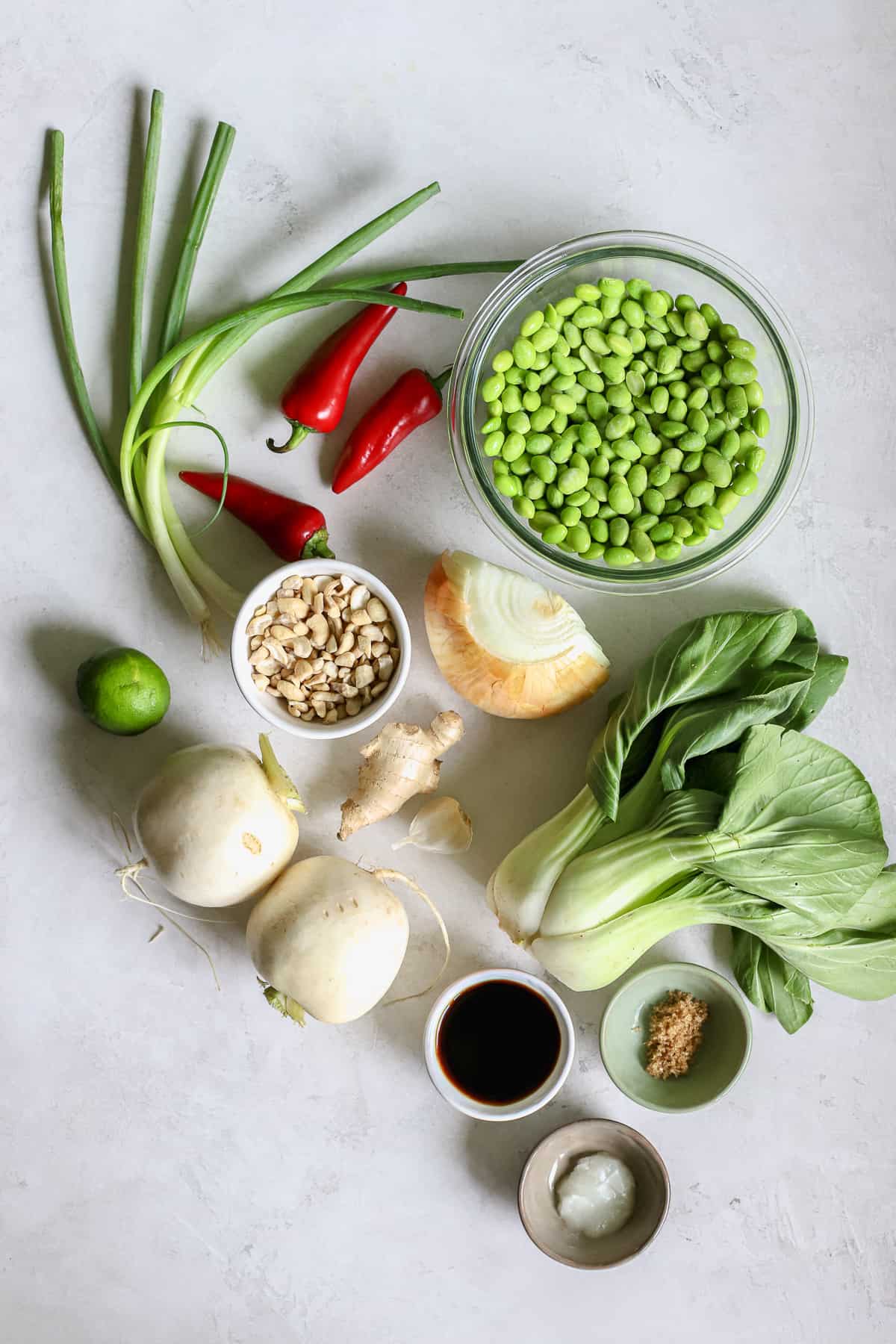 Baby bok choy - Bok choy works too!
Turnips - OMG you guys, I had no idea how much I liked turnips until I got them fresh from my CSA. They soak up the flavors of stir fry sauce perfectly.
Onion - Alliums are foundational for building any Thai meal. I used a basic yellow onion in this recipe, but any kind of onion will do!
Garlic - Same as onions, garlic is essential to building a delicious Thai stir fry.
Ginger - Fresh ginger root works best here, but I'm not beyond shortcuts 😉 If you have a ginger paste on hand, you can use that too. I always have the kind from the Ginger People in my fridge.
Fresh red chile peppers - If you can find Thai red chiles, use those! I only had Fresno chiles at my local grocery store, which will work perfectly. Honestly, any chile pepper you can find will work, or a scoop of chili pepper paste in a pinch.
Coconut oil - For the cooking the veggies.
Tamari - Provides a delicious umami and salty flavor.
Fish sauce - Thai food as about balancing sweet, sour, spicy, bitter, and salty. Rather than salt, we use fish sauce in this pad pak! In the picture above, I combined the fish sauce and tamari in one small bowl.
Coconut or brown sugar - Just a bit of coconut or brown sugar balances out the salt and spice.
Cashews - For incredible flavor and crunch. I love how cashews soak up the flavor of the soy sauce!
Edamame - Preferably the shelled kind, for plant-based protein! I usually find shelled edamame in the frozen section at the grocery store.
Green onions, cilantro, fresh lime - All of these are great for serving!
Instructions
Check out the easy steps below for how to make this quick and easy pad pak.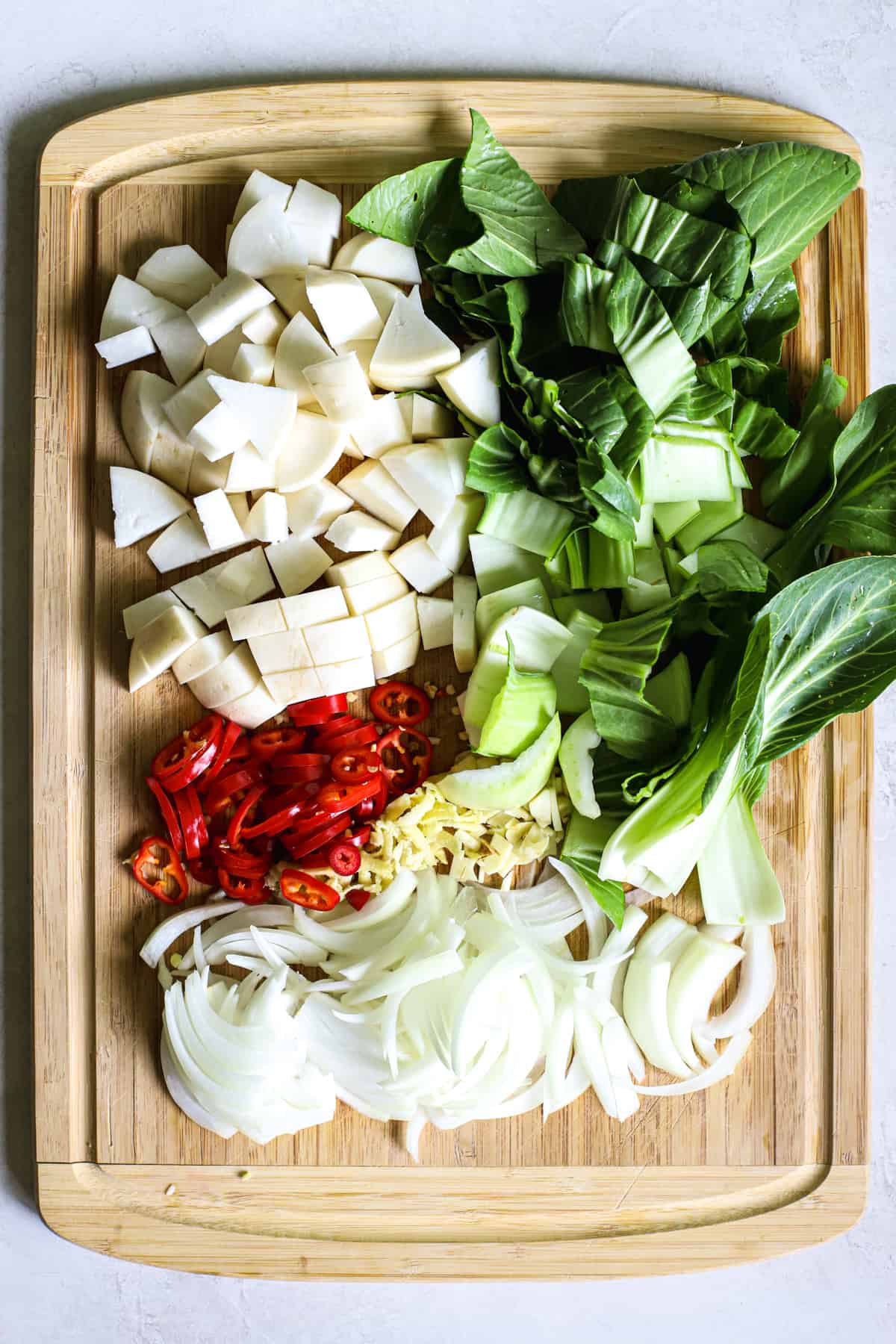 Prep your veggies by thinly slicing onions, mincing garlic, grating ginger, and slicing up the chile peppers. You can also dice the turnip and chop the bok choy so you're ready to add them.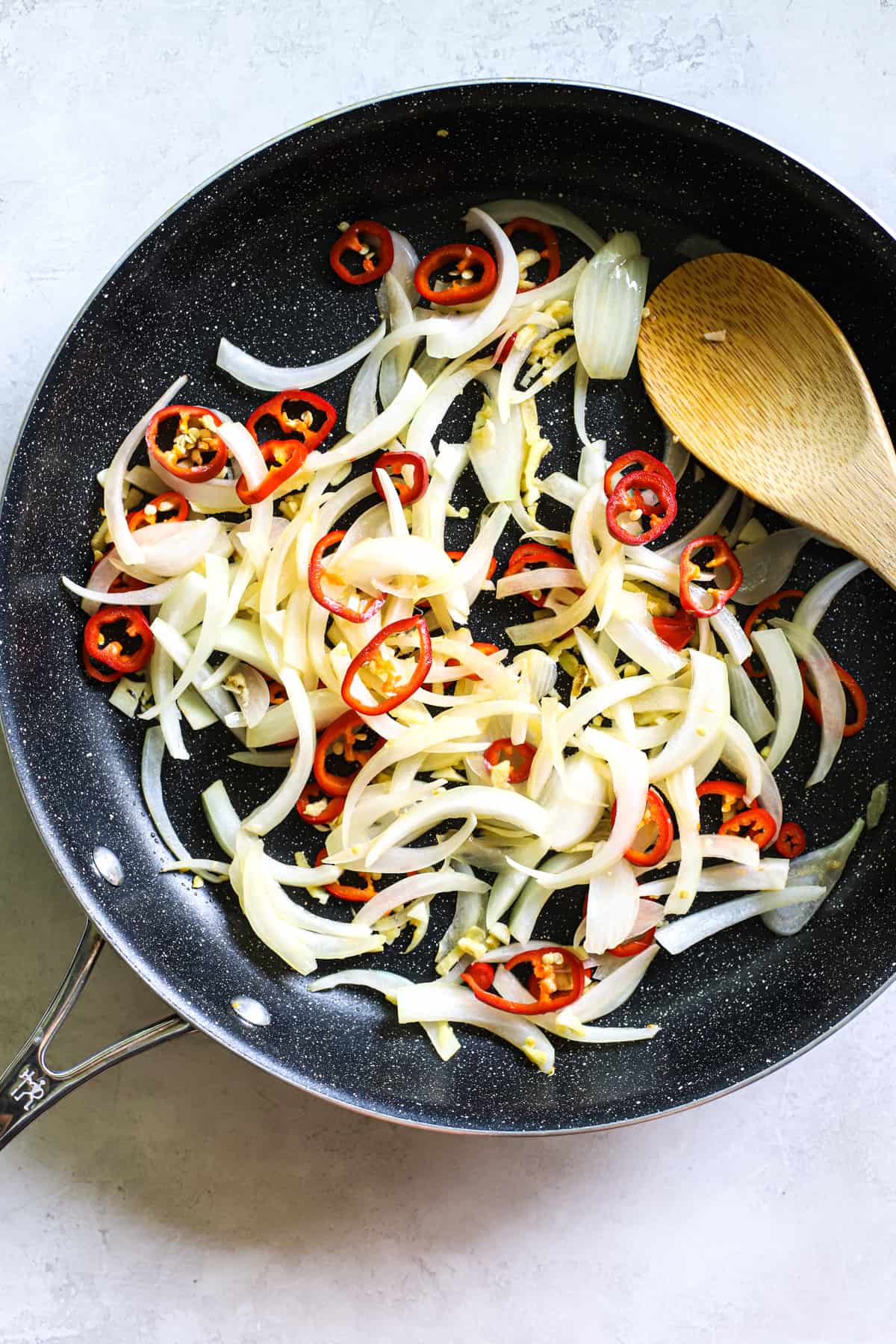 Heat some coconut oil over medium-high heat in a large sauté pan or wok. Add onions, garlic, ginger, and chiles, and sauté for about 5 minutes, until soft.
Turn up the heat to high, and add bok choy and turnips. Sauté for another 3-4 minutes, stirring frequently.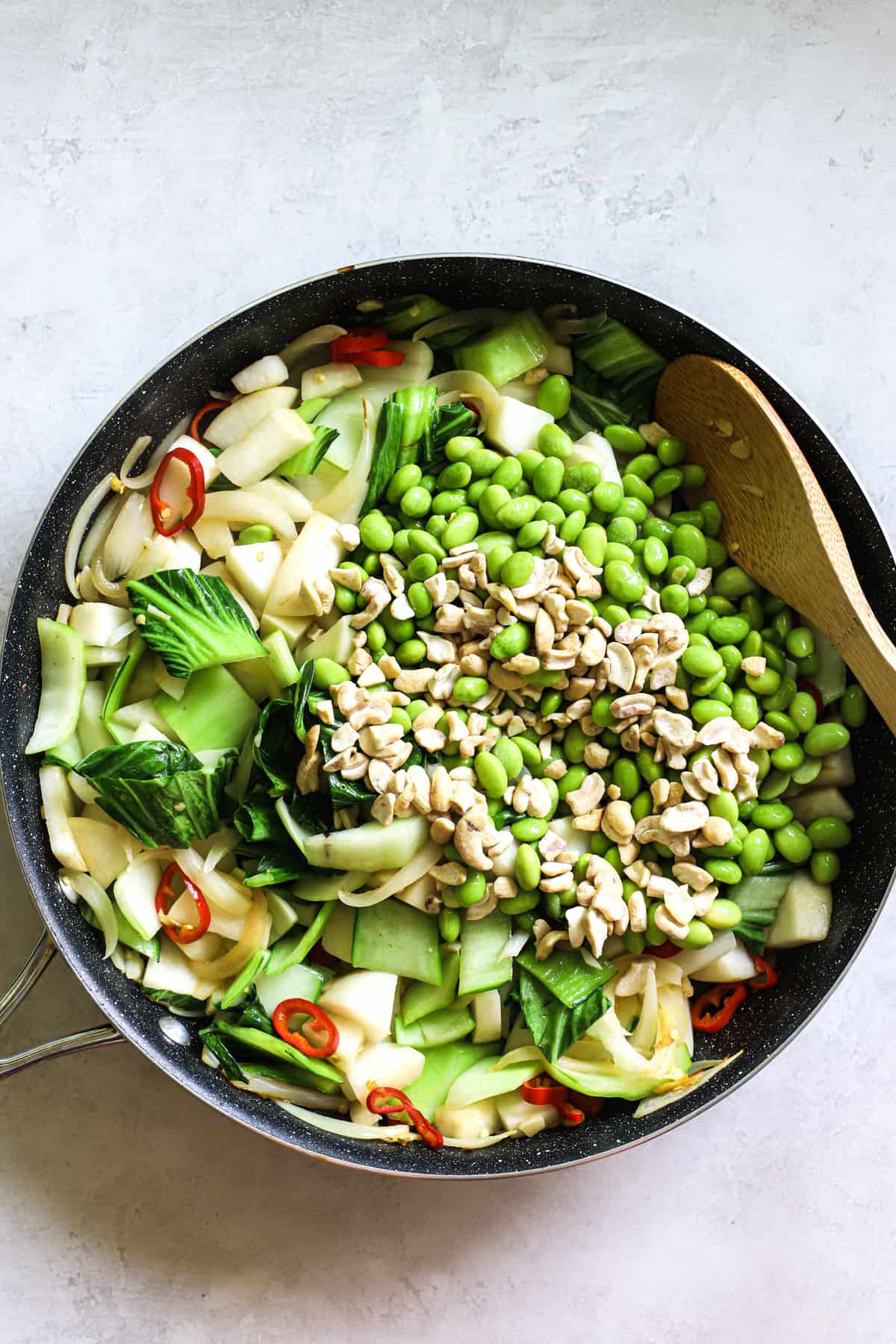 Add edamame and cashews, and stir fry for another 2 minutes. We want the veggies to be HOT!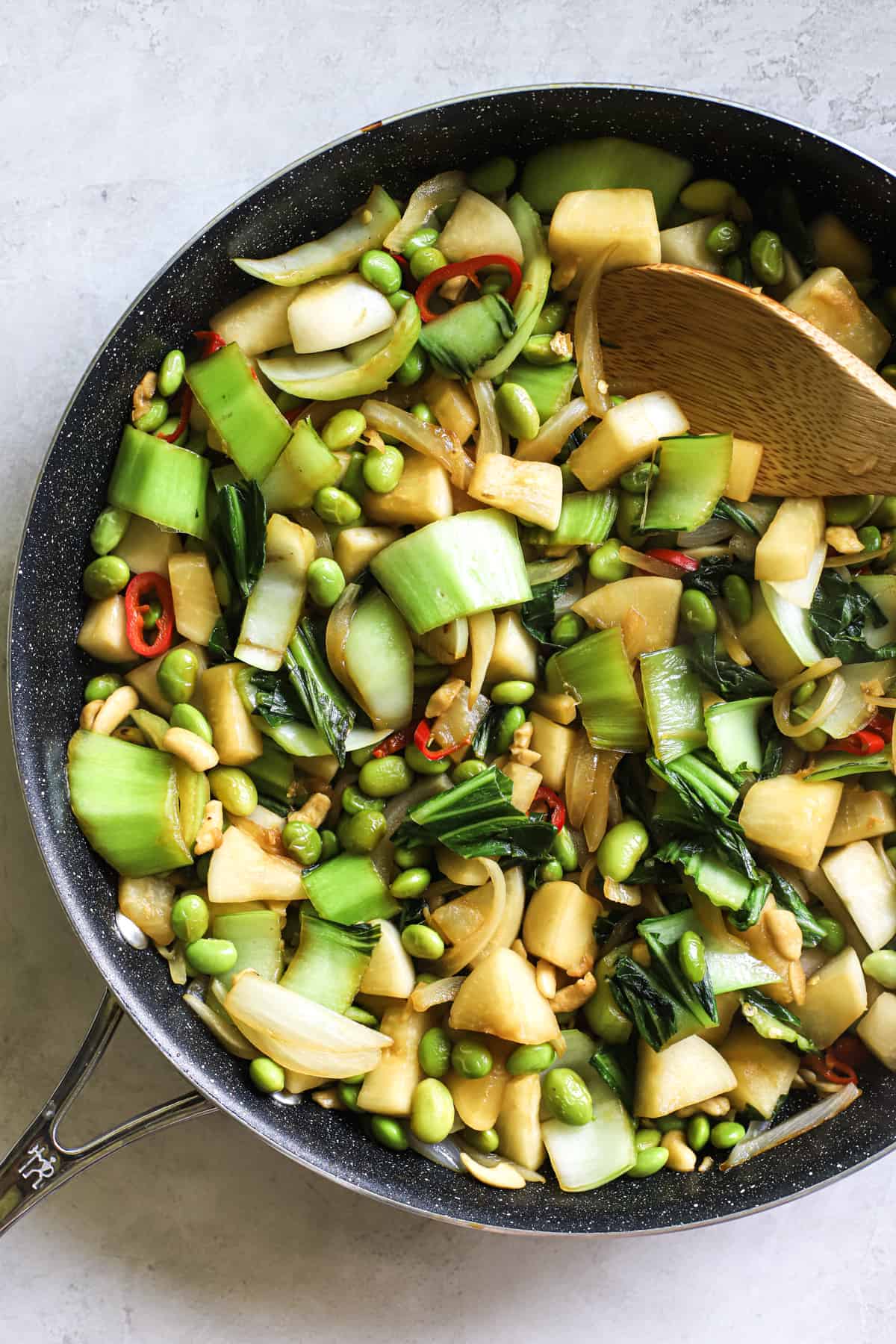 Add the tamari, fish sauce, and brown sugar straight to the pan, and stir fry for about 2 more minutes. Because of the high heat, the tamari should sizzle as soon as it hits the pan!
Poke a turnip (or the hardest veggie you used) with a fork to make sure it's cooked all the way through, then remove veggies from heat. Serve with brown rice (or noodles), green onions, cilantro, and lime!
Essential Thai Ingredients
Part of the reason Thai food is so delicious is that it's a balance of spicy, salty, sour, bitter, and sweet all at once! To achieve these flavors, I always keep the below ingredients on hand.
Alliums - Onions and garlic form the base for most Thai recipes and add incredible flavor.
Chiles - Fresh chiles are what make Thai recipes spicy! Spicy chile pastes will work, but you can also use fresh chiles like we did with our Thai stir-fried veggies.
Fish sauce - Rather than using salt in Thai recipes, you can add saltiness via fish sauce.
Tamari (or soy sauce) - A common ingredient across most Asian cuisine, soy sauce adds a salty, umami flavor.
Coconut or brown sugar - Because Thai food has a lot of salty, spicy, or even sour flavors, it's typically balanced out with a little coconut or brown sugar.
Coconut milk - We didn't use any coconut milk in this pad pak recipe, but it's worth noting that coconut milk is an essential for many Thai soups and curries. Full fat canned coconut milk is the best for flavor and convenience!
Curry paste - Various types of curry paste form the base for many a Thai curry! Thai red, green, or yellow curry paste are essential and impart such incredible flavor. You can make your own, but I like the Thai Kitchen products by McCormick, which are available in most stores.
Cilantro - One common fresh herb for fresh Thai cooking. I especially love using fresh cilantro to top Thai dishes like curry, stir fry, or peanut noodles!
Thai basil - OMG Thai basil is so good! Where I live, it's a lot easier to find it at the farmers market or as a full plant to grow at home (at the grocery store or wherever you buy plants for your garden). You could use regular sweet basil if you can't find Thai basil, but Thai basil will get you that truly authentic Thai food taste.
Ginger - Ginger is one of the most commons spices found in Thai dishes, and it's delicious with all of the above ingredients. I love to use fresh when I can, but I also frequently use a store-bought ginger paste for convenience.
Substitutions & Variations
Thai vegetable stir fries are SO flexible! Pretty much any veggie will taste good with Thai flavors, so feel free to use up what you have. Below are some substitutions and variations you can try to make this recipe work for you!
Veggies - Keep the base of onions, ginger, garlic, and chile peppers, but feel free to replace the bok choy and turnips with what you're craving or have available to you. You can add sugar snap peas, carrots, zucchini, yellow squash, butternut squash, eggplant, broccoli, green beans... the options are endless! I especially love making stir fries with spring, summer, and fall local produce as it comes in season.
Peanuts - While I used cashews in this pad pak, peanuts would also be delicious! I love the added slight crunch that nuts add to a Thai veggie stir fry.
Vegetarian - the beef hamburger can be replaced with a plant-based burger to make this vegetarian
Protein - Add a protein of choice to your pad pak! For meat, sauté that first and set aside while you stir fry the vegetables. Add the meat in 1-2 minutes before the end of stir frying -- I recommend adding the cooked meat back in at the same time you add the edamame and cashews. You also try adding in additional plant-based protein, like tofu or chickpeas. Or, try topping it with a fried or hard-boiled egg!
Equipment
If you have a wok that you use for stir fries, that would be perfect for pad pak. I don't actually have a wok, but rather I use a large, heavy-bottomed sauté pan! Your sauté pan needs to be large so that you have enough room to stir the veggies around and get all sides exposed to the heat and flavors.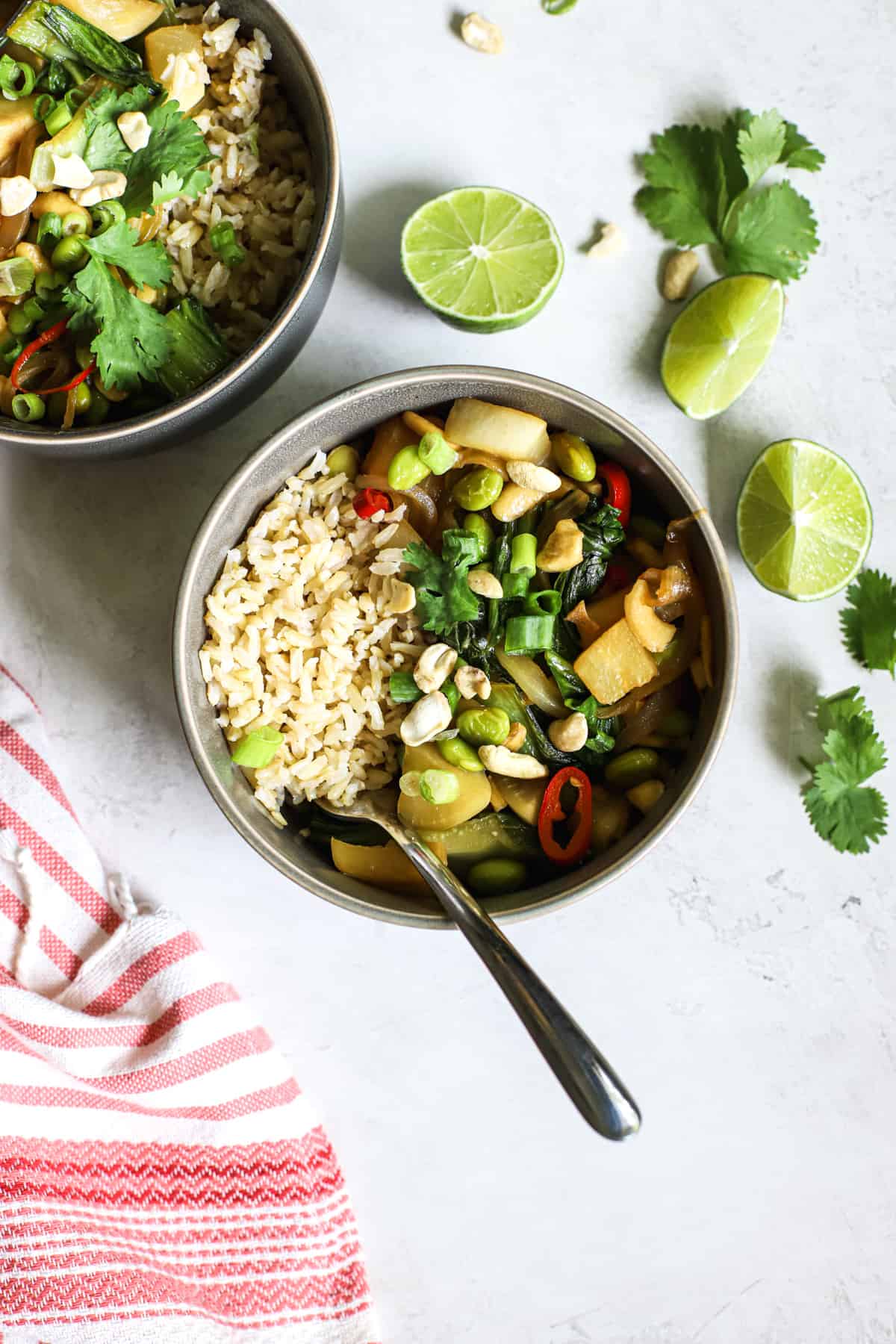 Storage
Store the stir fry ingredients in your fridge in an airtight container for up to a week. You can store toppings like green onions and cilantro in a separate container to keep them fresh. It's up to you whether you store noodles and/or rice separately -- sometimes I just mix them in 🙂
You can also freeze stir fried vegetables for up to three months an airtight container. Allow the pad pak to cool completely to avoid any condensation freezing inside the container.
Pad Pak FAQs
Is pad pak vegan?
Pad pak is veggie-based, but it will only be vegan if you remove the fish sauce. Feel free to omit and add in more tamari or soy sauce to make it vegan!
What is pad pak?
Simply put, it's Thai stir fried vegetables. To make stir fry vegetables "Thai" flavored, we use essential Thai ingredients like alliums, ginger, red chiles, tamari, fish sauce, fresh cilantro, a touch of brown sugar, and lime.
Top Tip
The best stir fries are flash-fried, i.e. stir fried for a short period of time over high heat, which saves your veggies from becoming overcooked or mushy. That's why we got our pan & veggies super hot before adding the tamari and fish sauce, which quickly cooks them down a bit before we remove them from the heat.
Print
Pad Pak (Thai Stir-fried Vegetables)
This pad pak is SO delicious, healthy, and easy to make! Use the veggies I used here, or use whatever you have on hand, and get a better-than-takeout weeknight dinner on the table fast.
Author: Tera
Prep Time:

10 minutes

Cook Time:

10 minutes

Total Time:

20 minutes

Yield:

4

servings

1

x
Category:

Dinner

Method:

Stir Fry

Cuisine:

Thai
1 tablespoon

coconut oil

1

small onion, sliced thinly into half moons

2

cloves fresh garlic, minced

½

-inch fresh ginger, grated

2

-

3

fresh red chiles

1

bunch baby bok choy, chopped

3

turnips, diced medium-sized

1

-

2

cups

shelled edamame

½

cup

cashews

⅓

cup

tamari

½ teaspoon

fish sauce

2 teaspoons

brown sugar (or coconut sugar)
Green onions, cilantro, and limes for serving
Instructions
Sweat onions, ginger, & chiles. Heat coconut oil over medium-high heat in a large, heavy-bottomed sauté pan. Add onion, garlic, ginger, and red chiles, and sauté until softened, about five minutes.
Bok choy, turnips, edamame, & cashews. Turn up the heat to high, add the baby bok choy and turnips, and sauté for another minute, stirring frequently. Then add edamame and cashews, and sauté for another minute, stirring frequently. You want the temperature of pan to be nice and hot before adding the sauce.
Add sauce. Add the tamari, fish sauce, and brown sugar directly to the veggies in the sauté pan. Allow it to sizzle and start to cook the veggies down a bit more. Continue to fry the veggies for 1-2 more minutes, stirring frequently to coat everything in the sauce. Careful not to overcook the veggies!
Remove from heat & serve. Poke a turnip (or your longest cooking veggie) with a fork to make sure it's cooked all the way through, then remove the pan from heat. Serve the pad pak over jasmine rice or rice noodles!
Notes
Edamame. I recommend using frozen shelled edamame and 
Rice & noodles. Depending on the kind of rice you use, you may need to start the rice earlier than the pad pak because some rice takes longer to cook than the pad pak itself.
Keywords: pad pak, Thai stir fry vegetables