Keep grilling interesting all summer with these easy smoky turkey burgers with tzatziki.
"I got the fries that'll cross your eyes. I got the shakes that'll make you quake. I got the burgers that'll --
... I just got burgers."
Name that movie!
And I don't just got burgers. I've got smoky turkey burgers with tzatziki, and now, so do you. Classic cheeseburgers will always have a place in my heart, but we can't make it through an entire summer of grilling without shaking it up a bit, right? I figured you'd agree, so I took the liberty of throwing some smoked paprika into the mix... and balanced out the smokiness with a cooling, simple tzatziki. And proceeded to eat two for lunch, but not three, because I'm a lady and all that.
So, here's how it's gonna go: this smoky turkey burgers with tzatziki recipe is a two-part deal. First, we'll make the tzatziki, so it has some time to chill in the fridge while we whip up part two: the burgers. The rest of the story is buns and toppings, of which we won't need many because you can bet we'll be smothering these babies in tzatziki. So let's do it then?
How to Make Tzatziki
You're doing yourself a HUGE favor by having tzatziki in your arsenal of dips and spreads -- you just never know when you're going to be out of hummus but coincidentally have tzatziki ingredients on hand to save the day. The good news here is that tzatziki is made from mostly pantry staples, so you might even have most of the ingredients on hand as we speak.
What You'll Need:
Greek yogurt
Cucumbers
Garlic
Olive oil
Lemon juice
Mint
Salt & pepper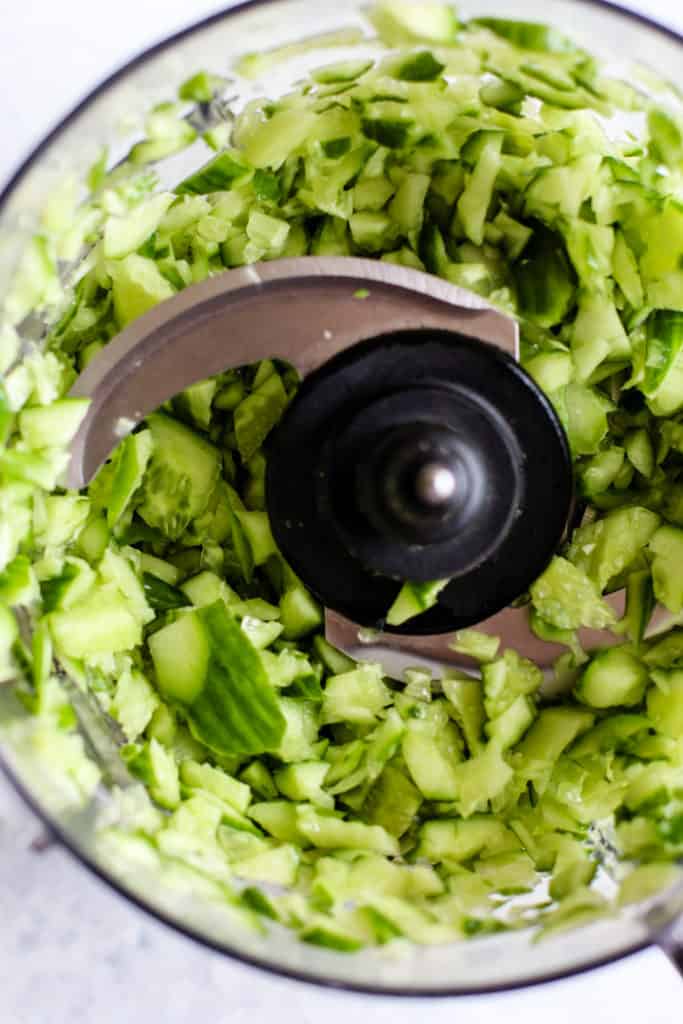 You'll start by grating the cukes (I used a food processor to make it a little easier and cleaner) and draining them through cheesecloth or a fine mesh sieve. Cucumbers release tons of water, so it's super important to drain them first to avoid watery tzatziki.
Then, mince the garlic, chop the mint, and then combine with all the remaining ingredients (yogurt, grated and drained cukes, olive oil, lemon juice, salt, and pepper).
Let that chill in the fridge so the flavors really meld, and boom. Tzatziki for days. No seriously, days, because this recipe makes extra.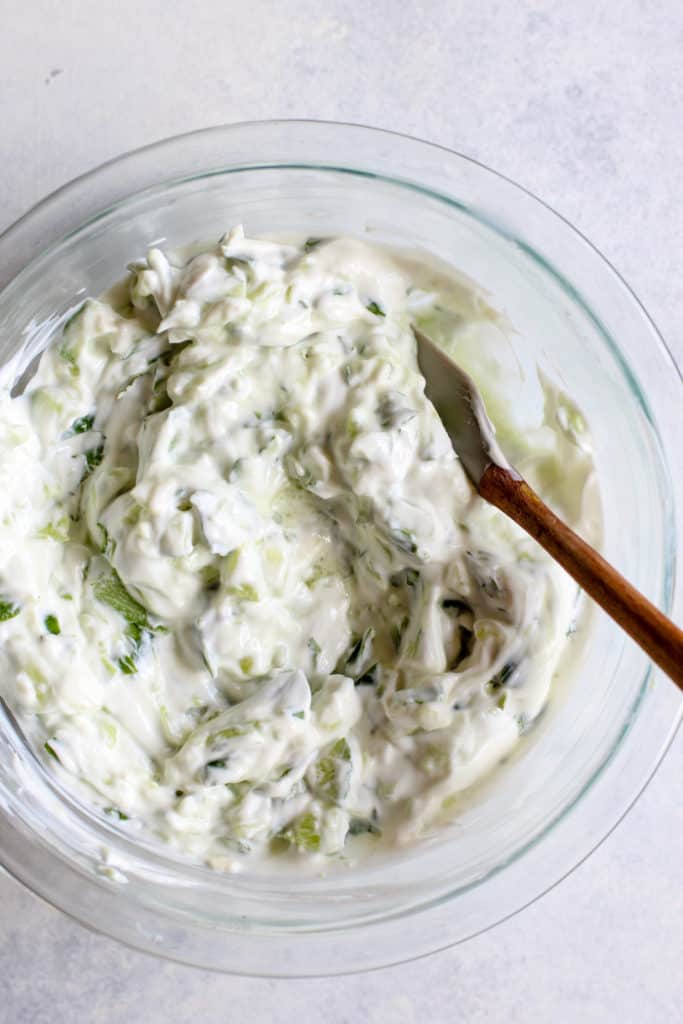 And Now... Smoky Turkey Burgers
These things are incredibly easy, cheesy (in a feta way), smoky, massive (as all burgers should be), and can be made with or without a grill. I actually don't have a grill (small apartment life, *sigh*), but I use a cast iron grill pan that I absolutely love, and it gets things nicely charred.
What you'll need for the burgers:
Ground turkey
Feta
Onion
Garlic
Smoked paprika
Salt & pepper
Olive oil for cooking
Other than that, just a grill or stovetop, and you're ready to rock.
You'll start off by finely dicing onions (about ⅓ cup total -- just a little bit to give the meat some flavor) and mincing the garlic (honestly, if you're feeling lazy and want to use a little garlic powder or paste, it'll do the trick), and sautéing them in some olive oil to soften them and bring out the flavor.
Once you've sautéed the garlic and onion, put everything in a bowl and mix it together until everything is just combined and evenly distributed. Form that mixture into patties, get some olive oil on a grill or skillet, and go about your usual grilling/sautéing ways.
Buns and Toppings
And last but not least, a very important component of any burger experience: the buns and toppings that tie the whole thing together. My favorites are either sprouted grains hamburger buns (such as the kind from Angelic Bakehouse (pictured in this post -- my favorite kind!), Food for Life, or Alvarado Street Bakery), or whole wheat pitas -- you know, to follow suit with the whole tzatziki situation.
As for toppings, these don't need too much -- you've got feta inside the burgers themselves, plus a big scoop of tzatziki on top of that. I like to add some greens for that fresh crunch and flavor, but that's about it! Some tomato slices, roasted red pepper, or avocado would also jive.
My last words? Double the recipe, invite friends over, and have a perfect summer night of grilling out. Maybe even throw these turkey pesto walnut burgers in the mix!
Now go to your grill (or, if you're like me, grill pan)!
P.S. The movie quote was from The Longest Yard 😉
Print
Smoky Turkey Burgers with Tzatziki
Keep grilling interesting all summer with these easy turkey burgers flavored with smoked paprika, packed with feta, and smothered with a simple tzatziki sauce. 
Author:
Prep Time:

15

Cook Time:

15

Total Time:

30 minutes

Yield:

4

large burgers

1

x
Category:

Dinner

Method:

Grill

Cuisine:

Greek/American
For the Tzatziki:
2 cups

cucumbers, grated and drained (about

2

large cucumbers)

3

-

4

cloves garlic, minced

1.5 cups

plain Greek yogurt

⅓ cup

fresh mint, finely chopped

2 tbsp

olive oil

1 tbsp

lemon
salt and pepper
For the Burgers:
Olive oil for cooking

⅓ cup

onions, diced

2

garlic cloves, minced

1

lb. ground turkey

¾ cup

feta

3 tsp

smoked paprika

¼ tsp

salt

¼ tsp

pepper
Instructions
Make the tzatziki. Combine grated cucumbers, garlic, yogurt, mint, olive oil, lemon, salt, and pepper in a large bowl. Stir to combine. Cover and place in the fridge until ready to use.
Make the burger patties. Heat olive oil over medium heat, and sauté the onions and garlic until softened (about 7 minutes). In a large bowl, combine garlic and onions with turkey, feta, and spices. Stir until just combined. Form into four even patties, and using the back of a spoon, create a slight indent in the center of each to help them cook evenly. Sprinkle with additional spices if desired.
Grill the burgers. Preheat grill to high heat and brush on some olive oil. Turn heat down to medium-high and cook patties to desired doneness (165 degrees is a good measure, if using a meat thermometer). Follow the same steps for sautéing or using a grill pan, except use your stovetop instead.
Assemble the burgers, top each with a giant scoop of tzatziki, and chow down!
Notes
I like to use my food processor for grating the cucumbers! Just cut them into large chunks, and pulse in 10-second increments until you're left with grated pieces. Drain those through a fine mesh sieve or a cheesecloth to keep the tzatziki from getting watered down.
I didn't have issues with these burgers falling apart, but if you're concerned that they might, pop them in the fridge for a few minutes. Chilled burgers are always sturdier.
Cook time will vary depending on your grill, how many burgers you can make at once, etc.
Keywords: turkey burgers, smoky turkey burgers with tzatziki, how to make tzatziki
This post contains affiliate links for products I truly recommend. Thanks for your support!