This post contains affiliate links for products I genuinely recommend, which means I earn a small commission at no cost to you.
This slightly spicy, crunchy, and hearty Thai peanut chicken salad recipe will get you through summer.
It's all there: the crunch, the slight bite of spicy peanut sauce complementing the cooling cucumber, the ingredient variety and complex combination of flavors and textures. This is one of those salads that just has it going ON. At first glance, is it just another Thai peanut something or other? Perhaps. But once you try it, you just might -- like me -- want to eat it every week all summer long.
In any good Thai peanut chicken salad recipe, there just needs to be a lot going on. It needs to have variety, complexity, and texture -- am I right?? (I am.) Which is exactly why this thing is loaded with a whole bunch of stuff:
Shredded cabbage (green, red, or both)
Carrot ribbons (or grated carrots)
Sliced green onions
Diced cucumber
Cilantro
Chickpeas
Cashews
Chicken marinated in honey, coconut aminos, harissa paste, and sesame oil
Now, variety is all well and good, but the ingredients do need to sing together. There must be unity -- a common thread, if you will. So, we're tying all the ingredients together with a spicy peanut sauce that you may or may not want to put on everything after you try it. Fair warning: you might want to double the batch because it makes vegetables really fun to eat.
Aaand now that I've used variety and unity like concepts in a college Art 101 class (it's a work of art in your mouth, okay??), let's get into how this thing is made.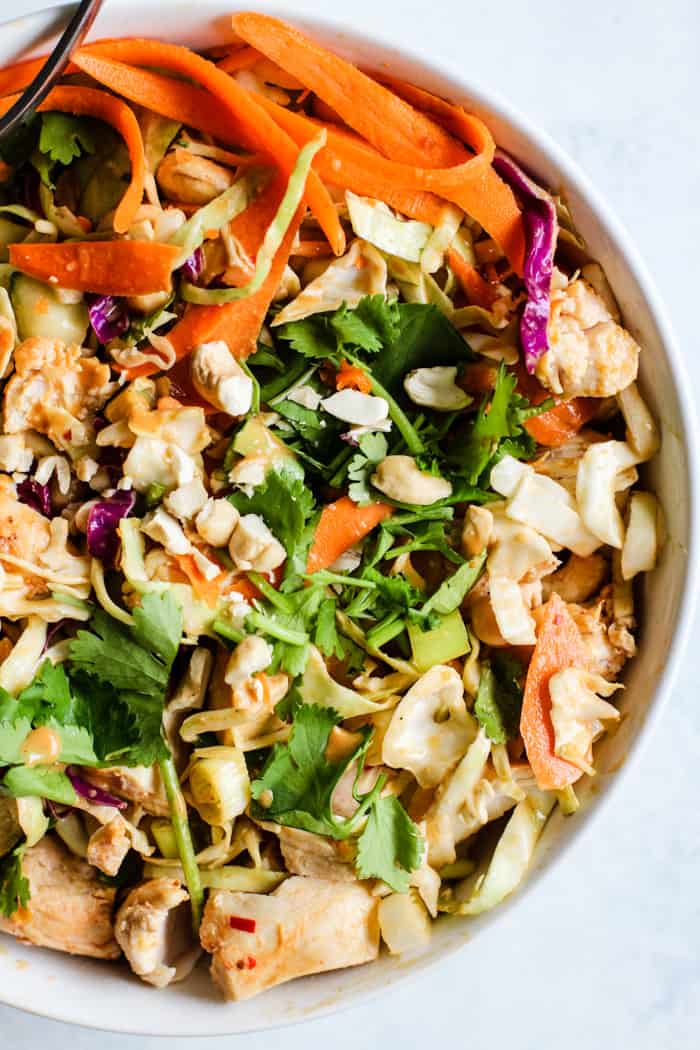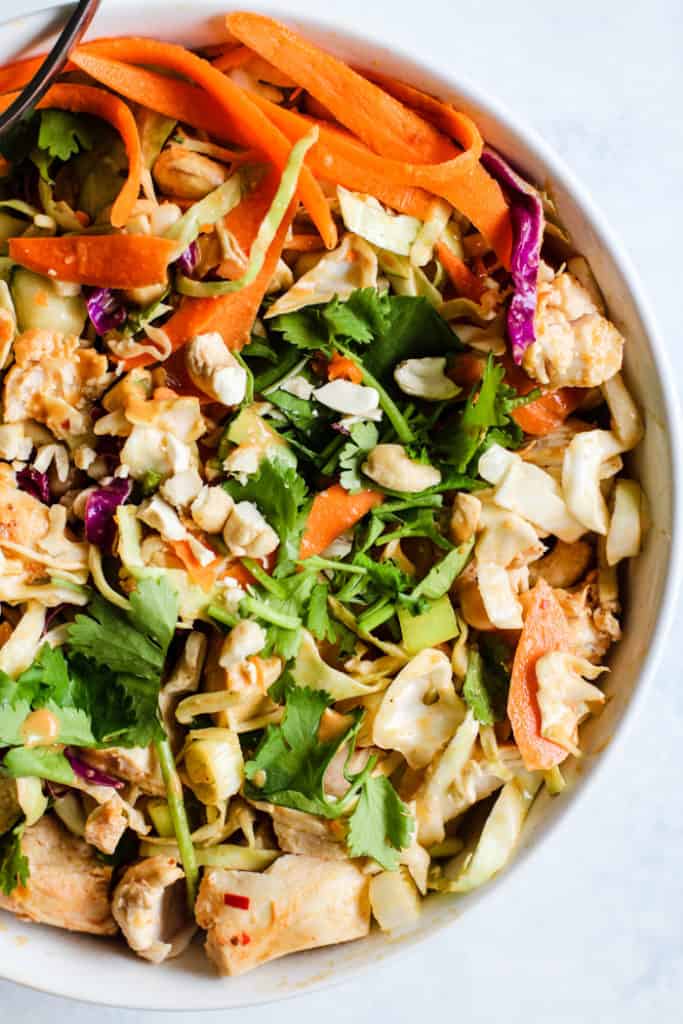 How to Make Thai Peanut Chicken Salad
Okay, we're going to start with marinating the chicken right off the bat, because that'll leave us time to chop veggies/herbs, and blend up some of that delicious spicy peanut sauce. If you'd like to skip this part, you can just chop up some already cooked chicken and call it day. But, if you have time, you can marinate the chicken just a bit for that extra level of flavor.
The Chicken Marinade
For the marinade, just whisk together a generous drizzle of honey, ¼ cup coconut aminos (or low sodium soy sauce, or tamari), two tablespoons of sesame oil, and one or two teaspoons of harissa (or red chili) paste. Pour into a zip-top bag or glass container with raw chicken, and place in fridge until you're ready to use.
The Salad
In the meantime, you'll chop all the veggies and make the peanut sauce. For convenience, I like to buy the pre-shredded cabbage, but you do whatever works best for you. All you'll need do for this salad is shred the cabbage, grate some carrots (OR, use a vegetable peeler to cut carrots into ribbons), slice some green onions, seed and dice cukes (peel if you want), and chop some cilantro. Also, drain a can of chickpeas and roughly chop cashews if they're whole.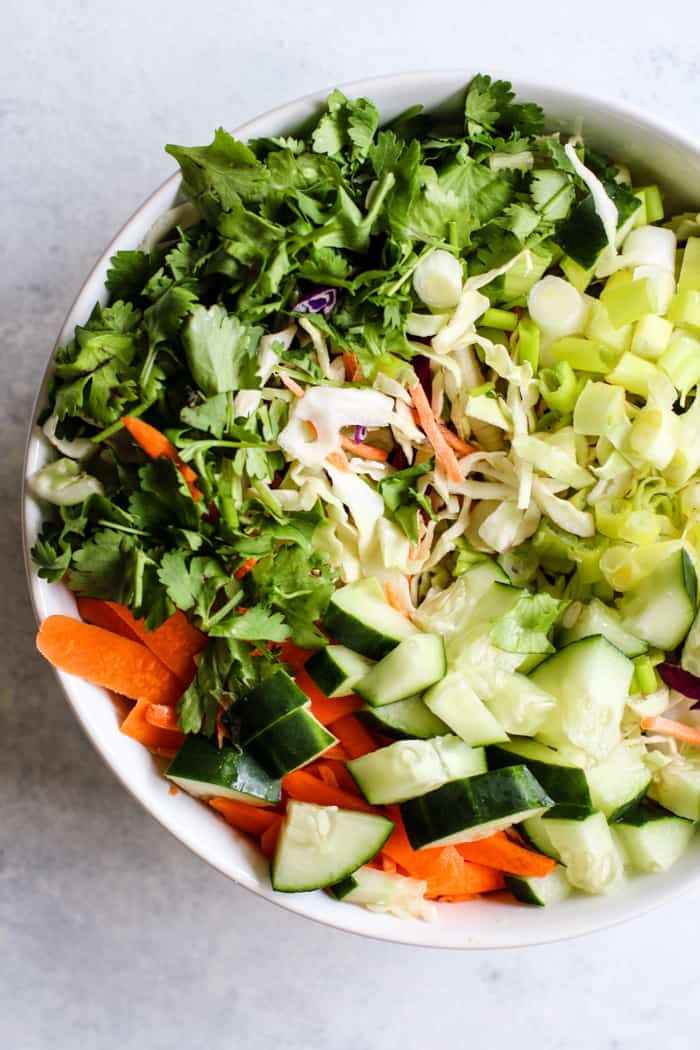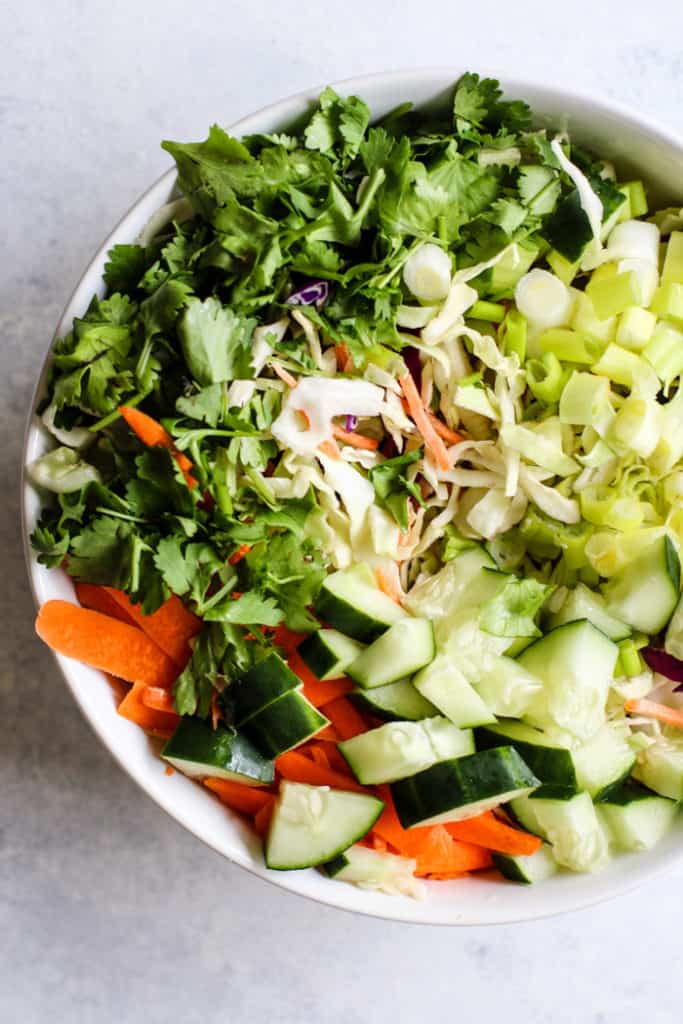 The Spicy Peanut Sauce
Okay, now for the peanut sauce. Quickly, I just have to tell you that I ADORE this peanut sauce because it's on the thinner side -- more of a spicy peanut vinaigrette than a sludgy, PB-heavy sauce. You're gonna love it!
In a blender, you'll combine some fresh ginger (or ginger paste), honey, harissa paste (or chili paste, or red pepper flakes), fresh garlic cloves, sesame oil (olive oil works in a pinch), rice vinegar, coconut aminos (or tamari, or low sodium soy sauce), and peanut butter. Blend until completely smooth, and you got yourself some SAUCE.
Once you've got all the veggies and peanut sauce ready, all that's left to do is sauté the chicken before combining everything in to a big ol' Thai peanut bowl of heaven. To do that, heat some oil (sesame or olive -- whatever you prefer) in a sauté pan over medium-high heat, and cut the marinated chicken into cubes. Add the chicken and sauté it for about a minute, then reduce the heat to medium and continue to sauté until the chicken is completely cooked through and the pieces are slightly browned. Remove from heat and give it a minute to cool before tossing it in with all the other ingredients and dousing everything with peanut sauce.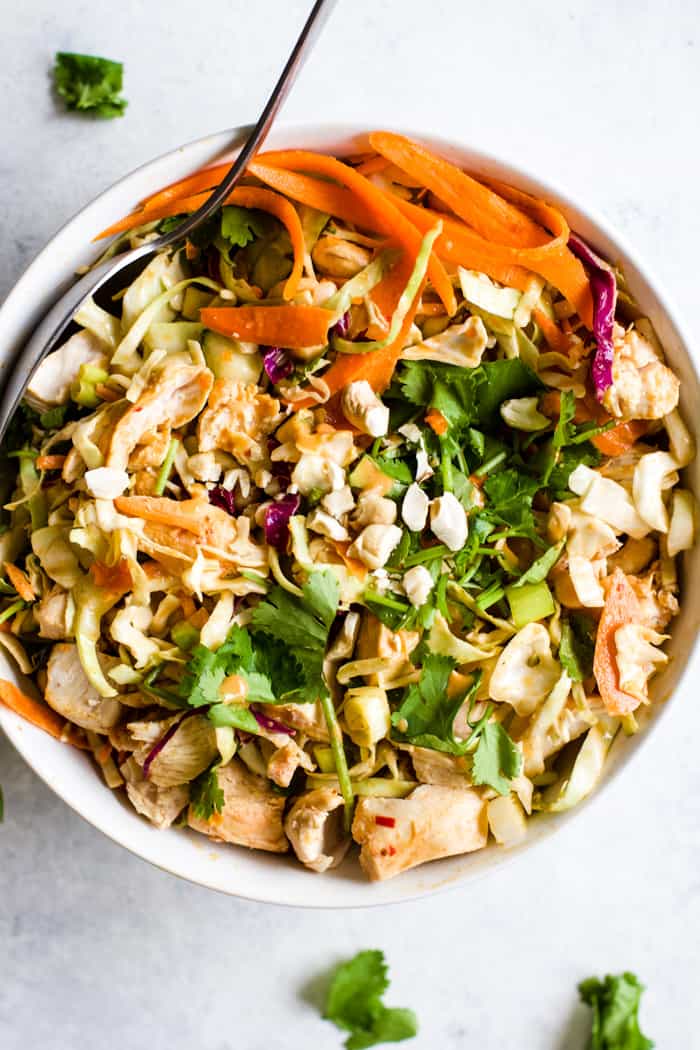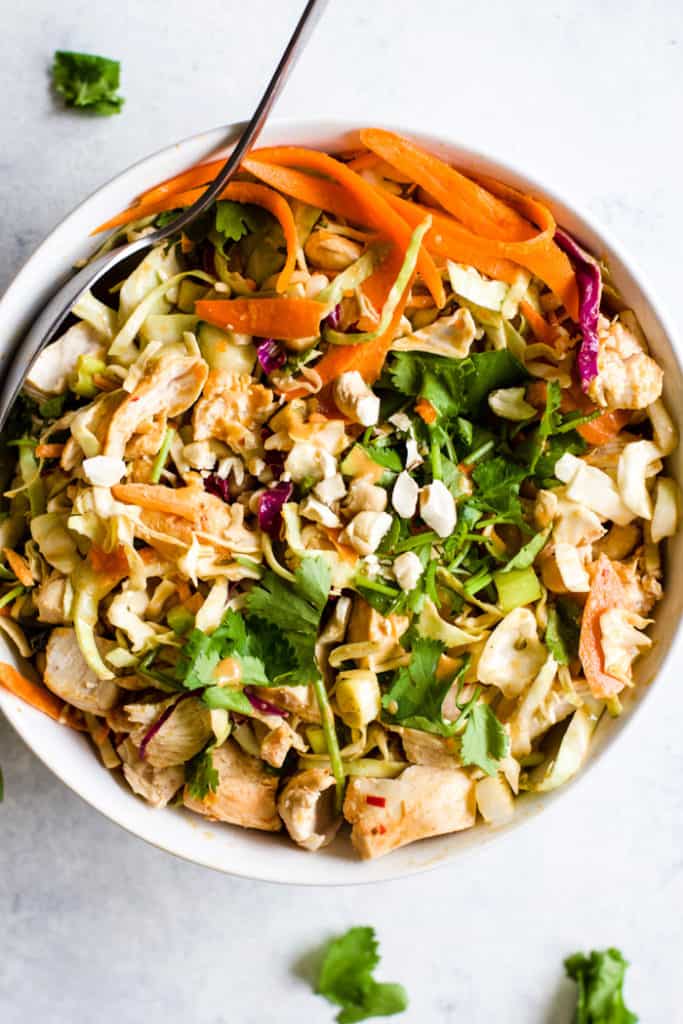 Modifications and Substitutions
If you don't have all the ingredients for Thai peanut chicken salad, chances are you can -- and should!-- still make it. Here are some substitutions that'll work:
Peanuts (or another nut or seed) for cashews. If you're allergic to nuts, definitely try something else for a nutty crunch, such as pepitas, sunflower seeds, or sesame seeds. If you're not allergic but just don't have a cashews, peanuts or even slivered almonds would work. Maybe evens some coconut flakes? Get crazy.
Tamari or low sodium soy sauce for coconut aminos. I typically keep tamari or coconut aminos on hand, but low sodium soy sauce will work, too.
Use up leftover chicken. As aforementioned, the marinade will add flavor, but if you have a lot of leftover chicken and not a lot of time, chop that up and you'll skip an entire step. Kind of like in Candyland when you draw the Candy Castle card and get to skip the whole board (no idea why my mind went there, but it did).
Grill the chicken! Someday, when I have a grill, I will grill everything. If you are already so lucky, go for it! Just place the marinated chicken breasts on the grill whole, and chop them up afterwards to place in the salad.
Olive oil for sesame oil. While sesame oil does add a unique flavor to the peanut sauce, I've also made it with olive oil and can vouch for equally tasty results.
Chili paste or red pepper flakes for harissa paste. I understand harissa paste isn't exactly a kitchen staple for everyone, but chili paste or dried red pepper flakes would work as well for adding that little twinge of spice to the peanut sauce.
Add other veggies! Diced red or yellow bell peppers or some finely shredded kale would add some another layer of color and flavor. It's not a vegetable, but I wouldn't be opposed to some mango or pineapple in there. Too much? Is there such a thing?
Well friends, there you have it: not just another Thai peanut chicken salad. Shall we?
Print
Thai Peanut Chicken Salad
A slightly spicy Thai peanut chicken salad loaded with crunchy veggies, marinated chicken, chickpeas, and cashews, doused in a delicious peanut sauce. Go-to summer salads, here we come.
Author: Tera
Prep Time:

15

Cook Time:

10

Total Time:

25 minutes

Yield:

2

meal-sized salads

1

x
Category:

Salad

Method:

Combine

Cuisine:

Thai
For the chicken:
2

chicken breasts (

4

-

6

oz. each)

2 tbsp

sesame oil

2 tbsp

coconut aminos or tamari

1 tbsp

honey

½ tsp

harissa paste
For the salad:
4 cups

shredded green cabbage (or purple, or a mix)

½ cup

thinly slice green onions with tops

2

large carrots, peeled and grated (or sliced into ribbons)

1 cup

cucumber, seeded and diced
large handful fresh cilantro, roughly chopped

1 cup

chickpeas, drained and rinsed

⅓ cup

cashews, roughly chopped
For the peanut sauce:
¼ cup

peanut butter (natural works best)

2 tbsp

coconut aminos

¼ cup

rice vinegar

¼ cup

sesame oil

2

cloves garlic

½ tbsp

harissa paste

½

-

1

tablespoon honey

½ tbsp

ginger paste (or ½-inch fresh ginger)
Instructions
Make the chicken marinade. Whisk together sesame oil, coconut aminos, honey, and harissa paste. Place chicken breasts in a glass container or zip-top bag and pour marinade inside. Close and place in the fridge until ready to use.
Make the salad. If you haven't already, prep all the veggies: shred cabbage, slice green onions, grate or slice carrots, chop cucumber, and chop cilantro. Drain and rinse chickpeas, roughly chop cashews, and combine all ingredients into a large bowl.
Make the peanut sauce. Blend together all ingredients in a high-speed blender or food processor. Set aside until ready to use.
Sauté the chicken. Heat some olive or sesame oil in a pan over medium-high heat. Remove chicken from fridge and cut each piece up into cubes (the smaller pieces speed up sautéing time). Sauté chicken until completely cooked through and slightly browned on the sides, flipping pieces as needed throughout, about 7-8 minutes. Remove from heat and allow to rest in the pan for a minute.
Assemble the salad. Add chicken to salad and toss with ⅓-1/2 cup of the peanut sauce (more if desired). Toss and serve!
Notes
*I like to toss another handful of cashews on at the end -- for looks and extra crunch.
*You might have a little leftover peanut sauce. Save in a mason jar in your fridge for use throughout the week as a marinade, dressing, or dip.
*This salad loses just a little bit of crunch when it's been sitting in the fridge, but man is it good leftover!
*There are quite a few substitutions you can make if you don't have the ingredients on hand -- see post above for all my recommendations.
Keywords: Thai peanut chicken salad, Thai chicken salad, peanut sauce recipe