This simple caprese pasta bake is the perfect weeknight comfort food meal using fresh summer tomatoes and basil!
Oh, this? This is exactly what it looks like: pasta, veggies, and cheese baked in an oven until it's all roasty and melty, and your kitchen smells like heaven (aka pizza). And you? You've barely done anything beyond boiling some pasta and perhaps chopping some onions, if you felt like it. So don't mind me... I'm just going to put this melty mozzarella right here. In front of your face.
But let me assure you, my tempting you with melted cheese really is for your own good, because this simple caprese pasta bake is a healthy comfort food at its finest. It's:
Low-effort - just a few minutes of hands-on work, and the oven does the rest of your work for you.
Nutritious - all the macronutrients and seasonal veggies in one place!
Adaptable - make it gluten-free; add or subtract ingredients.
Summery - because tomatoes, basil, and all things caprese.
Vegetarian - whether you regularly choose not to eat meat, or are just trying to incorporate additional meatless meals into your week.
So, what do you say we put those summer tomatoes to good use and melt some cheese all over them?
How to Make a Simple Caprese Pasta Bake
There's really not a lot to this caprese pasta bake, and that's on purpose -- I was hoping we could get ourselves into a quick and easy, pasta + veggies + cheese + oven situation. And friends, I would say we've succeeded.
It starts with pasta. Now, because of my recent *mild* obsession with chickpea pasta, I used chickpea rotini for a little protein boost. You can use whatever kind of pasta you like! I'd stick with something bite-size -- like rotini, bowtie, penne, etc. But, if you're going to go the chickpea pasta route, too, I recommend the kinds by Barilla, Banza, or -- one I've tried more recently -- Tolerant. I use these brands interchangeably, depending on which store I happen to be shopping at. They're all excellent options!
Aside from pasta, we've got optional onions for flavor and the usual caprese suspects: tomatoes, basil, mozzarella. Dried basil will totally work in a pinch if you have every other ingredient on hand except for fresh basil, though I like to take advantage of fresh basil when I can, since summers in Wisconsin are so short. I mean, not this summer... this one's going to last forever. Right? I'm also never turning 28, so. That answers that.
Finally, we'll throw in some olive oil for good measure and flavor, since we're being all Italian and such. When in Rome, right? (Literally.)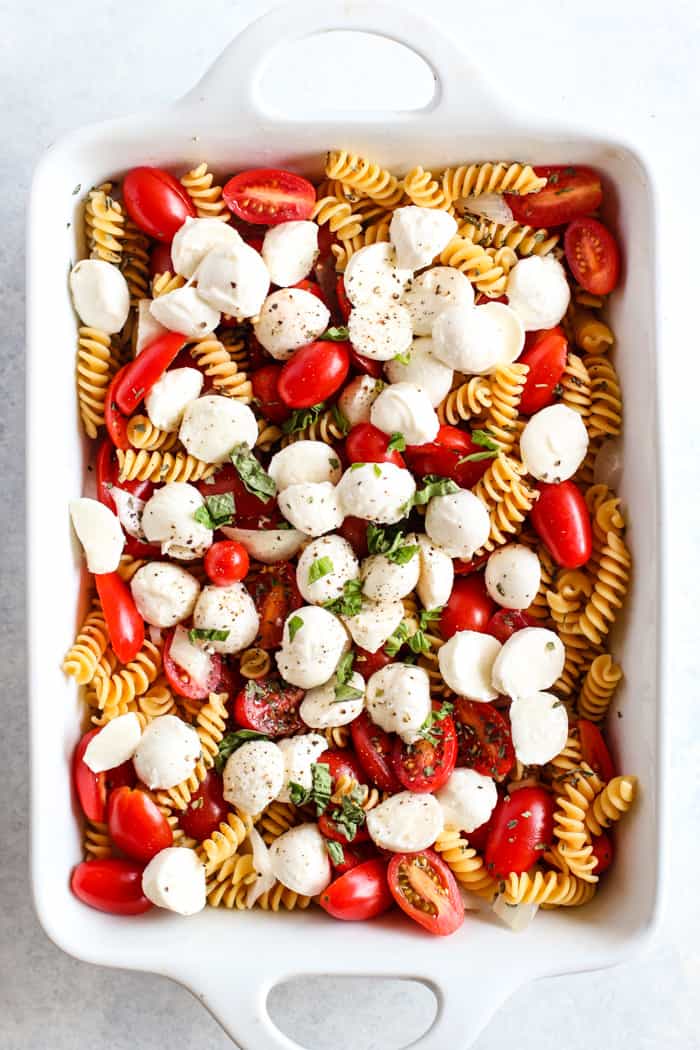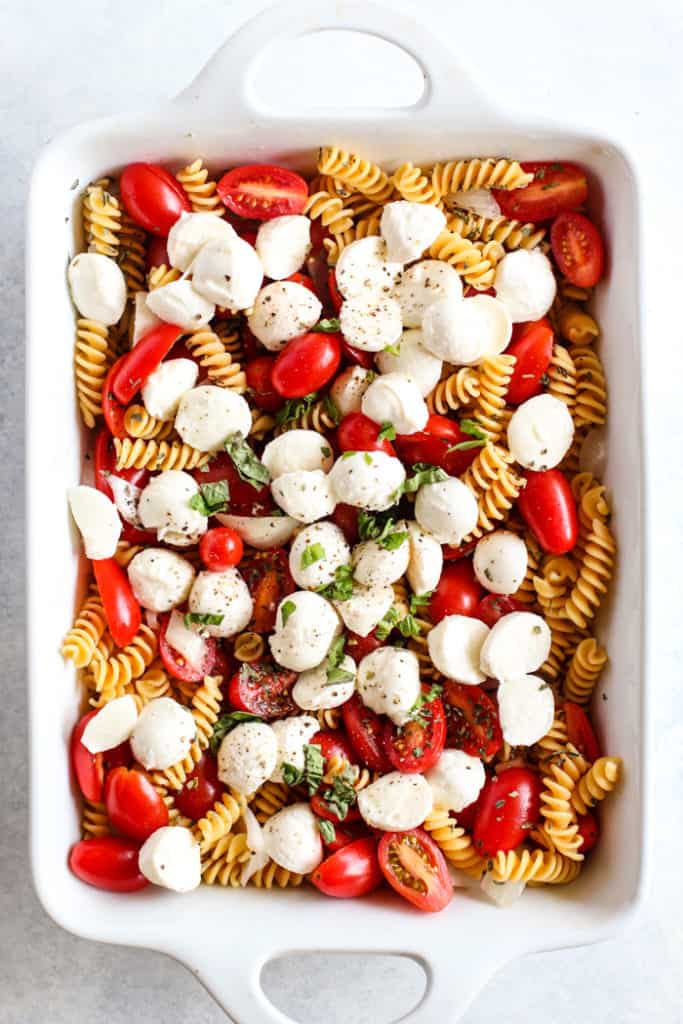 As for actually making the bake? It's just a matter of combining everything into one big baking dish: the cooked pasta, the veggies + herbs, and the mozzarella. For the mozzarella, I like to distribute half into the pasta/veggie mixture itself, give it a stir, and then put the rest on top so that it's melty and cheesy all throughout. You know, so you get like seven noodles that are bound together by a big melted mozzarella bomb? Yeah. That's the stuff.
On that note, my friends, we've pretty much covered the whole story of the simple caprese pasta bake: a story that begins with roast-y grape tomatoes and tastes of summer, and ends in melty mozzarella noodle clusters. Thankfully it's not a long story, because I am HUNGRY.
Print
Simple Caprese Pasta Bake
This simple caprese pasta bake is the perfect quick and easy weeknight meal! It's a warm and melty version of a summer classic -- the caprese salad.
Author: Tera
Prep Time:

10

Cook Time:

45

Total Time:

55 minutes

Yield:

6

1

x
Category:

Pasta

Method:

Bake

Cuisine:

Italian
8 oz

. dry pasta

1

small onion, chopped (optional) + olive oil for sautéing

3 cups

cherry or grape tomatoes, some halved

½

-

1

cup basil, roughly chopped

2 cups

fresh mozzarella, chopped (more if desired)
olive oil for baking
salt and pepper
Instructions
Preheat oven to 375 degrees and drizzle some olive oil into a 9x13-inch baking dish (slightly smaller will work).
Cook pasta according to package instructions. If using, sauté onion for a few minutes in some olive oil until softened (you can do this while the pasta is boiling).
Combine pasta, onion, tomatoes, basil, and 1 cup of the mozzarella in the baking dish. Give it a couple stirs to distribute ingredients evenly. Then, spread remaining cup of mozzarella evenly across the top. Sprinkle with a salt, pepper, and more fresh basil if desired.
Bake at 375 for 35 minutes or until tomatoes start to collapse and cheese is completely melted and bubbling.
Keywords: simple caprese pasta bake, gluten free, high protein, vegetarian, chickpea pasta