This post contains affiliate links for products I genuinely recommend, which means I earn a small commission at no cost to you.
These simple herb roasted beets are sweet, herby, and delicious! Beets get sweeter when roasted, making them a delicious and healthy root vegetable to toss into salads or enjoy as a simple veggie side dish for any summer, fall, or winter meal.
Some links in this post are Amazon affiliate links to products we love.
A wonderful friend of mine says beets are her spirit vegetable, while another says that beets taste like Lake Mendota (a local Wisconsin lake). I don't know about you, but I lean much more towards the spirit vegetable end of the spectrum... I love beets! Beets are a hearty root vegetables that can be harvested during summer, fall, and winter, and there are tons of health benefits! They make an awesome salad ingredient or simple side dish to round out any meal.
Yes, they're inherently a little "earthy", but today we're going to peel and roast them in plenty of olive oil, salt, and herbs for a sweet, savory, delicious result.
Jump to:
Ingredients
The ingredient list for simple herb roasted beets is short and sweet! You can use fresh herbs if you have them on hand, but I use dried herbes de Provence to get a blend of herbs/spices while keeping it easy.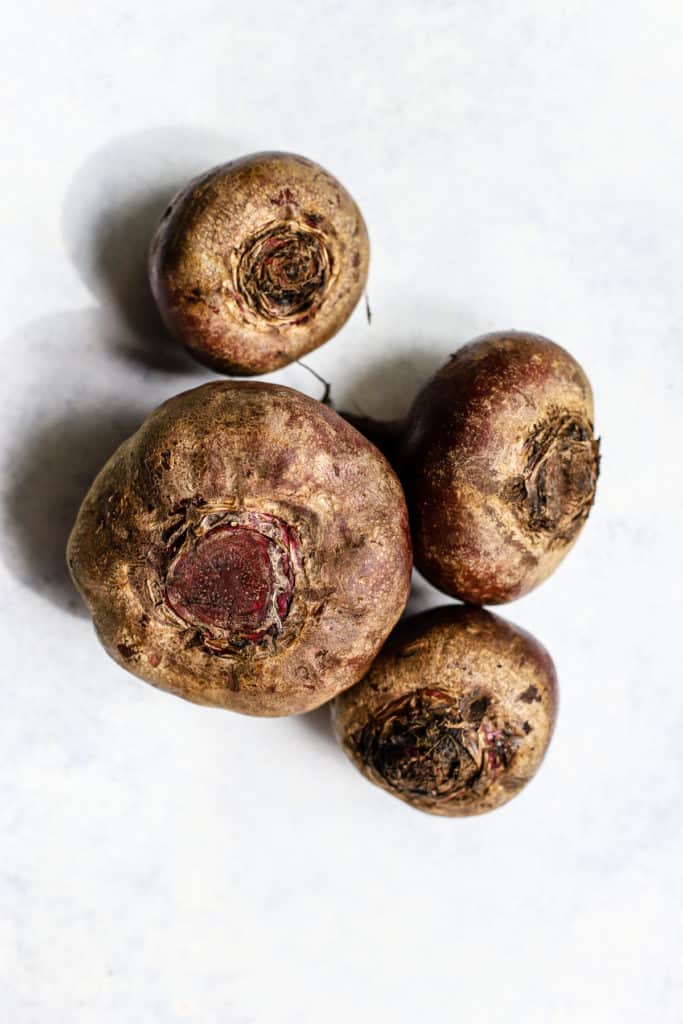 Beets
Extra virgin olive oil
Herbs de Provence (dried) OR fresh thyme, basil, & rosemary
Salt
Pepper
Equipment
To make these simple herb roasted beets, all you need is basic kitchen equipment: a knife, veggie peeler (if peeling the beets), cutting board, large bowl, measuring spoons, and sheet pan.
Also, if you have a Ninja Foodi air fryer/pressure cooker, you can roast beets in there as an alternative method. Since this method replaces your oven, you can nix the sheet pan. We LOVE our Ninja Foodi (affiliate link) and honestly use it more than our oven for roasting veggies, which is almost daily! I provide an alternate method below for you if you'd like to use the Ninja Foodi instead of your oven.
Instructions
Start by preheating your oven to 400 degrees.
To prepare the beets for roasting, you'll cut the stem and root ends off of each whole beet. Since beets are root veggies, they tend to hold onto some dirt in their crevices even when washed and scrubbed, so I like to peel them for roasting. Not everyone does, so you could skip this step and be fine. If you do, just make sure you scrub them really well!
Then, cut the beets into small cubes (between ¼ and ½-inch or ~1cm) and add to a medium-large bowl. Cutting the beet cubes smaller will help them roast faster!
To the bowl of beet cubes, add olive oil, salt, and herbs, and toss to fully coat the beets. Then, empty the beets out onto a sheet pan and spread them into an even layer.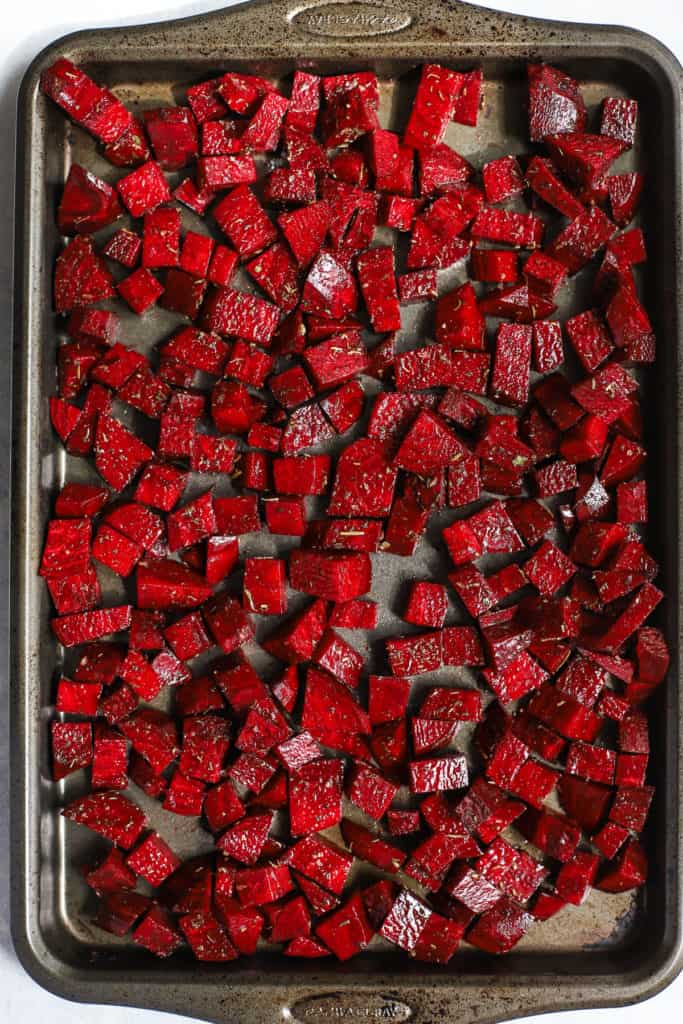 Roast the beets at 400 degrees for 35 minutes, or until they are easily pierced with a fork and the edges are browned. Since beets are so pigmented, it's hard to tell when they're 'browned', but they'll be darker in color and the edges will resemble a roasted potato.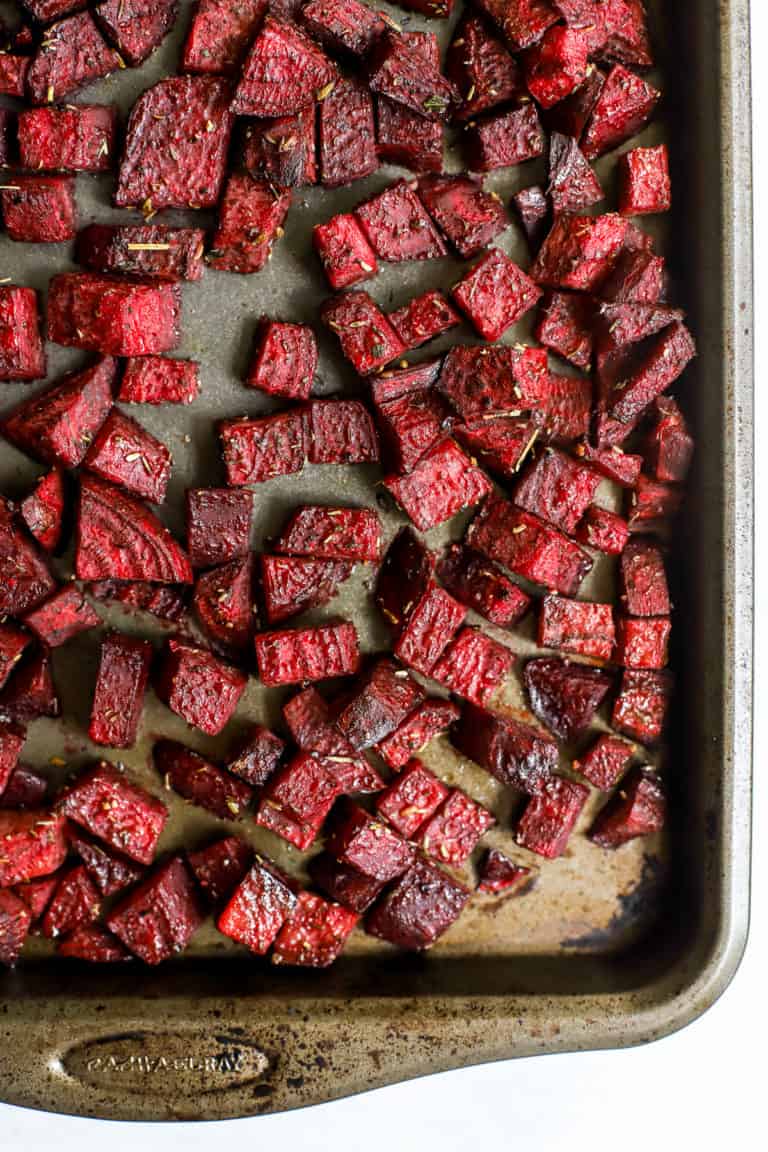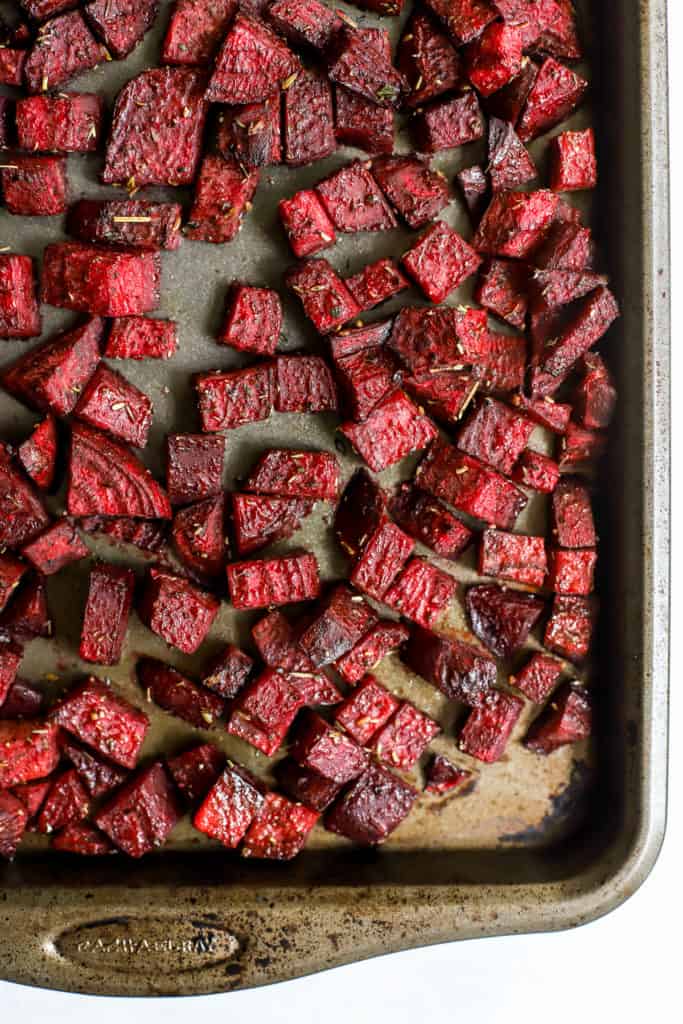 Boom, roasted. Beets.
Hint: You don't need to use foil for this roasted beet recipe, but sometimes it can help with easier clean-up. In effort to reduce waste, I love using silicone baking mats (affiliate link) to line my sheet pans and make clean-up super easy!
Ninja Foodi Method
Lately, we've been roasting all of our veggies in a Ninja Foodi air fryer/pressure cooker (affiliate link), and I cannot recommend it enough. It keeps our kitchens cool during hot summer days, plus it's faster than roasting in an oven (especially for root veggies, which tend to take longer). Needless to say, it's earned a permanent spot on our kitchen counter!
To make these simple herb roasted beets in a Ninja Foodi, skip the oven preheating and put away your sheet pans. Place the Cook & Crisp plate in the Ninja Foodi, and prep the beets in the same way (de-stem/root, peel, cube).
Then, toss them in olive oil, salt, pepper, and herbes de Provence (or fresh herbs), and place them in the Ninja Foodi in an even layer. Turn the power on, press the Bake/Roast button, set the temperature to 375 degrees, and set the time to 18 minutes. Finally, press the Start/Stop button to start cooking, and prep the rest of your dinner while you wait, or just hang out!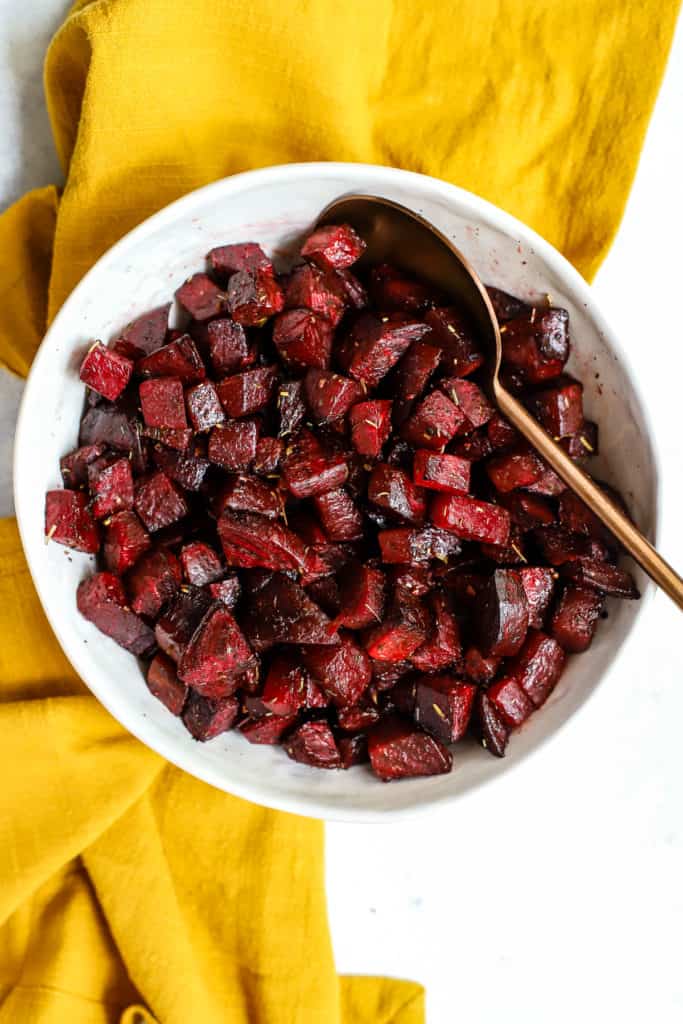 When the beets are done, you'll hear a beep and the Ninja Foodi fan will stop; make sure to open the lid right away, or the beets will continue to cook. We've accidentally burned veggies by leaving them in the hot Ninja Foodi with the lid closed 🙂 At this point, you can pierce one with a fork to make sure it's cooked all the way through; if more time is needed, bake/roast for 2-3 more minutes. It's easy to overdo it and burn the veggies, so just a couple minutes will do!
Hint: The Ninja Foodi roasts so well because because of the airflow inside, so if you have too many roasted veggies piled in, some of the air might not get to the center. To mitigate this, reduce the amount of beets in the recipe, OR be sure to stir halfway through so that all the beet pieces get airflow and heat exposure.
Substitutions & Variations
You can use fresh herbs if you have them on hand, but I use dried herbes de Provence (a very common spice blend you can buy in any standard grocery store or spice shop) to keep it easy and flavorful. If you don't have herbes de Provence, you can also make your own or use a blend of dried basil, thyme, and rosemary.
Since roasted beets are somewhat of a template for many delicious flavors, try these variations to spice it up!
Balsamic - Drizzle balsamic glaze over the roasted beets while still warm from roasting.
Citrus - Add a squeeze of lemon or your favorite citrus vinaigrette after roasting.
Hummus - Blend roasted beets into hummus for beet hummus!
Feta & Walnuts - For a simple and delicious side dish, toss the roasted beets with feta and toasted (or candied) walnuts... and maybe even some balsamic glaze. The feta will definitely turn pink, but we're totally good with that 😉
Golden beets - We love trying new produce! If you have access to golden beets, those would be just as delicious in this recipe.
Tahini Maple Drizzle - Inspired by my harissa roasted sweet potato recipe, tahini + maple is an incredible combo to add to ALL things!
FAQs
What do I serve roasted beets with?
I highly recommend tossing them into salads, but they are also great alongside any meal as a veggie side dish!
How do I store roasted beets?
You can store roasted beets in an airtight container in the fridge for up to seven days.
How do I freeze roasted beets?
To freeze, you can place roasted beets in an airtight container in the freezer for up to three months.
Print
Simple Herb Roasted Beets
These simple herb roasted beets and sweet, savory, and one of my favorite salad ingredients! Roasting beets caramelizes their sugars and brings out their sweetness, while olive oil, herbs, and salt add a savory flavor.
Author: Tera
Prep Time:

10

Cook Time:

35

Total Time:

45 minutes

Yield:

~4 cups

Category:

Side Dish

Method:

Roast

Cuisine:

American
2

lbs. beets

2 tbsp

extra virgin olive oil

2 tsp

herbes de Provence (or

1 tbsp

fresh thyme, rosemary, and/or basil)

½ tsp

salt

¼ tsp

pepper
Instructions
Prep: Preheat the oven to 400 degrees.
Beets: Slice the stem and root off of each beet, then peel thoroughly. Cut beets into small cubes (approximately 1 cm or ¼-1/2-inch), and place them in a large bowl.
Oil and herbs: Add olive oil and, salt, pepper, and herbs de Provence (or fresh herbs, if using) to the beets. Toss to even coat the beets in the oil and spices.
Bake: Place the beets onto a sheet pan in an even layer, then bake at 400 for 35 minutes. You'll know the beets are done when the edges are browned and beet pieces can be easily pierced with a fork.
Notes
Storing & freezing: Store roasted beets in the fridge in an airtight container for up to a week. To freeze, place roasted beets in an airtight container and freeze for up to three months.
Ninja Foodi: Skip step 1 and prepare beets through step 3. Place in a Ninja Foodi on the Cook & Crisp plate, and Bake/Roast at 375 for 18 minutes. Once done, open the Ninja Foodi lid right away and test a couple beets to make sure you can pierce them with a fork. If not, Bake/Roast at 375 for another 2-3 minutes.
Keywords: healthy roasted beets, how to roast beets