This post contains affiliate links for products I genuinely recommend, which means I earn a small commission at no cost to you.
It's still grilling season, and these flavorful turkey pesto walnut burgers are perfect for firing up that late summer barbecue.
For you, a two-word love story: Juicy. Burgers.
Yes, because once upon a time, I experienced the melty, salty wonders of mixing parmesan right into your burger patty. But could I stop there? No. I invited all the other usual pesto suspects to the party -- basil, walnuts, and garlic -- and turned up the heat. On my grill, that is.
Er... grill pan. I don't actually own a grill, but I totally still grill things all the time on my awesome cast iron grill pan (affiliate link), aka one of the BEST purchases I made all year. If you have small apartment and owning a grill is not in your near future (like moi :)), and one of your favorite parts of summer (and all of life) is grilled food, it's totally worth it. I use it ALL the time! The brand I've been buying for anything cast iron is Lodge, which I highly recommend if you've never bought cast iron before.
That said, don't let a lack of grill or grill pan stop you from making these turkey pesto walnut burgers -- a sauté pan will do, and I promise they will be worth it!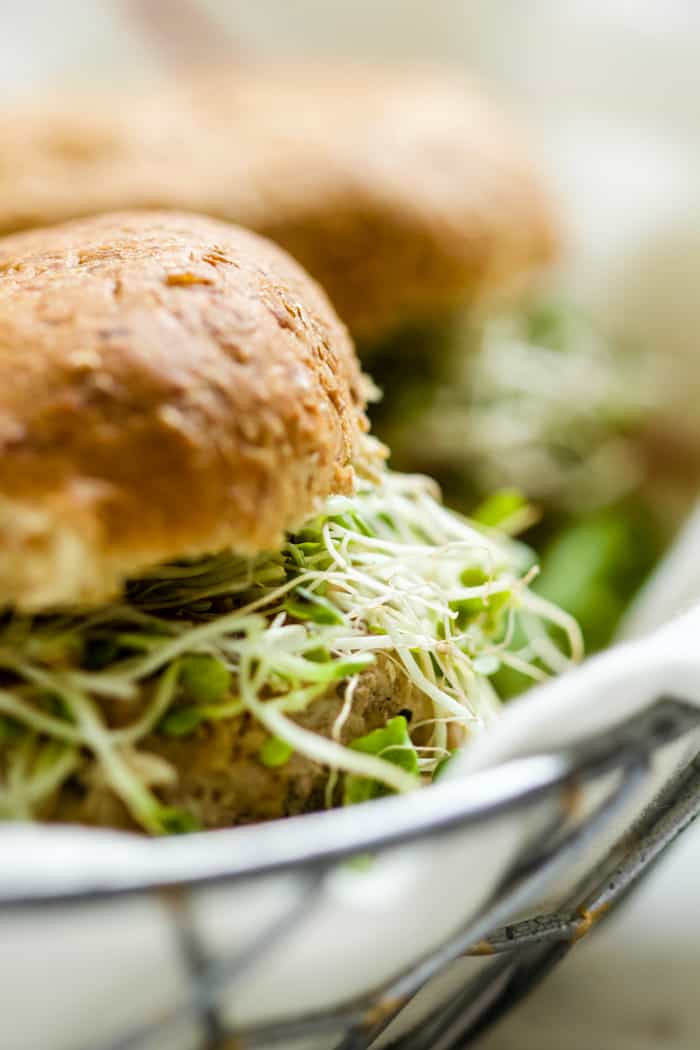 How to Make Turkey Pesto Walnut Burgers
Okay, let's get cooking with gas (or charcoal). What you need:
Some lean ground turkey (ground beef will work too)
Parm (I recommend freshly grating it)
Fresh basil
Walnuts
A clove or two of garlic
A shallot
Salt and pep
Got all that? Excellent. Now, I like to combine everything in a food processor and make that mixture into patties before grilling them, but if you don't have a food processor on hand, not to worry. All you need to do is grate the parmesan, finely chop the basil, mince the garlic and shallot, and crush the walnuts up into little bits (not crumbs, but pretty small pieces). One easy way to do this is to place the walnuts in a Ziplock bag and crush them with a rolling pin or the side of a drinking glass. Then, mix all ingredients together in a bowl, form into patties, and GRILL.
Now that's it for the pesto burger itself, but friends, that's only Act I of this sandwich story. There are two more VERY important details to discuss: buns and toppings.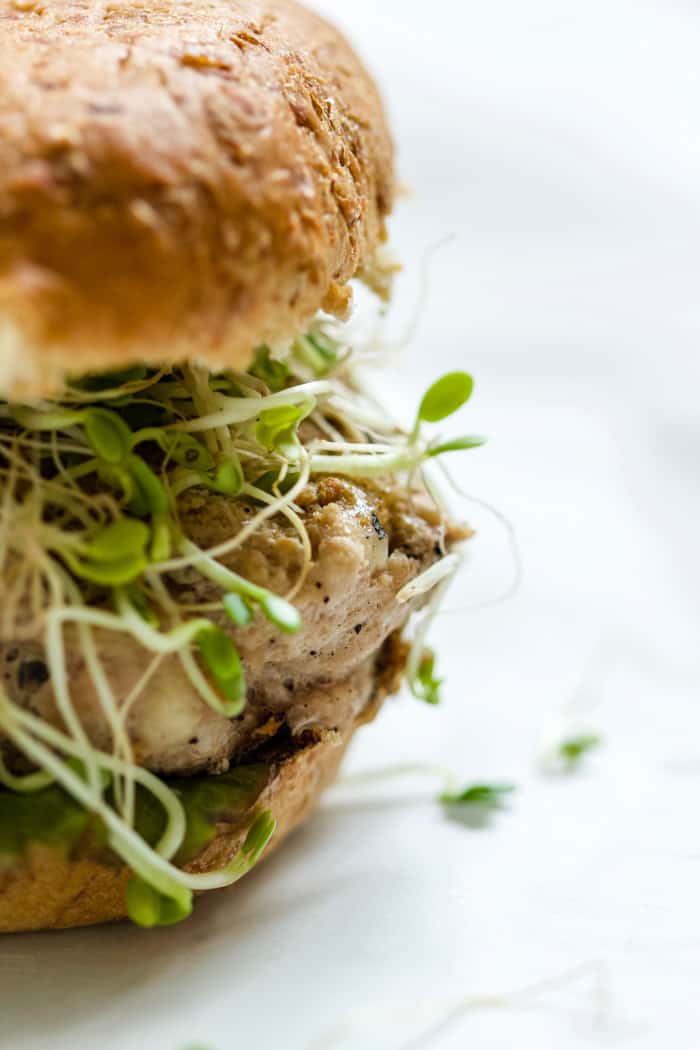 The Healthiest Hamburger Buns
So, when it comes to any and all bread, one of the healthiest ways you can go is the sprouted grains route. My FAVORITE brands for sprouted grains hamburger buns are:
I also buy other sprouted grains products from these brands, but I can say for sure that as far as burger buns go, they will not let you down in terms of flavor and wholesome goodness. Other options include: whole wheat hamburger buns, whole wheat wraps, or whole wheat pita bread. As always, check those ingredients for preservatives or chemicals, and avoid those options if possible.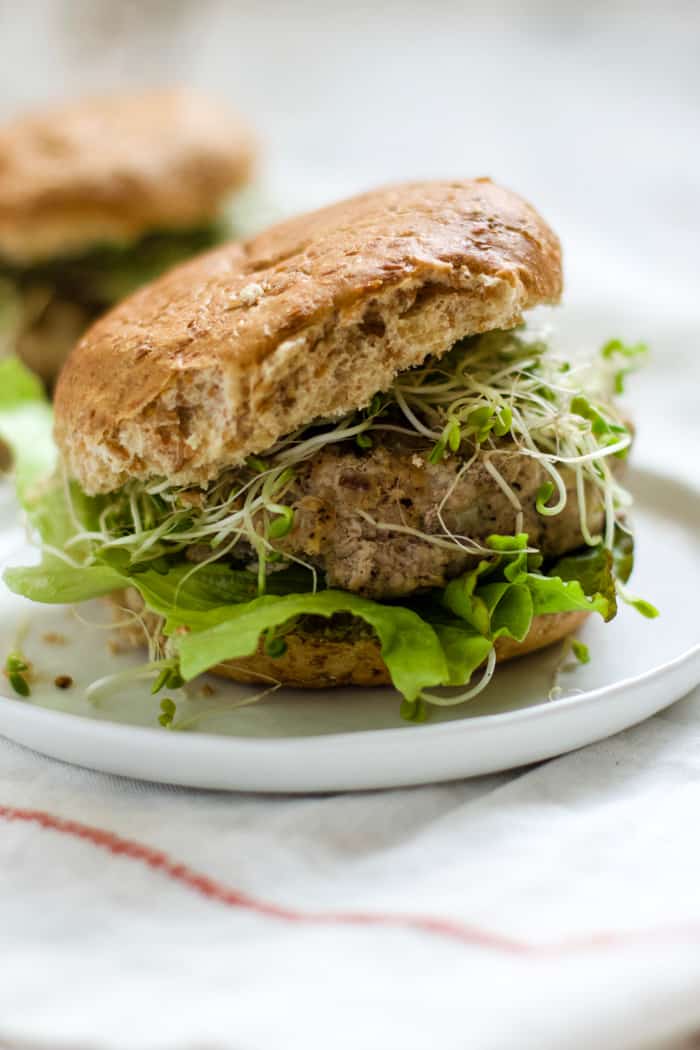 The Toppings
Finally, we've got ourselves a topping situation to discuss. To be honest, you could get away with no toppings because of all this parmesan business, but I vote we load these babies up with little something extra. Here are my favorites for these particular burgers:
Green leaf lettuce, butter lettuce, romaine, or mixed greens
Mashed avocado
A few tomato slices
Even more parmesan (sliced this time)
Sprouts
Pesto (just spread some more on top)
Ketchup (it might seem like overkill, but it just works)
Dijon mustard
Mayo
And, as always, if you want some serious next-level burger action, butter the inside of the hamburger buns and toast them on a skillet until just slightly toasty and browned.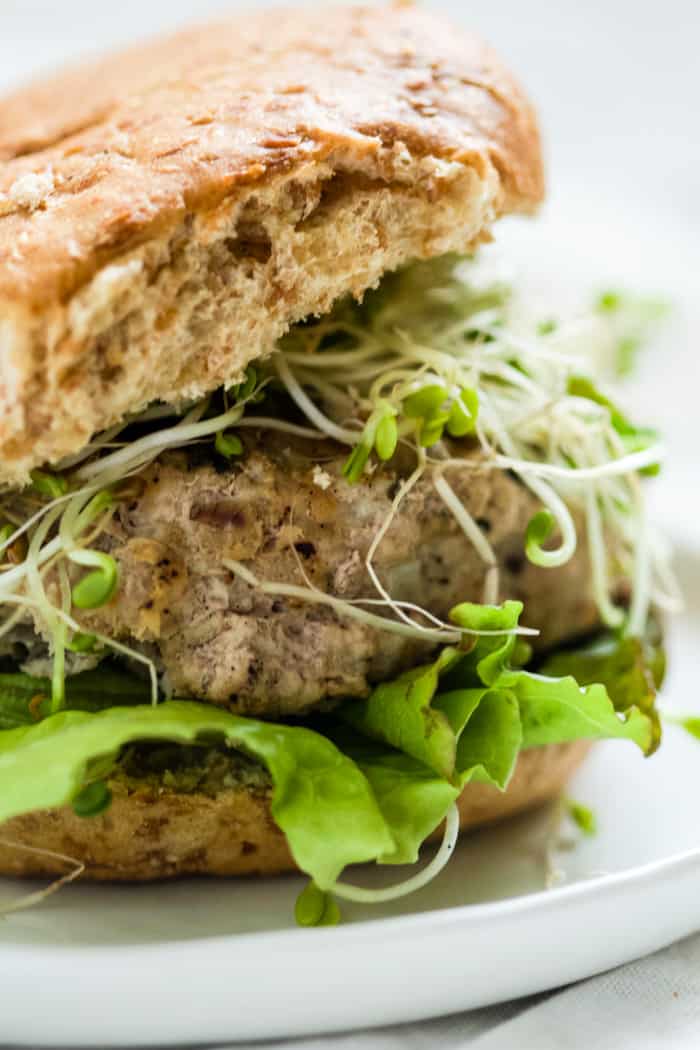 And that's that. Juicy Burgers: A Love Story. Starring you, your face, and your grill.
Print
Turkey Pesto Walnut Burgers
It's still grilling season, and these flavorful turkey pesto walnut burgers are perfect for firing up that late summer barbecue.
Author:
Prep Time:

10

Cook Time:

15

Total Time:

25 minutes

Yield:

4

large burgers

1

x
Category:

Dinner

Method:

Grill

Cuisine:

American
1

lb. lean ground turkey

½ cup

parmesan, freshly grated

½ cup

fresh basil leaves

¼ cup

walnuts

1

clove garlic

1

shallot

¼ tsp

each salt and pepper, adjust to taste
Instructions
Preheat grill or grill pan to high heat and spray with olive oil cooking spray.
Pulse all ingredients in a food processor a few times until combined, and larger chunks (shallot, garlic, walnuts, basil leaves) are nicely broken up.*
Form into 4 large burger patties, or 5-6 smaller ones.
Place burgers on grill or grill pan, cover, and grill until browned on one side (2-4 minutes). Then flip the burgers and grill until desired doneness is reached.
Serve on your favorite whole wheat hamburger bun with your fave toppings (I love mashed avocado, sprouts, and sometimes a slice of tomato).
Notes
*If you don't have a food processor, you can crush the walnuts, finely mince the garlic and shallot, and chop the basil leaves first. Then, combine all ingredients in a large mixing bowl, making sure everything is evenly distributed when combined.
*Nutrition facts do not include bun or toppings.
Keywords: turkey pesto walnut burgers