This post contains affiliate links for products I genuinely recommend, which means I earn a small commission at no cost to you.
These flourless almond butter cookies with white chocolate are gluten free and made entirely with real ingredients! Sweetened naturally and made with almond butter as a "flour" base, these cookies are exactly what you need for a clean holiday treat. The white chocolate drizzle adds the perfect amount of additional flavor and sweetness.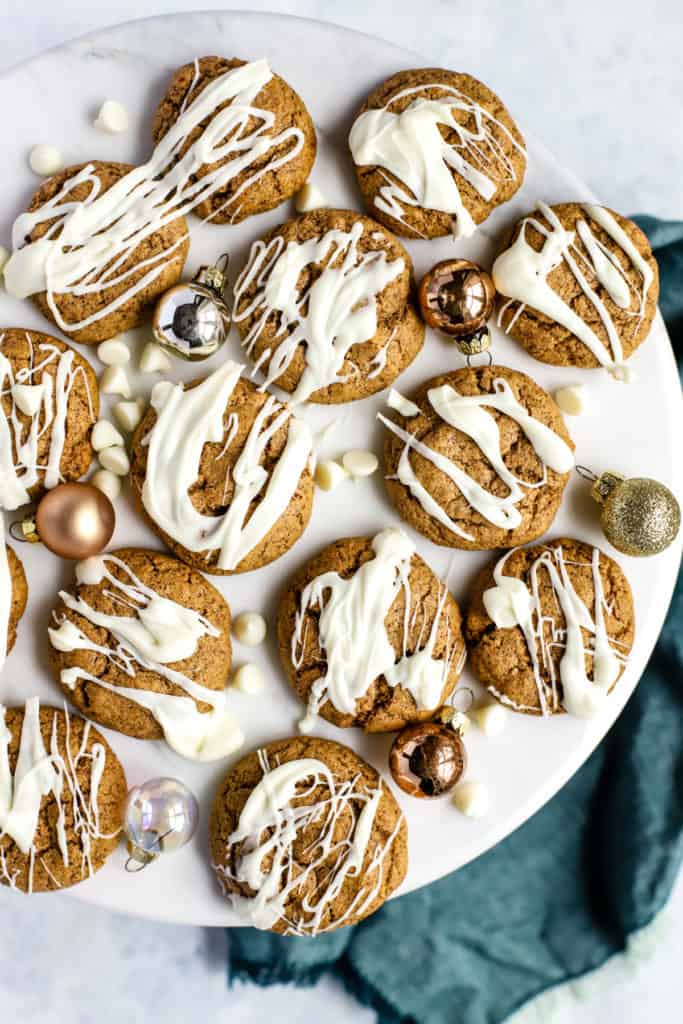 Baking this weekend? These flourless almond butter cookies are the perfect simple, healthier holiday treat to try this year! They are almond-buttery with just enough sweetness, and topped with white chocolate drizzle perfection. If I had to guess, I would say these cookies would get along swimmingly with your afternoon coffee... we should introduce them.
Ingredients
For these flourless almond butter cookies, you'll need:
Almond butter - Creamy or crunchy! The almond butter works as flour in this recipe.
Brown rice syrup or honey - Other liquid sweeteners like maple syrup will work too, but the thicker, syrupy natural sweeteners work best for a thicker cookie.
Baking soda - Your typical leavening agent.
Egg - For structure and leavening.
Vanilla extract - Optional, but adds wonderful flavor.
Salt - For flavor and balance with the sweeteners.
Cinnamon - Straight up delicious.
White chocolate chips - For melting and drizzling over the cookies.
Ingredient Substitutions:
Peanut butter or any other nut/seed butter for almond butter.
Coconut sugar, honey, molasses, or maple syrup for brown rice syrup (note that maple syrup will yield a wetter dough and thinner cookie, but still delicious). Brown sugar will also work well and taste delicious if you are okay with using a refined sugar.
Dark or milk chocolate for white chocolate.
Success Tip: The ingredients combine best when they're brought to room temperature first. To bring an egg to room temperature quickly, place it in a bowl or container filled with warm water for several minutes.
How to Make These Cookies
Simple ingredients and no mixer or dough-chilling necessary! All you need is one bowl, a whisk, spoon, measuring spoons & cups, and a baking sheet.
While your oven is preheating to 350 degrees, prep a baking sheet by lining it with parchment paper or a silicone baking mat. Then, whisk together the almond butter, brown rice syrup or honey, egg, vanilla extract, salt, and cinnamon in a bowl. The mixture will be wet and thick, but should still form easily into cookie dough balls.
Next, roll the almond butter cookie dough into 1-inch balls and place them a few inches apart on a parchment-lined baking sheet. Bake them at 350 for 12-14 minutes, then allow to cool on the pan for a few minutes. While they might appear soft out of the oven, they'll firm up as they cool.
While the cookies are cooling, you can prep the white chocolate. Simply melt about ¾ cup of white chocolate chips in a small bowl by microwaving in the 30-second intervals, stirring between each until the white chocolate chips are uniformly melted. Using a spoon, drizzle the melted white chocolate over the cookies.
Finally, let the cookies sit for a few minutes, while the white chocolate sets. Then, EAT (because of course you haven't had any already...) with a side of coffee, cocoa, or your favorite cozy winter drink.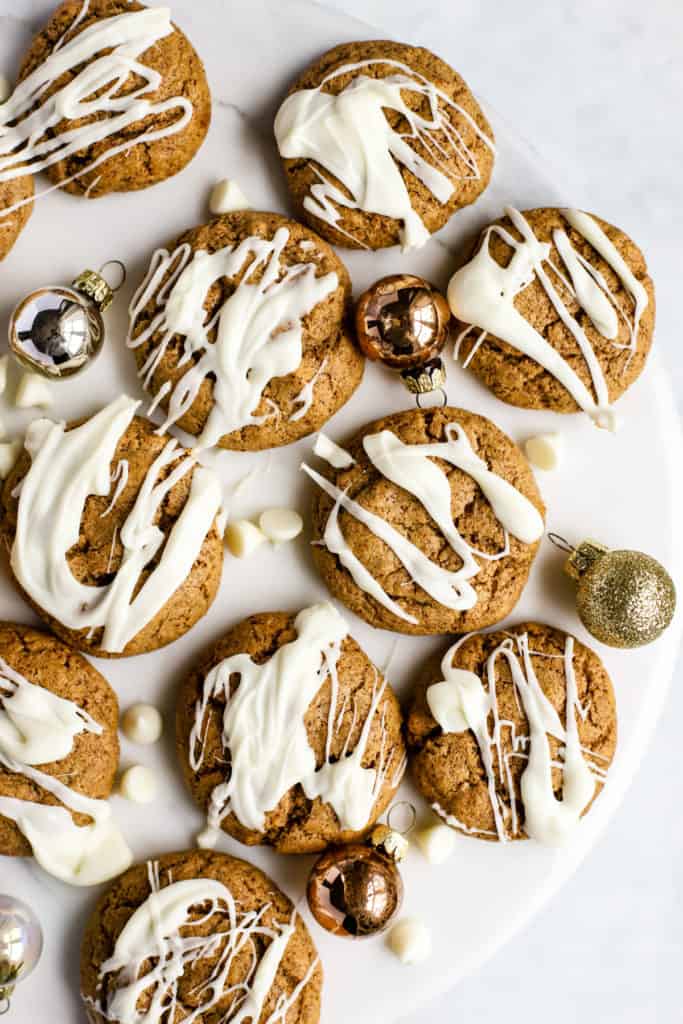 Flourless Almond Butter Cookies: Notes & Tips
Freezing & Storing: Store flourless almond butter white chocolate cookies in an airtight container at room temp for up to a week for optimal freshness. To store for longer, you can freeze these cookies in an airtight container or zip-top bag for up to three months, and thaw on the counter before eating.
White chocolate chips: To keep these cookies as clean as possible, try to find chocolate chips with no artificial flavors or dyes in them. The kind from Nestle, Good & Gather (Target brand), or Trader Joe's are all great!
Small-batch: This makes a batch of about 14-16 cookies, which can be easily doubled if you want more. If you're baking a ton of other cookies for the holidays, then you won't overdo it with a bunch of huge batches. Or, if you want this to be one of your main holiday cookies, you can double up!
Other Delicious Treats
And Some Smoothies to Balance It All Out...
Print
Flourless Almond Butter Cookies
Flourless almond butter cookies are gluten free, simple, healthier holiday treats! No mixer, no chilling time required, small batch that can be easily doubled. P.S. They're drizzled with white chocolate, so basically, YUM.
Author:
Prep Time:

10

Cook Time:

24

Total Time:

34 minutes

Yield:

~16 cookies

Category:

Dessert

Method:

Bake

Cuisine:

American
1

cup

creamy or crunchy almond butter

¼

cup

brown rice syrup (or honey)

1

egg, beaten

1 tsp

baking soda

1 tsp

vanilla extract

¼ tsp

salt

½ tsp

cinnamon

¾

cup

white chocolate chips
Instructions
Preheat oven: Preheat your oven to 350 degrees and line a baking sheet with parchment paper or a silicone baking mat.
Mix almond butter cookie dough: Combine almond butter, brown rice syrup, egg, baking soda, vanilla extract, salt, and cinnamon in a bowl. Mix together together until just combined into a uniform mixture. The dough will be wet.
Roll cookie dough into balls: Roll the almond butter dough into about 1-inch balls and place a few inches apart onto the baking sheet.
Bake: Bake the cookies for 12-14 minutes and allow them to cool for a few minutes. Repeat steps 3 and 4 until all cookies are baked.
White chocolate drizzle: While cookies cool, melt the white chocolate chips in a microwave-safe bowl in the microwave in 30-second intervals. I 
Keywords: flourless almond butter cookies, gluten-free cookies