This post contains affiliate links for products I genuinely recommend, which means I earn a small commission at no cost to you.
Sheet pan black bean tacos for Cinco de Mayo! Black beans, carrots, red onion, garlic, lime and taco seasoning make a simple and incredibly flavorful taco filling. All you need is a sheet pan and 30 minutes.
I know I'm not the only one who's crunched for time on weeknights, and sometimes cooking just can't happen. On weeks where I'm prepared and I've meal prepped on Sunday, this usually isn't a problem. But on weeks following a weekend out of town (pretty frequently!), I have to get creative on weeknights. Enter sheet pan meals.
Oh, the humble sheet pan, typically used for roasting veggies and baking cookies, and otherwise forgotten among the muffin tin, cutting boards, and coolings racks (at least my mom stored all these things together growing up 🙂 They all seem to fit nicely together in those taller, narrower cupboards, don't they?). Little did we know it could make everything from stir fries to TACOS! And with Cinco de Mayo coming up, I have just the recipe for you.
Sheet pan black bean tacos with carrots and lime. Honestly, these happened on a day when I knew I should have gone grocery shopping, since I was pretty much out of ingredients. Still, I did not feel like going to the store and knew that creativity and resourcefulness could get me somewhere (although even that sometimes isn't enough when I wait till I literally run out of food LOL). Hence the lack of salsa, cilantro, cheese, and pretty much any other topping besides avocado. But I encourage you to add allllll of those things. And more 🙂
These kinda remind me of a taco obsession from a couple years back, which I shared with my roommate (i.e. close friend/pretty-much-sister that I mention frequently) at the time: honey-lime sweet potato, black bean and corn tacos from Cooking Classy. I think we made them almost every week for like...two months. She came home from work one night when I was first making them, and she was like, "Wait did you see those on Pinterest?" And I was like, "OMG YES" and she was like, "OMG I've been wanting to make those same ones I think!" And we got really excited and made them all the time, and had tons of family dinners together. If only we had thought to make them on sheet pans!
Seriously, though. Even if you're not making anything for Cinco de Mayo this Friday, these sheet pan black bean tacos would be fantastic for any weeknight meal because they're so ridiculously simple. For the time-constrained person that loves to cook and eat good, real food, tacos and sheet pan meals will change your life. And it just so happens that I combined the two for this recipe!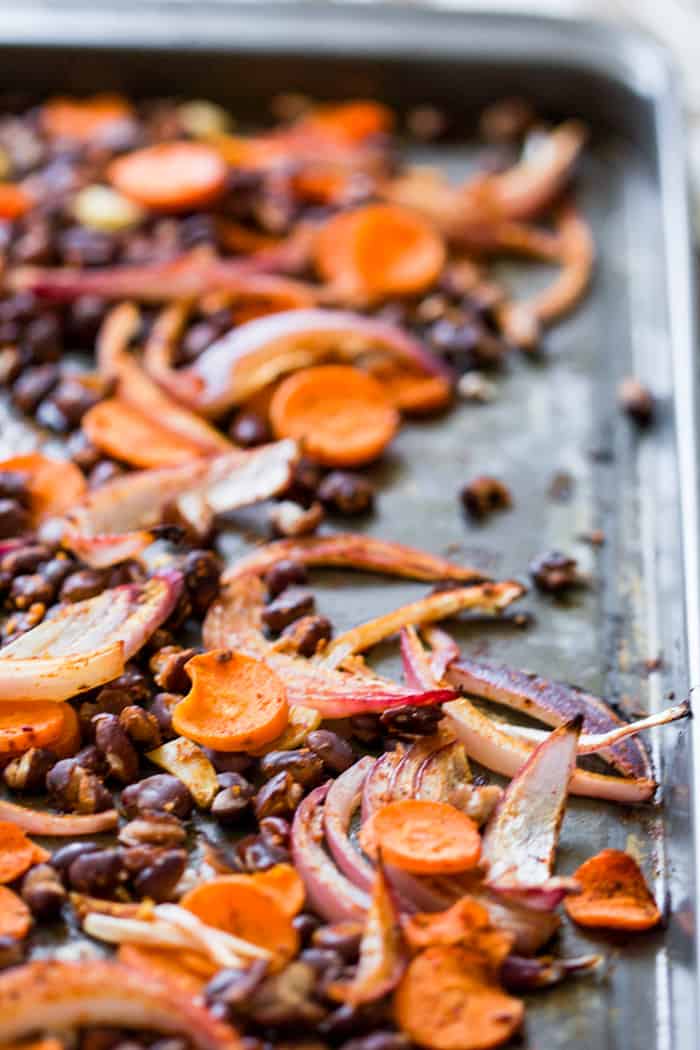 Sheet Pan Black Bean Tacos - Some Tips:
Rinse and drain your black beans, if canned. I always do this because it gets rid of unnecessary sodium.
Slice your carrots really thin! Not paper thin (like with a mandolin slicer), but just a couple millimeters thick should do the trick. This way they cook faster and are easier to eat in the tacos because they get soft and bendy. If they're too thick, they will cook slower than the other ingredients and are hard to keep in the tortillas. Come to think of it, it helps if you slice the red onions pretty thin, too.
Choose corn tortillas, or any kind of whole grain tortilla without artificial ingredients. It's so much more nutrient dense this way, just as delicious, and the ingredients are fewer and more minimally processed.
Don't go easy on the lime 😉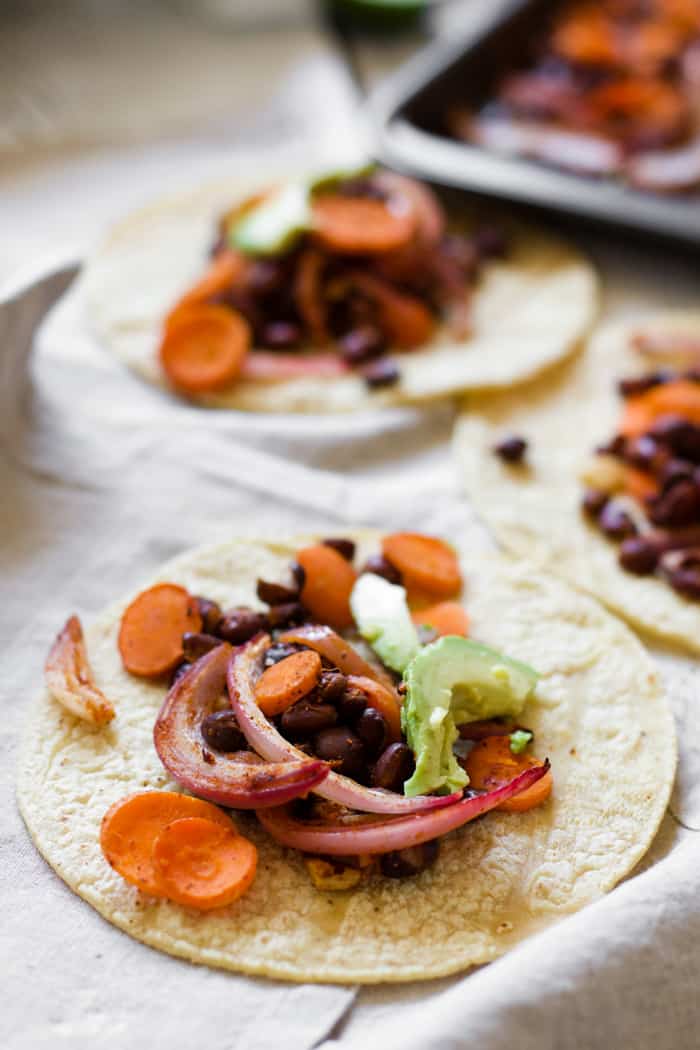 Serve with TONS of salsa, avocado, cilantro and lime, because really you can never have too much of that stuff. Oh, and if you like cheese, try Monterry Jack, cotija or feta. Or sour cream (my younger bro eats an obscene impressive amount of sour cream on tacos... and most other things). Or whatever you think would be good, that also has whole and natural ingredients 🙂
Friends. Right now I'm thinking about all the sheet pan taco possibilities. And all the sheet pan possibilities, for that matter.
I'm also thinking about how I'm seriously procrastinating on packing for my Denver trip (the one I mentioned a couple posts back). I leave tomorrow, so I better get packing like... now!
Enjoy yourself some tacos and Cinco de Mayo celebrations!
Print
Sheet Pan Black Bean Tacos with Carrots and Lime
Sheet pan black bean tacos with carrots, red onion, lime, garlic and taco seasoning. Serve in corn or whole wheat tortillas with avocado, cilantro, salsa, sour cream, or any other toppings.
Author:
Prep Time:

10 mins

Cook Time:

25 mins

Total Time:

35 minutes

Yield:

4

1

x
1

red onion, thinly sliced into half moons

1.5 cups

carrots, thinly sliced into coins

5

cloves garlic, thinly sliced

1

14 oz. can black beans, drained and rinsed

1 Tbsp

olive oil
Juice of

1

-

2

limes

1.5 Tbsp

favorite taco seasoning

8

corn tortillas for serving
optional toppings: avocado, cilantro, sour cream, salsa, more lime
Instructions
Preheat oven to 350 degrees. Spray a sheet pan with olive oil spray, or line with a silicone baking mat.
In a large bowl, combine red onions, garlic, carrots and black beans. Add olive oil, lime juice and taco seasoning to ingredients in bowl. Toss until everything is coated well.
Pour ingredients onto prepared sheet pan, making sure to spread out evenly.
Bake for 25 minutes, checking at 20 minutes to make sure nothing gets overdone. If ingredients are nicely browned, softened, and some of the black beans have split, remove from oven and allow to cool for 5 minutes.
In a microwave, warm tortillas for 10-15 seconds. Serve tacos with optional toppings (I love avocado, cilantro, and a little extra lime).