This post contains affiliate links for products I genuinely recommend, which means I earn a small commission at no cost to you.
Homemade Greek pizza with roasted red pepper sauce is an easy, healthy comfort food for any weeknight or weekend. ~Roasted red pepper pizza sauce, whole wheat crust, kalamata olives, red onions, tomatoes, yellow peppers, feta~
Is anyone else wondering how it's possible that Christmas is already... tomorrow?! I feel like it was just a few months ago that I was writing about Christmas Cookie Family Favorites, but then I think back to January and all the life things that have happened since then, and I guess I can believe it's been a year. But seriously... a year?! I think my brain stopped processing the speed of time in, like... September.
But, as much as I love Christmas, the real reason we're here to talk is about this incredible homemade Greek pizza. You guys. It was just one of those recipes where you eat it for lunch, snack, dinner, dessert (oh, pizza dessert is totally thing -- I learned it from my older brother), and then breakfast. Come to think of it, that's how I finish a lot of recipes in this apartment ;). It's just... where has homemade pizza been all my life?! I just don't know. Which is why you need to know about it, stat.
So, let's start with the ingredients. For me, it's all about the sauce. Remember a couple weeks ago when we made this roasted red pepper pizza sauce? Well I obvs had to come up with 50 new pizza recipe ideas to go with it (I tend to go overboard when I get inspired), and that led me first to something Greek themed. Mostly because I just can't help but get all Mediterranean when roasted red peppers are involved. Anyone else have this problem? Bless those roasted red peppers...
As for the rest, it's basically just your classic combo of Greek flavors -- no twists or secret ingredients. You can probably guess them before I even tell you!
Kalamata olives
Red onions
Tomatoes
Yellow peppers
Feta
Fresh oregano
See? Pretty standard, but always a winning combination in my book. Then, there's...
The Crust.
Okay, so I don't have a homemade pizza crust recipe for you because I'm not that awesome yet ;), but for this homemade Greek pizza I just bought whole wheat pizza dough from the store and it worked beautifully. Pizza dough has pretty basic ingredients, though, so you can probably easily make it yourself too if you have time. (I like this homemade whole wheat pizza crust recipe from Sally's Baking Addiction. Or this Easy Whole Wheat Pizza Dough from Cookie & Kate.) Other ideas for crust? Try:
whole wheat pita bread or flatbread
whole wheat tortillas
ready-made whole wheat pizza crusts (a lot of stores carry them!)
Whatever works for you 🙂 Just look for clean ingredients on the label (nothing artificial, no preservatives, etc.), and 100% whole wheat, and you're good to go. Sprouted whole wheat or grains? Even better. You do you!
I really liked the way it turned out with pizza dough. You just flour your kitchen work surface, flour the dough a bit, roll it out evenly, and you're set. It tastes really fresh and homemade, I promise.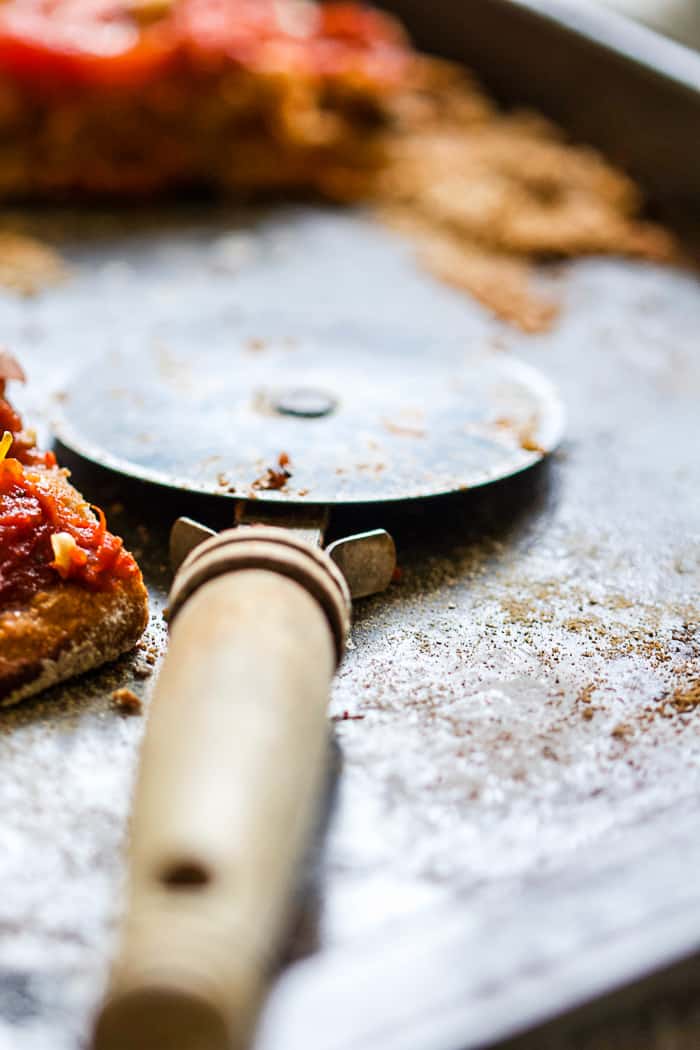 But What I Really Love About Homemade Greek Pizza is...
Healthy. Does this surprise you? Pizza isn't usually associated with health, but if you use whole wheat crust and load it up with veggies, you've got yourself a pretty square meal. Complex carbs, nutrients from vegetables (as toppings and from the sauce), and protein from cheese and/or meat. It's energy dense, but also nutrient dense. And that's a good thing.
Easy. It's soooooo easy to make pizza (especially if your crust is already made). I love it for movie nights with family and friends on weekends, football games, or just any regular weeknight.
Delicious. In my humble opinion ;). Nah, the flavors really do speak for themselves, I think. Homemade Greek pizza is for you if you like something that's:

Salty (in a feta/kalamata olive sorta way)
Comforting
Tomato-y
Fresh
Vividly flavored
Well.... straight up pizza (it's just hard to go wrong)
I know it's definitely for me!
How You Make It
So, you'll start by preheating the oven to 375 degrees and getting your crust ready. If you use pizza crust dough like I did, flour your work surface, a rolling pin, and the dough. Then, roll it out to your desired thickness and put it on a pizza stone or a sheet pan (like me). Mine stuck to the sheet pan a bit, so it's worth using parchment paper or nonstick spray.
It's all logically sequenced pizza-making steps from there. Sauté the onions, garlic, and peppers a little bit first in some olive oil to soften them up -- about 7 minutes should do it. Meanwhile, spread the sauce over the crust. I tend to like a really saucy pizza, but feel free to leave some off if you're not as much of a sauce person. Next, place the sliced tomatoes on the pizza. Once the onions, garlic, and peppers are softened a bit, layer them evenly over the sauce layer as well. Sprinkle on the kalamata olives. DUMP that feta on there -- don't hold back (cuz protein and calcium). And finish it off with some fresh or dried oregano and an optional drizzle of olive oil.
Bake at 375 for about 20 minutes. Slice. Eat. I would say wait for it to cool, but I definitely didn't do that, much to the dismay of the roof of my mouth.
Merry Christmas Eve, guys 🙂 Have some pizza!
Print
Homemade Greek Pizza with Roasted Red Pepper Sauce
Homemade Greek pizza with roasted red pepper sauce is an easy, healthy comfort food for any weeknight or weekend. ~Roasted red pepper pizza sauce, whole wheat crust, kalamata olives, red onions, tomatoes, feta~
Author: Tera
Prep Time:

15

Cook Time:

20

Total Time:

35 minutes

Yield:

4

-6

1

x
Category:

Dinner

Method:

Bake

Cuisine:

Italian
1

lb. whole wheat pizza dough or your favorite pizza crust

¾ cup

roasted red pepper pizza sauce (add more or less based on preference)
extra virgin olive oil

4

cloves garlic, sliced

½ cup

red onions, thinly sliced into half-moons

½

yellow pepper, diced

2

Roma tomatoes, sliced

¼ cup

kalamata olives, roughly chopped

1 cup

feta
Fresh or dried oregano
Instructions
Preheat oven to 375 degrees. Spray a sheet pan with nonstick spray or line with parchment paper, or prepare pizza stone.
If using a pre-made crust (or pita bread, tortilla, etc.), place onto prepared sheet pan. If using whole wheat pizza dough, flour surface, dough, and rolling pin. Roll dough out to desired thickness. Place on prepared sheet pan.*
In a sauté pan, drizzle some olive oil and heat over medium. Add garlic, onion, and pepper, and sauté until softened, about 7 minutes.
While veggies are cooking, spread sauce over the crust. Layer tomato slices evenly over sauce. Once veggies are done, add them to the pizza in another even layer. Sprinkle on kalamata olives, feta, and fresh or dried oregano.
Bake at 375 for 20 minutes. Feta doesn't get super melty to begin with, but it should be hot and maybe slightly browned in some spots. The crust should be cooked through. Slice and eat 🙂
Notes
*Tip: You can just roll it out right on the sheet pan itself.