Have you gone apple picking yet?? If you haven't... I think you need to, because how else will you make these apple pie yogurt parfaits?!
I mean, yeah, I guess you could always go to the store to buy them.... but nothing beats fresh orchard apples, and the experience of going to the orchard to pick them. If you have a farmer's market nearby, that would be a great option if you need fresh orchard apples in a pinch!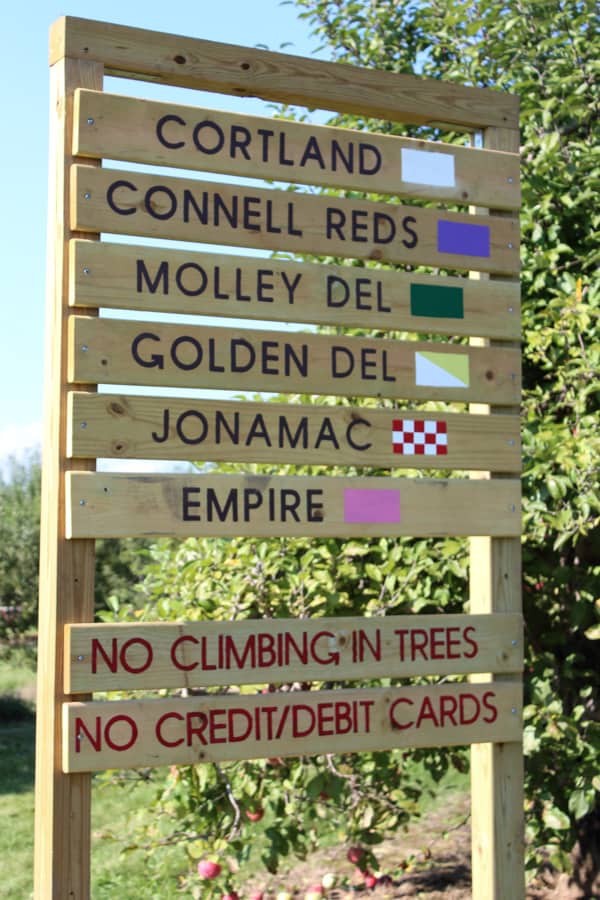 Apple picking is one of my favorite things to do. Ever. Of all time. I wish I could do it year-round! Ever since I was young, my family has gone to the same apple orchard, and to this day I look forward to going every fall. Even though I live several hours away, I always make it a point to venture back up to see my family and go apple picking at that same orchard, which has a special place in my heart. I have so many memories there... like the time I couldn't eat a caramel apple because I had braces. Oh wait, that was three times 😉 But mostly, I love the memories of the smell and feeling of fresh open air, peacefulness, sun, and beautiful colors all around. You know when you just have a really positive association with some place or experience? This is one of mine. Like clockwork, every year when crisp fall air moves in and leaves start changing colors, I get nostalgic for all of my fall memories, and I know it's time to revisit one of my favorite places in the world.
This year just my mom and I went on a beautiful sunny Saturday to pick Cortlands and Macs (McIntosh... we abbreviate a lot of things in my family), the former for eating, and the latter mostly for baking. It was the perfect weather for apple picking: cooler, fall air, but still sunny and warm, and no humidity. Dozens of families were there enjoying the pumpkins for sale, the petting zoo, and the little bakery/shop where pickers pay for their apples. I love that bakery so much! They sell this homemade apple butter than I am obsessed with... I have to get it every year!
These apple pie yogurt parfaits, though. Hooooly buckets. You guys will love them. When I tried one, I thought I was having dessert for breakfast, which is breakfast goals... right??
So, why are yogurt parfaits an amazing breakfast option, anyway? Here's what I like:
They're high in protein
You can make them ahead
There are endless delicious flavor combinations
You can eat them out of mason jars (let's be real: eating things out of jars has always been fun, even before it became trendy!)
They can also satisfy a sweet tooth
Whenever I make a parfait or a big bowl of fruit and yogurt, I love to add something crunchy, whether it be nuts, chia seeds, cereal, or granola. The variety of textures is the best part, and it adds another dimension of flavor. In some cases your fruit can serve as the crunchy element on its own, such as raw apples or maybe even grapes; however, the apples in this recipe are sauteed to resemble pie filling... leaving you the perfect opportunity to add your favorite crunchy granola or a handful of nuts/seeds.
If you have this for breakfast, I promise promise promise it will start you off to an amazing day. Actually, don't hold me accountable for that. But seriously. I think you need these in your breakfast/second breakfast/snack/dessert life this season (preferably tomorrow).
Print
Apple Pie Yogurt Parfaits
Author:
Prep Time:

10 mins

Cook Time:

2 hours

Total Time:

2 hours 10 minutes

Yield:

2

1

x
Category:

Breakfast
2

MacIntosh, Cortland, or Granny Smith apples, diced (peeling optional)

2

-

3

tablespoon honey

1 tsp

apple pie spice (or

¾ tsp

cinnamon +

¼ tsp

nutmeg)

2 cups

plain or naturally-flavored vanilla Greek yogurt (or regular yogurt)
sweetener, to taste (optional)

½ tsp

pure vanilla extract
your favorite granola
Instructions
For the apples: Heat the honey in a small pan over medium heat. Add apples and apple pie spice to pan and, making sure they're well-coated with honey, cook until soft. Chill 1-2 hours or overnight.
For the yogurt: Measure out yogurt into a large bowl. If using plain yogurt, add sweetener of choice (such as Stevia, sugar, honey, etc.) and vanilla extract. Whip ingredients together until thoroughly combined.
Assemble the parfaits: In a tall glass, mason jar, or any bowl you have on hand, layer ½ cup yogurt, ¼ cup apple mixture, and a sprinkle of granola. Repeat for remaining layer, and for other parfait.
Notes
Cook time includes chilling time, but actual assembly of parfaits only takes around 5 minutes.
Do you have a favorite orchard? A favorite fall activity or tradition?
Enjoy!!