This post contains affiliate links for products I genuinely recommend, which means I earn a small commission at no cost to you.
This recipe for homemade maple cranberry almond granola is naturally sweetened with maple syrup and made with wholesome ingredients (and it's vegan-friendly!). It's both easy and portable -- make up a batch for breakfast or snacks throughout the week!
Sooo I kinda sorta got us into a -- very delicious -- maple cranberry almond granola situation.
The thing is, I've had breakfasts and snacks on my mind a lot lately -- more or less since I was born -- and increasingly more-so the "on-the-go" kind. You know those times in your life when you're only at your apartment to sleep? And sometimes not even that?? Friends, these are the times when we need delicious things to be accessible to us as we sprint out the door. Luckily, granola totally fits the bill -- for a healthy dessert, too -- which is why we're hopping on this maple cranberry almond granola train at full speed.
Now, granola can be a little tricky. You need the right ratio of ingredients so that it doesn't burn, has the perfect amount of sweetness, and has a healthy mix of big/small clusters. You know what I mean about the clusters? I thought so.
Admittedly, I have violated all of the above mistakes in my granola-making life, but not to worry -- we'll go over all the granola-making tips, and all that tops your yogurt will be perfectly clustery and maple-sweetened.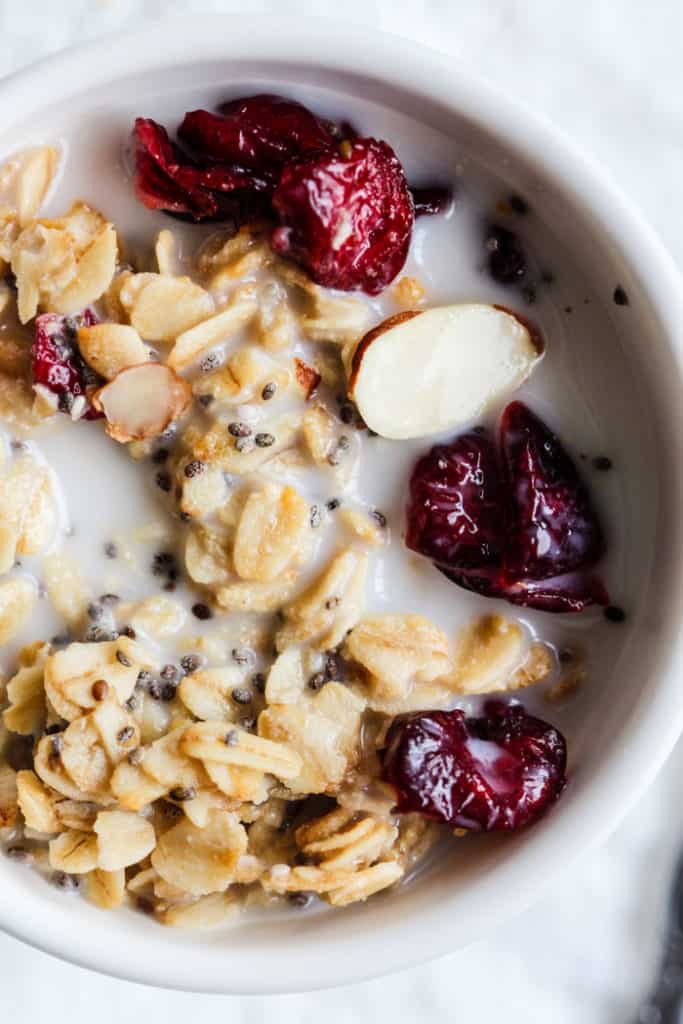 This maple cranberry almond granola is...
Vegan
Naturally sweetened (with maple syrup!)
Portable
Clustery
Crunchy
Sweet enough, but not too sweet
Reminiscent of cookies (yup, like cookies for breakfast, but not Cookie Crisp)
In a nutshell, this stuff needs to top your yogurt as soon as humanly possible, but first let's get into some quick Granola 101.
How to Make Perfect Granola
Starting with the perfect granola ratio. Here are the bare essentials:
3 cups rolled oats + ¼ cup flour + ½ cup coconut oil + ½ cup natural liquid sweetener + ¼ teaspoon salt + ~2 cups add-ins
Whenever you're making granola without an exact recipe, just remember this formula, swap out variations of ingredients to obtain different flavors, and you'll be golden. Let's go over it ingredient by ingredient.
Basic Granola Ingredients
Oats. Whole rolled oats work the best because they're sturdier than quick oats. Quick oats are further broken down in order to help them cook faster, and they won't withstand being combined with the other ingredients and cooked in the oven. This probably won't vary much, though I have seen some granola recipes made with quinoa.
Flour. Flour was a game-changer for me over in granola-land. Just ¼ cup is the perfectly subtle binding agent that helps form those beloved oat clusters. I like to use spelt flour, whole wheat flour, whole wheat pastry flour, or white whole wheat flour. You can try other flours or flour-like substances as well, like almond flour, coconut flour, protein powder, or cocoa powder. Remember that nut butters also act as flours when it comes to baking, so if you use almond butter or peanut butter, you won't need flour in addition to these ingredients (kinda like this simple peanut butter granola).
Coconut oil. Granola needs a fat source to keep it from drying out, and coconut oil does one heck of a job. It provides a perfectly mild richness and coats the granola to keep it from burning. Feel free to use other oils as well, or butter. In my experience, butter has browned the granola a little too much, whereas I haven't had this problem with oil.
Honey, maple syrup, agave, brown rice syrup. All delicious, all work pretty much equally. Use honey or brown rice syrup if you want a stickier, even more clustery consistency, but keep in mind that the cooking method you use will also influence the clusterability (more on method in a sec)(and yes, I did just say clusterability). In other words, you can get some seriously awesome clusters with only maple syrup -- like in this cranberry almond granola recipe -- with the proper method. Bottom line, you have options as far as natural sweeteners go!
Salt. You guys, one time I forgot the salt, and believe it or not, that missing ¼ teaspoon MATTERED. I tasted the granola and thought, man, this granola needs some salt. Luckily salt is something you can sprinkle on when the granola is warm out of the oven if you forgot beforehand.
Nuts, seeds, dried fruit, chocolate, etc. I usually add about two cups, but you can do a little more or less depending on your personal preferences. One thing to keep in mind when you're choosing add-ins is variety of texture. For example, I like about ¼ cup of small seeds in there -- think chia, flax, or sesame seeds -- to vary the sizes and textures of ingredients and add nutritional value.
Optional extracts. Some standards are pure vanilla, almond, or lemon extracts, but any that interest your tastebuds will work! (Remember to avoid anything artificial). Now, extracts are generally optional for granola, but strongly encouraged. I rarely leave them out because they give granola that extra flavor that makes it tastes like cookies -- a very high priority. While you will need almond extract for this maple cranberry almond granola recipe, feel free to omit extracts if you don't have them on hand.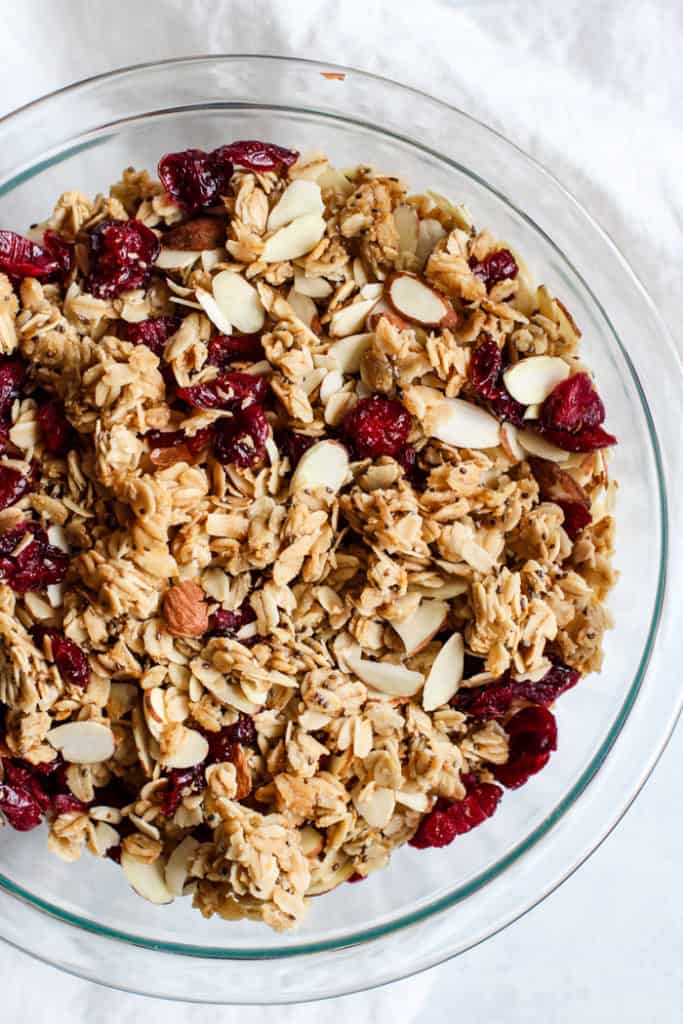 Top Five Granola-making Tips
It's allll in the method. Er, well, a lot of it is. Here are some of my favorite granola-making tips that will get you excellent results every time.
Nix the parchment paper. I love me some parchment paper -- it's so useful in most baking adventures! However, when it comes to granola, parchment paper absorbs a lot of the oil, which dries out the granola. I prefer silicone baking mats (affiliate link),aluminum foil, or just a bare sheet pan.
Low and slow. You'll only be preheating your oven to 300 degrees -- 330, tops -- and baking the granola on the low and slow to avoid burning it. Trust me on this one -- I have pulled oat ashes out of the oven on numerous occasions.
Don't stir it too much. You'll definitely want to check the granola halfway through baking, and you can move things around in the pan a little bit, but don't overdo it to the point of breaking all the oats apart. That way, they'll stick together in clusters a bit more at the end.
Let it cool. Along the same lines, once you remove the granola from the oven, you will be tempted to stir it around. (At least, I am. In the same way I'm tempted to touch all the breakable things in stores.) Don't do it! Let it cool completely first to give it a chance to stick together -- this is key for creating granola clusters! After about 15 minutes, when you start to break the granola off to get it out of the pan, you will find yourself in cluster city.
Add-ins: now and later. Some add-in are better off added before baking, some after, and some could go either way. Toss in your smaller seeds (chia, flax, sesame) prior to baking to help them stick in the clusters better. As for nuts (almonds, walnuts, etc.), you could honestly go either way. If you add them before, they get all nice and toasted, but they're just as delicious mixed in afterwards. Finally, dried fruit is best added after baking.
So, how about it? You, me, and granola-making this weekend?? It's the ultimate way to bake something when you don't want to wait for butter and eggs to come to room temperature, or get out your heavy mixer. (As much as I love my mixer, sometimes it's the only obstacle between me and cookies, which is saying a LOT.)
You can enjoy maple cranberry almond granola plain, with milk, as a yogurt topping, on top of ice cream if you're into it (I am), or any other way you can think of!
Print
Maple Cranberry Almond Granola
Maple cranberry almond granola is naturally sweetened, vegan, and perfect for delicious on-the-go (or not!) breakfasts and snacks. 
Author: Tera
Prep Time:

25

Cook Time:

35

Total Time:

1 hour

Yield:

~4 cups

Category:

Breakfast

Method:

Bake

Cuisine:

American
3 cups

rolled oats

¼ cup

whole wheat flour

¼ cup

chia seeds

¼ tsp

salt

½ cup

coconut oil

½ cup

maple syrup

½ tbsp

almond extract

¾ cup

sliced almonds

¾ cup

dried cranberries
Instructions
Preheat oven to 300 degrees. Line a baking sheet with a silicone baking mat or aluminum foil.
In a large mixing bowl, combine oats, flour, chia seeds, and salt. If you prefer to add in the almonds before baking, do so now. Mix until evenly combined. 
In a small pot, combine coconut oil and maple syrup and heat over low-medium heat, stirring until completely liquid and combined. Remove from heat and add almond extract. Stir once more.
Pour the coconut oil-maple syrup mixture over the dry ingredients and stir until everything is evenly coated.
Spread granola evenly across the prepared baking sheet. Bake at 300 degrees for 35 minutes.
Once granola is slightly browned and the oats feel crisped up, remove from oven and allow to cool for 15 minutes. Break into pieces and transfer to a bowl. Mix in sliced almonds (if you haven't already) and dried cranberries. Stir everything together, and voila!
Notes
Serve cranberry almond granola plain, with almond milk, or as a yogurt topping.
Prep time includes 10 minutes of actual prep and 15 minutes of cooling time.
Keywords: maple cranberry almond granola, cranberry almond granola