This berry vanilla protein smoothie, in all its glory and milkshake consistency, is a particularly delectable way to enjoy your daily antioxidant, fruit, and protein intake.
Guys. We are already a week into 2019. How has yours been so far?? Have you tried anything new? Are you resolution sorts of people?
In all honesty I'm not a resolution kind of person. I mean, at least not for January 1. I'm constantly evaluating and re-evaluating myself, so doing so in January doesn't really feel any different than usual. I do, however, like to take some time every January to think about everything I can do and learn in the upcoming year, and plan for it. Where can I travel? Who can I visit? What classes can I take? What books can I read? How can I invest in my friendships? How can I challenge myself and push myself out of my comfort zone? What opportunities are there for me to try things I'm afraid to do?
You know, all those deep life questions 😉
So far this year I'm trying out this Class Pass program where you get a certain number of credits every month, and can spend them on various studio classes without having to be a member. Last Friday I did a spin class that was SUPER challenging but felt so good! Any spinners out there? How on earth do you maintain the same rotations per minute?! The instructor will tell us to go to 80 RPM, and suddenly I'm at like 100 RPM and then 70 and then 90 and maybe 80 for a hot second. Will I get better with practice?? If not, oh well. I just like that it's basically a dance party on a bike.
Bottom line, Class Pass is AWESOME, and so worth it if you're like me, and you love studio classes but don't want to be a member of just one studio and only do what that studio has to offer. Basically, I have studio class commitment issues 😉 Now I can do hot yoga, spin class, boxing, tango (yes!), and not have to commit to any one of those studios or gyms. And you get to try new things! Like Brazilian Jiu-Jitsu. Well, it'll depend on what studios/gyms are participating near you. But you should check it out if you need to break out of a rut or just learn something new and have fun.
Anywho, let's talk smoothie life. I have been on a smoothie RAMPAGE lately, whipping up hearty health concoctions left and right! So, naturally, I have yet another smoothie recipe for you -- and a few more coming because I just can't help but share these with you. And because deliciousness is a HUGE motivator for healthy eating.
If you read this mango turmeric ginger smoothie post already, you know how I like to make meal-worthy smoothies aka smoothies with more than just fruit and liquid. The more nutrient-dense, the better! And this berry vanilla protein smoothie is no exception.
Berry Vanilla Protein Smoothie Ingredients
Frozen bananas. Frozen bananas make for ice cream-like smoothies! I always slice and freeze bananas at the beginning of each week when I meal prep so that I have them ready for smoothies. The trick is not to wait until the bananas are too ripe (unless that's how you like them), or else your smoothies will be overpowered by that sweet taste of overripe bananas. I typically freeze them when they've just turned from green to yellow. All you have to do is peel, slice, and store in a container in your freezer until ready to use. Save the extra ripe ones for banana bread 😉
Frozen mixed berries. The ones I used in this smoothie were from Trader Joe's, but I don't think I've met a grocery store that doesn't sell frozen mixed berries, so they should be easy to find. You're also welcome to use just one type of berry, but I love all the flavors combined.
Vanilla protein powder. For that vanilla flavor, extra nutrients, and thick texture. I like this kind.
Almond milk. Or your favorite kind 🙂
Toppings. I LOVE cacao nibs, extra berries, and/or chia seeds. Permission to go a little crazy, as always.

A Few Notes on Smoothie Meal Prep
Meal prepping smoothies is totally possible and a great idea for those of you who are crunched for time in the mornings and throughout the day. Here are a few tips that I live by when it comes to smoothie meal prep:
Freeze it. Try freezing the ingredients into pre-portioned packages, such as a little glass container with ½ cup sliced banana, ½ cup berries, and ½ cup spinach. Then, when it comes time to make your smoothie, all you have to do is pour some milk, add a scoop of protein or some yogurt, toss in your pre-measured frozen produce, and blend. And off you go!
Make it ahead. So this one seems straight forward, but I actually don't like smoothies as much after they've been sitting in the fridge for a day (especially if they contain produce that browns easily, like avocados or bananas). So, my tip for you, if you want to pre-blend these guys, is to add a few ice cubes or more frozen fruit with a splash of liquid and blend again in the morning. This way, you keep that thick, cold, frosty texture instead of a runny, possibly separated, somewhat cold smoothie. Even though you have to blend again, you've still saved a ton of time by not having to measure anything out.
Chia seeds. Alternatively, if you blend up your smoothie the night before, toss in a couple tablespoons of chia seeds. They will grow gelatinous in texture, keeping the smoothie from becoming runny. Not to mention, chia seeds are amazingly high in fiber!
Save your greens! Okay, do any of you have that problem where you can't finish all your kale (or greens) before it goes bad? OR you got some kale in your CSA and it's disgusting except when you blend it into smoothies? (I love kale. Non-bitter kale, that is. Really I do. But my CSA kale from last summer was too bitter to eat in anything other than smoothies... or a whole stick of butter, LOL). Freeze it up! Divide your greens up into containers and freeze it before it goes bad. If you don't use it for smoothies, you can always use it in casseroles, pasta, egg bakes, etc.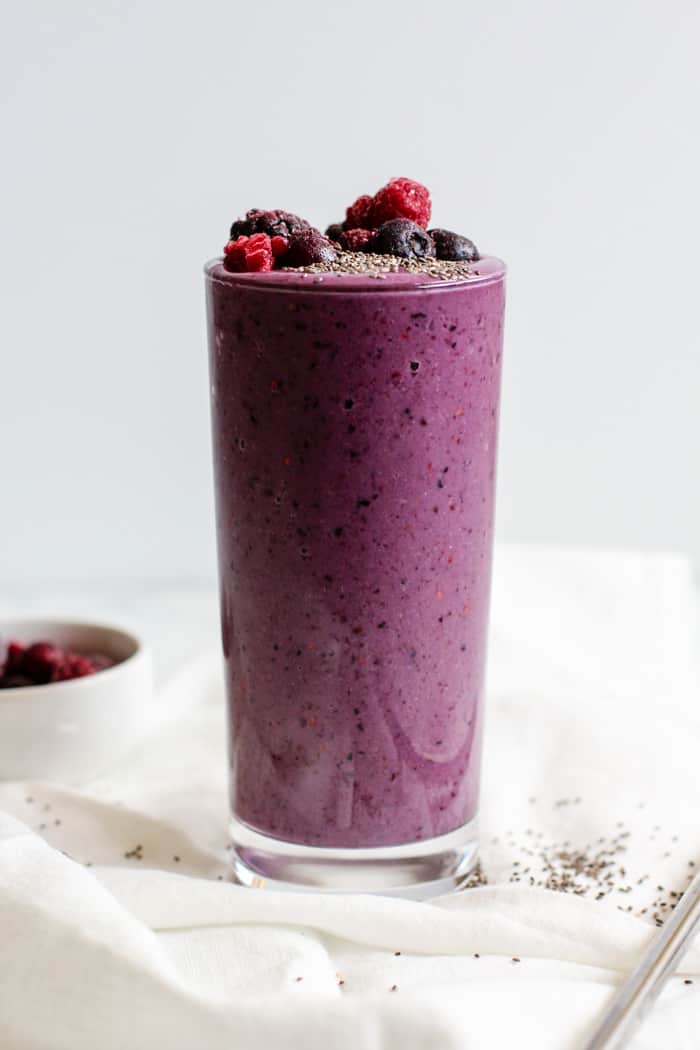 Now all you have to do is go try something new because it's a NEW year! It can be something small, like a new coffee shop you've been meaning to try but haven't 🙂
And after that go make yourself one of these indigo beauties (yeah, I know it's way more purple than it is indigo, but 'indigo beauties' has a nice ring to it, doesn't it?!).
xxoo
Print
Berry Vanilla Protein Smoothie
This berry vanilla protein smoothie, in all its glory and milkshake consistency, is a particularly delectable way to enjoy your daily antioxidant, fruit, and protein intake.
Author: Tera
Prep Time:

5

Total Time:

5 minutes

Yield:

1

1

x
Category:

Smoothies

Method:

Blend

Cuisine:

American
1 cup

almond milk (or milk of choice)

1

scoop vanilla protein powder*

½ cup

frozen banana slices

¾ cup

frozen mixed berries
A couple ice cubes

1 tbsp

maca powder, optional*
Toppings: berries, cacao nibs, chia seeds
Instructions
Combine all ingredients in a blender and blend until smooth. If it seems thick, add a splash of milk or ice water to keep things moving.
Top with cacao nibs, berries, and/or chia seeds if you'd like.
Keywords: berry vanilla protein smoothie
This post contains affiliate links, meaning I will earn a small commission if you purchase through those links. I use and believe in all the products I recommend. Thanks for your support!