These wholesome raspberry lemon muffins are naturally sweetened, made with unrefined ingredients, and they taste incredible! Greek yogurt adds extra protein and moisture, so these tender muffins make an excellent healthy breakfast or midmorning snack with coffee... all while tasting like a treat.
If you're thinking about baking this weekend... say, something like a cupcake or... oh, I don't know... a muffin!! Please oh please, let it be these incredibly tender and delicious wholesome lemon raspberry muffins.
The Ingredients
For these muffins, you'll need:
White whole wheat flour - This is one of my favorite baking flours because it swaps so easily for white flour, and provides all the nutritional benefits of whole grain while still yielding light and tender baked goods. Whole wheat pastry flour or whole wheat flour are excellent alternatives if those are what's in your pantry.
Coconut oil - I adore coconut, and now that I've had these muffins I adore it even more. For these raspberry lemon muffins, it helped create the most deliciously flavored, tender crumb that gave me total heart eyes.
Greek yogurt - Also helping us out with the tender crumb! Greek yogurt functions similarly to buttermilk or sour cream, which are known for helping create tender baked goods (and fluffy pancakes!). But, Greek yogurt does all of that while being more wholesome and providing extra protein. Any kind of plain Greek yogurt will do -- 2% is my favorite!
Honey - Honey made these muffins perfectly, naturally sweetened. You could also use maple syrup, agave, or another liquid sweetener in your pantry (swap 1:1).
Eggs - For flavor, leavening, and binding.
Fresh or frozen raspberries - I used frozen because they're more affordable in winter, and they worked beautifully! That said, if this were summer and raspberries were at their peak, I would 100% go for fresh. Ah, summer...
Lemon juice and zest - Lemons are the star ingredient in these muffins! I'm telling you, they magically create an incredible flavor. Lemon extract would work too, though I typically don't have lemon extract on hand... and I always have a bag of lemons in my fridge.
Vanilla extract - Always.
Baking soda, baking powder - The usual leavening suspects.
Salt - For flavor and baking perfection.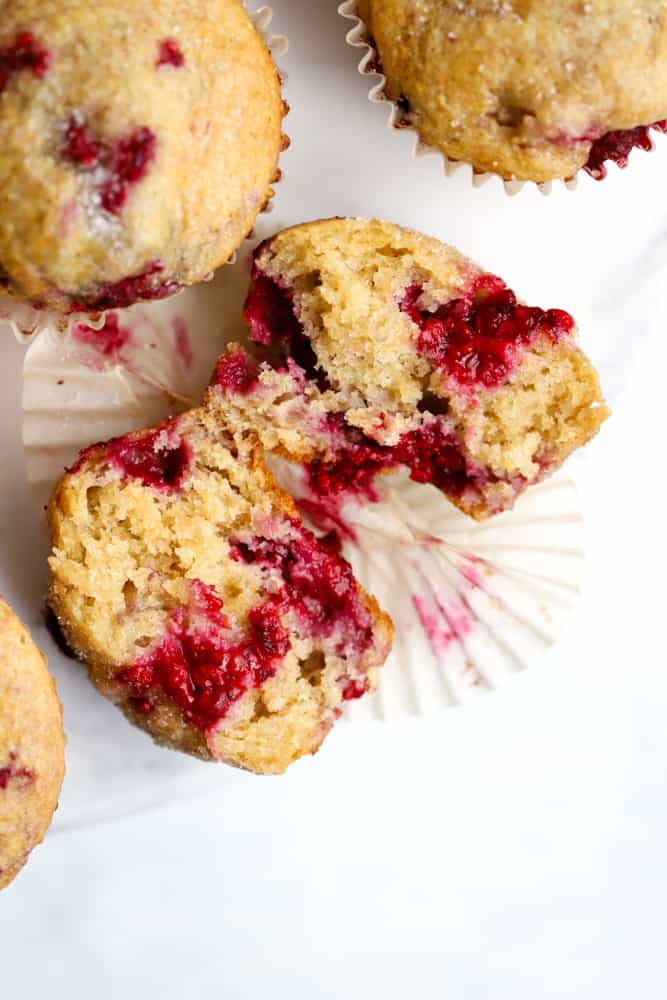 How to Make These Muffins
No mixer needed for these bad boys! If you've made muffins or quick breads before, you'll be familiar with the 'mix wet and dry ingredients separately, then combine' method, which is what we're doing for these wholesome lemon raspberry muffins.
First, preheat the oven to 425 degrees, and line a 12-cup muffin tin with parchment liners, or spray the muffin tin with a nonstick spray. Psst: These unbleached parchment liners (affiliate link) are my fave!
In a medium bowl, whisk together the flour, baking soda, baking powder, and salt.
Then, in a separate medium-large bowl, you'll melt some coconut oil and whisk it together with honey. While that mixture cools slightly for another minute or so, you'll whisk in a couple eggs with vanilla extract, lemon juice, and lemon zest. Finally, whisk in the Greek yogurt until everything is mostly combined. You'll still probably have a few Greek yogurt chunks, which will all be blended in once we get to the next step...
Combining wet and dry ingredients. Slowly pour the dry ingredients into the wet, whisking all the while until everything is just combined (careful not to over-mix).
Last but not least, the raspberries! You'll fold these sweet gems gently into the muffin batter. If you're using frozen raspberries, do not thaw them first.
Success Tip: Toss the raspberries in a small amount of flour before adding them to the muffin batter, to prevent them from sinking to the bottom of each muffin cup while baking.
Now, evenly divide the muffin batter among the 12 muffin cups in your prepared tin (the batter will be thick!). Bake the muffins at 425 for five minutes, then reduce the heat to 350 for the final 16-18 minutes. Starting the muffins at a high heat and reducing it creates those high muffin tops! I learned this muffin trick from Sally's Baking Addiction and haven't baked them another way since.
When the muffins are done baking, remove them from the pan and allow them to cool. Then, bada-boom, bada-bing. You've got muffins and a kitchen that smells like heaven.
A Little Something Extra...
Growing up, when my mom used to bake blueberry muffins, she would always dip the tops in a little melted butter, and then in sugar. SO GOOD.
For these raspberry lemon muffins, I did something similar: I melted a little bit of coconut oil and spread it onto each cooled muffin. Then, I sprinkled a little bit of organic cane sugar onto each one to add a little sparkle. If you have coarse sugar, that would work too, and it would totally give the muffins that bakery-style sparkle and crunch.
That said, this step is totally optional. Your muffins will still taste amazing without it!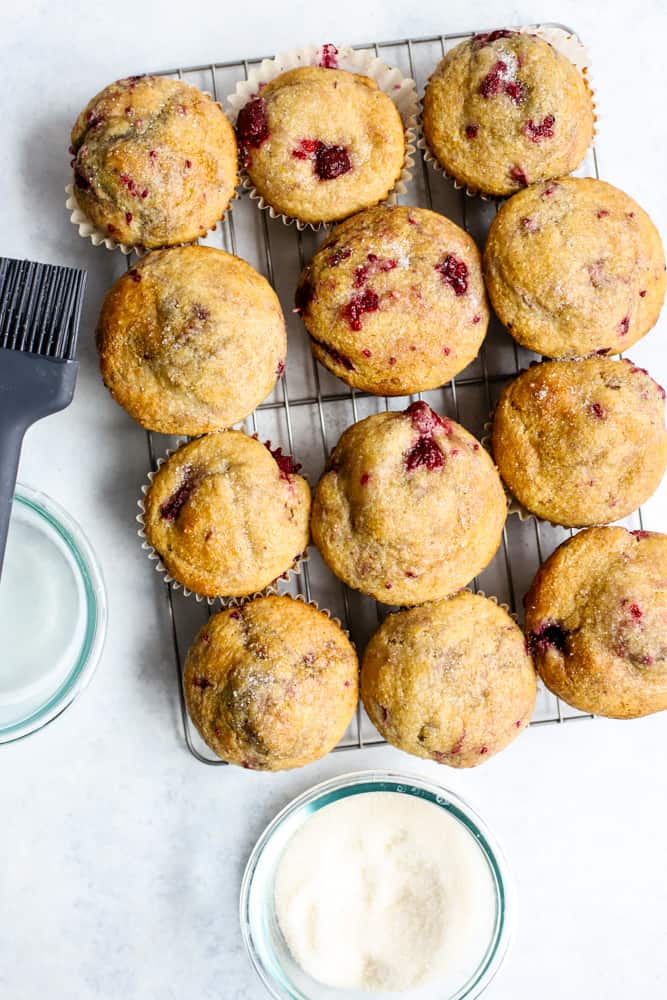 Freezing & Storing Raspberry Lemon Muffins
Storing: If you plan to eat all the muffins immediately, I recommend storing them in a tightly sealed glass container at room temperature for up to a week. Make sure they're cooled completely before you seal them! If they're still warm, they'll release moisture into the container and you might end up with some moldy muffins.
Make Ahead & Freeze: You can also make these muffins ahead and freeze them! Allow them to cool completely before putting them in a zip-top bag or airtight glass container, then freeze for up to three months.
Reheat: You should definitely have at least one muffin while they're warm and fresh from the oven. When you're ready to have one later or the next day, I highly recommend popping it in the microwave for 10 seconds. OMG it's amazingly warm and delicious again... especially with a smear of butter.
Do they need butter? No. But definitely do it ;).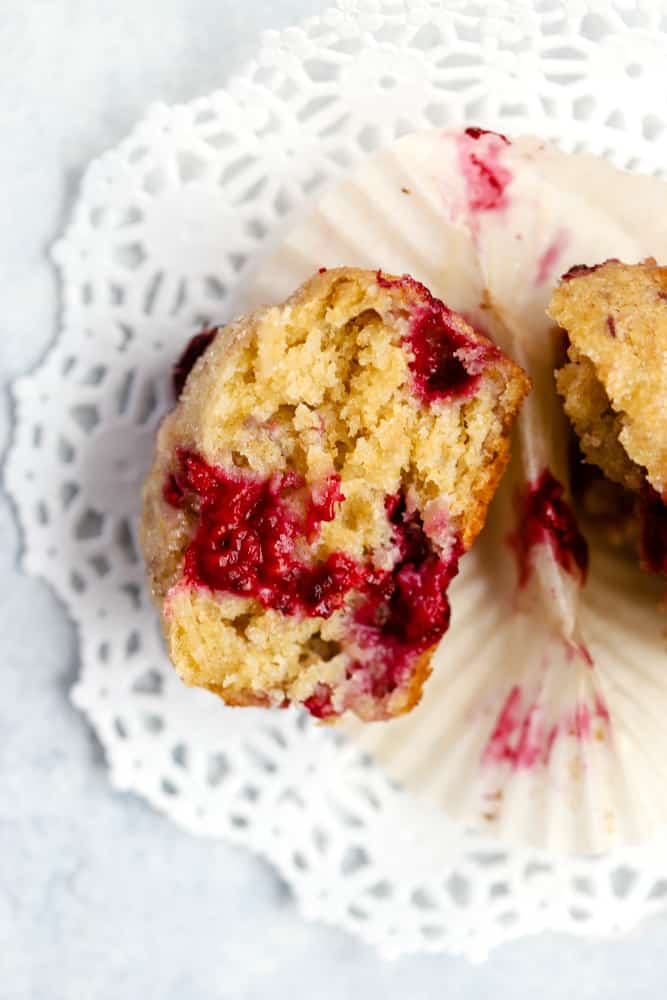 More Weekend Baking...
I don't know about you, but I definitely have some overripe bananas on my kitchen counter right now. You too? We should probably make these muffins and some spelt flour banana bread, or:
P.S. Something cool! You can now find me in Feedspot's Top 100 Home Cooking Blogs.
Print
Wholesome Raspberry Lemon Muffins
Raspberry lemon muffins with white whole wheat flour and Greek yogurt for extra tenderness, flavor, and protein; naturally sweetened with honey and studded with juicy raspberries.
Author:
Prep Time:

10

Cook Time:

21

Total Time:

31 minutes

Yield:

12

muffins

1

x
Category:

Breakfast, brunch, dessert

Method:

Bake

Cuisine:

American
1 ½ cups

white whole wheat flour

1 tsp

baking soda

1 tsp

baking powder

½ tsp

fine salt

½ cup

 coconut oil, melted and cooled slightly

½ cup

 honey

2

 eggs, beaten

¾ cup

plain Greek yogurt (I love 2%, but any will work!)
Juice of

two

 lemons + zest of one

1 tsp

 vanilla extract

1 ¼ cups

fresh or frozen raspberries
Instructions
Preheat & prep: Preheat your oven to 425 degrees and line a 12-cup muffin tin with parchment liners, or spray with a nonstick spray.
Mix wet ingredients: In a large bowl, whisk together melted coconut oil, honey, beaten egg, vanilla, lemon juice + zest, and Greek yogurt until mostly smooth (there might still be a couple Greek yogurt chunks).
Mix dry ingredients: In a separate bowl, whisk together white whole wheat flour, baking soda, baking powder, and salt.
Combine wet and dry ingredients: Gradually pour the dry ingredients into the wet ingredients, whisking all the while, until everything is just combined.
Add raspberries: Toss the fresh or frozen raspberries in a small amount of white whole wheat flour (~1-2 tsp) to keep them from sinking in the batter within the muffin cups. Then, add to the muffin batter and stir to combine.
Fill muffin tin: Scoop the muffin batter into each muffin cup, evenly distributing the batter across the cups.
Bake the muffins: Bake the muffins at 425 for 5 minutes, then reduce heat to 350 degrees for the next 16-18 minutes. Remove from the oven and let them cool in the muffin tin for at least 5 minutes before transferring to a cooling rack.
Optional sparkling tops: Melt a little coconut oil in the microwave and brush the muffins with the oil. Immediately sprinkle coarse or fine organic sugar over the tops for a little sparkle.
Notes
Lemons: If you prefer to use lemon extract, simply add 1 teaspoon to the batter. Otherwise, lemon juice and zest works beautifully.
Make ahead & freeze: You can freeze the completely cooled muffins for up to three months in a zip-top bag or airtight container.
Keywords: wholesome raspberry lemon muffins, healthy muffin recipe