This post contains affiliate links for products I genuinely recommend, which means I earn a small commission at no cost to you.
This step-by-step tutorial will show you my favorite, tried-and-true way to cut up fresh pineapple! Pineapples are in season in March and April, so we love keeping fresh pineapple on hand for snacking, smoothies, and other recipes.
Nothing fancy to see here! Just my favorite easy, low-mess way to cut a pineapple up into chunks.
Buying whole pineapples at the store is a super affordable way to enjoy fresh pineapple, plus you avoid the plastic packaging that is used to sell pre-cut pineapple. Not only are pineapples a nourishing fruit, but they are also SO delicious! They make incredibly tasty smoothies, salsas, fruit salads, and even desserts... just as they are delicious and refreshing on their own.
While there are multiple ways you can cut up a pineapple, I'll show you my favorite (easy, fast, low mess). You don't need any special equipment -- just a cutting board and your best knife!
Jump to:
Ingredients
My partner took one look at this section and laughed at the fact that I had a pineapple listed for the only ingredient. Soooo yeah. You need a pineapple 🙂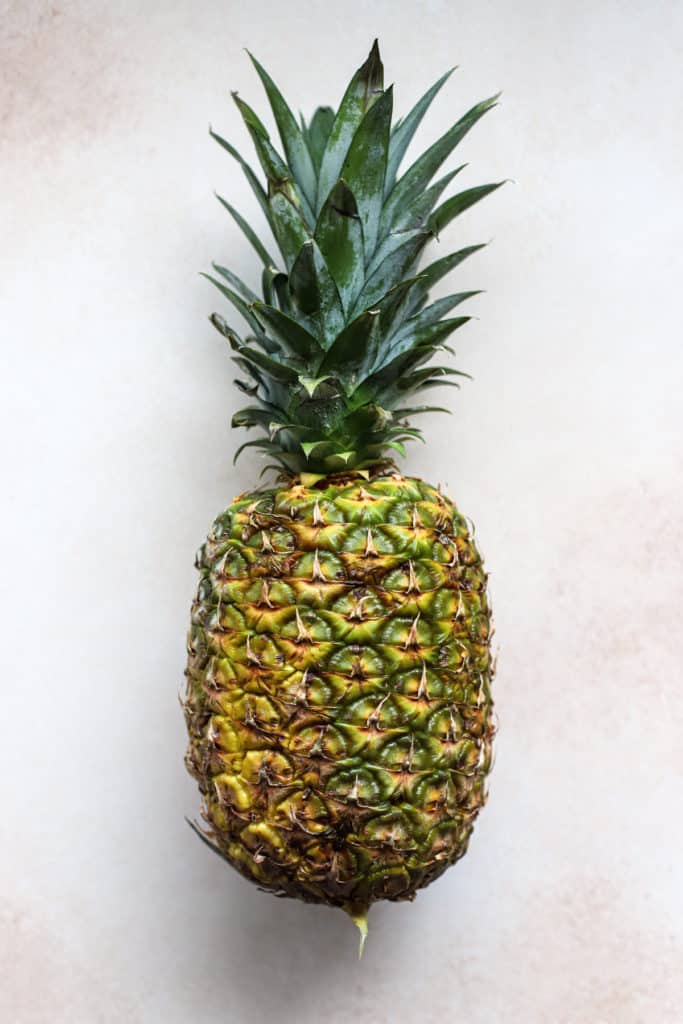 Instructions
For the easiest way to cut up a pineapple, start by slicing off the top and bottom of the pineapple.
Then, stand the pineapple up and slice downwards to cut off the prickly skin and discard it. There might be some pieces of skin left behind on the fruit, which is okay! You can remove those with a paring knife, or let them be.
Next, cut the peeled pineapple in half lengthwise.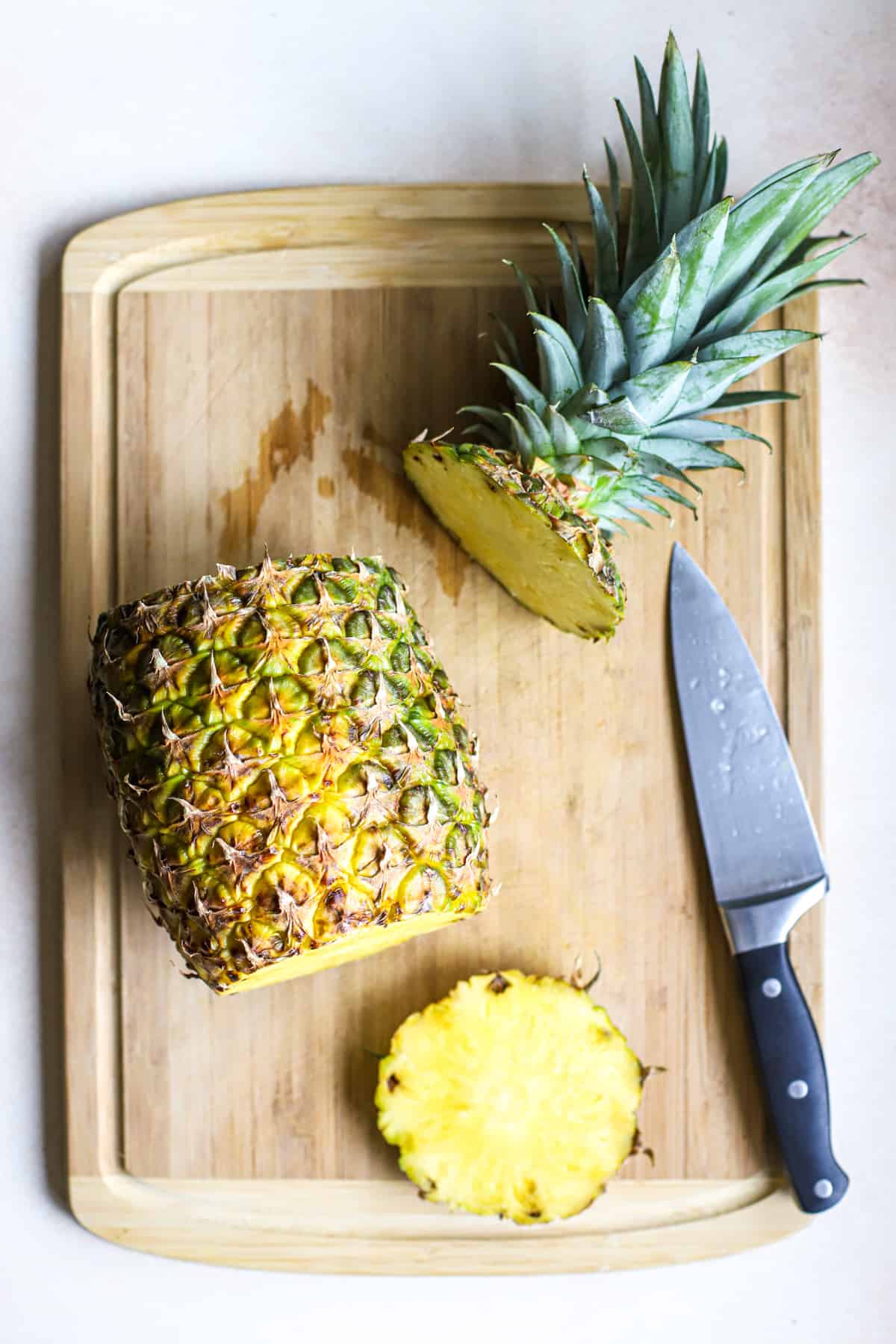 Take each pineapple half and cut it in half again lengthwise, then slice off the core from each piece, and discard the core parts. For the remaining pieces, slice them lengthwise at least once more (you can do it twice if you want thinner triangle pieces).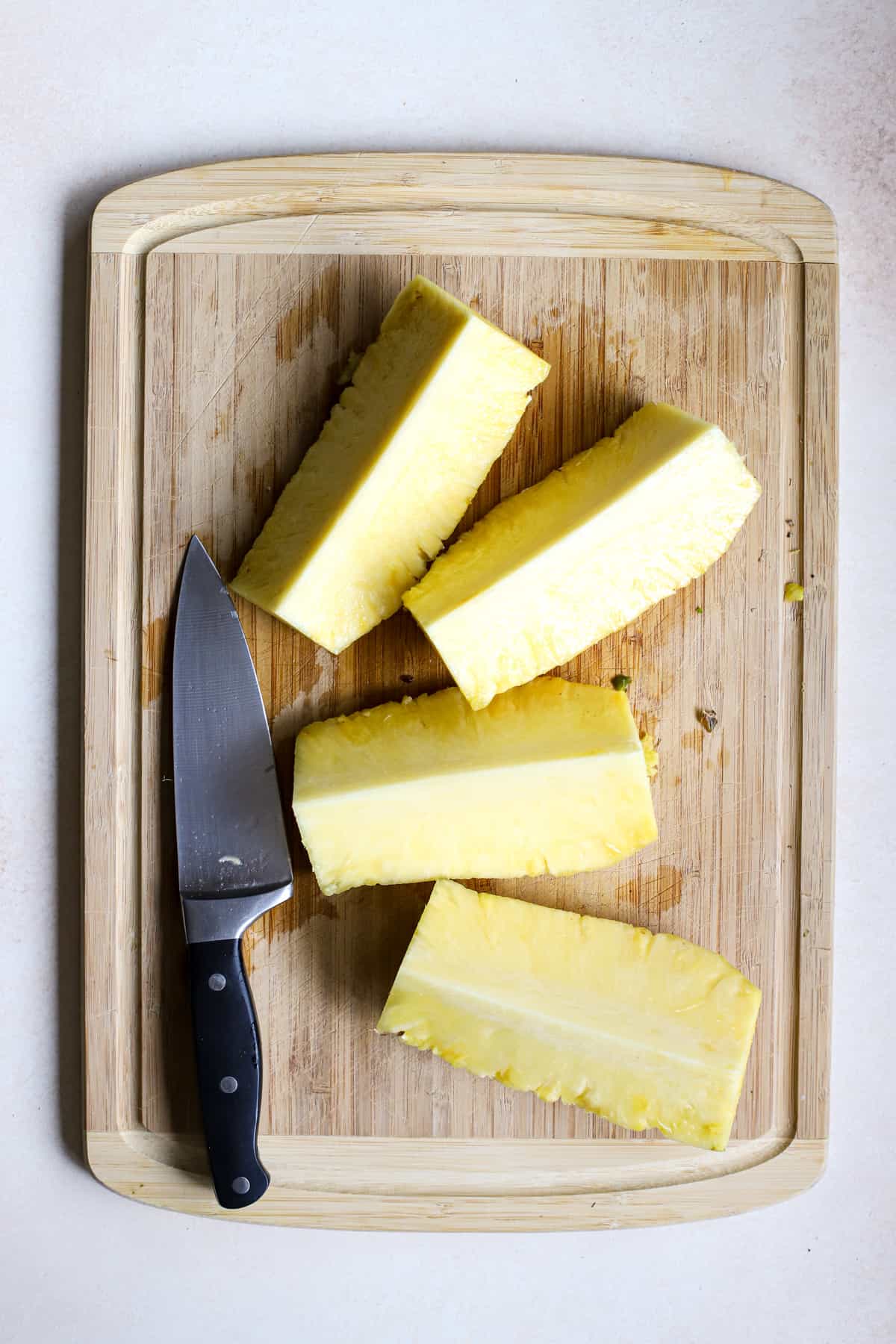 Finally, cut each pineapple strip into chunks, and that's it!
Hint: Use a chef's knife to cut and peel the pineapple, and a paring knife to remove any of the dark pieces left behind from the skin. Using a paring knife helps you save as much of the fresh fruit as possible (rather than cut more of the fruit out to remove the pieces of skin).
Variations
There are other ways to cut up a pineapple, and the size/shape of your pineapple pieces can vary depending on what you're using it for.
Pineapple rings - If you have a pineapple corer, this is easy! You just slice off the top and bottom of the pineapple (like the photo above), use the corer to core the pineapple, and then peel the pineapple in the same way depicted above. However, I tend towards a minimal kitchen and do not have a pineapple corer, so I just peel the pineapple, lay it on its side, slice it into rings, and then use a small biscuit cutter to cut the core out of each ring. It's a little more work... but not that much. Pineapple rings are great for pineapple upside down cake!
Pineapple quarter slices - Thinner, quarter slices of pineapple can be great for a large tray of fruit served for brunch because they're quick to cut and easy to serve. After you slice the peeled pineapple lengthwise and then remove the cores, slice each quarter into ~½-inch thick slices.
Small diced pineapple - To dice up pineapple for pineapple salsa or pico de gallo, slice each pineapple half into much thinner slices lengthwise. Then, cut each of those into thin, long strips, and then dice crosswise into tiny bits of pineapple.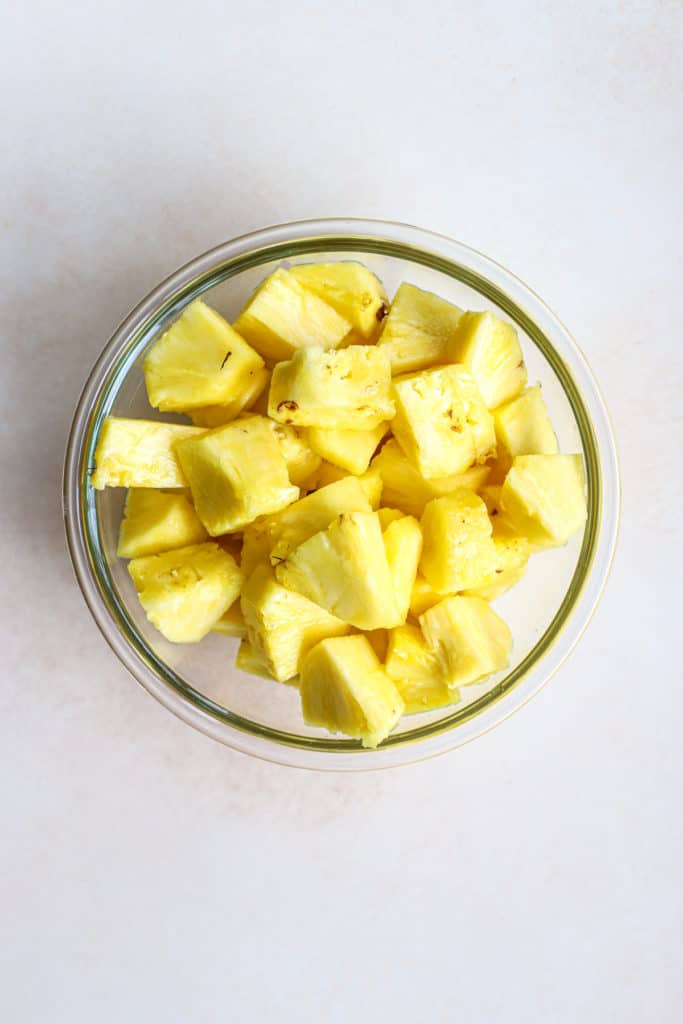 Equipment
The equipment you need for cutting pineapple is probably already in your kitchen! All you need are a cutting board and chef's knife. That said, if you have a pineapple corer OR you want to get one, that's one other way to core and cut a pineapple. See more on how pineapple corers work here.
Storage & Freezing
To keep cut up pineapple fresh in your fridge, store it in an airtight container for up to a week (in my experience, it starts to get a less appealing after seven days). If you are storing a whole pineapple on your countertop, note that pineapples are perishable, so you'll want to at least put the pineapple in your fridge until you are ready to eat it.
Freezing freshly cut pineapple is also great for smoothies, like this mango pineapple avocado smoothie... one of my go-to smoothies!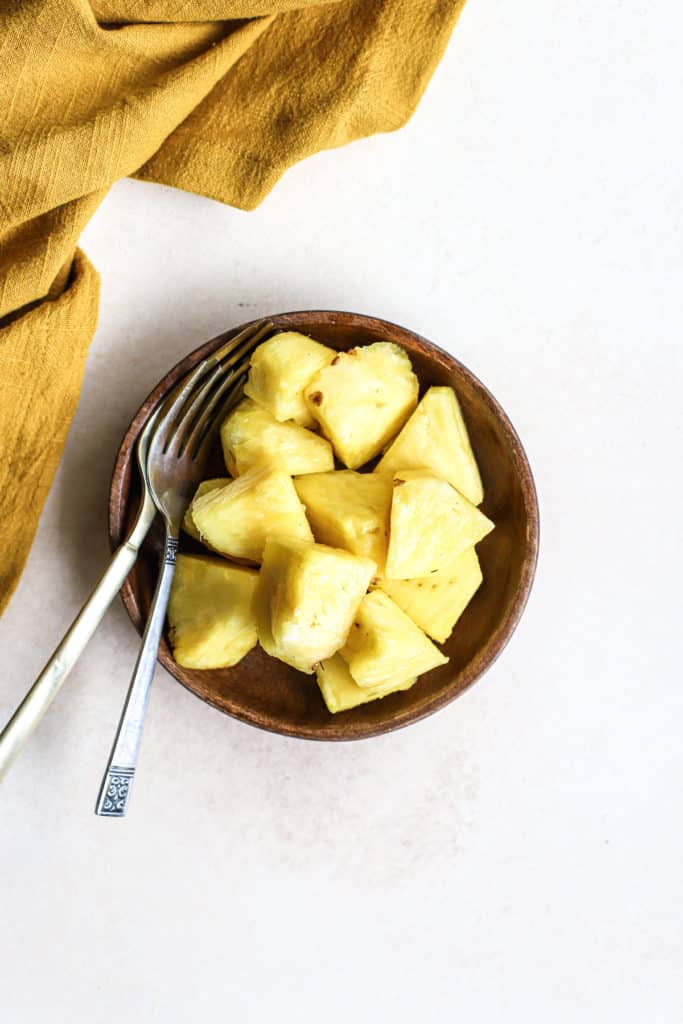 How to Cut a Pineapple FAQs
How do know when a pineapple is ripe?
To tell if a pineapple is ripe, pick it up and press your fingers into the outside of the fruit, and smell the bottom of it. If it is firm but slightly soft, and the bottom of the pineapple smells fragrant, it is ripe! You'll want to avoid any rock hard pineapples! Some say that color matters for pineapple ripeness, so you can also aim to buy yellower pineapples. Since pineapples with green on them can also be ripe, it's best to use firmness and fragrance and the primary indicators of ripeness.
Do pineapples ripen after they are picked?
Pineapples do not ripen after they are picked because their starch/sugar source comes from the stem of the pineapple plant, which is cut off when a pineapple is harvested (reference). So, you'll want to use the tips above to pick a ripe pineapple at the store.
When is the best time to cut a pineapple?
Right away! Because pineapples are picked when ripe, you can cut yours up as soon as you get home from the store. Otherwise, be sure to cut it up within a couple days, as pineapples do ferment quickly when stored at room temperature.
Print
How to Cut a Pineapple
An easy, fast, low-mess way to cut a pineapple into chunks! Use in fruit salad, marinades, or dice it up small for salsas. Or, freeze for later use in smoothies!
Author:
Prep Time:

5 minutes

Cook Time:

0 minutes

Total Time:

5 minutes

Yield:

~6 cups of pineapple

Category:

Fruit, sides

Method:

Peel & dice

Cuisine:

All
Instructions
Cut off the ends. Slice off the top and bottom of the pineapple (removing about a half-inch of pineapple, including the fronds on the top).
Peel the pineapple. Standing the pineapple upright, slice downwards to remove the skin in strips. There might be some residual dark eyes left behind, which you can either leave or remove with a paring knife. Discard the skin.
Slice lengthwise. Slice the pineapple down the middle lengthwise, then slice each half lengthwise once more for four long pieces.
Remove the core. Stand each piece up on the cutting board and slice off the core (the tough part that was right in the center of the pineapple), and discard.
Slice lengthwise again. Slice each fourth in half lengthwise again to create eight long, core-free strips.
Slice crosswise into pieces. Cut each pineapple strip crosswise into as many chunks as you'd like.
Equipment
Notes
Store: To store freshly cut-up pineapple, put the pineapple chunks in an airtight container and store it in the fridge for up to a week. You might be able to push it a couple days longer, but usually the pineapple becomes less appealing to me when it's been sitting for a long time (which is rarely, because usually it gets gobbled up!).
Keywords: how to cut a pineapple, how to cut a pineapple into chunks