Sometimes I wonder, if someone walked into my kitchen after I deseeded a pomegranate in my old ways (before I knew all the pomegranate deseeding hacks), would they think I carefully deseeded it, or would they think I blew it up with dynamite? Threw it at the wall? Played tennis with it!
Definitely one of the latter options.
Not that I don't love the color of pomegranate juice. Just, maybe, not on walls or countertops that I don't own... or my shirts. You too? Thought so. Now that pomegranates are in season, I thought I'd share my favorite way to deseed them gracefully and efficiently, without looking like a murder happened, and without polka dots on our clothes. Yes?? You've come to the right place.
Now, if you've ever Googled 'how to deseed a pomegranate', you've probably noticed there are various methods out there. One such method involves whacking the pomegranate with the back of a wooden spoon. While I don't doubt that this works, it's still not completely mess-free -- I mean, those pomegranates can be juicy little guys. Not to mention, holding a pomegranate half in one hand while whacking it with a spoon using the other hand? Two possible outcomes: 1) Pomegranate falls on floor. Or in garbage disposal. 2) Wooden spoon misses pomegranate and hits a limb (most likely thumb). ...Which yields release of pomegranate and ends with outcome (1) + potential expletive.
So, to avoid all that, I made the executive decision on this one: we're going to jump straight to the bowl-of-water method and call it a day.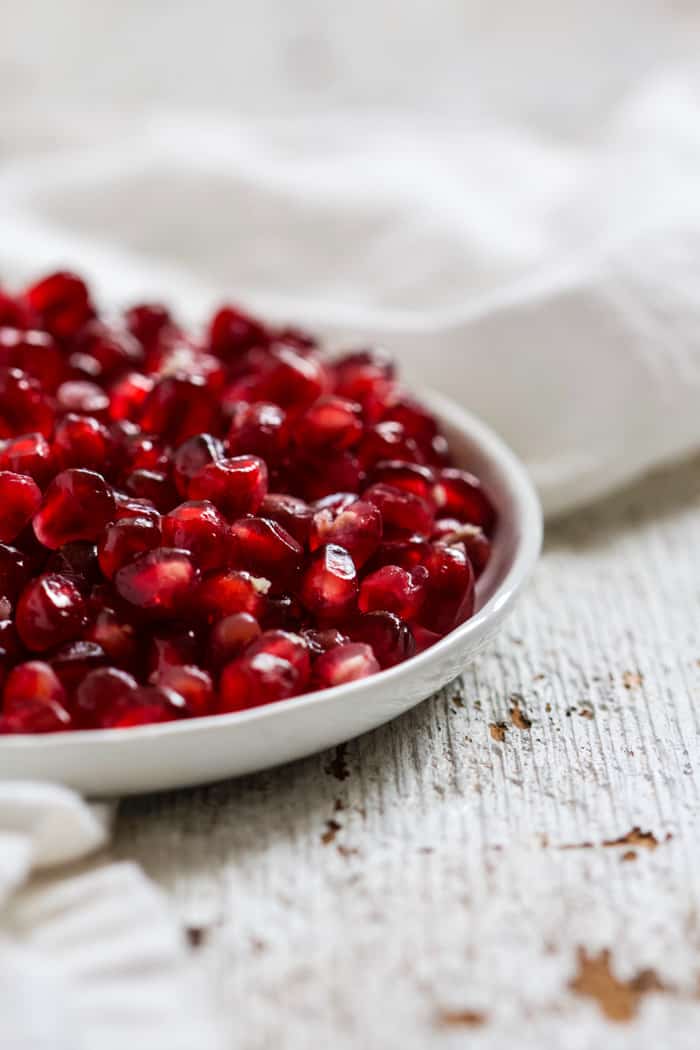 How to Deseed a Pomegranate
Step One: Roll the pomegranate around on the table a bit, pressing it gently to loosen the seeds. This is a kind of a weird first step, but I came across it in one of the many pomegranate-deseeding videos I watched before testing the methods. You'll feel the seeds loosen as you put slight pressure on the pomegranate, and they'll pop out easier when you're ready.
Step Two: Slice the pomegranate in half around the middle.
Step Three: Slice along the ridges. Find the ridges of pith between the sections of seeds, and slice along the outside of the pomegranate from ridge to end. The pomegranate should still be partially cut into sections but still intact.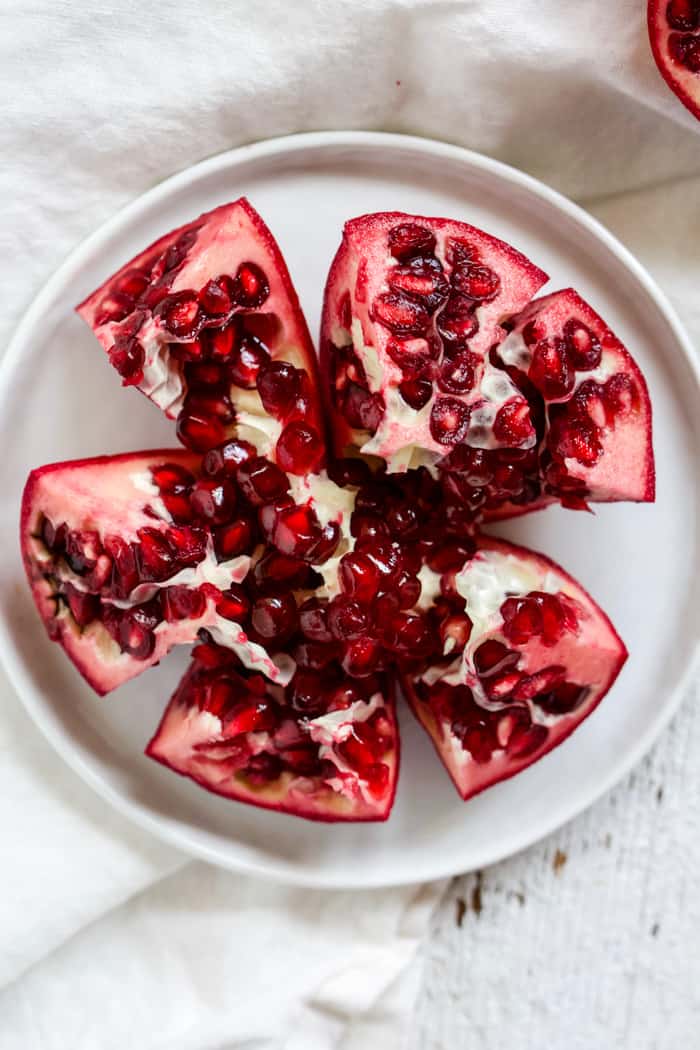 Step Four: Remove seeds in water. Fill a bowl with filtered water, and completely submerge one pomegranate half. Carefully start to bend sections of pomegranate, pushing on the rind so that the seeds pop out. Seeds will sink to the bottom, and any pieces of pith or rind will float. Remove any lingering seeds with fingers. Discard the rind and any pith floating at the top. Strain pomegranate seeds into a mesh sieve and pick out any remaining small pieces of pith. Repeat for other half of pomegranate.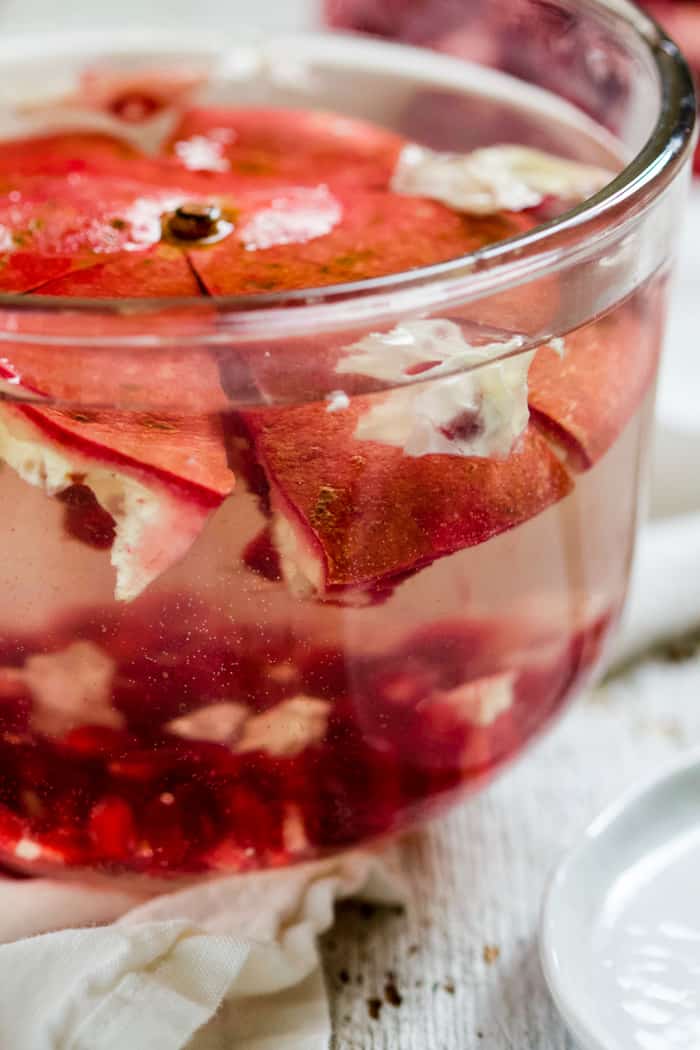 LOOK AT IT. Your beautiful bowl of pomegranate arils with maybe a smidgen of pith (I usually have some teeny tiny bits -- you hardly notice it going down the pipes) and your clean walls. Just like that, in four simple steps!
Now use those delicious, nutritious arils up:
Eat 'em in yogurt parfaits (what I did yesterday morning!)
Toss them into smoothies or get artsy with your smoothie bowl toppings.
Eat them by the spoonful.
Try this salad or this salad.
Let me know your favorite way to eat a pomegranate! Comment below or email me :).