If coffee is a priority in your life, then a pour over coffee brewer might just be your new favorite kitchen accessory! Here's how to make the perfect cup...
I don't know about you, but two things I adore in life are coffee and weekends. Coffee? Started drinking it as a freshman in college (classic), and have loved it ever since. I distinctly remember the comical discussion I had with my freshman-year roommate (now one of my best friends!), about whether we would start drinking coffee because we were "afraid to get addicted". LOL. Youth... In any case, I never did become "addicted", and I don't even drink coffee primarily for the caffeine fix (though I certainly don't dislike that part of it), but rather for keeping me warm on cold winter mornings. Or because one of my favorite activities to do with friends is to grab a cup at different cafés around the city. Or simply because it's a cozy, comforting thing that I enjoy every day... not to mention it really does help me wake up in the morning 🙂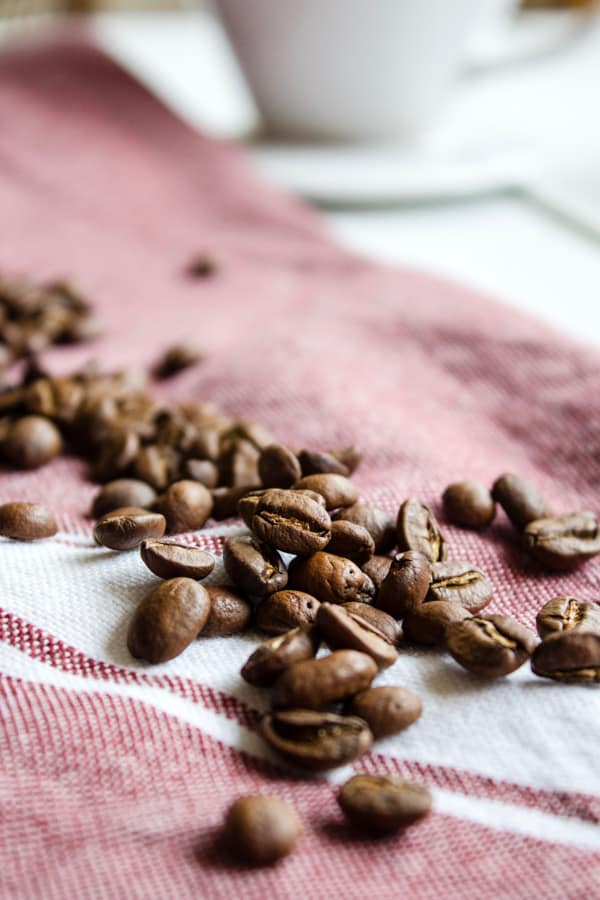 That brings me to weekends. <3 WEEKENDS <3. Everyone loves weekends, and I associate weekends with pour over coffee. Why? Because it's part of my weekend routine. I really like to cherish the fact that weekend mornings are slower-paced, and I always take my time waking up with pour over coffee. It's the simplest thing, but I always look forward to it. Even on week days, though, a pour over coffee brewer can get you the perfect single cup in a pretty efficient, low maintenance kind of way. So if you're looking to expand your coffee horizons, seeking a change in your routine, or if you embody even a morsel of coffee snobbery, you should try a pour over coffee brewer. (Well, some might say you don't meet the criteria for coffee snobbery if you don't yet have a pour over coffee brewer ;)).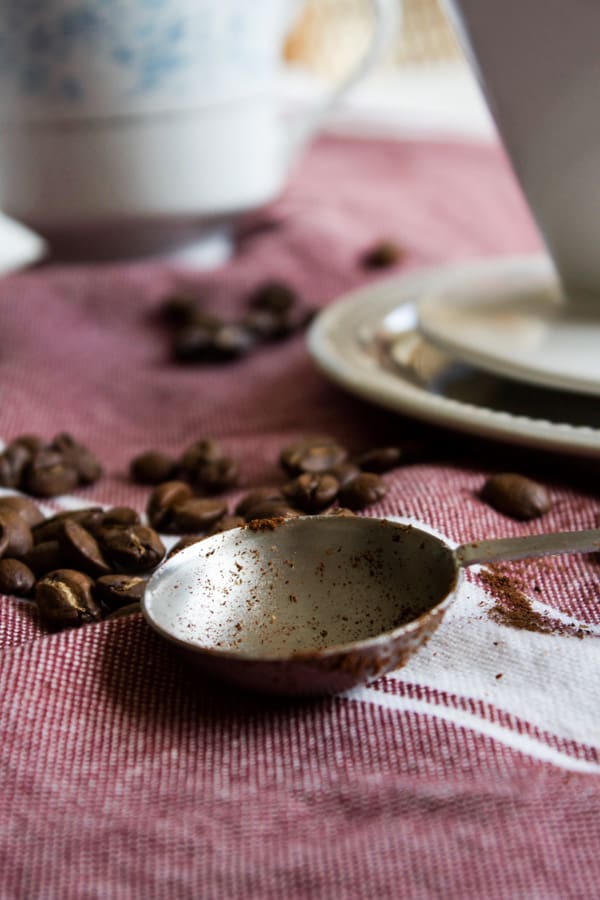 Here's why you'll love a pour over coffee brewer:
It doesn't break unless you drop it in a hard floor or throw it at something (oh my). In my own experience, standard electric coffee makers have not stood the test of time. I owned one that literally conked out for no reason whatsoever within two months of buying it.
You can buy a brewer that makes a single cup or multiple cups. I have a basic ceramic pour over brewer that makes a single cup, but you can buy other, larger glass brewers with bigger filters for making multiple cups.
Easy clean-up. You just take out the filter and throw it away, unless you have a pour over coffee brewer with a permanent filter. (If you do, you're awesome and I love you for taking care of the environment). So, if you need a break from those obnoxious French press coffee grounds (though the taste of French press coffee is certainly worth the mess), go the pour over coffee route.
It takes up hardly any space. If you have a small kitchen like me, you will totally understand and appreciate this! My ceramic brewer fits snugly in my cupboard with my other coffee mugs, which means extra counter space for cooking adventures 🙂
No electricity. Okay, so I'm not entirely sure how much energy an electric coffee maker uses, but you are saving some energy. Moreover, it just simplifies your electronics life a little bit. For instance, it's one less thing you have to remember to unplug when you leave town for the weekend. It's also one less awkward wire to get entangled with your toaster wire, your blender wire... all the wires. (Also, if you're like me, it prevents you from unplugging it and accidentally dropping the pronged side int0 a glass of water. Such a small target, right? Apparently my aim is impeccable.)
Simply put, it makes a darn good cup of coffee. And who doesn't want that?
Here's a list if everything you need:
A pour over coffee brewer, such as one of the following:
Filters. I usually just get mine at the store, preferably unbleached and all natural. But you do you! Here's some info on bleached vs. unbleached coffee filters, in case you're interested.
Coffee. Pick your favorite kind, either whole beans or ground. If you choose whole beans (always a bit more fresh), here are some coffee bean grinders I recommend:
The only other things you'll need? Your favorite mug, and optional milk, cream and/or sugar.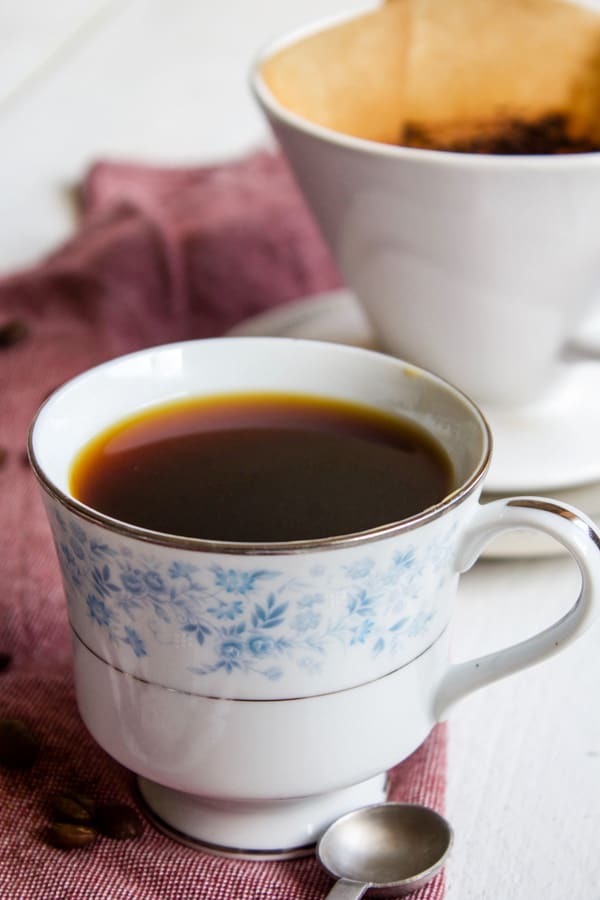 Aaaaand you're set! It may be Sunday, but the weekend's not over yet... let me know if you try some pour over coffee 🙂
Print
Perfect Pour-Over Coffee
Here's how to make the perfect cup of pour-over coffee! This is my go-to coffee-to-water ratio, but feel free to adjust the ratios to your liking or needs.
Author:
Prep Time:

1 min

Cook Time:

2 mins

Total Time:

3 minutes

Yield:

1

1

x
Category:

Beverage

Method:

Pourover

Cuisine:

All
8 oz

. filtered water

2 Tbsp

ground coffee
Optional: cream, milk, sugar
Instructions
Bring water to a boil in a small saucepan or tea kettle.
Meanwhile, line a pour-over coffee brewer with a cone filter. Fill with 2 tablespoon ground coffee (or more, if you prefer stronger). Remember to place brewer over a mug if using a ceramic brewer (like the one pictured above).
Once water has just come to a boil, gently and slowly pour half of it over the coffee grounds. Allow the grounds to bloom and allow some of the water to filter through. Slowly pour the rest of the water and allow to filter all the way through.
Enjoy with milk, cream, or sugar.
Keywords: pour-over coffee, how to make pour-over coffee
Note: This post contains affiliate links, which means I will make small commission when you purchase through them. I really do recommend these products based on my own experience and trust in their quality. I appreciate your support and would be happy to answer any questions on any product I've mentioned.