This post contains affiliate links for products I genuinely recommend, which means I earn a small commission at no cost to you.
Turmeric lemongrass cauliflower rice is a delicious and healthy side dish loaded with superfoods! Very flavorful and pairs well with any meat, fish, or vegetarian friendly protein source. ~Cauliflower, turmeric, lemongrass, onion, cilantro, coconut~
Okay, so lately I've been looking for ways to incorporate more turmeric into my everyday cooking, and YOU GUYS, one Saturday I was messing around in my kitchen, and this turmeric lemongrass cauliflower rice happened. And I may or may not be addicted.
So let's talk about it, starting with this whole turmeric thing. You might know turmeric as that yellowy orange spice that you don't want to spill on your white shirts, floors, or walls (yes, walls), but that gives your food a beautiful golden hue. It comes from a root related to ginger. Have you ever seen fresh turmeric in the store? It looks very similar to fresh ginger -- all knobby and, for lack of a better term, root-y. Maybe you've come across a golden milk recipe in your Pinterest feed or social media? That. That's got turmeric written all over it. (Also, golden milk is delicious, and you should try it).
Basically, many studies suggest that it's got magical anti-inflammatory and antioxidant powers, which to me means, SIGN ME UP. No seriously, though, here is an article listing out ten health benefits of turmeric, and here is another article summarizing some clinical trials. I always like to read the clinical trials because it gets more into the science backing the claims (you can't expect me to make it through an entire post without get a little nerdy).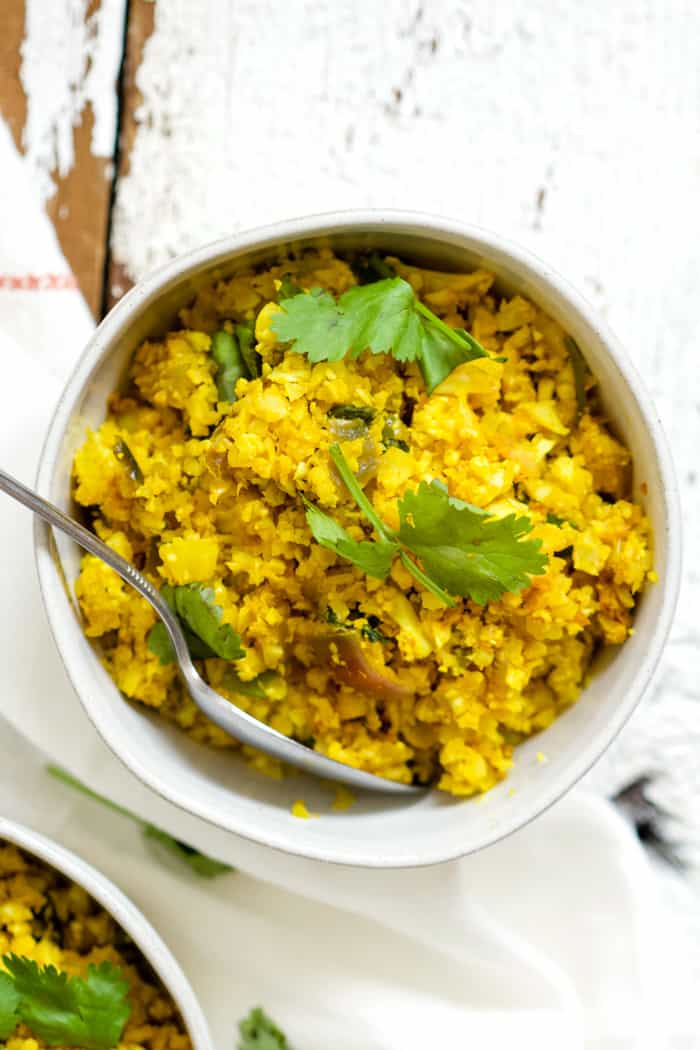 Oh, yeah, and I'll just tell you quickly how you get turmeric on your walls. So last summer my turmeric was getting a little chunky because of the heat in my apartment, so I shook the jar to break it up -- so not gently, of course -- and the cap was loose and flew off and turmeric went everywhere. Like, literally everywhere (sink, behind sink, stove, walls, floor, in every crevice). And man, does that stuff stain.
But okay. On to the other main component of this dish: cauliflower. And it's time to get honest... I love cauliflower. Truly I do. But I have a love-hate relationship with preparing cauliflower, as in chopping cauliflower is on my top ten list of least favorite things to do.
It's kinda like, you make one incision with your knife, or you try to *gently* break off a floret, and the entire head of cauliflower crumbles into a thousand rogue cauliflower pieces that go everywhere you don't want them to go. The floor, behind your flour and sugar canisters, underneath your dish drying rack (I see you!). And for the rest of the week you're finding little cauliflower bits that you missed. Oftentimes stuck to the bottom of your socks.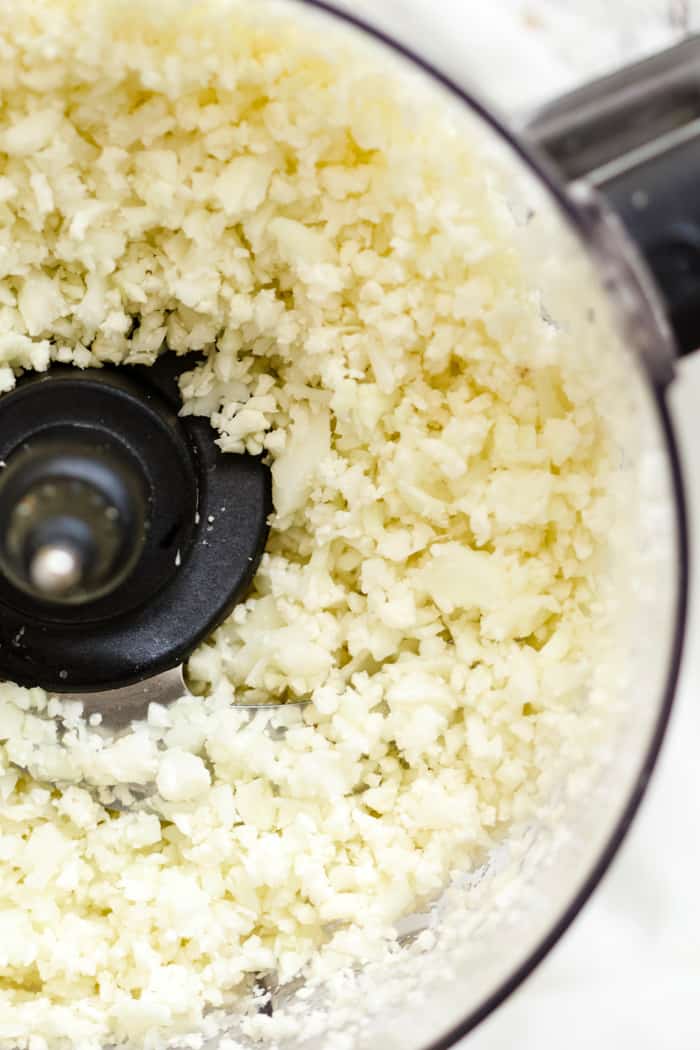 In the end, it's totally worth it. And I know I could probably just pay for convenience and buy pre-riced cauliflower, but sometimes I get stubborn about that, being more of a DIY-er by nature. Sometimes you just have to let me be stubborn for a while until I cave.
But anyway, cauliflower rice is my favorite side dish right now. There are so many ways you can flavor it, and like I said, I've been going the turmeric lemongrass cauliflower rice route a lot lately. So let's get into it.
Turmeric Lemongrass Cauliflower Rice
Okay, so we're going stovetop here. I used a dutch oven (my first one ever! I love it), but you can totally use any large pot (think along the lines of something you might use for soup).
To start off, you're going to heat some coconut oil in your pot over medium/high heat. While that's heating up, chop up your red onion, then toss that in. While that's sautéing, you can rice your cauliflower by breaking off florets and processing them in your food processor. If it's easier, you can do this in advance too -- the timing of it is totally up to you. Usually I end up processing it in two batches, depending on the size of the head of cauliflower. Once your cauliflower is riced, you'll add that to the pot and stir it up to get the onions distributed throughout. I usually add a couple shakes of salt here.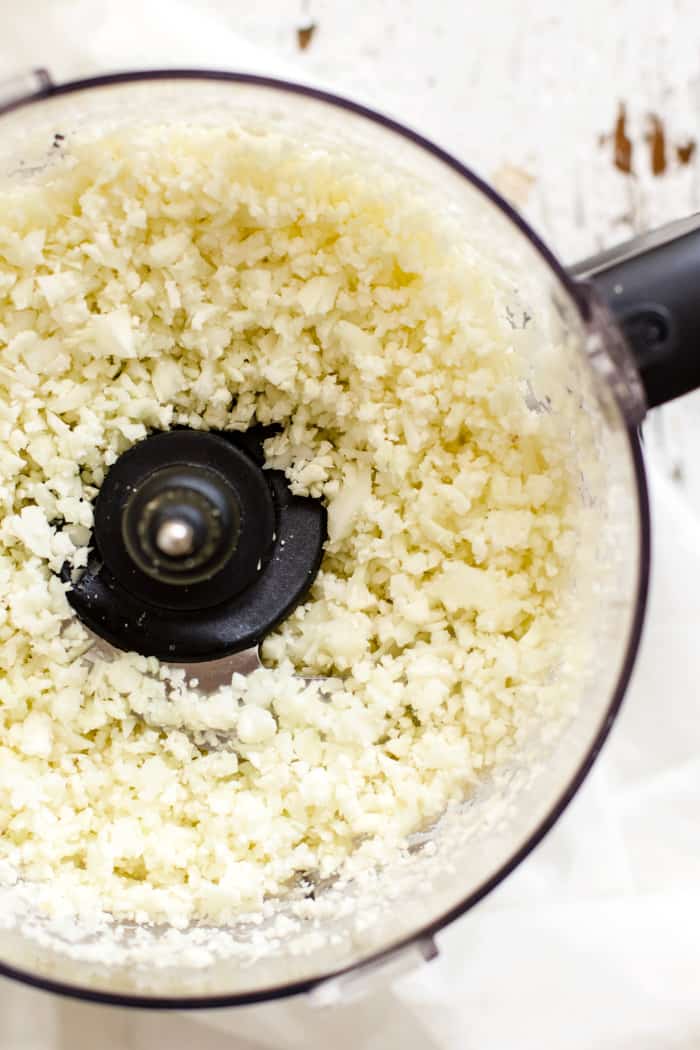 Then, add the rest of your ingredients:
turmeric
lemongrass paste or fresh lemongrass
coconut flakes
cilantro
salt and pepper
For the turmeric, just adjust it to your liking. I found that for an entire head of cauliflower's worth of cauliflower rice, one tablespoon was enough to give it that nice golden color without being overwhelmed by turmeric flavor. In other words, while one tablespoon might seem like a lot, one head of cauliflower makes a LOT of cauliflower rice. Likewise, if you use less cauliflower rice (say from half a head of cauliflower), consider reducing the amount of turmeric, or starting small and building it up to your liking.
Now, about that lemongrass. Something I definitely don't use every day; in fact, this was actually only my second time using it. But I love it! Fresh herbs can always take a dish to the next level. You can use either fresh lemongrass, or a lemongrass stir-in paste like the kind by Garden Gourmet. I usually come across their products at the regular grocery store in the produce section near other stir-in pastes (maybe you've seen more common ones like garlic or ginger).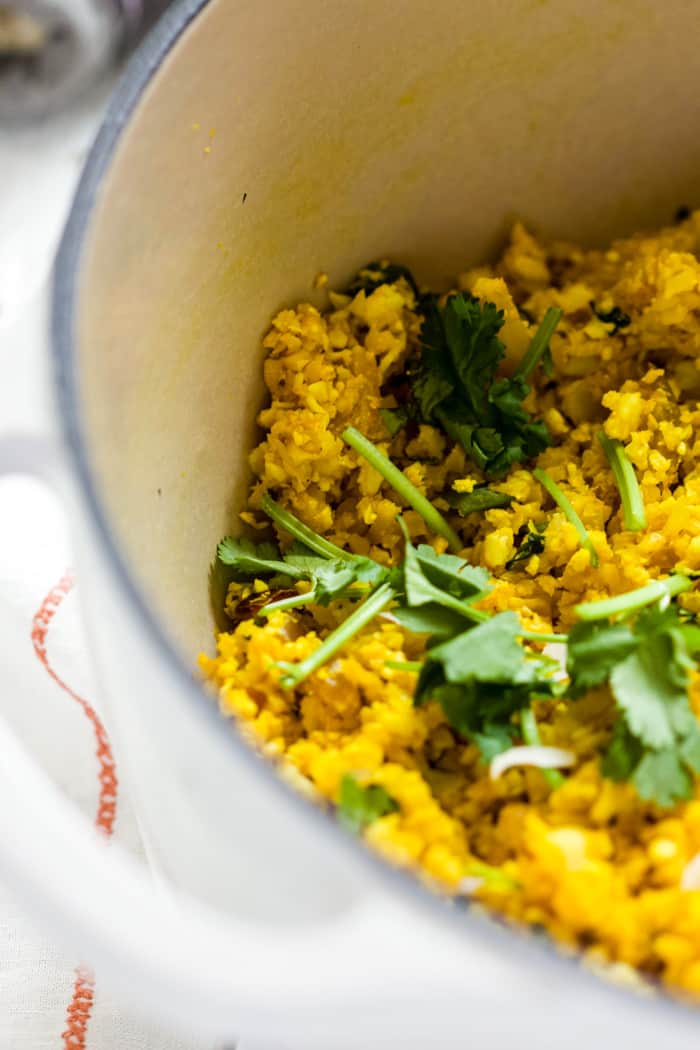 Here's a quick tip: if any of the rice starts drying out or sticking, add a quarter cup of veggie broth or water and scrape it off the bottom. I didn't have many problems with this because I used enough coconut oil, and also I kept stirring to keep things moving around in there instead of sitting in one place on the bottom.
Finally, a note on black pepper. Make sure to add a few shakes, both for flavor and because it's known to increase the bioavailability of turmeric's nutrients in your body.
Stir it all up, cover the pot to let it heat thoroughly (5-7 minutes should do it), and serve immediately as a side dish for anything! I love using chicken and salmon... and I also love mixing it all together so it becomes much less of a side dish, and much more of a big main entrée bowl. What can I say? I'm a fan of the bowl recipes.
Voilé! You've got yourself some turmeric lemongrass cauliflower rice. Enjoy. Maybe don't wear a white shirt while cooking, though, just in case.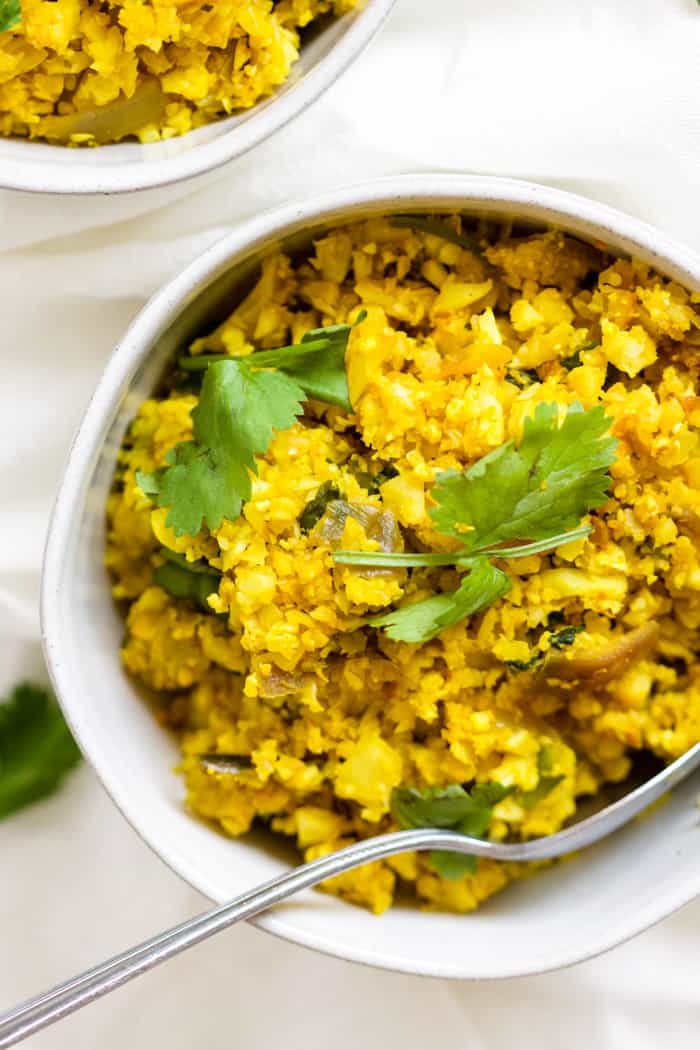 Print
Turmeric Lemongrass Cauliflower Rice
A healthy and delicious side dish with cauliflower rice, turmeric, lemongrass, coconut, onion, and cilantro. Pairs perfectly with chicken, salmon, or any meat, fish, or vegetarian protein source that you like!
Author: Tera
Prep Time:

10

Cook Time:

15

Total Time:

25 minutes

Yield:

8

1

x
Category:

Side dish

Method:

Stovetop

Cuisine:

Indian
1 tbsp

coconut oil

1

red onion, diced

1

head cauliflower

1 tbsp

turmeric

1 tbsp

lemongrass paste or chopped fresh lemongrass

½ cup

coconut flakes

½ cup

fresh cilantro, chopped
Salt and pepper
Instructions
In a dutch oven or large pot, heat 1 tablespoon coconut oil over medium-high heat. Add red onion and sauté until softened, about seven minutes.
Meanwhile, break off cauliflower florets and place in a food processor. Pulse until a fine cauliflower "rice" forms. If you're processing in batches, use a large bowl to hold the already riced cauliflower (usually takes me no more than two batches in a full-size food processor).*
Add cauliflower rice to pot and stir to combine with onions.
Add remaining ingredients and stir to combine, adjusting the amount of salt and pepper to taste.
Cover pot until everything is heated through, about 5-7 minutes, uncovering it to stir a couple times (this will keep the cauliflower rice from sticking to the bottom).
Serve with more fresh cilantro if desired, and fresh cracked black pepper (also if desired, but highly recommended).
Notes
*Alternatively, you could purchase a few bags of pre-riced cauliflower from the grocery store.
*This post contains affiliate links.