This strawberry feta orzo salad is light, springy, and perfect for healthy summer picnics or barbecues.
There's something about orzo that makes it especially perfect in pasta salads... but I can't quite put my finger on it. Is it because it's tiny? You know, kinda like how mini pancakes are better than regular sized pancakes? ---> I actually don't know that I've ever agreed with that (because who doesn't love a classic plate-sized, diner pancake?), but it's definitely an opinion that's out there.
In any case, I don't think we'll figure out the magic of orzo any time soon if we're not actually making this strawberry feta orzo salad and eating it. So we should probably do that, like...now?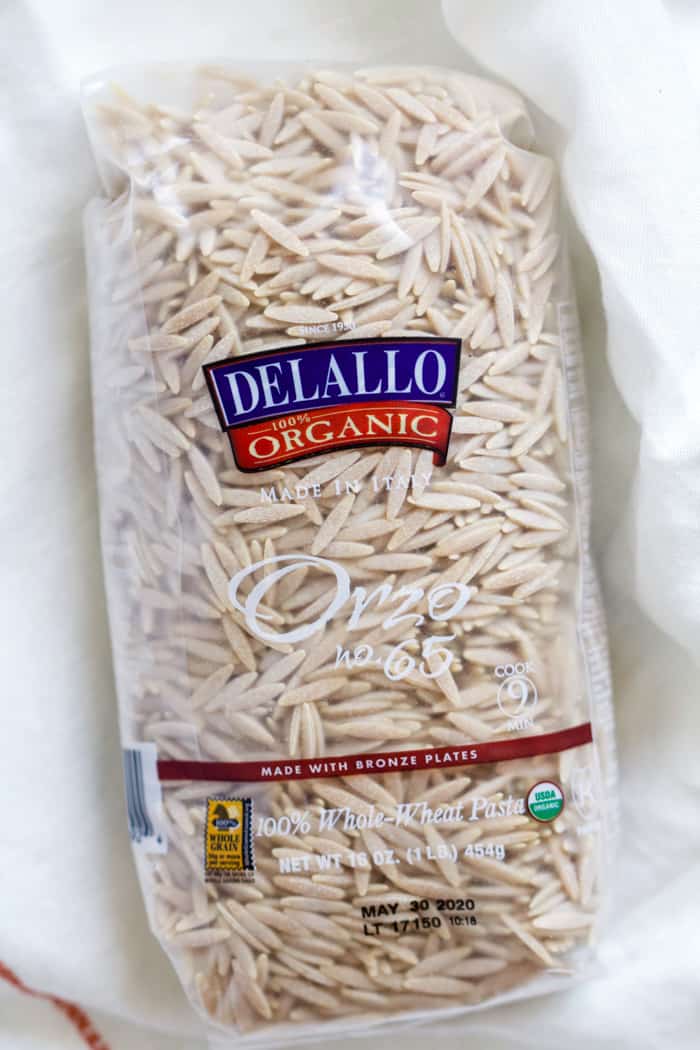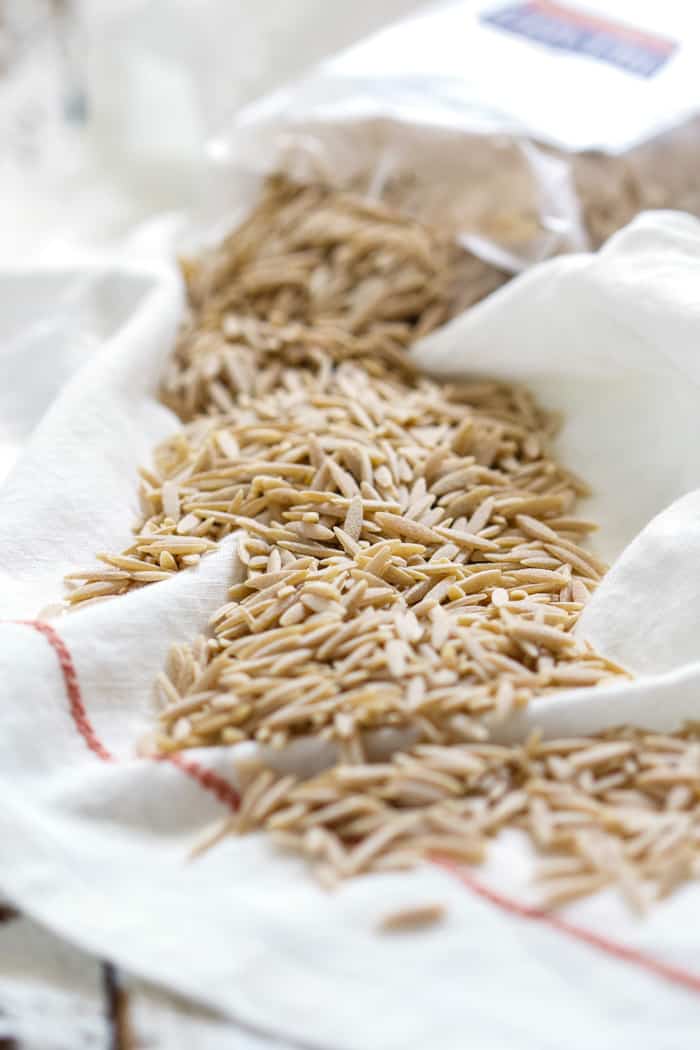 I've been experimenting a lot lately with various orzo-based pasta salads featuring all the beautiful spring produce we've got to work with. All delicious experiments, of course (pasta salad's hard to mess up). But I have to say... this strawberry feta orzo salad just so happens to be my favorite. Basically, all of your upcoming summer picnics and barbecues might need it.
So, there's a lot going on in this pasta salad, kinda like a collage of textures and flavors. A mixed media pasta salad, if you will. (Did that analogy work? No?)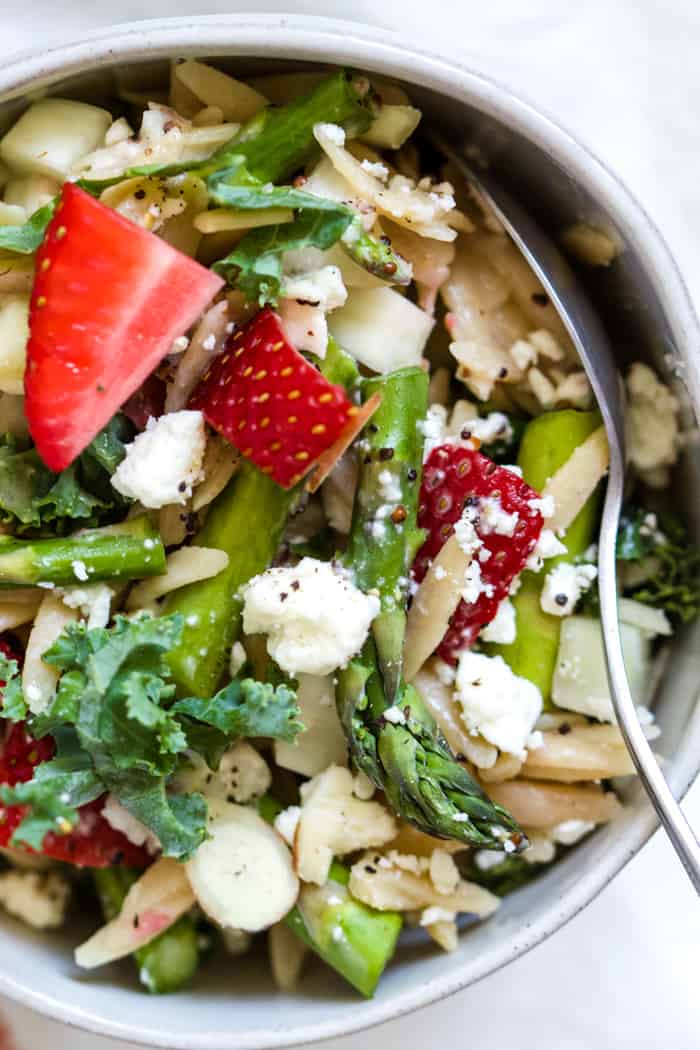 You've got:
Orzo
Strawberries
Asparagus
Fennel
I threw some kale in there because I really had to use it up before it got naaaasty
Strawberries
Almonds
Feta
That's a heck of a variety of ingredients. And from that you get:
Sweetness from the strawberries
Tanginess from the poppy seed dressing
Saltiness from the feta
Crunchiness from the asparagus, almonds, and fennel
Just about every flavor, texture, or shape you can imagine
Basically, I'm putting your tastebuds to WORK. Your salty tastebuds and your sweet tastebuds are going to be simultaneously engaged and we all know how that's just a pleasant experience for all parties involved. Oh, and don't forget your fennel tastebud. Sometimes I think fennel just deserves its own flavor category because that anise-y licorice-y flavor is not exactly replicable.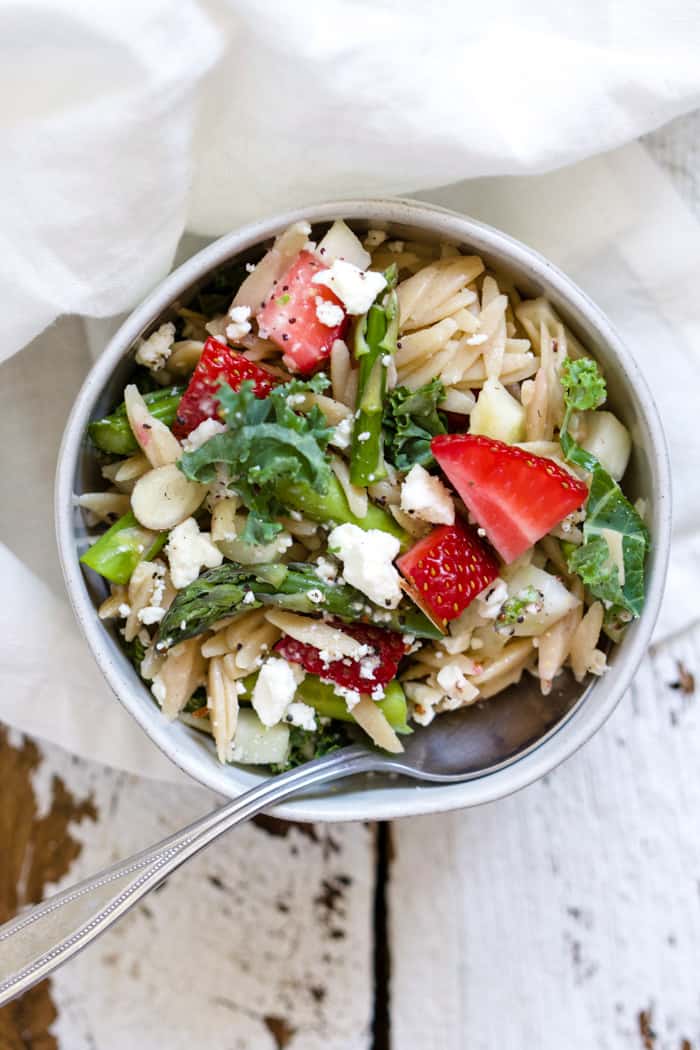 Also, if you don't like some of the ingredients, it's easy to leave some out or swap for alternatives. While the pasta base is kinda non-negotiable, it doesn't necessarily have to be orzo (side note: I'm partial to the orzo, though). Feta, strawberries, almonds, asparagus, and the poppy seed dressing are also essentials. Well... maybe, just maybe I would negotiate the asparagus.
As for the fennel, I'd say you can leave it out. Understandably, such a unique, bold flavor is most likely either adored or despised without middle ground. And the kale is totally optional as well, because like I said, I was trying to use mine up (man that stuff can get janky in the fridge). My recommendation? Try to keep at least one green veggie in there, whether it be the asparagus, some finely shredded kale, or even arugula or mixed greens. For both flavor and health reasons.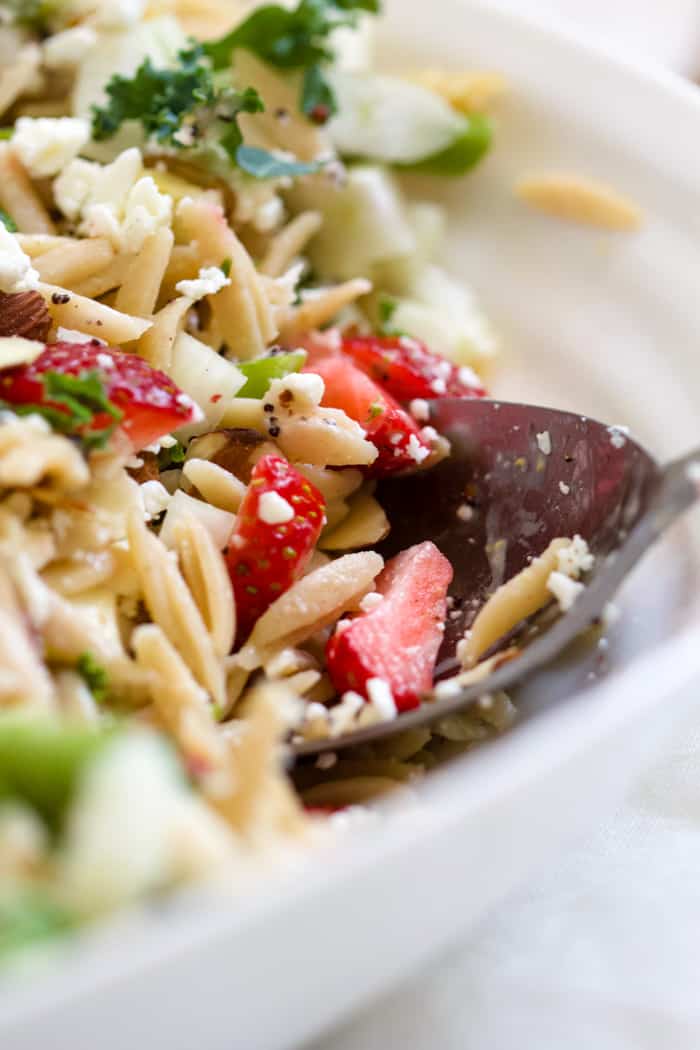 All you really have to do is combine that stuff in a big bowl and chill in the fridge. So, like most pasta salads, it's incredibly easy. Plus it makes a LOT, so here's to all those fans of leftovers for days.
Or not. Because if you bring this as a dish to pass at a summer BBQ or picnic, it just might not last.
And we all know that's a good thing 🙂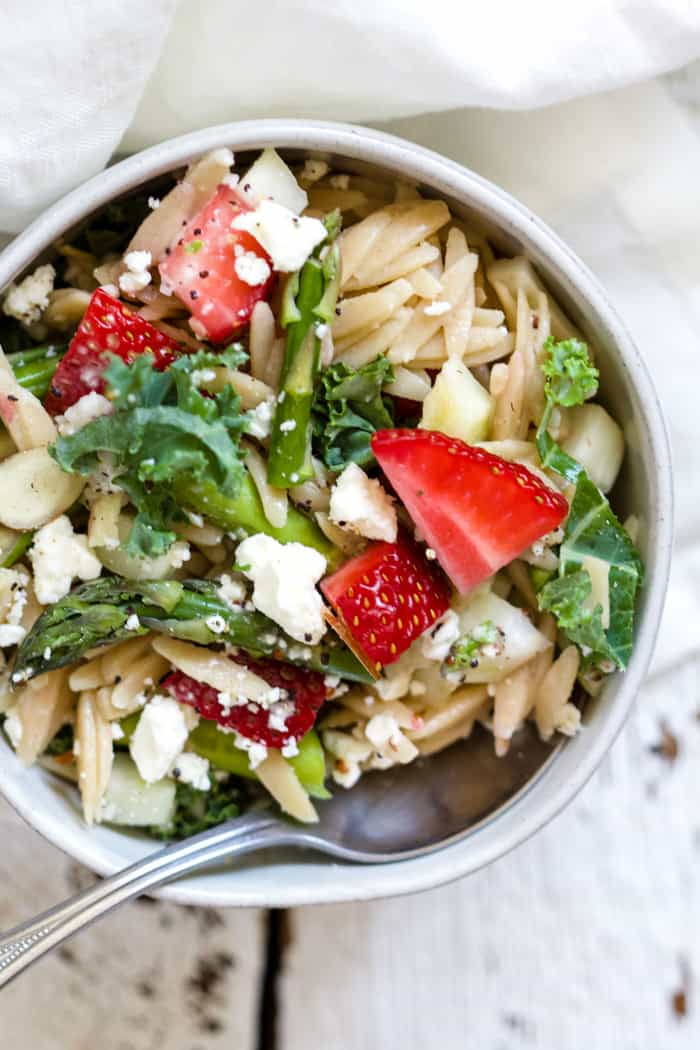 Print
Spring Strawberry Feta Orzo Salad
This strawberry feta orzo salad is light, springy, and perfect for healthy summer picnics or barbecues.
Author: Tera
Prep Time:

15

Cook Time:

10

Total Time:

25 minutes

Yield:

8

1

x
Category:

Pasta Salad

Method:

Stovetop, Combine

Cuisine:

American
1 ½ cups

dry whole wheat orzo

1 ½ cups

strawberries, hulled and quartered

1 cup

asparagus, cut into

1

-inch pieces

½ cup

fennel, diced

1 cup

kale, finely shredded (optional)

¾ cup

feta

⅓ cup

sliced almonds

1

recipe tangy poppy seed dressing
salt & pepper, to taste
Instructions
Cook orzo according to package instructions.
Add all ingredients to a large bowl and mix together.
Blend up some tangy poppy seed dressing, pour over ingredients in bowl, and toss to combine. Season with salt and pepper to taste. Chill until ready to serve.
Keywords: poppy seed dressing, orzo, strawberry feta orzo salad