This post contains affiliate links for products I genuinely recommend, which means I earn a small commission at no cost to you.
These maple walnut roasted Brussels sprouts are the perfect healthy, simple side dish to accompany any meal! Both savory and sweet, delightfully crisped, plant-based, and done in 35 minutes.
All right you guys, this is one of my all-time favorite side dish recipes. Those crispy Brussels sprouts edges and how that hint of sweet maple plays with savory olive oil and garlic?? OMG. I want to make this and eat the entire thing directly out of the skillet (which is something I've never done before.....). That, and the fact that these especially tasty Brussels are ready in about thirty minutes, make them an incredible side dish to keep in your back pocket.
Ingredients You'll Need
You only need a handful of ingredients for this super simple veggie side dish.
Fresh Brussels sprouts
Garlic
Walnuts
Olive oil
Maple syrup
Salt
Pepper
Optional but DELISH: cayenne
How to Make Them
First, wash the Brussels sprouts well and slice off the tough ends. Then, cut each sprout into quarters. If some of the leaves fall off, even better! Those are the pieces that get nice and crispy in the oven. Place the Brussels sprouts in a large bowl.
Next, preheat your oven to 400, toss some extra virgin olive oil into a cast iron skillet and place it in the preheating oven. Meanwhile, roughly chop a few cloves of garlic and toss in with the Brussels sprouts. Since we want the walnuts to get coated in the olive oil, maple-y goodness (next step), you'll toss those in with the sprouts and garlic as well.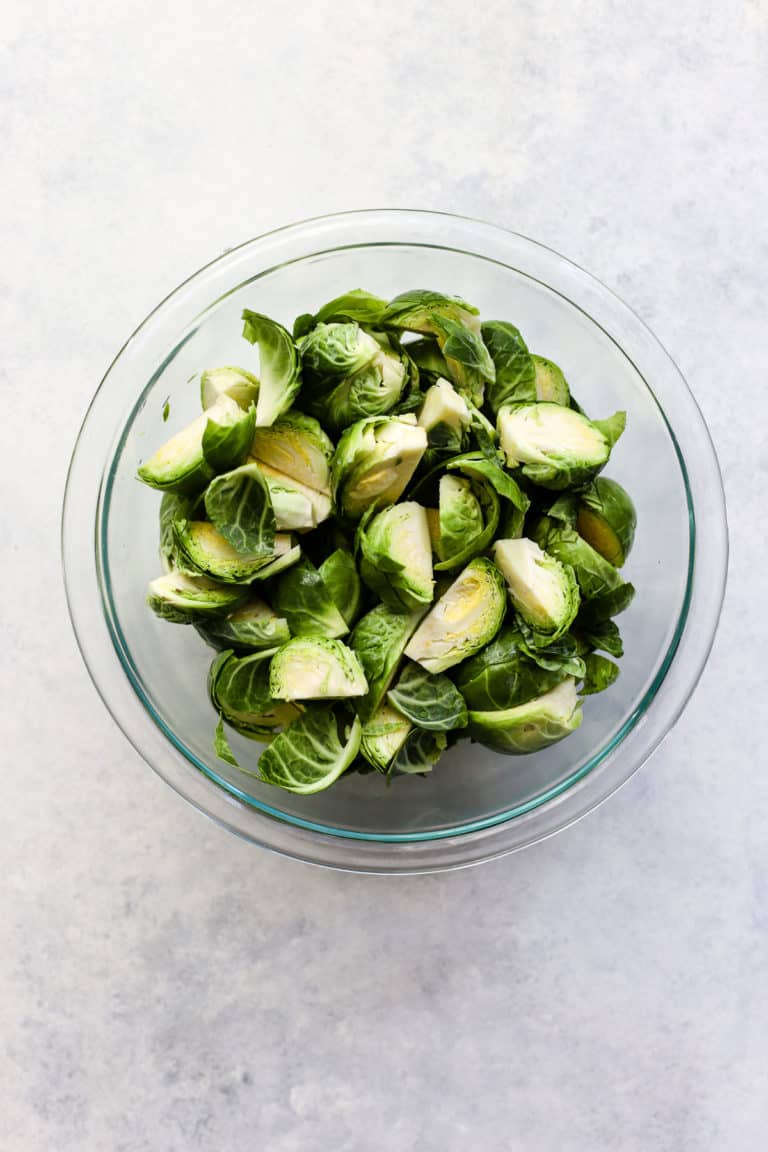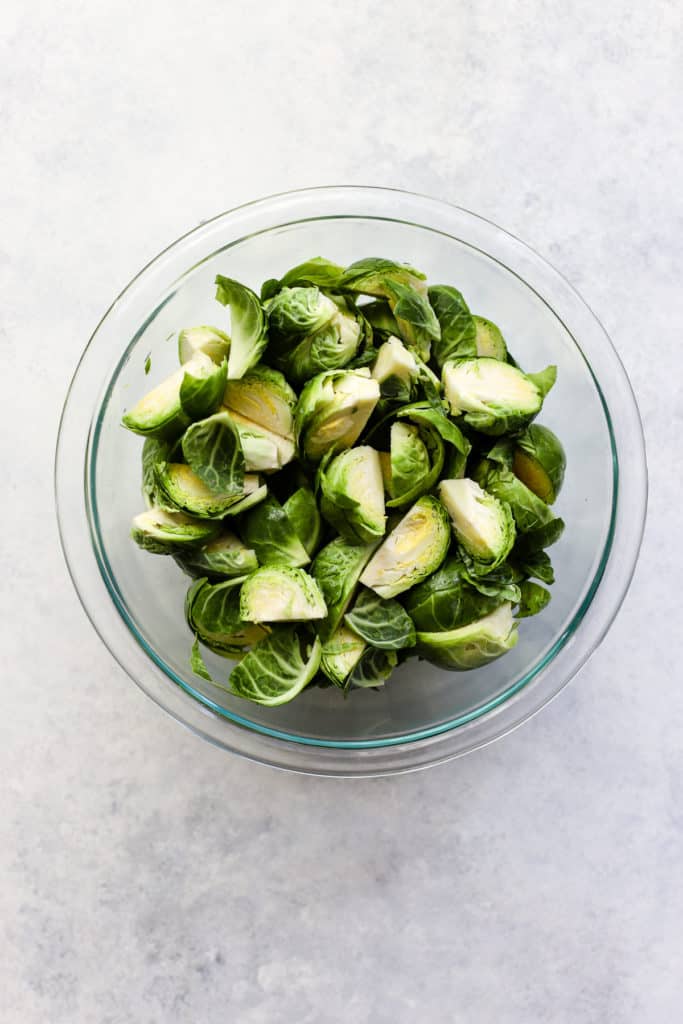 Finally, whisk together more olive oil and pure maple syrup in a small bowl with some salt and pepper, and pour this mixture all over the Brussels sprouts and garlic. Sometimes I like to add cayenne pepper for the best possible spicy-sweet flavor.
Using an oven mitt, safely remove the preheated cast iron skillet from the oven, and pour the Brussels sprouts mixture evenly into the skillet. Roast for 25 minutes or until the Brussels sprouts are nicely crisped and browned on the edges.
Note: If you do not have a cast iron skillet, no worries! Simply preheat your oven to 400 and prepare a baking dish with parchment or aluminum foil. No need to preheat the dish in the oven -- just set the prepped baking dish aside and add the Brussels sprouts when you're ready to bake them.
Common Roasted Brussels Sprouts Questions
Can I use frozen Brussels sprouts for roasting? I love frozen Brussels sprouts for steaming, but they don't work well for roasting as they do not crisp up as nicely. For this recipe, I recommend fresh, and you can save frozen for steaming, baking into casseroles or eggs, etc.
Can roasted Brussels sprouts be reheated? Totally! The best way to reheat these is in a pan on the stove or toasting in the oven, so that they crisp up again. That said, I was way too impatient for that and reheated them in the microwave... no complaints.
What makes roasted Brussels sprouts crispy? Brussels sprouts and most roasted veggies get nice and crispy when they are well-coated in olive oil and roasted under high heat. In this maple walnut roasted Brussels sprouts recipe, you'll toss the Brussels in olive oil and maple syrup and roast at 400 for that delicious crispiness factor.
Can I make roasted Brussels sprouts ahead of time? For sure! You can either prep all of the ingredients ahead to toss together quickly before roasting, or you can roast them ahead and keep them covered in the fridge until you're ready to serve. Simply re-crisp them up in a hot oven (or even an air fryer!) for about 5 minutes or until tops are slightly crisped up again.
What to Eat with Roasted Brussels Sprouts
All right you guys, here is where it gets even more fun. As I mentioned, maple walnut roasted Brussels sprouts are the perfect side dish. Though they go with mostly everything, below are some suggestions:
Also, you can throw leftovers into a salad or chop them up for pizza toppings.
Some Other Variations
Add bacon.
Sprinkle with parmesan or asiago right after taking the roasted Brussels out of the oven.
Sub maple syrup for hot honey.
Add a dash of cayenne (noted below as well -- I love this option!).
Toss in chickpeas or other white beans for added protein.
If you make this, please share ALL details. Enjoy!
Print
Maple Walnut Roasted Brussels Sprouts
Maple walnut roasted Brussels sprouts are a simple, healthy, savory-sweet side dish for to go with any meal. The Brussels sprouts get crispy and slightly caramelized from roasting at a high heat in the olive oil and maple syrup -- YUM!
Author:
Prep Time:

10

Cook Time:

25

Total Time:

35 minutes

Yield:

3 cups

1

x
Category:

Side Dish

Method:

Roast

Cuisine:

American
1

lb

. Brussels sprouts, ends cut off and quartered

4

cloves fresh garlic, roughly chopped

¾

cup

walnuts

2 tbsp

extra virgin olive oil

2 tbsp

maple syrup

¼ tsp

each sea salt and pepper
Optional: pinch of cayenne
Instructions
Preheat oven to 400 degrees: Drizzle some extra virgin olive into a cast iron skillet. Place the skillet in the oven to preheat. Alternatively, prep a baking dish of your choice by lining with parchment paper or aluminum foil, and set aside.
Combine Brussels sprouts, garlic, and walnuts: Add Brussels sprouts to a large bowl, including any leaves that fell off while cutting (these get crispy and delicious). Add the garlic and walnuts to the Brussels sprouts and toss to combine.
Add olive oil/maple mixture: In a small bowl, whisk together extra virgin olive oil, maple syrup, salt, pepper, and cayenne if using. Pour all over Brussels sprouts and toss to coat.
Bake: Carefully remove the preheat cast iron skillet from the oven and swirl the olive oil to coat the pan. Add Brussels sprouts in an even layer and bake at 400 degrees for 25 minutes or until Brussels sprout edges are slightly browned and crispy.
Equipment
Notes
Storing: Store roasted Brussels sprouts in a glass or air-tight container in the fridge for up to a week.
Keywords: maple walnut roasted brussels sprouts, vegan brussels sprouts recipe